Drew Gerke was trusted on one of the most underrated drives during Batavia's comeback victory over Wheaton North last week.
Late in the fourth quarter, trailing by three points, Batavia faced a do-or-die fourth-and-3 that it needed to convert to have a chance at a win.
Sophomore quarterback Ryan Boe rifled a pass to Gerke, the catch setting the stage for Pat McNamara to hit a game-trying field goal to force overtime.
"[Coaches] get the ball to all of the playmakers," said Gerke, a junior. "Putting the pressure on me to get that on fourth down, [my confidence in my role grew].
"I think my speed helps me out a lot," added Gerke, a first-year varsity player. "Just being able to get open and do what I can do."
Gerke's pass-catching ability is an aspect he's invested time in.
"I definitely think it should be better," Gerke said. "But I definitely work on it a lot. The short amount of time from the spring season, I feel like I've gotten better since last year. There's still parts to it I need to work and improve on."
Gerke's comfort level with Boe appears to be growing each week. Through three weeks, Gerke is tied for second on the team with six catches for 112 yards.
"I think, personally, Ryan has been amazing," Gerke said. "He's only going to keep on getting better. Even throughout these weeks, early on the first couple weeks, he was a little shaky. But I think he's getting a lot more comfortable being back there."
Boe, who has completed 65% of his passes for three touchdowns, has seen his own improvement throughout games.
"[My play] has definitely improved because of obviously more game time," Boe said. "Our scout defense in practice, they put up such good looks. They do the same exact thing [as opposing defenses do], so I know exactly what I need to look for. It makes it way easier for me."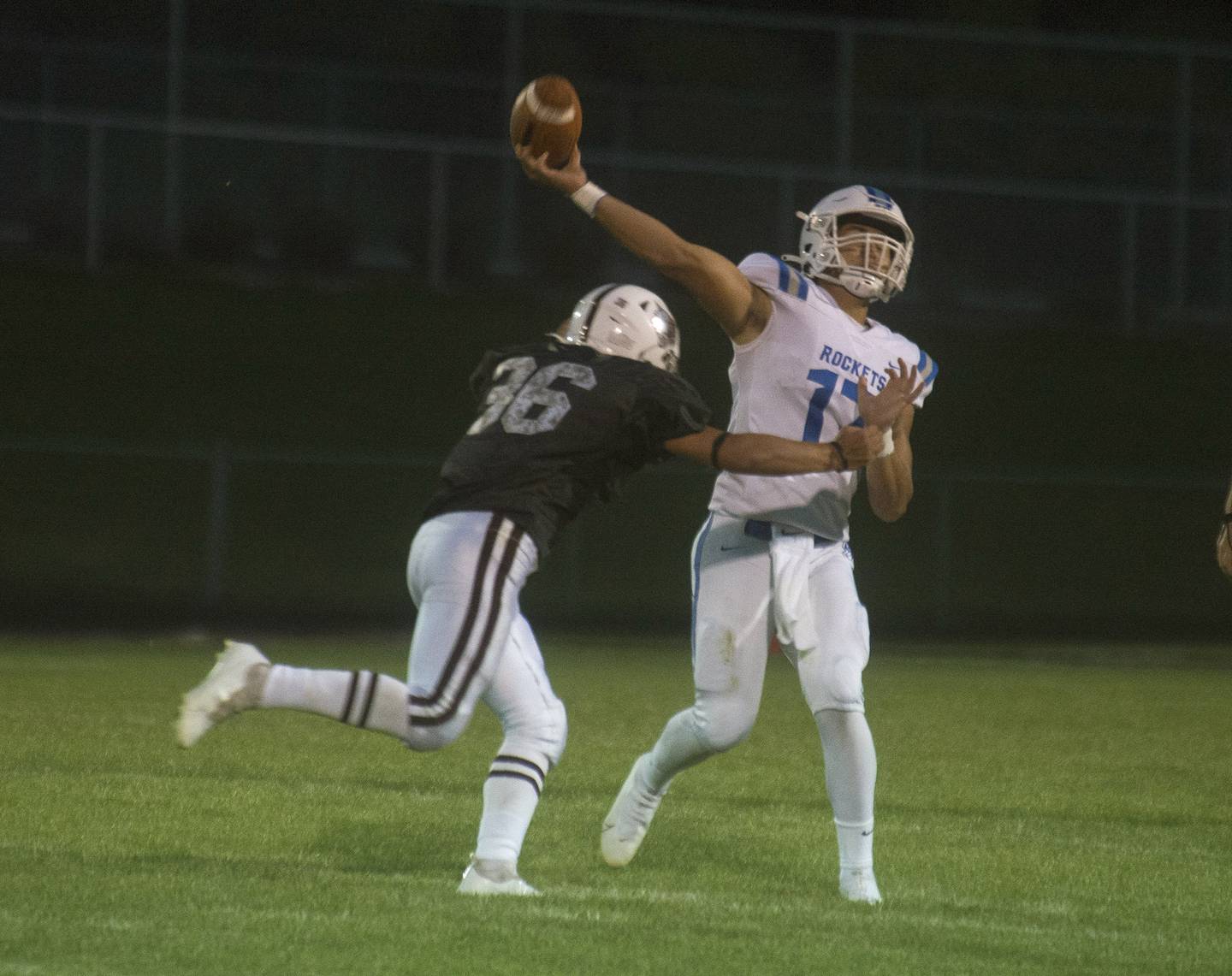 Shawn Adkerson steps in as Burlington Central QB: Shawn Adkerson has played virtually every position in Burlington Central's offense throughout his career.
After lining up as an offensive lineman as a freshman, he was moved to receiver and outside linebacker as a sophomore.
In Adkerson's junior season, starting quarterback Mark Ganziano was injured in practice before a game against Woodstock and running back Gavin Sarvis started at quarterback with just a few days notice. Adkerson then played the final two games at quarterback.
"After that [Woodstock] game, we sat down as a coaching staff. Zach Davidson, who is my quarterbacks coach, we were kind of sitting there talking about the future and who can be that guy next year," Rockets offensive coordinator Brian Iossi said. "We were losing Mark, who had been basically a three-year starter for us."
The coaches went down the list of questions. Who had a decent arm? Who could handle learning the position within the offense they ran?
Iossi nominated Adkerson.
"I had seen him throwing in practice all the time. He's usually with our quarterbacks. I'm like, 'Kid's got a cannon,' " Iossi said. "He's a smart football player. He's been playing varsity football for the better part of two years at that point. ... He had like 500-plus yards passing the last two games of the season and I think five touchdowns.
"It was just incredible. The one thing we thought he would maybe be slow going in [developing] was the pass game. He just grabbed right ahold of it and ran with it."
In last week's victory over Dundee Crown, Adkerson rushed 18 times for 101 yards and two scores and threw for another touchdown.
"This year, you're seeing a little bit more of his overall quarterback play. ... He does a really good job of running through our game plan and reading defenses," Iossi said. "The passing has been a little bit slower to come this year, but he really had a couple really good receivers last year that he trusted. A lot of his receivers this year are very young guys.
"We couldn't have asked for a better kid to jump in there to play quarterback," Iossi continued. "It's not ideal having a kid that's really like a one-year starter at quarterback, but if I was ever going to have one, it'd probably be him. He's done a great job for us."