Close games were the norm for the Dixon football team during the 2021 spring season. All four games the Dukes played were decided by one score, with their one win a 20-19 victory over Stillman Valley, and their three losses by a combined 17 points.
But with only four seniors lost to graduation after the 1-3 spring season, Dixon was certain it could learn a few lessons moving forward.
If the first two games of the 2021 fall season are any indication, the Dukes have certainly taken those close losses to heart.
"It gives us a lot of motivation," senior Justin Dallas said during preseason practice in August.
"Those are good lessons we've learned," added senior Hunter Gehrt that day. "It'll make us want to fight a little extra hard every game."
The Dukes (2-0) have definitely shown that they've put the tough spring season behind them. They shut out Oregon 35-0 in Week 1, allowing just 67 yards of total offense while amassing 271 yards on the ground and 121 through the air, then followed that up with a 50-7 rout of North Boone in Week 2.
"It's awesome," senior Trey Scheidegger said Tuesday. "We're going out there and working hard. Last year has made it so much easier this year."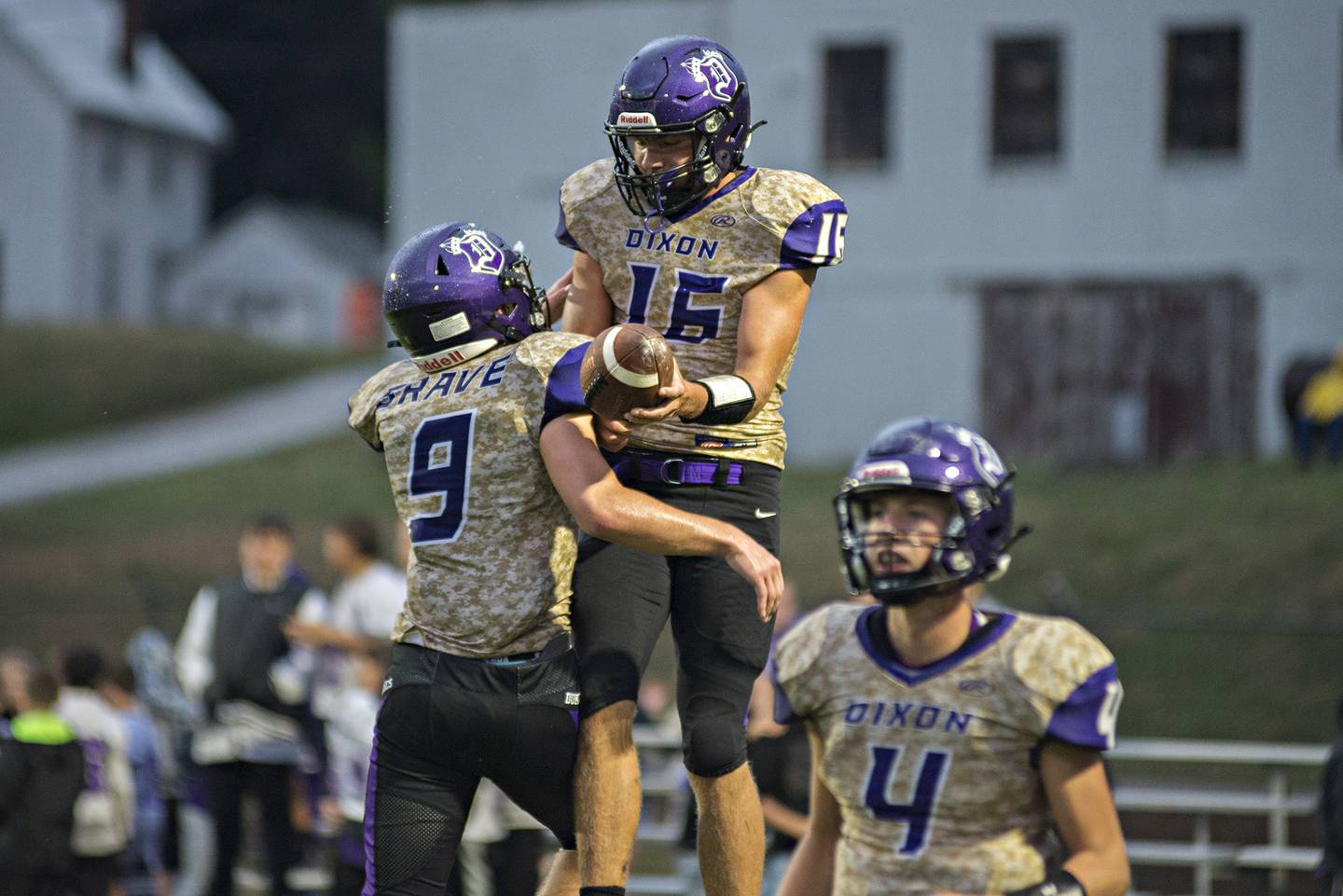 The lessons learned haven't just been physical, but mental as well. The game the Dukes are playing between their ears is just as important as the one on the field, and the players feel the coaching staff has a lot to do with that growth over the last five months.
"I think the spring gave us the discipline, made us tougher mentally. We make better choices during games," senior lineman Jace Lenarz said. "We have great top-tier coaches, and they push us to make sure we get better everyday, and prepare us for every game."
That's been evident in the first two games, as the turnovers and penalties that plagued Dixon at times in the spring have been much rarer these last two weeks.
Close losses can either turn a team against itself or rally the players together; it seems to be the latter for Dixon.
"I think we're a lot hungrier because of those close losses," Scheidegger said. "We've come together as a team better this year than we did last year; at times last year, I don't think we were all there together, especially late in those games."
While the motivation from those tough losses has propelled the Dukes to a strong start, coach Jared Shaner knows the lessons learned will be even more valuable as the season goes on.
"The first couple of weeks we couldn't have scripted a whole lot better, but they're done and behind us, and it's got to be kind of our little mantra to go out and win a game this week, not focus on what we've already done or what's coming up later," Shaner said. "I think those close losses have been a big part of the guys being ready to go; at least that's been how things have played out the first couple of weeks.
"But we all know it won't continue like that throughout the year; we're going to find ourselves in a dogfight in the fourth quarter, and we've got to be able to dig down and draw on experiences from our spring – and I think this group is proving that it can do that."