Tre Jones and Ty Carlson made things look like a walk in the park last Friday, which makes sense in a way.
The connection traces back to work in a park.
Jones, Oswego East's junior quarterback, connected with Carlson, his senior wide receiver, for three touchdown passes in the Wolves' 28-14 win over Lincoln-Way West to improve to 2-0 on the season.
Jones, in his second game at Oswego East after transferring from Montini over the summer, was 12-for-22 for 184 yards. Carlson got the lion's share of his targets, with seven catches for 158 yards.
New teammates, Jones and Carlson forged a chemistry with workouts at Commissioners Park in Naperville after it became apparent Jones was returning to his home district.
"Me and him started working together with his personal trainer, building that chemistry, where the ball needed to be, so when he came here me and him had an idea of where he likes to go," Carlson said. "We made audibles during the summer, so when it got to games it could be easy. It all starts with being close with him, all the workouts we put in together. Once you have a closer relationship everything comes easy."
Jones and Carlson did much of their work against Lincoln-Way West on run/pass option plays. The first TD, the safety came down and played the run which left Carlson in the clear. The second one, Carlson checked to a fade route and he went up and got it with his 6-foot-4 frame. The third score, Carlson said the safety completely bit, leaving him free for a long TD catch.
"Really it was just execution, and it starts up front. I felt like the line held their own against some guys who could play and that made all the difference," Jones said. "We knew that Lincoln-Way West had some really aggressive safeties and we could play around with that a little bit. It was taking advantage of those safeties biting down on the run and throwing over their heads."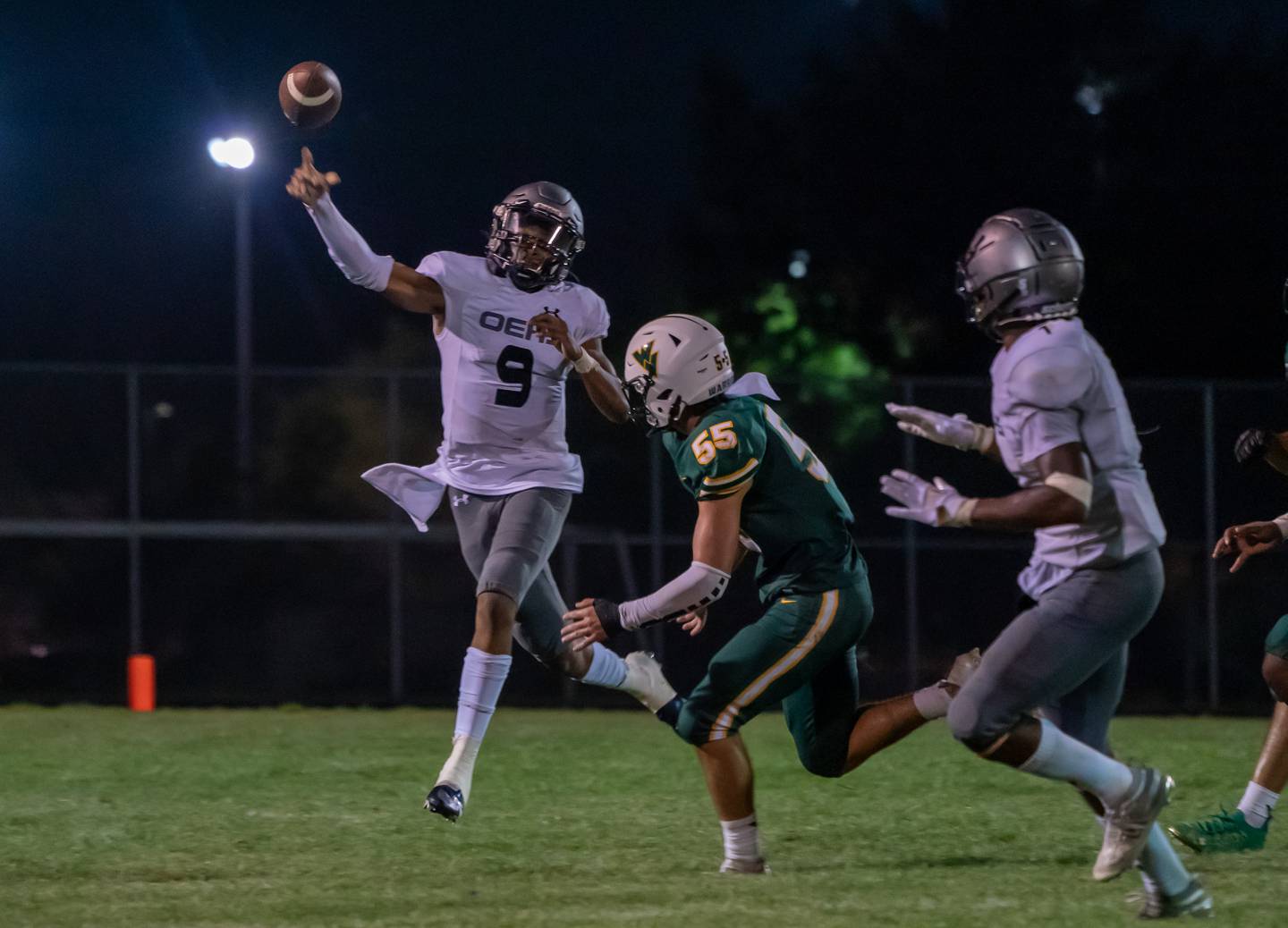 Jones and Carlson did not attend the same middle school in Oswego growing up, but Jones said they've known each other longer than people might think. Extra workouts during the summer have allowed Jones to build up a level of trust with his No. 1 receiver.
"His body type is really what helps a lot. Six-four, lanky kid, his catch radius is ridiculous," Jones said. "Being a quarterback, you want to try to make it as effortless as possible for the receivers to catch the ball. When you have a guy like that who has the will to go get balls and put his body on the line, that is something that helps a quarterback."
That extra work and desire started in the offseason.
Carlson said he was at the field every day for 1-on-1 work with defensive backs he knew could guard him for competition. He did ladders and cone drills, and watched videos of NFL receivers like Julio Jones and Stefon Diggs. Carlson also would sit outside in his front yard and catch bricks with his fingertips for hand strength.
"It definitely works on grip strength," he said. "When I look the ball in, when I am in a game all that stuff that happens feels natural," Carlson said.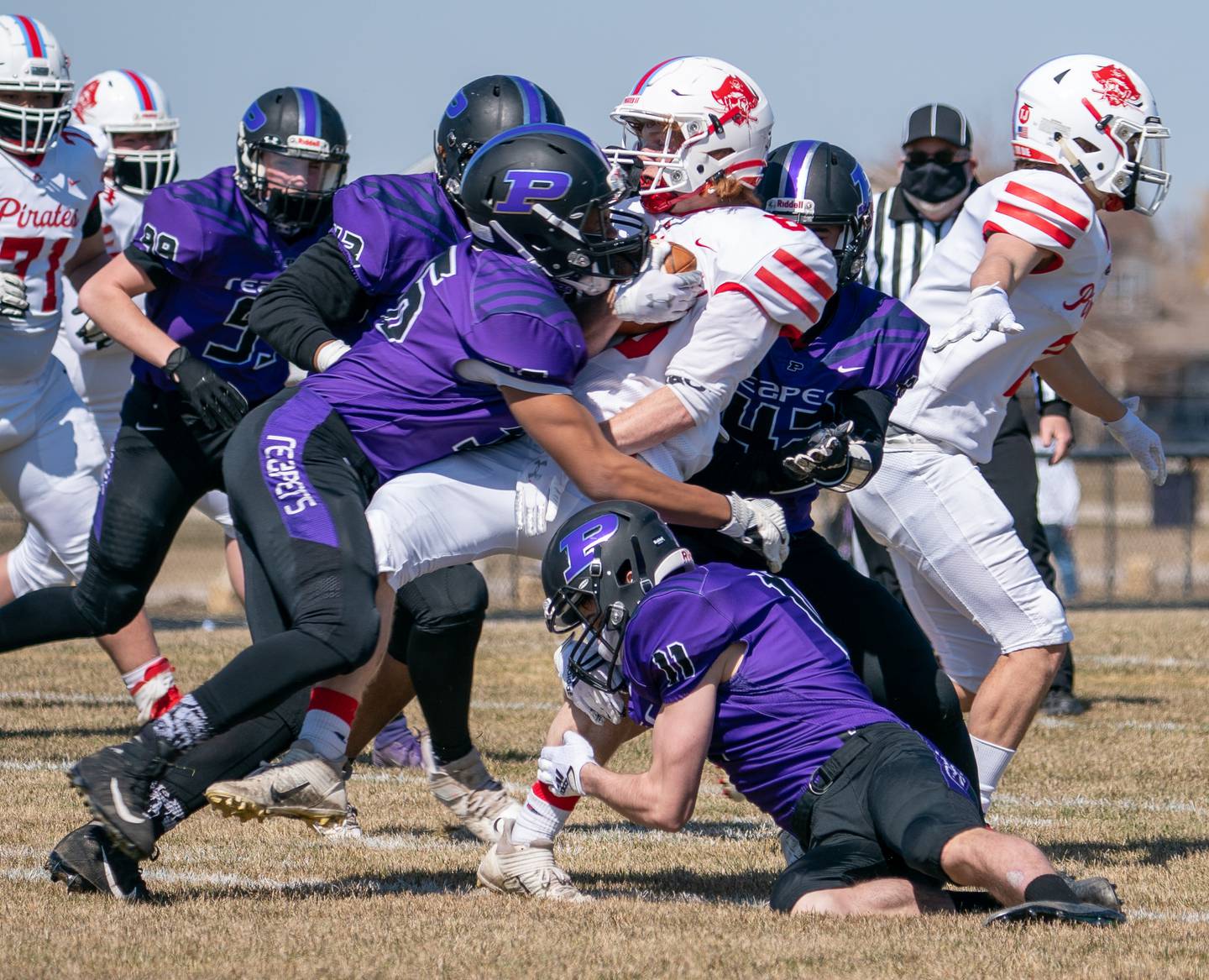 Nemo Denton leading Plano's stingy 'D': Plano's defense has not allowed a point through two games, and Nemo Denton is a huge reason why.
The 6-foot-1, 195-pound defensive lineman, an All-Conference pick as a junior, has 14 tackles, second on the Reapers' defense to junior linebacker Aydan Olson, with 11 solos and three assists. Denton had a team-high 10 tackles in a 28-0 win at Manteno last Friday.
"He kind of came into his own last year, realized how good he can be and when he was awarded All-Conference I think it gave him some confidence that I am a good player," Plano coach Rick Ponx said. "We saw better attendance from him in the weight room, working out harder and he is just playing with a lot of confidence. He has the athletic ability."
With a quick first step and maturing body, it's no wonder that Denton is emerging as a force up front for Plano.
He's hardly a one-man gang, too.
With Brandon Edmond on the other side and high-motor Bryan Del Abra in the middle, it makes Denton's job that much easier.
"You can't focus on one of them," Ponx said. "One thing coach has stressed, and if you watch the film, we have 11 guys around the football at every whistle, at the jersey or running to the football. Nemo is shining now but next week it can be Brandon."
Coach John Clarke's defense thus far has overcome the loss of All-Conference linebacker Luca Schoensee, who broke his leg in two places Week 1 and is out for the season.
"We lost arguably our best defensive player and the kids have responded extremely well to that," Ponx said. "It's coach Clarke's second year and we saw the fruits of his labor last year. Having guys like Eddie Sanchez ad Eddie Hernandez helps, but the scheme he puts together every week is putting our kids in the position to make plays. To me that is what coaching is all about is making sure kids are in the right position and where they're supposed to be because then you can just let them play fast. When you play fast you can definitely physical."
Plano prepares for wing-T: Plano's defense has a very different type of offense to prepare for this week – and does so with what at least sounds like an unorthodox way of practicing.
The Reapers, gearing up to stop Sandwich's wing-T offense that features multiple backs and an emphasis on misdirection, will frequently practice without a football.
"The first time we did it I think the kids thought we were crazy," Ponx said. "Everybody has a job to do. You are assigned a specific back, and tackle the man you are supposed to tackle. Don't worry about the man who has the ball. It's about teaching the kids the discipline to do their job."
Plano does have plenty of practice defending teams that run some semblance of the wing-T, and have had success. In the spring the Reapers shut out Ottawa until the last minute, and played La Salle-Peru to a 14-7 loss. Sycamore also runs shades of the wing-T.
"We saw it week in and week out," Ponx said. "We haven't seen it these first couple weeks."
Ponx has seen it plenty over the course of his career. He taught the same type of preparation as a head coach at Aurora University, and as defensive coordinator at North Central College.
"Any time you're trying to stop any type of option offense you don't play without a ball. You just snap the ball, they run the play and you tackle your man," Ponx said. "Otherwise everybody is going to try to follow the ball and you don't know who has it. Sandwich's offense is so fast, you truly don't know who has the ball with three running backs and potentially a quarterback who can throw it. If you tackle your man, that is really what works in responsibility football. Don't worry about all the window dressing. Just do your job."