Matt Novak had no business attempting the last-second field goal.
The Riverside-Brookfield senior had not yet attempted a field goal in his varsity career — all this despite being the Bulldogs' kicker the last two years.
Yes, it's a complicated and unique tale on how Novak found himself staring at the uprights, about ready to attempt a potential game winning 49-yard field goal with 5.9 seconds against Morton on Friday night in the season opener.
"Before (Friday), I had never kicked more than a point-after-attempt in a game," Novak said. "I had never kicked a field goal in a game, and had very few reps even in practice. I had never made a field goal even in practice of 40 yards or more. I think I was 1-for-10 on field goals from the 40-yard line in practices. I didn't even kick in my junior year because of an ankle sprain."
That's how Novak became one of the unlikeliest of heroes on the first football Friday in August in the Chicago area in two years. Novak, against all odds, drilled the 49-yard field goal as time expired to lift the Bulldogs to a memorable 23-21 comeback victory over Morton.
Novak said Morton attempted to "ice" him twice by calling timeouts, even leading to a missed attempt after the second timeout was called.
"Before I even got to kick, they called timeout, so I went out there and they iced me again," Novak said. "I missed left, but I got another go at it. I realized I had the distance, so I felt confident. I was very nervous, but at the same time, I was very confident. Words can't even describe how I was feeling when I made it.
"It was a feeling I had never felt before, just the best feeling in my life. Seeing the hands of that ref go up, everybody then stormed the field. One of the best moments was when I got to the locker room, all of my teammates were already in the locker room. All of them were going crazy."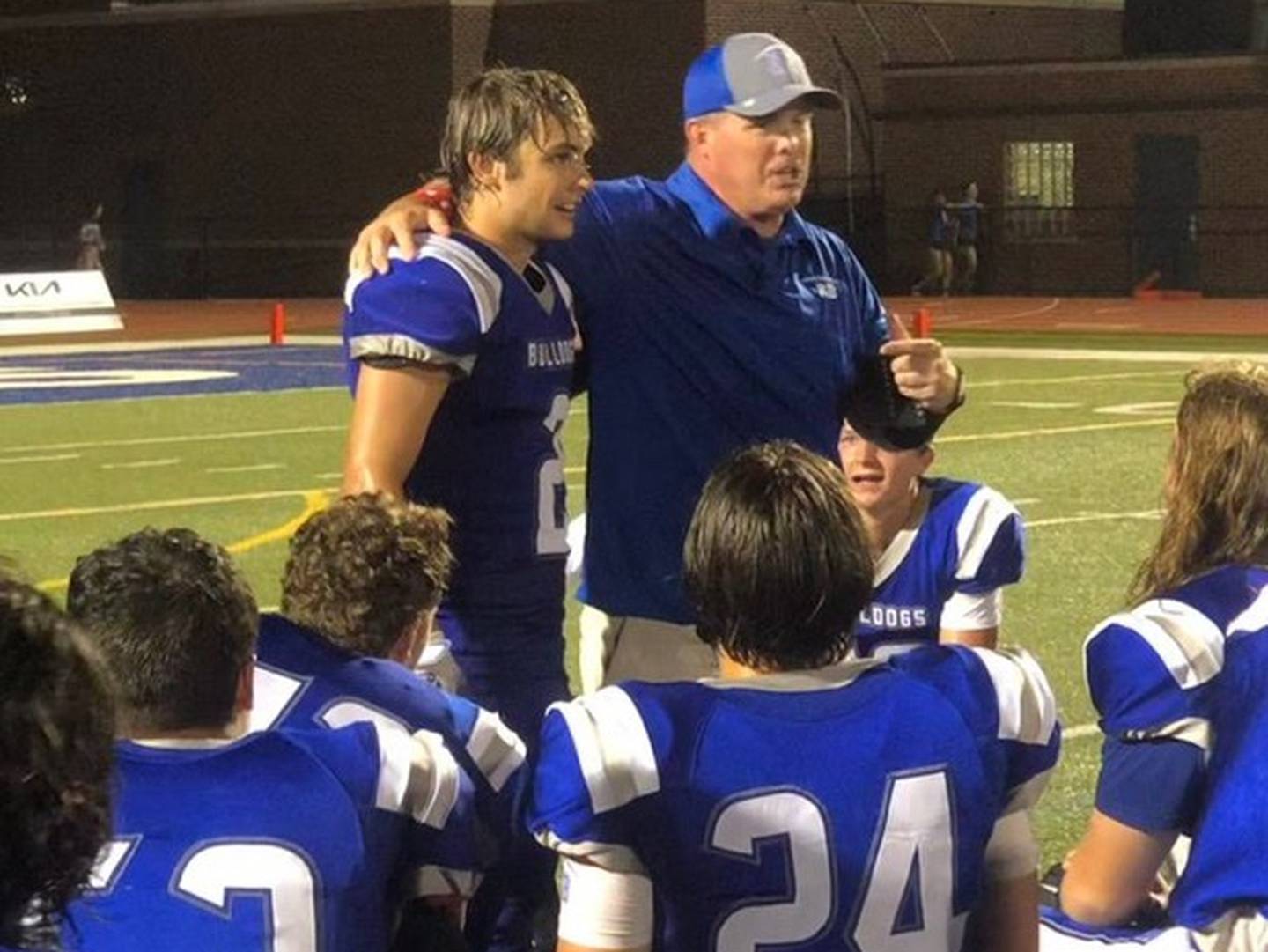 Novak, a wide receiver and defensive back, said he also heard stories about his father's celebration after the winning field goal.
"I guess my dad ran down to the field, right by the goal posts and when I made it, he hopped the fence and did a 100-yard sprint down the sidelines," he said.
Before his field goal, Novak contributed to the winning drive by catching a seven-yard pass to set up the attempt. Novak said R-B coach Brendan Curtin gave him some confidence with his words of encouragement.
"At the beginning of the drive, when we got the ball, coach brings us into a huddle and said, 'we are going to drive down he field and kick a game-winning field goal,'" Novak said. "I was pumped up and ready and the nerves kicked in.
"I wasn't thinking about the kick much because I was playing wide receiver. We had no timeouts left. It all worked out, as soon as it left my foot, it was perfect down the middle. I was just waiting to see if had distance. People told me it cleared by a lot."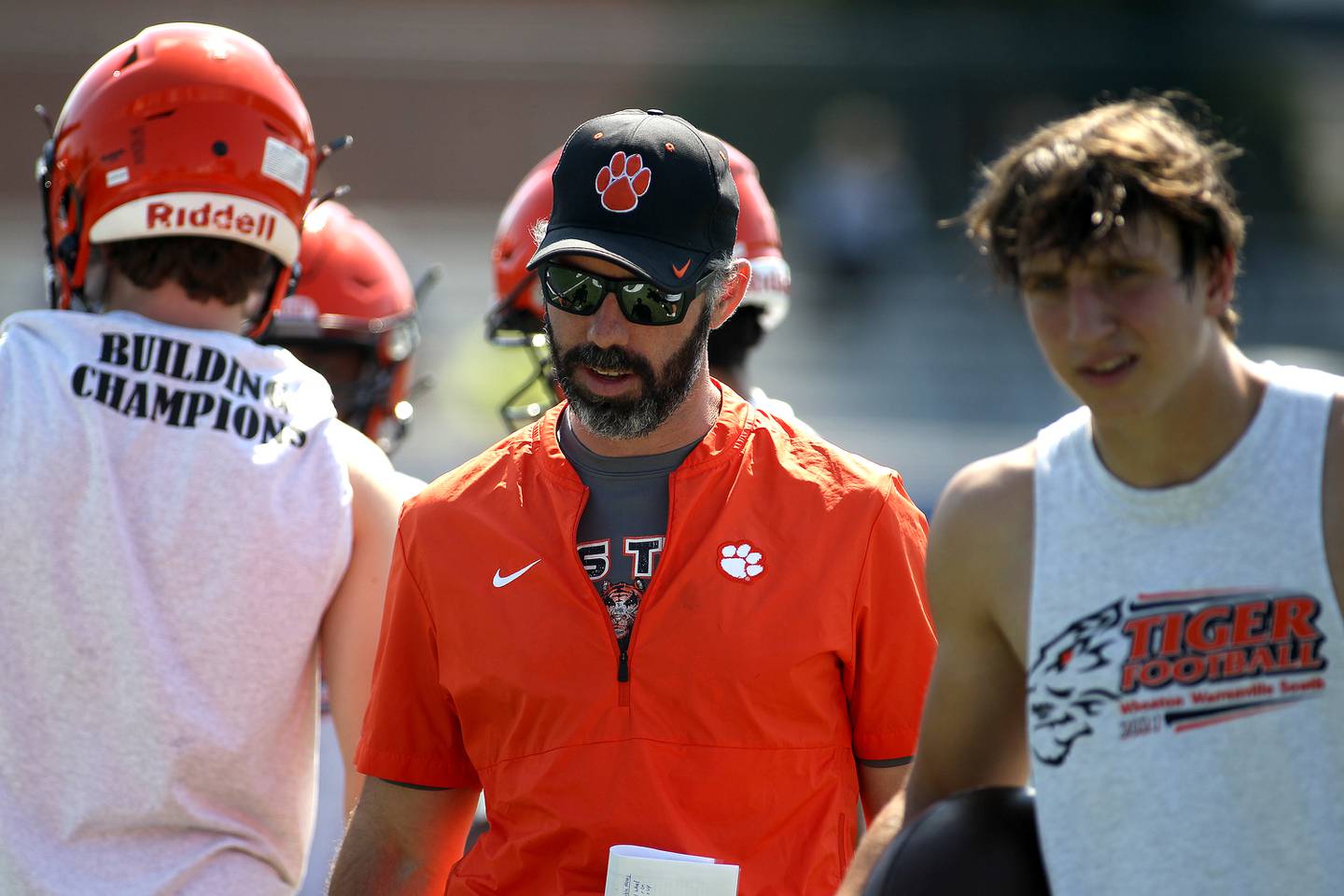 Norris earns win No. 1
Wheaton Warrenville South coach Sean Norris notched his first career victory on Friday. The Tigers opened the season with an impressive 42-28 road win over Oak Park-River Forest.
Friday's game marked a new era for the Tigers after longtime coach Ron Muhitch announced his retirement in the spring. Muhitch was an icon at Wheaton Warrenville South, coaching 22 years as a defensive coordinator and 19 as the Tigers' head coach. He won seven state championships and 20 DuPage Valley Conference titles.
Norris said quarterback Matt Sommerdyke had a solid first start at quarterback leading the offense after the graduation of Parker Brown. Sommerdyke was 11-for-17 passing for 244 yards with four touchdowns and zero interceptions.
"Matt is a really good game manager," Norris said. "He's so smart and throws a nice deep ball. He got us in the right position and did a phenomenal job leading the offense."
Norris said the Tigers benefitted from an experienced offensive line that returns four starters, which helped offset some injuries at running back and ease Sommerdyke's transition.
"We had 134 yards rushing and the offensive line did a really nice job," Norris said. "They're communicating really well and jelling and working together as a unit."
The Tigers host Neuqua Valley on Friday.
Extras: St. Francis freshman wide receiver Ian Willis was one of the bright spots in Friday's blowout loss to Lake Forest. Willis hauled in nine receptions for 124 yards and a touchdown
Senior Blake Lawson, who had a 30-yard touchdown reception in the fourth quarter, said Willis showed he belonged on the varsity.
"(Ian) really stepped up for being his first varsity game and played most of the reps on offense," he said. "He really played his part."