GLEN ELLYN – Glenbard West senior Nico D'Argento tried not to let the oppressive heat of the mid-August afternoon practice bother him.
Sure, D'Argento took his share of swigs from his water bottle but he kept his focus mainly on the field. D'Argento spent most of the afternoon practice on the field, preparing for a bigger role in the Hilltoppers' offense this season.
Running back is a premium position in football but it carries on a different meaning for the "Darkside" Glenbard West program. From the menacing black and green uniforms to the engaging student body, D'Argento is the latest to get a chance to be a feature back for one of the best programs in the state.
And he knows the program's history – and what's at stake.
"It's a surreal feeling to be a part of this program," he said. "I've walked down that hill four times. Something you will never forget and just a different experience. I grew up watching this team, mainly Sam Brodner. I watched the 2012 state title game, and now I'm able to get a chance to play in these games. It's a crazy feeling. I'm proud to be a part of it."
At 5-foot-9 and 160 pounds, D'Argento doesn't possess a run-you-over-type game but his speed and swiftness is a plus for the offense as his ability to catch passes and make change-of-direction moves once he catches passes.
Glenbard West coach Chad Hetlet said team speed is one of the strengths this season.
"We're young but what we lack in experience we make up in speed and physicalness," Hetlet said. "We're playing a lot of younger kids, mainly first-time starters, but we're really fast and physical and I like that. Nico is part of that. He's fast and we're looking for big things from him."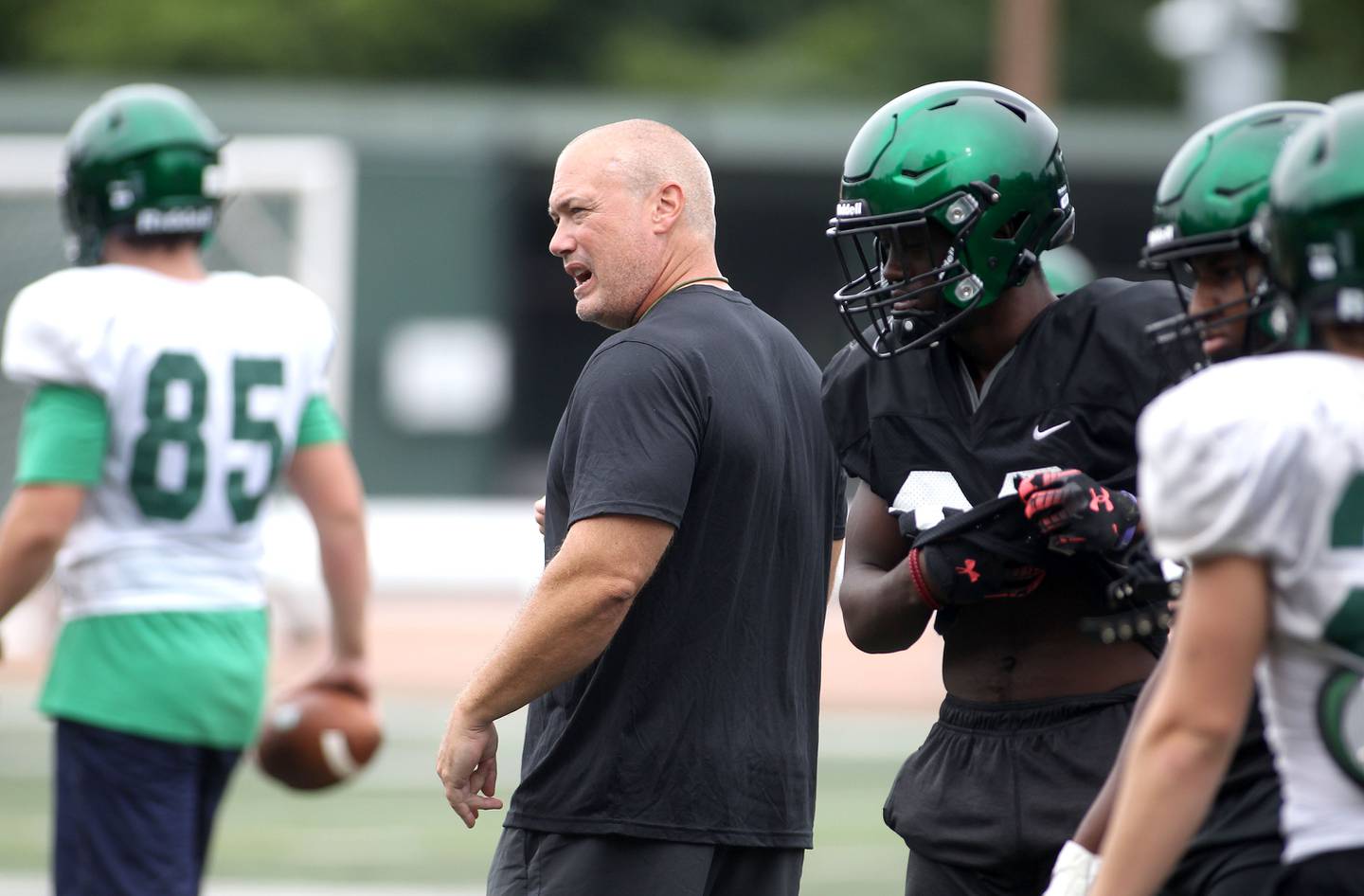 D'Argento said he picked up valuable insight last season into the toughness, attitude and work ethic required to earn the good graces of the demanding Hetlet and his staff. The Hilltoppers have advanced to the playoffs in 13 straight full seasons.
D'Argento and fullback Jason Thomas are among a group of running backs with the tough task of trying to fill the gap left from the graduation of Jalen Moore and Samson Zander.
"Our offense has a lot of team speed but also a lot of younger guys starting," D'Argento said. "We know you have to step up and do your job."
Thomas said donning the Glenbard West uniform is a commitment to playing aggressive and not taking reps off. Thomas said the Hilltoppers are motivated to make a significant run in the playoffs after playing just four games last season.
"We have a really young team this year, but I'm proud of how everybody has stepped up and looks ready to attack the challenge," Thomas said. "I can't wait. I feel like we didn't get our chance last year because of COVID, but now we're going to have a full year with fans and be able to celebrate. I can't wait to walk down that hill. Every day we've been battling, and our mindset is good. We've been locked in and going full speed."
Hetlet said junior Korey Tai is slated to start at quarterback for the season opener against Grandville (Michigan) on Aug. 28.
Hetlet has been encouraged by the aggressiveness of his relatively young team.
"I think we're similar to all other teams we've had before, but in one way, we're starting from scratch with culture because last year we missed that because we only played four games and our freshmen only played two games," Hetlet said. "I think from a personnel and scheme wise, we're still the same team, but almost teaching from the beginning and starting over from scratch."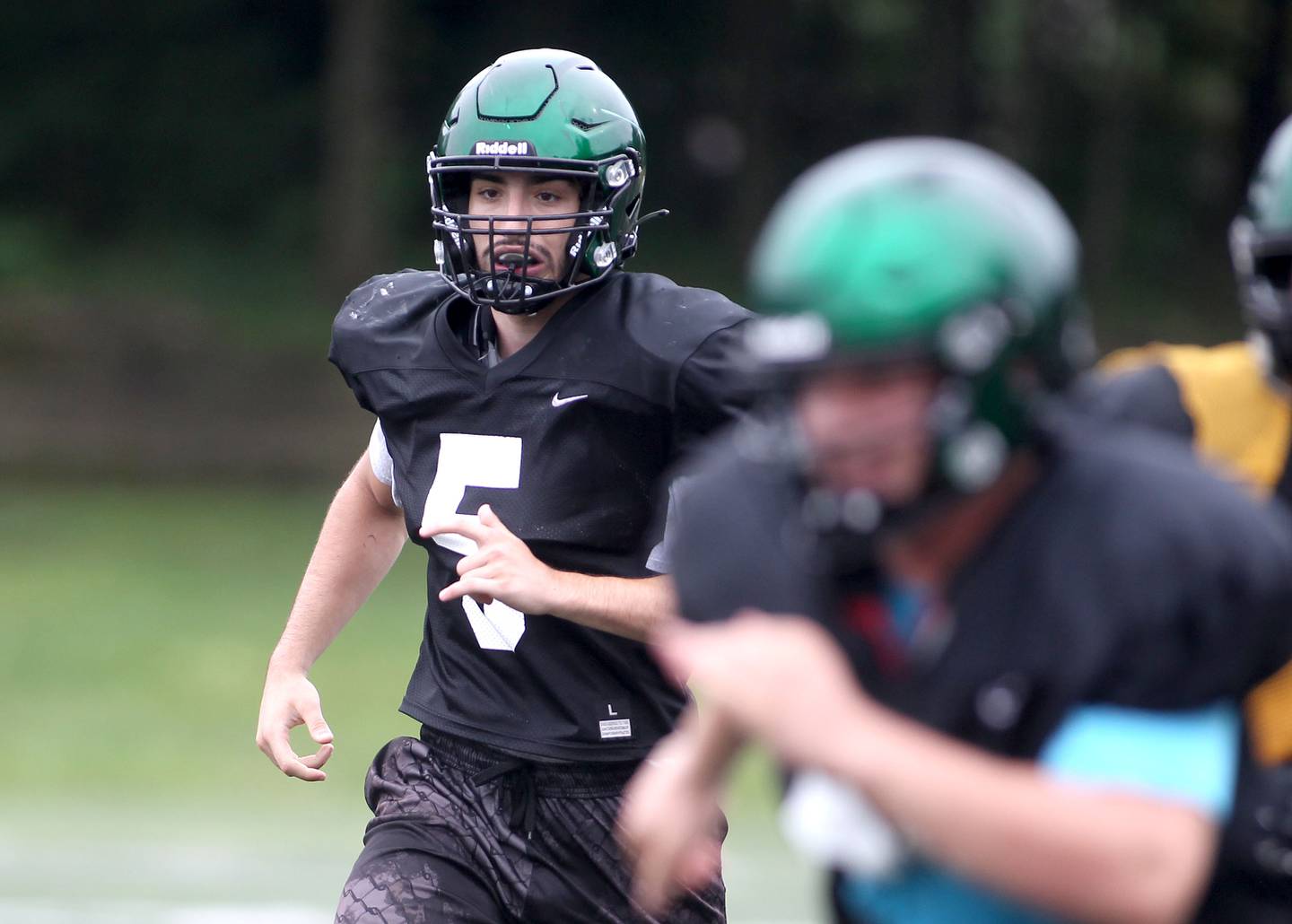 Senior linebacker Pat Shadid is one of the leaders on a defense that includes end Philip Dozier and defensive back Joey Pope. Shadid started all four games in the spring and is ready to put his leadership stamp on the program.
"Last year we didn't get as much experience as should've gotten, but I learned a lot from the seniors and leadership," Shadid said. "This year we're starting off with a different mindset, going much harder and working harder. We definitely endured a lot last year with COVID. We're coming out stronger really. The defense is so much more physical."
The Hilltoppers, who have won two state titles under Hetlet, should be in the thick of the West Suburban Conference Silver race, according to Rivals.com recruiting analyst Tim O'Halloran.
"It's kind of reloading the machine for them because you know what style they're going to do: run the football, first and foremost, and play physical," O'Halloran said. "They have a good stable of running backs that continue to go through that program. I think they're in for another good season. The spring season was a little concern, though."