McHENRY – Brody Hallin has been on the go pretty much nonstop since high school sports resumed in Illinois in late January.
First, there was getting in shape for the six-game football season, which ran from mid-March to late April. Next came high school wrestling, where Hallin eventually took fourth place at 152 pounds in late June at the Illinois Wrestling Coaches and Officials Association Class 3A Boys Open State Championships.
Then came the 2021 USA Wrestling Junior National Championships in mid-July in Fargo, North Dakota, where not only did Hallin compete in folkstyle wrestling – the style used in high school wrestling – he also trained for and competed in freestyle wrestling – the style used internationally and recognized as an Olympic sport.
Add in regular weightlifting and summer football practices, and Hallin, a standout offensively for McHenry during the spring, surely has enough on his plate, right? How about learning to play linebacker at the varsity level as the cherry on top?
"It's a lot of fun," the McHenry senior said during a recent 7-on-7 with Woodstock. "I haven't played defense since middle school. They've got me at middle linebacker. It's fun hitting guys because I've been getting hit all my life at running back."
The Warriors went 2-2 – they did not play in Weeks 2 or 6 because of COVID-19 issues – during the shortened spring season. McHenry lost its first two games to Prairie Ridge (42-16) and Huntley (53-8) before beating Crystal Lake Central (38-26) and Crystal Lake South (48-37).
Hallin rushed 60 times for 374 yards and two touchdowns. The 5-foot-7, 160-pound Hallin also often lines up in the slot and is expected to be a frequent target of quarterback Andrew Hoffman this fall.
"He's a great asset," Hoffman said of Hallin. "Super fast, super strong kid, great at reading holes when he's running the ball. He's great to have on the team. He brings a lot of excitement to practices, and he's just always going all out, ready to go."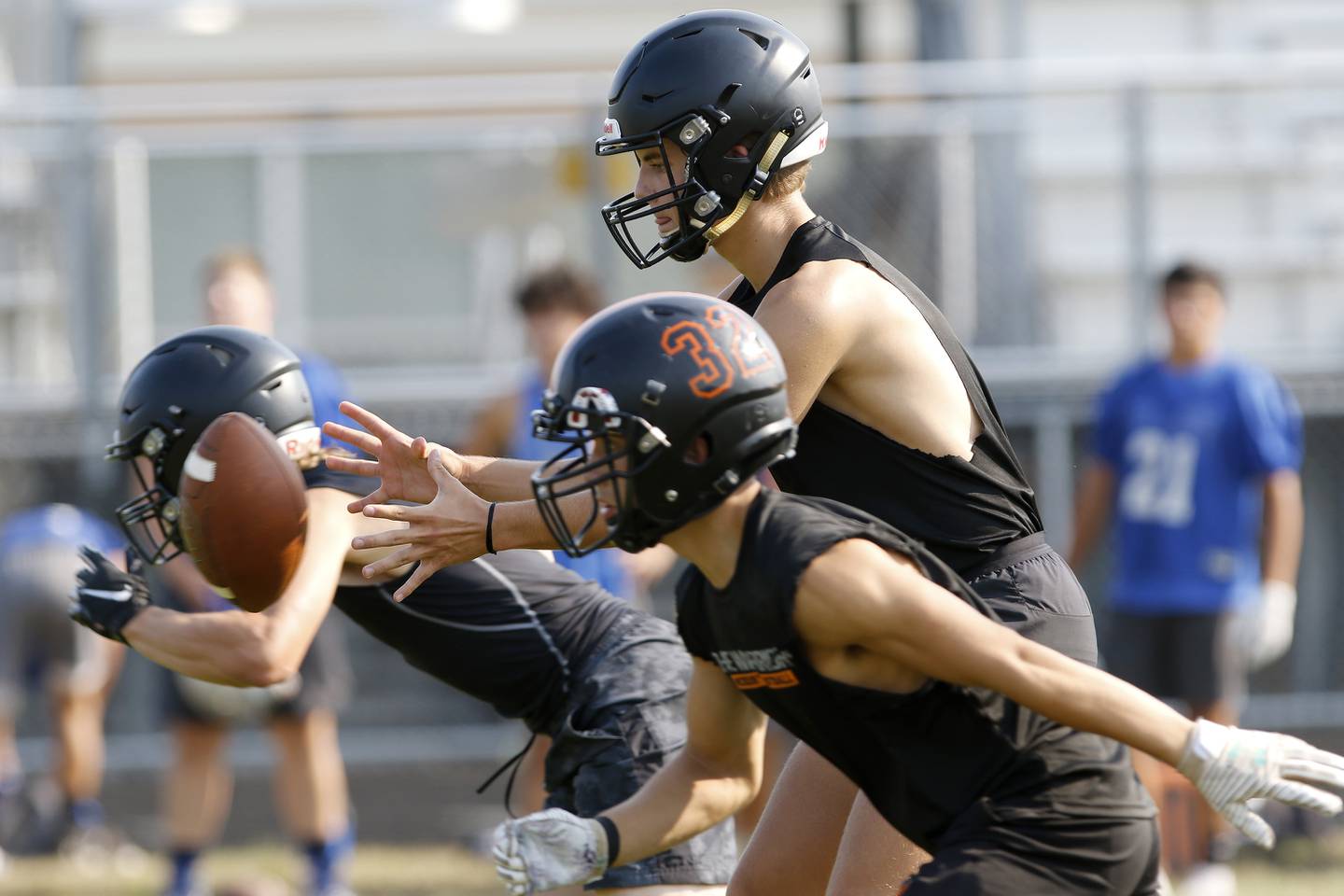 Hoffman, a 6-foot, 185-pound senior, enters his first full season as McHenry's starting quarterback. In four spring games, he completed 43 pass attempts for 656 yards with nine TDs against five interceptions.
Hoffman also started one game as a sophomore, but it wasn't until the final two games of the spring season that Hoffman really started to take command of the offense, McHenry coach Jon Niemic said.
"Especially in the South and Central games, he really kind of came out of his shell running the ball," Niemic said. "If he could add that element to his game, that makes him more, I don't wanna say dual-threat, but it makes him more of a weapon. And throwing the ball, he's been pretty accurate, and him and I are starting to really understand each other."
The Warriors will return seven starters on offense in total, including senior Kyle Kaempf, a Northwest Herald All-Area First-Team pick at defensive back who will see an expanded role at wide receiver.
"He's stepped up very well," Hoffman said of Kaempf. "He is an adaptive router. He catches on real quick."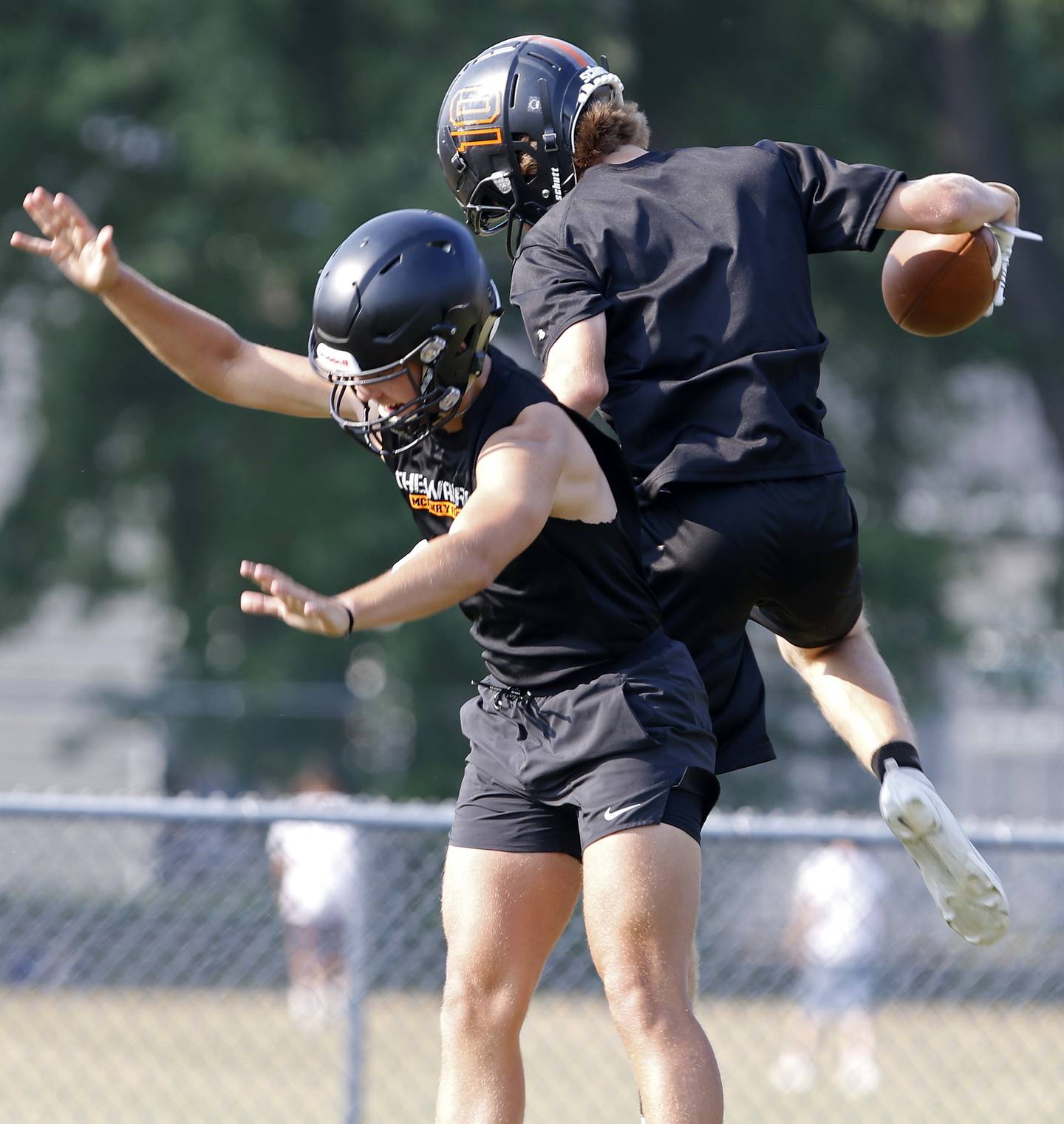 Still, Niemic realizes McHenry must be better defensively if it hopes to contend in the Fox Valley Conference. Having 31 juniors in the program will help, along with getting back 285-pound nose tackle Tyler Groves, who has been on varsity since his sophomore year but dealt with a knee injury in the spring.
Senior Luke Zunkel (OL/DL) and junior Frank Smiesko (TE/DL) will play both ways as well.
And then there's the energetic Hallin looking to provide McHenry's defense with an extra bit of juice.
"For a guy like Brody, it's how do we make it so that he can play fast, so he doesn't have to think and he can allow his athleticism to just take over," Niemic said.
Hallin believes he'll be ready when the Warriors open the season Aug. 27 against Prairie Ridge.
"You don't really have much time to think," Hallin said. "You gotta go, go, go. Otherwise, I could get pushed around. It's fast paced. I like that."