MAPLE PARK – In most cases, depending on down and distance, Owen Lohff doesn't have to maneuver very far for his defensive position switch.
Lohff, a Marengo senior, is making a slight transition from cornerback, where he played all six games in the spring, to a strong safety and outside linebacker hybrid.
"Basically [it comes down] to hard work in the weight room," Lohff said at the Kaneland 7-on-7 event Tuesday. "I was skinnier. Last year, I played corner. Got a little bigger; been hitting harder."
In about a calendar year, Lohff has bulked up from about 140 pounds to 165. He tries to consume at least 3,500 calories a day, which includes a lot of protein and eggs. He also works out at least twice a day on top of running track this spring after finishing the six-game spring season.
Lohff's hard work in the weight room and on the track team caught the attention of Marengo football coach Paul Forsythe and his staff.
"He did great running track," Forsythe said. "We get out of the spring and into the summer, he's a lot stronger and faster than he was. We felt like we needed to move him inside, play on the edge of the box. It's kind of a credit to just his work ethic."
Lohff likely will be counted on as a defensive leader this fall along with returning seniors Michael Macias, Jack Schirmer and Brock Adamson. The trio will anchor Marengo's defensive front. Senior Jack Heinberg, who also starts at tight end, returns to his linebacker position, and senior Collin Aubry will anchor the secondary while also seeing an expanded role on offense.
Aubry played in four games before a minor knee injury knocked him out the final two contests. Now healthy, he's focused on "getting back to the basics."
"[I make my biggest impact on both sides of the ball]," Aubry said. "You've got to give 100% on both sides to be successful."
Gaining more speed and improving his tackling has been the offseason focus, and he keeps training simple with the program.
"I think I'm getting a little bit better [as a tackler], but I still got to prove it," Aubry said.
Forsythe said this fall's senior class saw a lot of action in the spring as juniors. Already facing low numbers in the program, injuries forced multiple underclassmen into larger roles. It also caused Marengo to cancel its JV schedule.
"We were really senior dominant last year," Forsythe said. "As it happened, we had some kids injured. Those kids that were looking to play in JV during the spring season ended up having to play for us a lot on Friday nights. So the plan backfired a little bit but, nonetheless, those guys that weren't gonna play a lot in the spring, actually got to play a lot, which is good to know going into the fall."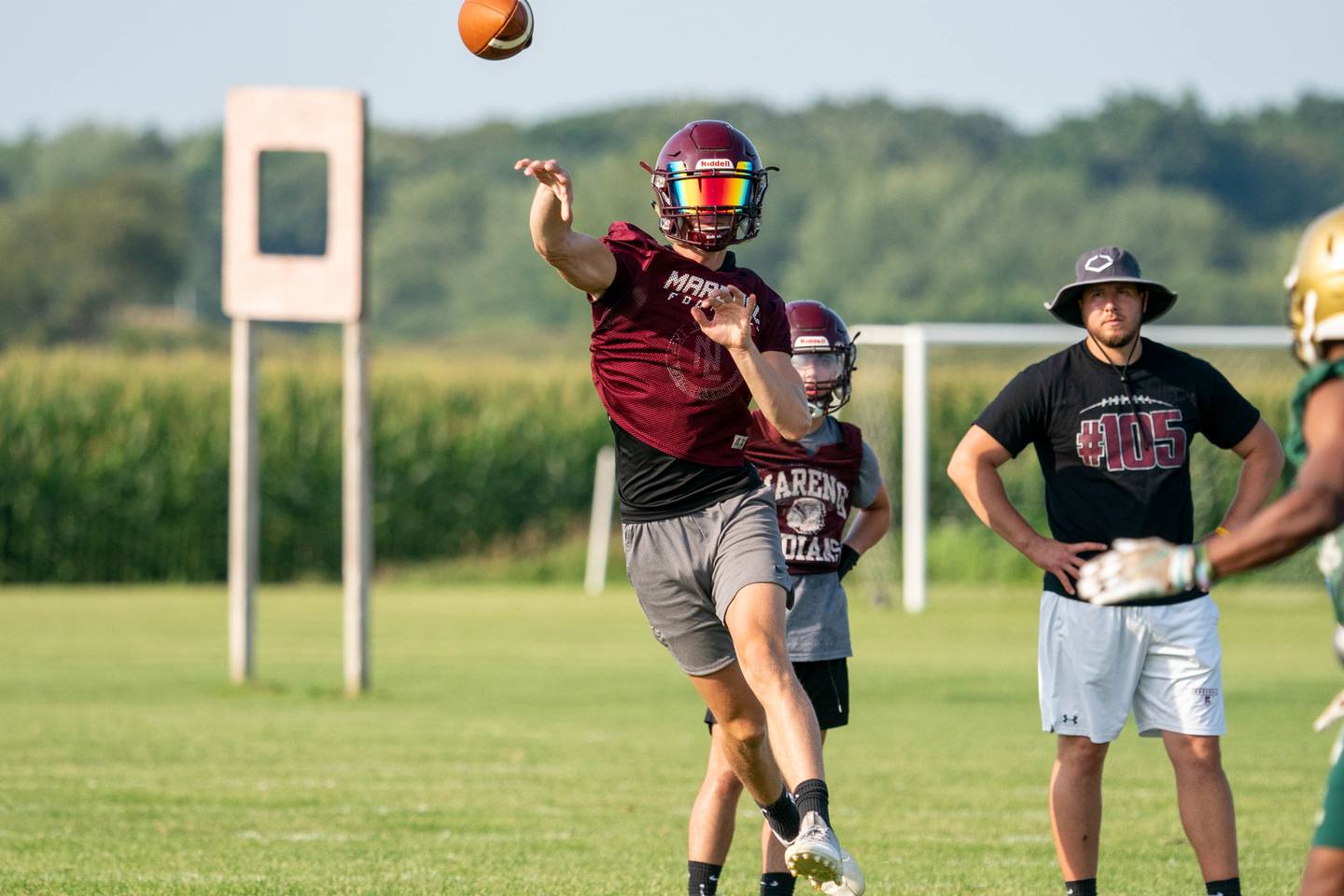 Marengo, which went 4-2 in the spring with its only losses coming to Richmond-Burton, will need to replace some key players.
Jonah Pace, who will play defensive end at Central Michigan this fall, was key on the offensive and defensive lines. Mitch Kunde led the Indians in rushing with 465 yards rushing and had three interceptions. Both were Northwest Herald All-Area First Team selections.
The Indians also lost offensive lineman-linebacker Landon Oine, a second team All-Area pick, and wide receiver-linebacker Eli Garza.
They do, however, have the benefit of returning junior quarterback Josh Holst. The 6-foot-4 Holst was a second team All-Area selection during the spring season and finished third in the area with 1,011 passing yards, with 12 touchdowns and three interceptions.
"I think we have some good pieces coming back," Forsythe said. "There's some question marks for sure. But I will say it's nice when your quarterback is coming back. That always makes a difference."
Marengo opens the season with back-to-back nonconference games at home against Wilmington and Canton before diving into the newly combined Kishwaukee River-Interstate 8 schedule.
"I know our kids are excited," Forsythe said. "They've actually mentioned to me that they're just excited about playing teams we haven't played before."