Woodstock coach Mike Brasile was impressed by his team's commitment to get better before, during and after the COVID-19-shortened spring season.
"Even during COVID, the kids came out looking like freaks," Brasile said of the time spent leading up to the spring. "They were lifting and doing what they needed to do to be successful. They have been going up to the park every night and playing on their own. I don't have anything to do with it. They're just working their butts off, trying to get better."
The spring was a success for the Blue Streaks, who finished with more wins than losses for the first time since 2009. Woodstock was 4-2 and ended the spring with a a 34-6 win over Woodstock North, the Streaks' first home win against the Thunder in 12 years. Woodstock also beat North, 20-7, in Week 1.
[ Photos: McHenry and Woodstock meet for football scrimmage ]
"That crosstown rivalry game, you never know what's gonna happen," Brasile said. "We had those two losses [to Marengo and Richmond-Burton], but they never gave up. The kids came together and did a great job of finishing the season off right."
Brasile hopes to see that hard work translate to even more wins this fall. The Streaks open the season Aug. 27 at home against Rochelle as Woodstock enters its first season in the newly combined Kishwaukee River Conference-Interstate 8 Conference football-only partnership.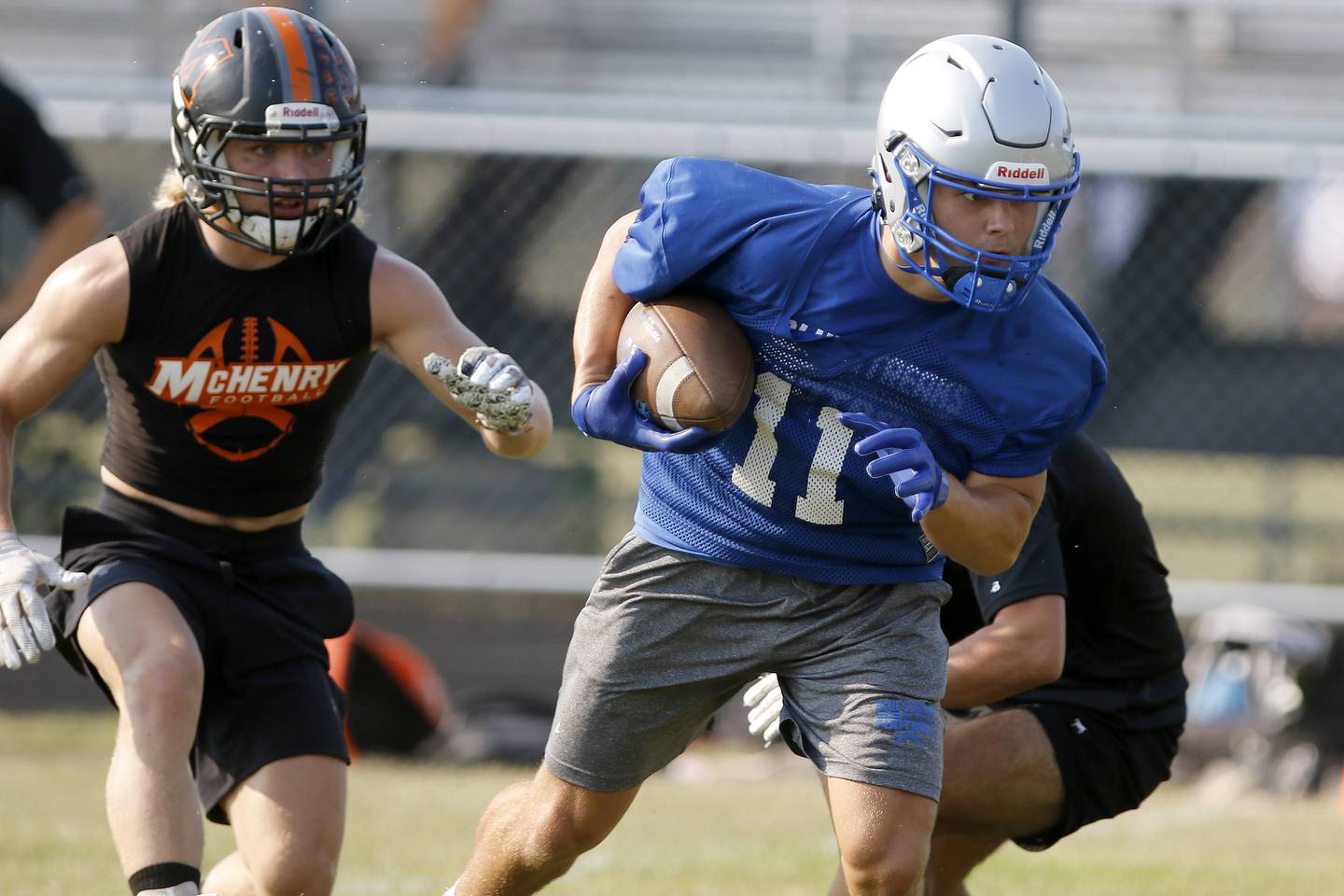 The 12-team partnership between the conferences is split into two groups based on school enrollments. Woodstock is in Group B with Kaneland, La Salle-Peru, Morris, Ottawa, Sycamore and Woodstock North. That means the Streaks won't play Marengo, Richmond-Burton or Johnsburg this season. They will play Harvard in a crossover.
Woodstock took the field for a joint practice with McHenry on Monday. The Streaks still are putting the pieces together after graduating 16 players in the spring. That group included the team's starting wide receiving group and two starting running backs.
Woodstock brings back a Northwest Herald All-Area lineman in senior Gavin Loiselle. He will be joined on the offensive line by Brandon Carroll and Jakob Remot, who both started as sophomores. Jack Raymond is expected to take over at middle linebacker, and receivers Kaden Hunter and Caden Monti and running back Adriane Perry will get more playing time.
One position that won't change is at quarterback, where senior Liam Mickle again will lead the Streaks after a breakout junior season. Mickle was second among McHenry County-area quarterbacks with 1,387 yards on 105-of-171 passing and tied for the area lead with 12 touchdowns, along with nine interceptions.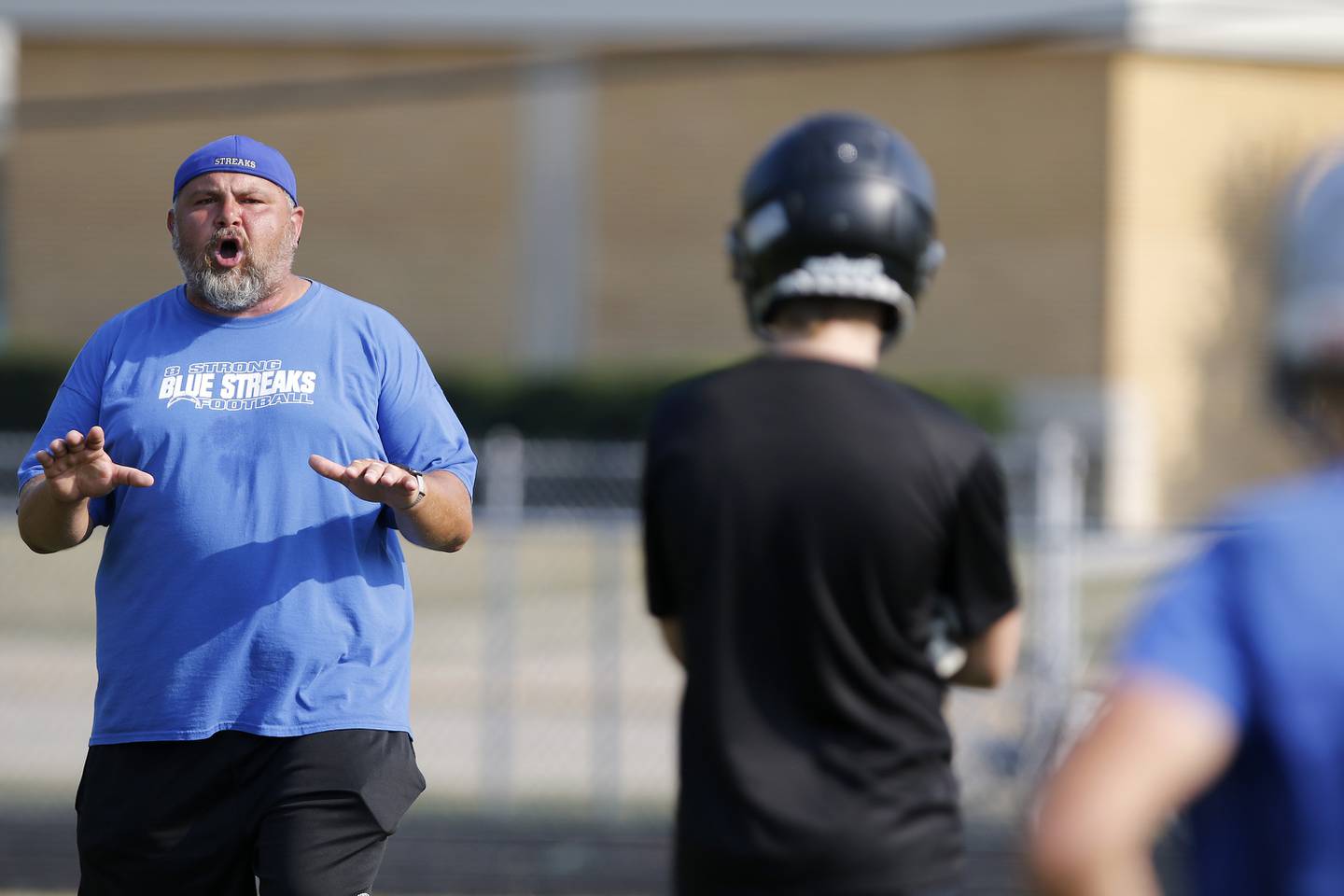 Mickle quickly gained confidence from coaches and teammates in the spring.
"Liam is like another coach on the field for us. He's just another guy I'm doing this with," Brasile said. "On Sundays we're texting each other, 'Hey, did you see this? Did you see that?' On Saturday's, he's watching college football, too. He puts in a lot of time on and off the field."
Mickle and the Streaks weren't used to much winning before the spring. As the starting quarterback on the JV team as as sophomore, Mickle and the Streaks went 0-9. The varsity team didn't do much better at 2-7.
Brasile has high praise for the 6-foot, 200-pounder and said Mickle has helped set the tone this summer.
"He's able to provide a lot of confidence to other kids," Brasile said. "The other kids see him, how poised he is and how much confidence he has in our game, and they're not afraid to make mistakes and play as hard as they can."
"We put a lot on him last year as far as offense. He made a lot of pre-snap, post-snap reads. He's a leader on the field, off the field. I can't speak highly enough about him."
Creating a more positive environment is something the upperclassmen focused on in the spring.
"I think it's the energy right now," Hunter said of the team's focus going into the fall. "If we get everyone hyped up and ready to go, I think we can be really good. We're trying to get everyone – the freshmen, sophomores, everybody – to keep the culture strong, for now and the future. I think everyone is really excited to get going."
"When we get down, in past years, we kind of just shut it down," Mickle said. "When we lost two in a row last year, those were tough losses, but we kept fighting. It showed our resiliency and how far we've come. As a team, we want to get back to the playoffs. We want to build off last year."