For the past four seasons, the Princeton football team's offense was built around Ronde Worrels.
With the hard running Worrels, the Tigers ran power and used the run game to establish a play action passing attack with quarterback Tyler Gibson.
The offense was potent with Worrels running for a Bureau County record 4,387 yards and 74 touchdowns in his career, Gibson throwing for 2,905 yards and 26 scores in 19 career starts and the Tigers averaging 42 points a game and going 6-0 in the spring season.
But things will look different for Princeton this fall.
"We're going to be a little bit more open than what we've been," PHS coach Ryan Pearson said. "We try to adapt our offense each year to fit the skillsets of the kids we have. We think we're going to have some pretty good athletes on the field."
Junior Teegan Davis takes over at quarterback after seeing some snaps at the position late in games in the spring while also playing receiver.
Davis complete 2-of-3 passes for 16 yards, ran 15 times for 250 yards and three touchdowns and caught 11 passes for 222 yards and four TDs.
The Tigers also will use a committee of running backs, including Auggie Christiansen (37 carries, 212 yards, 4 TDs in the spring), Logan Glancy (17 carries, 98 yards), C.J. Hickey and Carson Etheridge.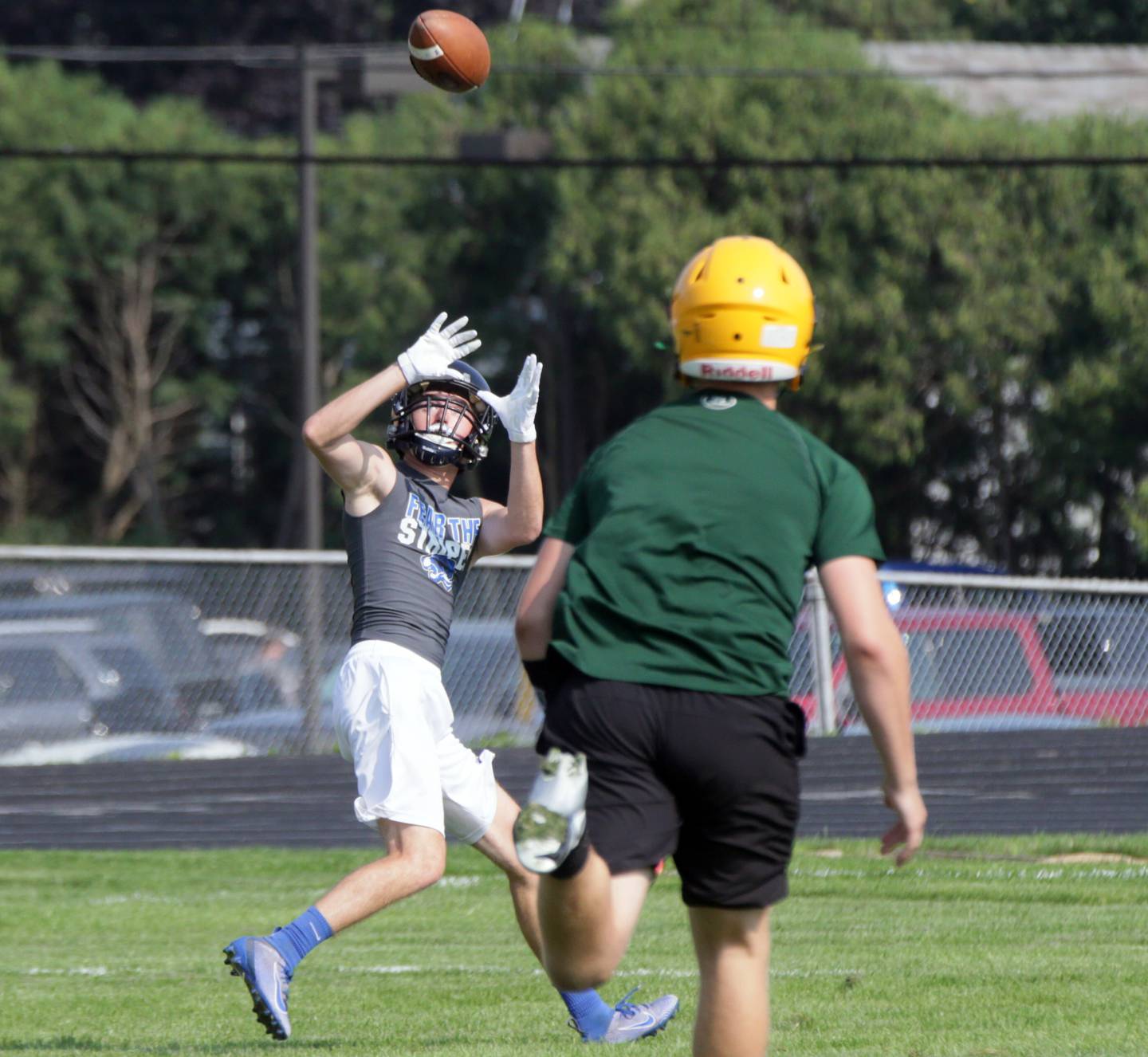 "We knew what we had with Ronde," Pearson said. "He was going to be a downhill, physical-type runner. One thing about our backs now is I think we have a lot of quickness and elusiveness. We're going to open it up and that allows Teegan to use his legs also. We used Gibby in the pass more as a play action, pro-style type quarterback where Teegan brings an added dimension with his legs."
Pearson was pleased with Davis' performance at the Tigers' 16-team 7-on-7 event July 17 where Princeton placed third.
"I thought he looked pretty good," Pearson said. "Obviously, we have some things to clear up. We'll always continue to focus on technique, making sure his hips are where they need to be and his elbows are tight, but for the most part I thought he played pretty well."
The Tigers' four backs complement each other well, Pearson said.
"I think we have a good stable of four backs we can rotate and use to stay fresh," Pearson said. "Each of them brings a different element. We'll use what they bring to the table. We'll be able to put the puzzle pieces together and use the skills they're good at."
Princeton's new-look offense will start up front with an offensive line that displayed strength and depth at the Tigers' linemen challenge July 17.
Princeton's No. 1 linemen group of Jacob Aley, Matt Peacock, Pierce Miller, J.J. Wicaryus and Jesse Wright won the challenge, which consisted of a 185-pound bench press, 275-pound farmer's carry more than 50 yards, a five by 400-meter relay, a 45-pound plate push and tug of war.
And that was without two returning senior starters in Drew Harp and Walker Menzel, who were participating in the 7-on-7 portion of the event.
The Tigers' second linemen group of senior Ben Sousa and sophomores Bennett Williams, Jack May, Payne Miller and Trenton Wilson finished third.
"Our linemen fared pretty well," Pearson said. "We knew coming in our line was going to be pretty strong. We have five seniors back on our line. Certainly, that bodes well when the guys up front are going to be able to carry the load for you.
"It's nice when you have linemen playing other positions to have enough depth that you can have guys fill in."