Ever since kindergarten, Jake Carnrite and Colton Madura have been battling each other whether it was in wrestling, youth football or even at recess.
Even when the Crystal Lake Central seniors find themselves on the same side, it's safe to call it a friendly rivalry.
"We would always play recess football, and I used to load my team with the best players at the school, and I'd give him all the scraps and we'd always beat him," Carnrite said. "We used to wrestle each other back in the day, and I'd never lose. I'm 4-0.
"I played for the Crystal Lake Raiders and he played for the Jr. Wolves. We've always had a connection; he's been a great friend."
With Carnrite at wide receiver and Madura at quarterback, the friends showcased their potential as a pairing, particularly in the final spring game against Hampshire, as the Tigers dealt with injuries and multiple players quarantined because of COVID-19 protocols.
"With Hampshire, I think there was like seven catches, 150 yards," Carnrite said. "I know we have it, I just don't think my name was out there yet."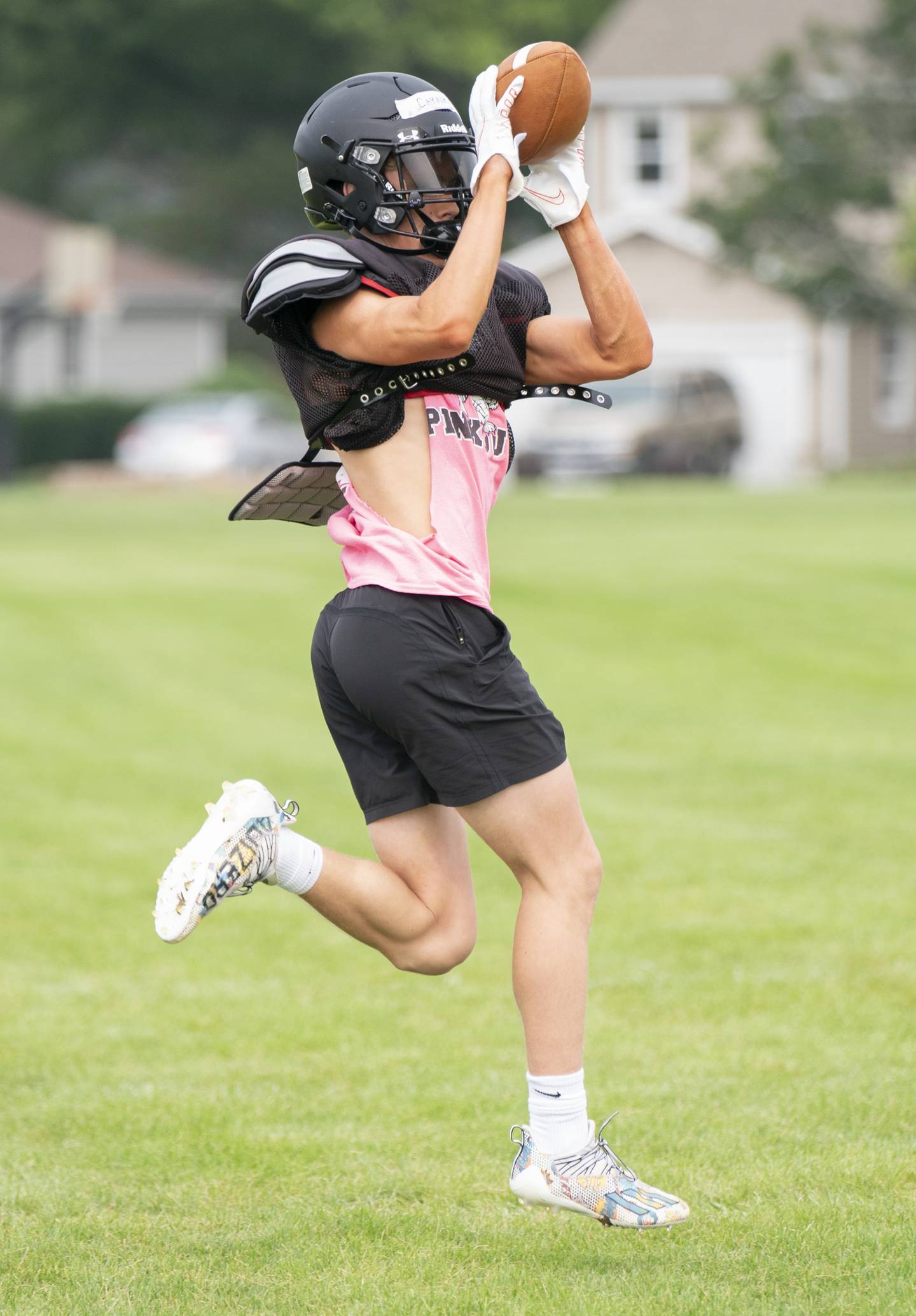 Carnrite (6-2, 170 pounds) finished with 366 receiving yards and three touchdowns on 20 catches during the six-game spring season. Madura (5-11, 195 pounds) was 64-of-121 passing for 1,007 yards with 10 touchdowns and four interceptions. He also rushed for 230 yards and one score on 70 carries.
Both Carnrite and Madura were honorable mentions on the Northwest Herald All-Area team for the spring.
The Tigers enter the fall with 16 starters returning from the spring season. Central won its first three games, including a huge 14-13 upset win over Fox Valley Conference rival Prairie Ridge, but finished with three consecutive losses. The Tigers played Week 6, a 33-21 loss to Hampshire, without more than a dozen players because of injuries and COVID-19 protocols.
"We have a lot of juniors back that are now seniors, and I think we're ready," Madura said.
[ Related: Crystal Lake Central looks to gain ground in rugged Fox Valley Conference ]
Madura is going into his second season as Central's starting quarterback after playing safety and backing up 2020 graduate Aidan Ellinger at quarterback as a sophomore during the 2019 season.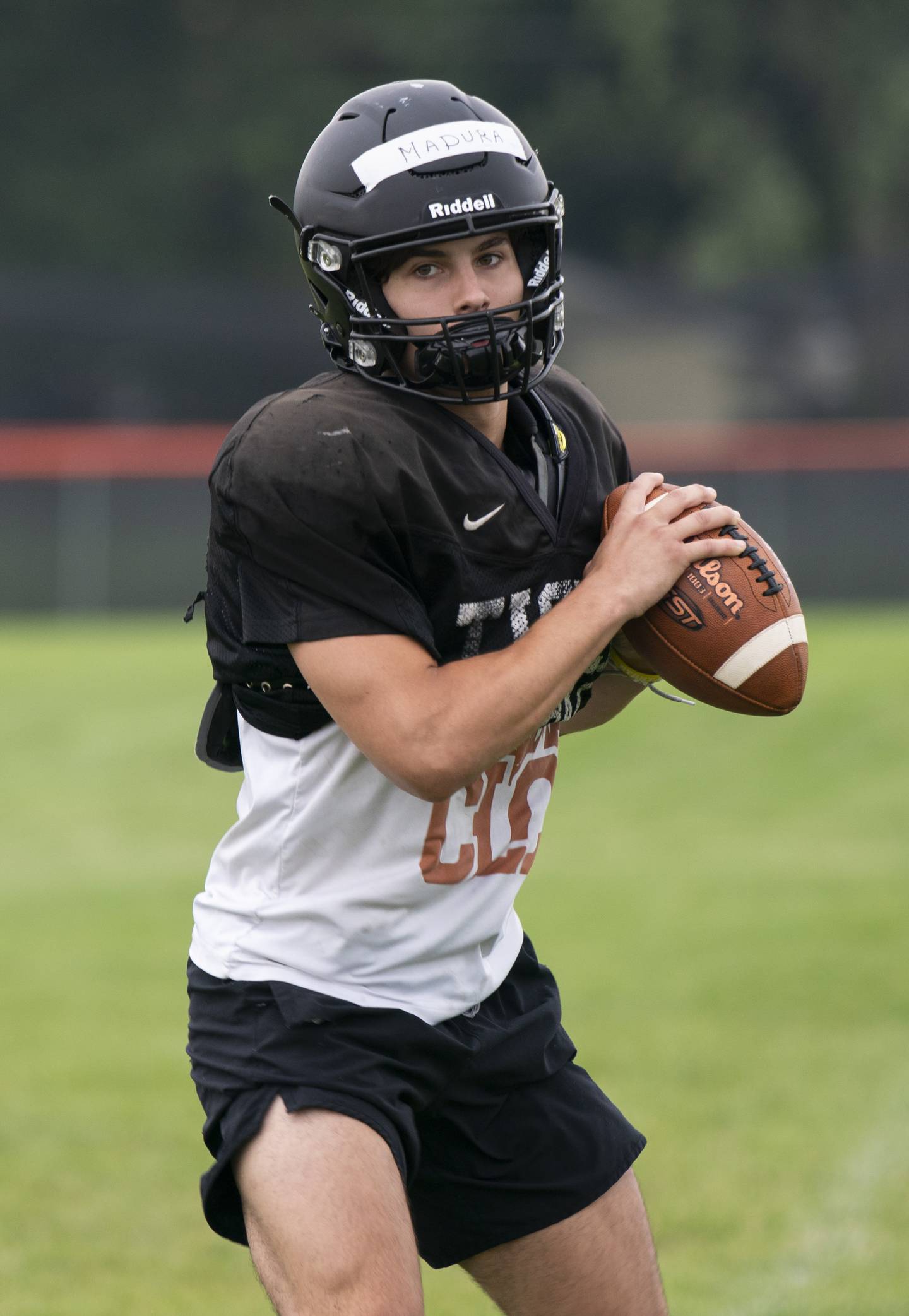 "I took this spring to get everything ready and practice for an actual season with playoffs and everything," Madura said.
Madura said he learned a lot from Ellinger during his sophomore year and is ready to play this fall. Ellinger, a Northwest Herald All-Area honorable mention as a senior, led the Tigers to a 6-3 record and a Class 6A playoff appearance.
"When I came in I wasn't really quarterback but watching him, and watching him do his stuff, I've learned a lot of technique," Madura said. "We don't just throw the ball, we run it. We've got running backs, I can run it, so we're definitely a dual threat, which I think is going to be key this year."
Madura is excited to see what is to come, especially with Carnrite on the outside. Central opens the season Aug. 27 against Huntley.
"I've known him pretty much my whole life, so we've always had a connection," Madura said. "In eighth grade, we were on the same team, so it built from there, and then just playing four years of high school football helped build a pretty solid relationship. He's going to be a big part of the season, I believe. He's come a long way as a wide receiver."