BATAVIA – Michael Whitted looked into the mirror one day and decided he needed a change.
Whitted, a reserve offensive lineman and linebacker, weighted a hearty 250 pounds during the summer prior to his junior football season at St. Charles North.
Now, a year later and entering his senior season, he's trimmed down to approximately 205 pounds.
"I [actually] got down to 195 and then I put on just 10 pounds of clean muscle," Whitted said. "…I just sucked it up. I did lots of cardio and a lot of lifting."
"There's a hill maybe five minutes from my house, so first thing I'd do was wake up at 7 a.m., go to the hill and I had my workout. It was like 25 hill runs and then I'd do some other stuff depending how i was feeling."
Whitted has generated recruiting interest from Illinois Wesleyan, Augustana and Indiana Wesleyan. He's now preparing for a likely expanded role at inside linebacker, perhaps some defensive end, and also starting at center.
"I've still go to secure [my positions]," Whitted said.
Improving his man-to-man coverage skills, reading coverages and more have been big offseason focuses.
"I'm really trying to step up in the leadership department this year," Whitted said.
Whitted's work has not gone unnoticed by his teammates.
"I like his work ethic; [it's] really good," North Stars senior Carson Kuligowski. "His leadership has come a long way…On the defense, he's very vocal. As a linebacker, he's supposed to vocal, but he definitely takes it very seriously."
Kuligowski for his part had 29 carries for 142 yards last season, but is projected to play more of a role in the slot.
"I'm OK with it," Kuligowski said. "I've always wanted to play receiver. For the most part, I played it in middle school and I liked it a lot. Running back was definitely fun last year."
Kuligowski is maintaining his 182-pound frame while conducting weight training.
"[My biggest goal this year]…I just want to come back stronger as a wide receiver because obviously I haven't really shown that I'm a wide receiver yet…I caught maybe one ball last year on a screen, but I didn't do anything route-running wise."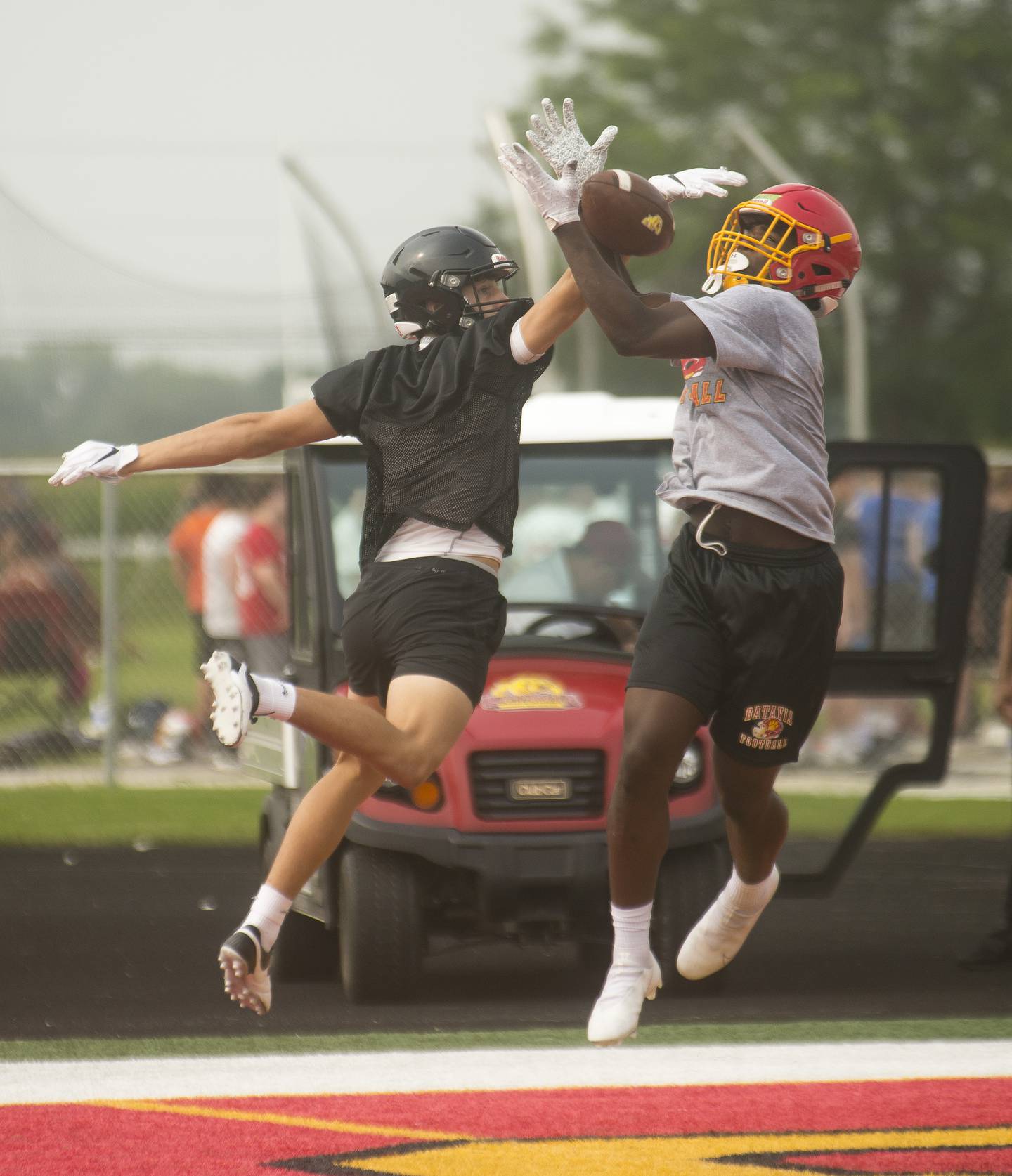 AJ Sanders could fill many roles for Batavia
Batavia senior AJ Sanders is "doing whatever they need me to do."
Sanders was part of a heavy rotation at running back in the spring, getting 14 carries for 97 yards, but is projected to move around the offense to wide receiver and other positions this fall as seen fit.
"[Just] doing my part on the team, trying to help us win that state championship because that's always the goal here," Sanders said.
Sanders has been working on getting a minor right hamstring injury dating back to track season healed up.
"Right now, it's probably the healthiest I've been so far since the past football season," Sanders said.
Sanders is one of the team captains.
"[I] got to be there for everybody and help where I can," Sanders said. "Do what I need to do to help everybody else and help us get to where we need to be when the season comes around."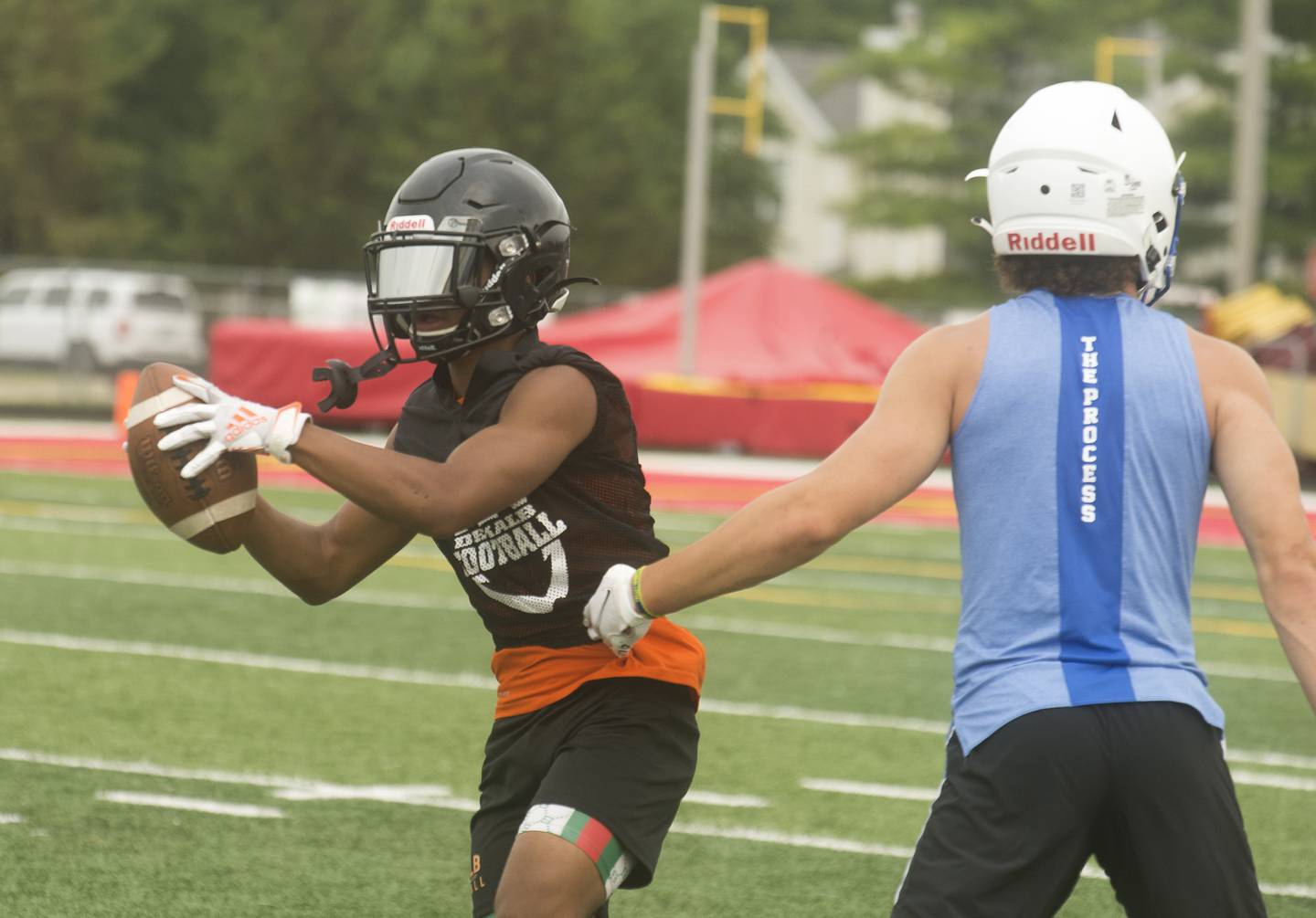 Cheu poised for expanded role on DeKalb
Senior David Cheu made an impressive grab over the middle in double coverage for a touchdown during one of the 7-on-7 games for the Barbs.
Cheu played sparingly for DeKalb in the spring, but he could be poised for a more prominent role.
"My [offseason] focus…my coaches told me I have a really good shot [for playing time] this year," Cheu said. "They said 'hit the weight room' so [I'm just] every day in the weight room."
Cheu has bulked up from 150 pounds to approximately 165 pounds since the end of the spring season.
"I have changed my diet a lot," Cheu said. "I used to eat junk food a lot and I've cut it off. I started drinking smoothies in the morning and [having] a good lunch and dinner."