CRYSTAL LAKE – Crystal Lake Central opened some eyes in the spring by defeating Prairie Ridge, 14-13, in overtime, giving the Tigers a surprising 3-0 start to the COVID-19-shortened season.
Upsetting Prairie Ridge, which was ranked No. 2 in the Associated Press Class 6A poll at the time and has played in three of the past four 6A state championship games, gave the Tigers a path to the Fox Valley Conference title game – an unlikely scenario when the season started.
"They've been beating us for years on end, but we earned it," Tigers middle linebacker Will Martin said from summer practice Wednesday. "You can watch the game back. We earned it. We kind of fell off, but I'm a big believer in us this year. If we all stick together and play together, I think we can beat anyone in this conference."
[ Photos: Crystal Lake Central football summer practice ]
Martin knows that there still is a lot of work to do, especially if the Tigers want to be considered among the Fox Valley Conference elite. That group, in recent years, has consisted of Prairie Ridge, Cary-Grove and Huntley, or the "Big 3."
While Central's win over Prairie Ridge, the program's first over the Wolves since 2012, was a huge confidence booster and proved that the Tigers could compete with the FVC's best, it also was the team's last win of the spring. Central ended the season with three consecutive losses to McHenry (38-26), C-G (42-14) and Hampshire (33-21).
Central was missing a few players because of injury in the losses to McHenry and C-G, while the Tigers weren't even sure if they would have enough players available against Hampshire because of quarantine.
There also was a feeling among returning players that some lost focus after the win over Prairie Ridge.
"It's hard to lose people when you need them the most, and they're not there for you," Martin said. "That kind of just tears apart the team. It was really hard."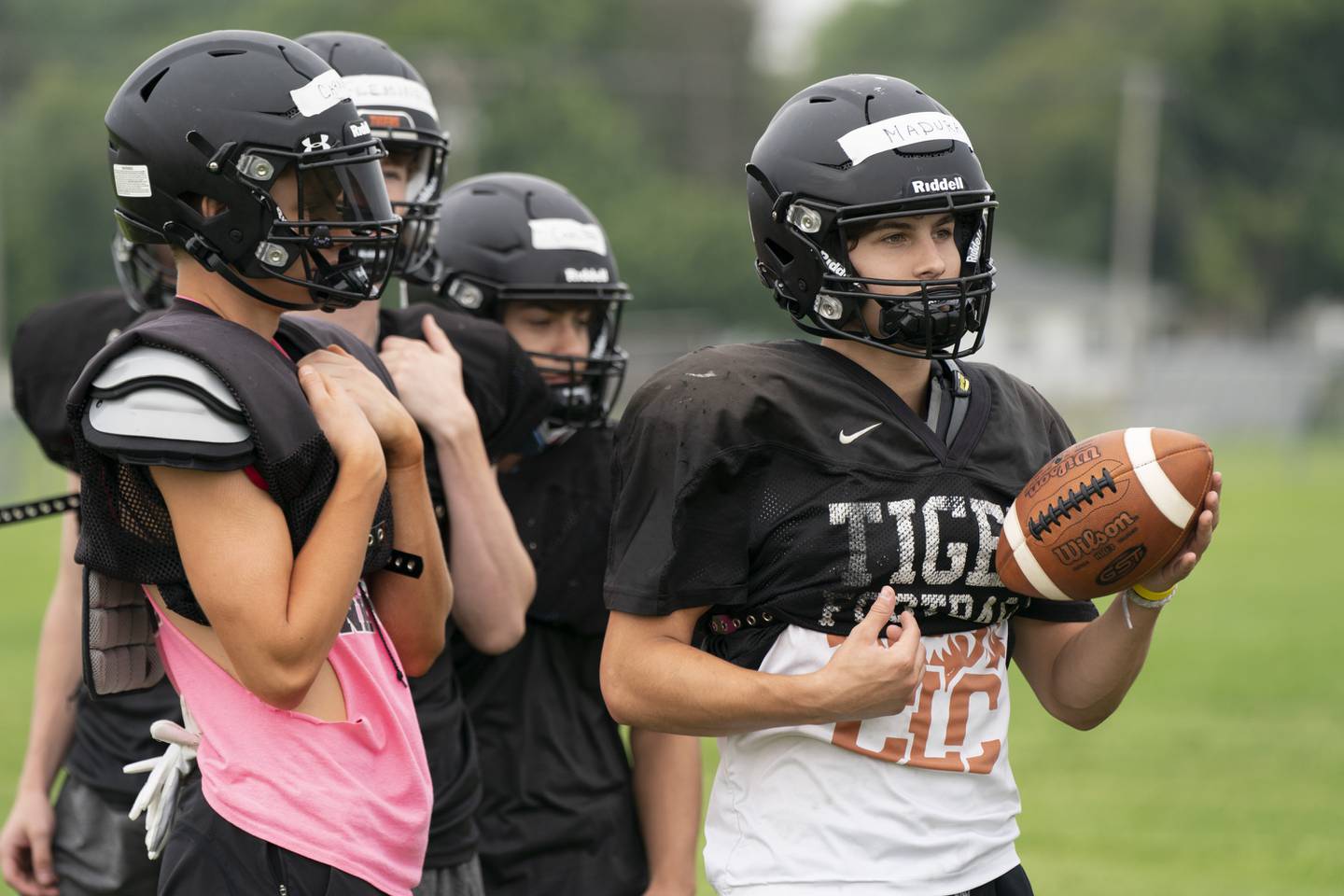 The good news is that Central returns a lot of experience, with 16 starters coming back. On offense, the Tigers lost only one offensive lineman and a wide receiver. On defense, which will be the biggest question mark as the season draws closer, they graduated three defensive linemen and a Northwest Herald All-Area first-team defensive back in Peyton Falco.
Martin and linebacker Nico Acevedo, who was third on the team in tackles with 34 and two sacks, will be two of the biggest impact players on that side of the ball.
"Offensively, we're going to be OK," said Jon McLaughlin, who enters his 13th season as Central's head coach. "The big question for us is going to be on the defensive line – especially when you're going up against the Huntleys, the Cary-Groves and teams with traditionally strong lines. You have to try and match them somehow."
McLaughlin was proud of how his team handled adversity, with a tough end to the spring with three straight losses.
"I don't think anybody really got down about starting the way we did, and then how we finished," McLaughlin said. "They shut up and competed all three of those weeks. As a coach, you want them to play hard, hustle and be physical. I think we were … just not enough."
Senior quarterback Colton Madura will lead the offense after a breakout spring. Madura was fourth in the area with 1,007 passing yards and completed 64-of-121 passes with 10 touchdowns and four interceptions.
Madura will have two of his three top receiving options back in seniors Jake Carnrite and Charlie Fleming. Carnrite led the team with 20 catches and 366 yards, adding three touchdowns, including both of Central's scores against Prairie Ridge. Fleming tacked on nine receptions for 100 yards and two touchdowns.
Senior running back Brent Blitek, who ran for a team-high 305 yards and three touchdowns in the spring, will lead the backfield. Madura also proved to be valuable as a runner, adding 241 yards and two scores on the ground.
Central will try and make the playoffs for the third time in four seasons and second straight this fall. The Tigers made the playoffs in both 2017 and 2019, which was the last year with a full season and state series because of the pandemic.
The Tigers start the season Aug. 27 at Huntley, which shared the FVC championship with Prairie Ridge in 2019.
Madura's only focus is on winning more games.
"I think we'll be a big competitor," Madura said of the Tigers' chances in the 10-team FVC. "I believe in all of us. We work well together, and I think it's going to be a special year."