CARY – Cary-Grove quarterback Jameson Sheehan couldn't help but smile after the Trojans ended their last day of summer practice Monday night under the lights at Al Bohrer Field.
The Trojans, in a normal year, typically end summer with an out-of-town, three-day camp. In recent years, C-G has visited the University of Wisconsin-Whitewater, Lake Forest College and Augustana.
The COVID-19 pandemic didn't allow that this year, however, running sideline to sideline and doing some light tackling drills on their home field is a nice consolation and send-off before fall practices start in August.
"We love being out here," said Sheehan, a senior. "Not knowing if we were even going to play [in the spring] to getting two home games, that meant a lot to us, the town, everyone. We're looking forward to getting that football feeling back."
Sheehan is going into his fourth year on varsity, but the 6-foot-3, 194-pound quarterback is hoping this is the season he truly can air it out. The Trojans open the season Aug. 27 at Dundee-Crown, about four months after winning all four of their games during the COVID-19-abbreviated spring.
C-G was forced to miss Weeks 2 and 3 because of quarantine and had its Fox Valley Conference Championship Bowl against Huntley canceled after the Red Raiders went into quarantine. The Trojans were able to find a replacement for Week 6 – a 44-0 win against Oswego East – and ended the spring without a loss.
Sheehan was thankful for the games the Trojans did get, despite the ups-and-downs and uncertainty.
"Everyone says, 'Play like it's your last game,' and I truly believe that," he said. "This could be the last time I'm out there with friends I've been playing with since second grade. Make every day count, and that's exactly what we did. This game can be taken away just like that."
Sheehan was a Northwest Herald All-Area first-team pick in the spring as a punter and quarterback. He threw for only 239 yards in C-G's triple-option offense, but the Trojans improved steadily as the season progressed.
C-G scored 42 points in a Week 5 win over Crystal Lake Central to advance to the FVC title game, with Sheehan throwing an opening score. He finished 7-of-9 passing for 108 yards and added 58 yards on the ground.
The fall will be Sheehan's first under center for a typical full year [nine games, plus the postseason].
Sheehan was a freshman on the 2018 Class 6A state champions, led by quarterback Ben McDonald, who threw and rushed for more than 1,300 yards. As a sophomore, Sheehan was a backup and got some snaps alongside starter Luke Eleftheriou.
Trojans coach Brad Seaburg said Sheehan took big steps in the spring, despite starting only four games, and saw the quarterback's confidence grow.
"I know he's excited about having a full year and really taking the reins to our offense," Seaburg said. "His leadership was tremendous. His athletic ability was evident. He got really accurate throwing the football."
"What I think is most important for him is his confidence. You can't really put a price on a kid's confidence. When a kid is confident, they play fast, they play aggressive. They're almost like a different being."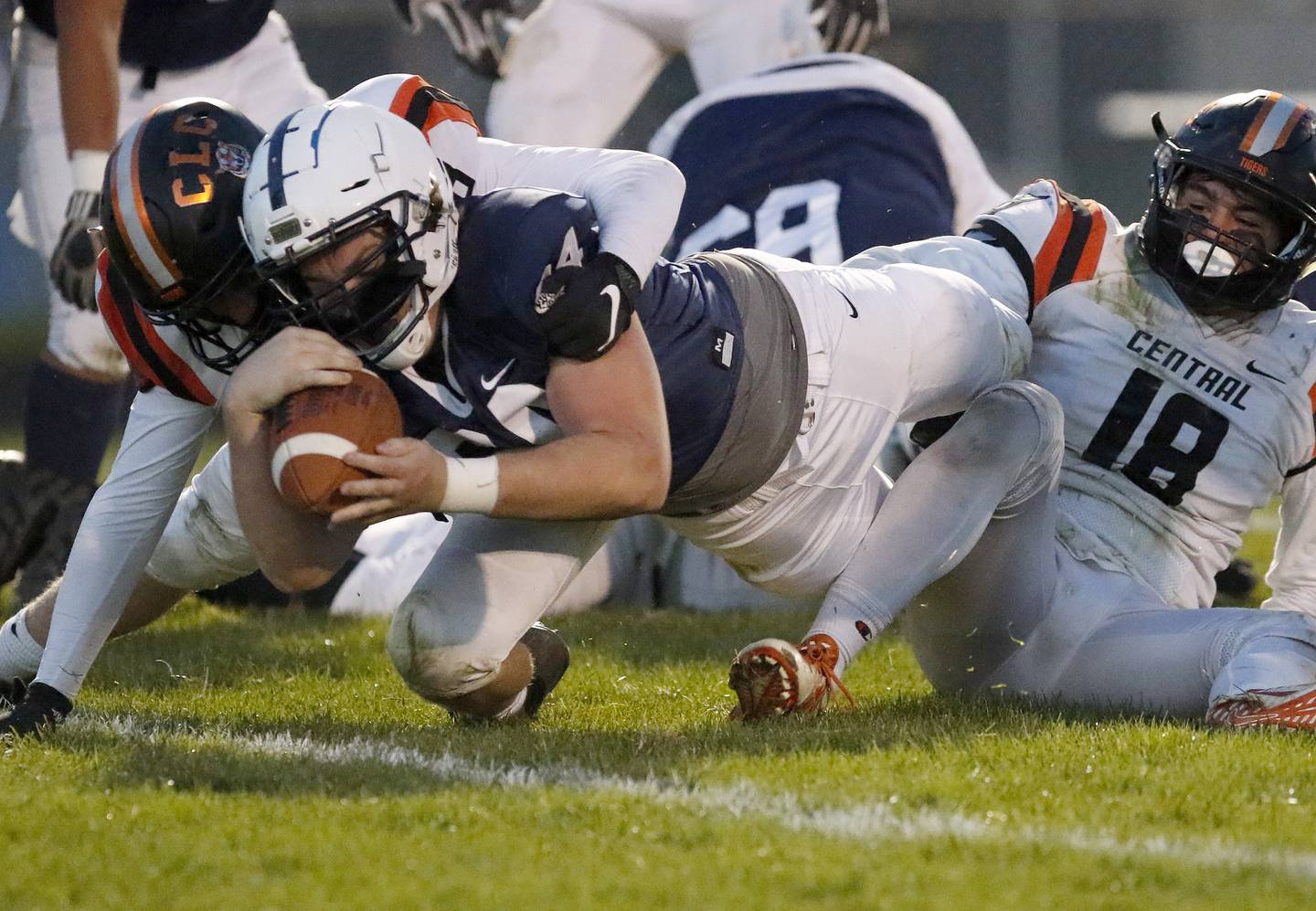 Sheehan will have plenty of help, with the Trojans returning almost their entire backfield. Fullback Nick Hissong, a senior, was ninth in the area in the spring with 479 yards and eight TDs. Senior Wade Abrams, a shifty and dangerous slotback, and junior Colin Desmet, Hissong's backup at fullback, also are back.
Hissong, an All-Area first teamer in the spring, was one of the area's most difficult backs to corral. Sheehan was not surprised by his teammate's success.
"I just saw the hard work he put in," Sheehan said. "He's gotten a lot bigger, and he really dedicated himself to the program. Sometimes, it just takes one person to step up, and then everyone feeds off that. We're all best buds. We've all got the same mindset. We get on each other."
Hissong said the offense is headed in the right direction.
"The goal right now is tempo," Hissong said. "Speed wise, getting everybody in the right spots, and getting everybody conditioned. Once we get into the fall, that's when we really start to focus on cracking down the important details. I think we're looking really good right now. We're on track."
Senior Zach Petko, who will play at linebacker and on the offensive line, is excited to help set the tone up front.
"I'm really excited for this year on the line," Petko said. "Pretty much our whole backfield is returning and we have a lot of seniors who know what it takes. We have a lot of power, and we'll be ready to go."
Sheehan already is itching to get back to Al Bohrer Field.
"Just getting back on the field is all that's important right now," Sheehan said. "Due to the circumstances last year, we weren't really together much as a team. The seniors really stepped up to get everybody on the same page, making sure no one missed workouts or Zooms. We're just excited to get a full season."