BOLINGBROOK – I'Marion Stewart hardly seems overwhelmed by milestones uncommon for a young man his age.
It's the benefit of having a big brother.
That older sibling is I'Shawn Stewart, a former Bolingbrook star now at Eastern Michigan after transferring from Oregon State.
His brother's experiences have prepared I'Marion Stewart, who started at receiver on varsity for Bolingbrook as a freshman this past spring and already has accumulated eight Division I scholarship offers.
"It was a blessing to play on varsity, but it was something I was expecting," I'Marion Stewart said. "I've been expecting [the offers] because of my brother, too. It's nothing new."
I'Marion Stewart flashed some of the next-level athleticism that has Power 5 conferences knocking on his door at a 7-on-7 Tuesday with Oswego, Joliet Catholic and Rockford Jefferson at Bolingbrook.
When I'Marion Stewart wasn't blowing past defenders on deep routes, eliciting roars from his Bolingbrook teammates, he was making sharp cuts on the Raiders' turf field to get separation.
Stewart enjoyed the competition, especially after the previous summer when COVID-19 restrictions prevented 7-on-7s like this one. He's apparently cousins, too, with Oswego running back Mark Melton and defensive back Cameron Grays, who lined up opposite Stewart on occasion.
"Definitely good to get out there," I'Marion Stewart said. "Had a long offseason, so this is pretty good. Last year we weren't able to get as much work, and we had breaks because of COVID. This year, four days a week practice, it's good to get the feeling and to get comfortable with plays and stuff."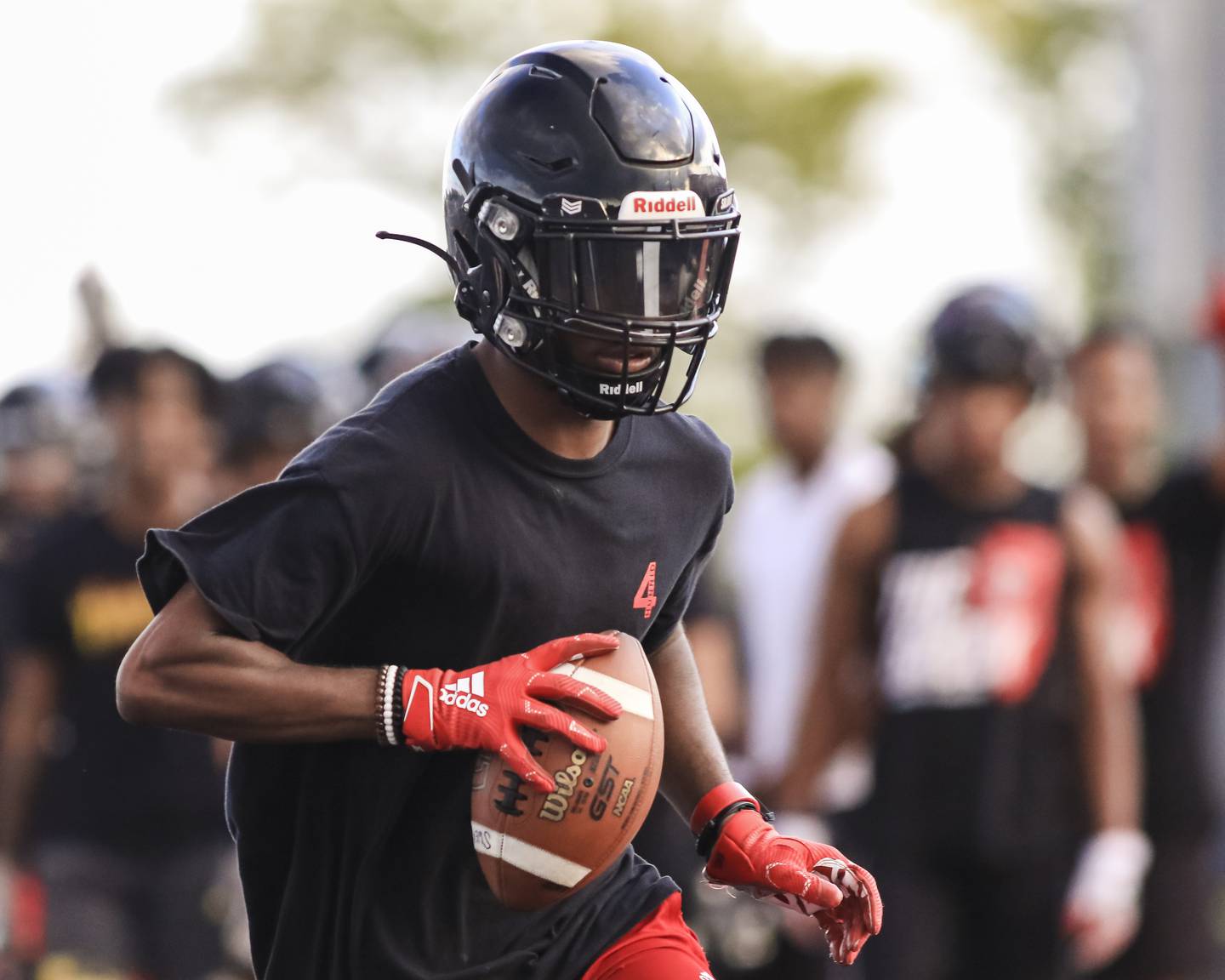 It's been a busy July for Bolingbrook, which is hosting three 7-on-7s. Raiders' coach John Ivlow admitted it's been a re-acclimation.
"It's like we haven't done this before; we're not used to having this much time together," Ivlow said. "We'll take the time because a lot of guys lost that last year. It's a matter of getting back into the groove. I think a lot of people in the country, communities, kids, coaches, we're still in COVID mode. It's hard to shake. It was nice doing nothing for a year, but it's time to get back."
Although the Raiders are less than three months removed from season's end, it's been a busy time for guys like I'Marion Stewart.
The 6-foot-1, 180-pound rising sophomore is up to eight scholarship offers – Tennessee, Arizona State, Penn State, Washington, Missouri, Nebraska, Kansas and Iowa State. He took unofficial visits to Missouri, Nebraska and Kansas and attended a camp at Northwestern in June.
The attention doesn't seem to faze I'Marion Stewart, who received his first offer from Arizona State before he ever played a high school game.
"My big brother went through the exact same thing," I'Marion Stewart said. "He told me what to look for, not just the logo. You have to look at the coaches, what they think of you. It's not about the logo. You have to look deeper."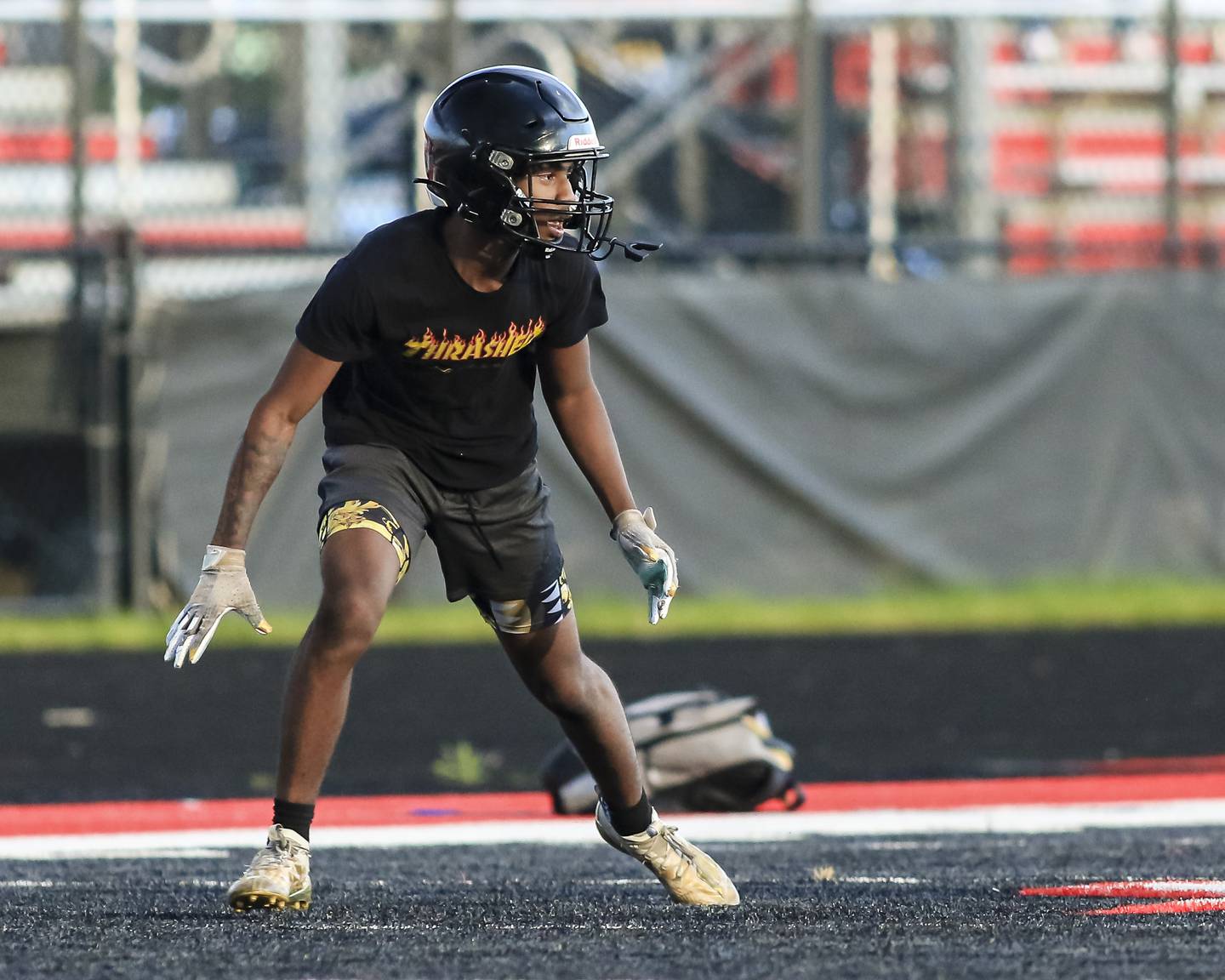 I'Marion Stewart isn't the only Bolingbrook youngster with an acclaimed older brother.
Defensive back Damon Walters, who started in the spring as a sophomore and holds offers from Tennessee, Vanderbilt, Iowa State and Syracuse, is the younger brother of Justin Walters, now at Notre Dame.
"They are just babies," Ivlow said of the younger Stewart and Walters brothers. "I'Marion has three years left with us, Damon two. Their best football is yet to come."
I'Marion Stewart will be one of six returning starters on offense for Bolingbook with four returning on defense, including Walters. Another Bolingbrook defensive back, Amon Walker, showcased his coverage skills against players like 6-foot-6 Oswego tight end Deakon Tonielli, who has an offer from Tennessee.
"It was great being out here, playing these Catholic schools, playing some of these big schools," Walker said. "Everybody loves to play us. It felt good to play teams that were up to us."
Walker, a senior, also has had a busy year, going to 7-on-7 nationals with BOOM Football and earning a scholarship offer from Indiana State.
He's eager to get the season started. Bolingbrook's loaded schedule starts with nonconference games at Minooka and Simeon.
"I've been working with a personal trainer, traveling across the country, it's been a good year for me," Walker said. "I'm just working on improving my off man. I feel like I'm great at everything else. Trying to work harder, get bigger, work on my off man."