BOLINGBROOK – Deakon Tonielli sported a white towel with an orange "T" on his shorts Tuesday, a subtle reminder of the Oswego rising junior's promise.
Tonielli, a 6-foot-6 tight end, emerged as a matchup nightmare with 25 catches as a sophomore in the abridged spring season, his first on varsity. His best game came in Oswego's biggest, against Minooka.
Less than a month after season's end, Tonielli picked up his first Division I scholarship offer, from SEC power Tennessee.
That early success has hardly got to Tonielli's head.
"That first varsity season, I learned it's no joke. You have to work harder than anyone else in order to succeed," said Tonielli, who also holds an offer from Iowa State. "If you fall behind of people somebody else will get better and they'll take your spot and next thing you know you're watching from the bench. Definitely not resting on anything."
Tonielli is one of a rather large group of Oswego skill-position players who are returning this fall. They were in action in a 7-on-7 Tuesday at Bolingbrook that also featured Joliet Catholic and Rockford Jefferson.
The competition seemed to get particularly intense with Bolingbrook, which also features two underclassmen with Tennessee offers in defensive back Damon Walters and receiver I'Marion Stewart.
"We'll talk smack a little bit but it's all love," Tonielli said with a smile. "It's a lot of competition but I love it. I love the competition."
Tonielli, also a returning starter on Oswego's basketball team, provided a preview of his immense potential in the Panthers' last game this spring. He caught nine passes for 141 yards, helping key a come-from-behind win over Minooka to clinch the Southwest Prairie West title.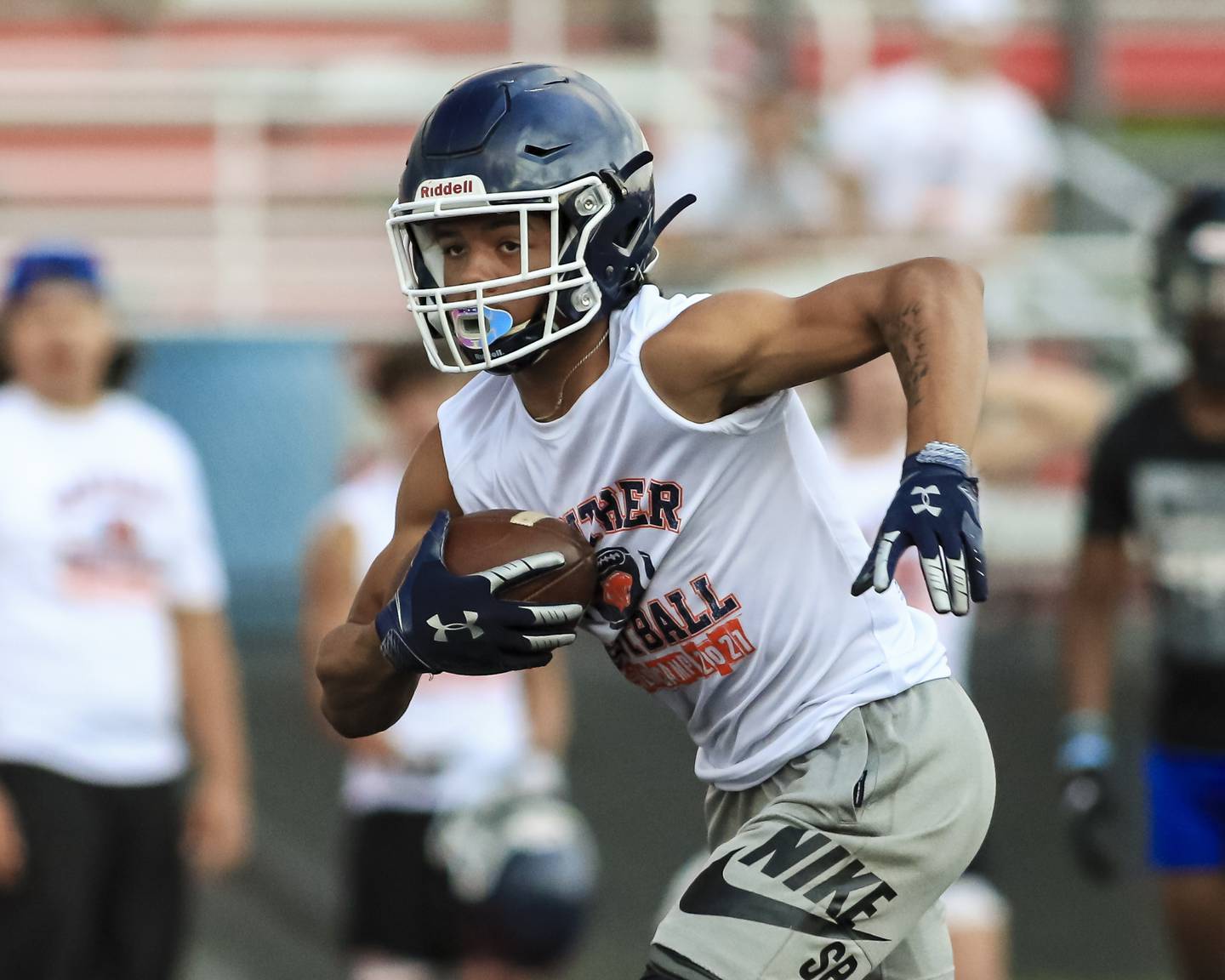 Another underclassmen, then-junior running back Mark Melton, had a big hand in that win too with a spectacular 39-yard tying touchdown run.
"That game, coach told me to run like a senior, that it was Senior Night, to run for your seniors," Melton said. "I tried my best to run like a senior that night."
Melton was one of a deep group of Oswego running backs in the spring, and it's still a position with depth. Jacob Sergren will return this fall for his third varsity season and rising junior Nick Scott is another to watch.
"[Scott] can run the ball between the tackles and also flex out. We just had so many backs last season [on varsity] that he was a guy getting the ball every time [on the sophomore level] doing his thing," Oswego coach Brian Cooney said. "Nick has to get his hands on the ball, we're working on flexing him out."
Melton for his part showcased some receiving abilities at Bolingbrook, making a spectacular one-handed catch on one route.
"I'm trying to rush for more yards this season, fighting for more plays," Melton said. "Last season was pretty good but I'm going to try to do better this season, especially since it's a regular [nine-game] season."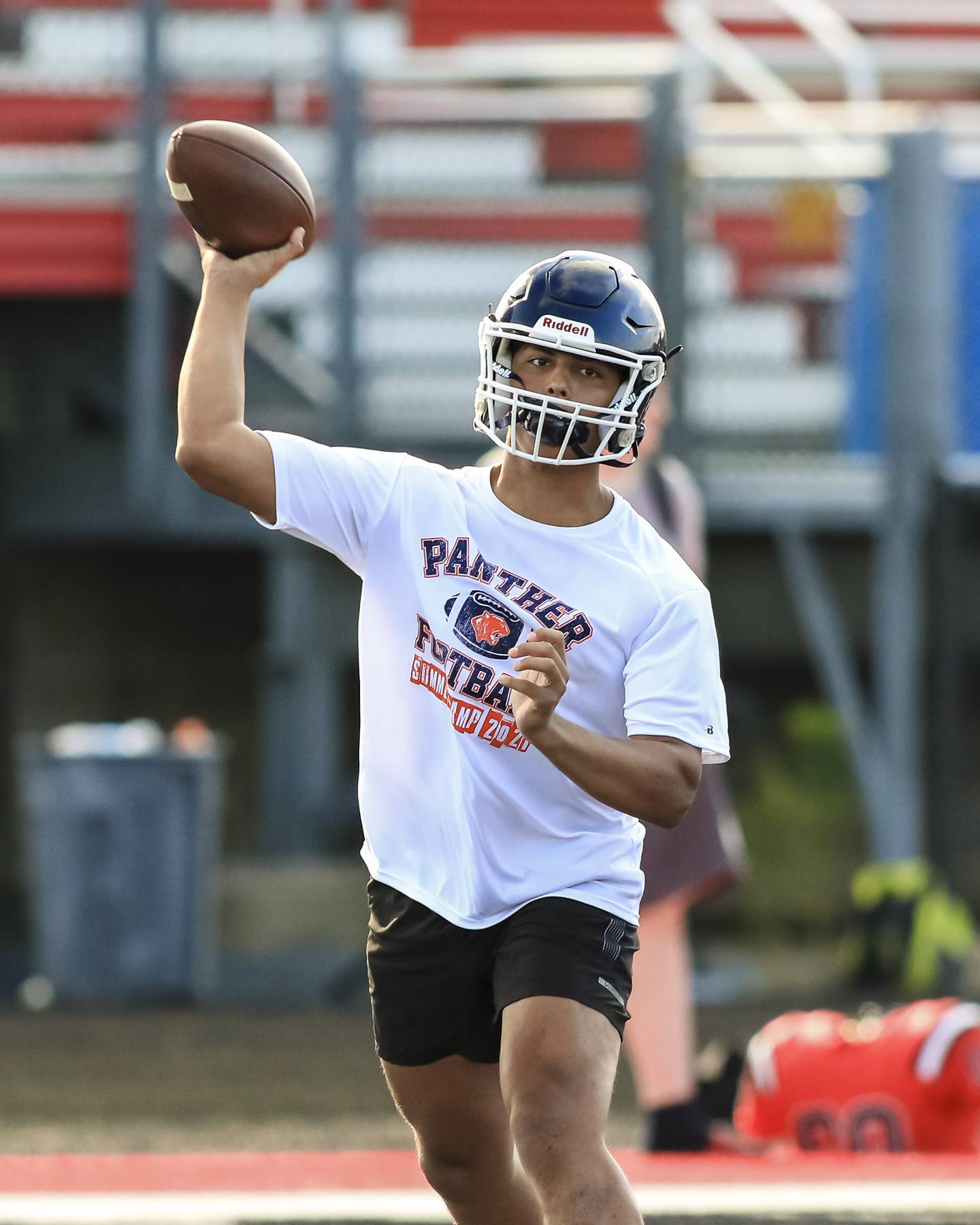 The man handing it off to Melton remains to be seen, but the quarterback position is one with unexpected experience. Senior Julian Toma and junior Cruz Ibarra both got snaps in the spring after then-starter Cole Pradel went down with a knee injury in Week 2, and both took reps Tuesday.
"Every day is a competition," Cooney said. "We still have offensive concepts we want to introduce and we'll see once we start to do that if one of the kids will rise above. Right now they're still neck-and-neck in the competition."
It's a much more normal summer with COVID-19 restrictions like masks being eased, but it's also a short turnaround from a season that ended in April.
And for multi-sport athletes like Tonielli, it's an especially busy time.
He visited Tennessee at the end of May, might go back later this summer and mentioned a Michigan visit. He's trying to improve his speed, where he's clocked at 4.8 seconds in the 40-yard dash.
Every day he balances his basketball and football commitments.
"Right now I'm just doing open gym shootarounds after football practice," he said. "I just find a way to get back in the gym as much as possible. I'm just going from workout to workout."
He'll be going to games in six weeks, when Oswego football opens its season Aug. 27 at Neuqua Valley.
"Deakon and Mark, those are two guys we're going to be counting on," said Cooney, asked about Tonielli and Melton specifically. "They showed what they're capable of, Mark as a junior and Deakon as a sophomore. With the short turnaround hopefully they can continue to accelerate and push forward."