CRYSTAL LAKE – Crystal Lake South junior offensive lineman Nate Compere didn't make excuses for his team's performance during the COVID-19-shortened spring season.
"We just kind of came out flat," said Compere, a three-year starter. "It was a COVID season, but that's not an excuse. We're just forgetting about it, it's in the past. We've got a lot of playmakers this year and feel confident. We're excited to show people what we can do. We're just excited to work."
The Gators went 1-5 overall and 0-5 in the Fox Valley Conference in the spring. Their season ended with a 32-22 loss to Dundee-Crown, a game in which South had only 19 players available – and no regular players from special teams – because of a positive COVID-19 test.
"Last year's record just motivates all of us," said junior running back Nathan Van Witzenburg, who led the Gators with 456 rushing yards and was second in receptions (23) and receiving yards (266), scoring five total touchdowns. "We don't want to be stuck at the bottom again. We're going to fight for a spot at the top."
The Gators practiced Wednesday afternoon without any of their normal gear, helmets or pads, as they wait for their equipment to be reconditioned and returned. That might not come for another two or three weeks, South coach Rob Fontana said, but spirits remained high.
South will play in its first 7 on 7 next week, with Woodstock North, Wauconda and Belvidere North. Fontana made a phone call to Jacobs coach Brian Zimmerman Wednesday to see if they had any extra helmets lying around to use.
"I'm just excited about getting back to a little bit of normalcy," Fontana said. "We got out here a bit when everything was shut down, but everybody was wearing masks and everything. It's a different buzz going around."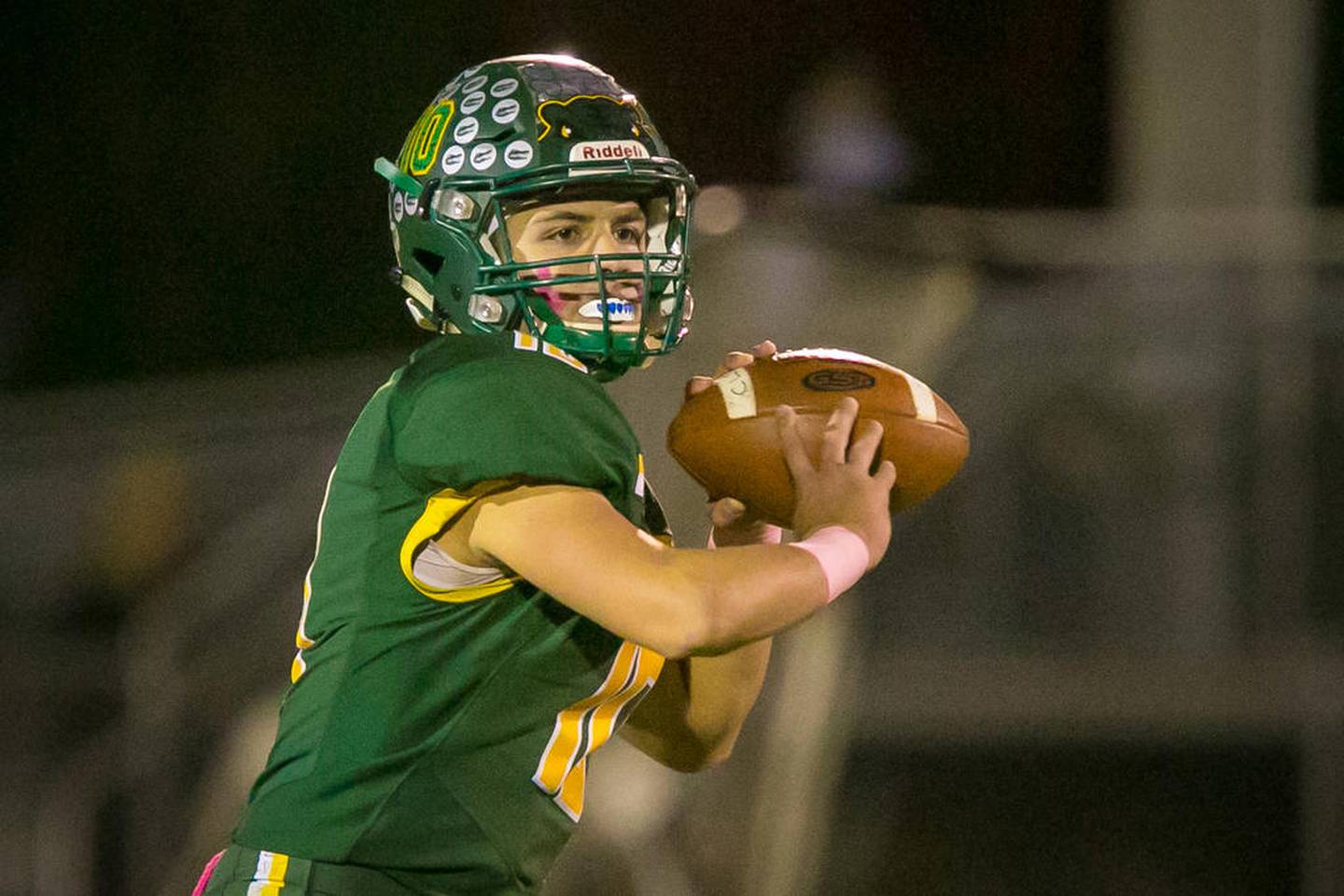 South returns the area's leading passer in senior quarterback Justin Kowalak, who finished his junior season with 1,630 passing yards, a 55.1% completion rate, 12 touchdowns and eight interceptions. Kowalak also rushed for 184 yards and three scores, averaging 302.3 total yards a game.
Fontana called Kowalak a "film junkie" who is always looking for ways to improve.
"I would question that he puts in more time on Hudl than his homework, but he's a smart kid and has good grades," Fontana said. "He will break down our practice film, and he's truly taking on that player-coach we need out of a three-year starter back there. I expect big things from him."
Fontana said Kowalak was more confident and comfortable as a play-caller last year.
"He knew he didn't have to do everything himself, and that's what he tried to do the year before," Fontana said. "He trusts what he does now. He trusts his reads. The game has kind of slowed down for him. That's going to help him again so much this year."
Compere said Kowalak is a difference maker.
"He's a huge leader," Compere said. "He's always talking to guys in the weight room, giving out positive energy. When it's time to work, he's ready to work. He's a great athlete, he's dynamic and a great thrower. No stopping him."
Fontana said the defense has been a bright spot in practice so far, although the Gators will mostly have a new defensive line and will be without two-way starter Brock Jewson and South's leading tackler, Sawyer Sevcik, from the spring, as both graduated. Two-time all-FVC linebacker Shane Moran, a senior, will be among the leaders on defense.
"Our defense is kind of carrying us out there," Fontana said. "It's been a while since we had that chirping and energy. [Moran] is a hard worker, a kid that will run through a wall. These guys all look up to him and feed off him."
Still, South figures to have much more familiarity on offense, with their only three starters lost at wide receiver (2) and offensive tackle.
Kowalak already notices a big difference this summer, one he hopes carries over to the fall.
"First day, we came out and it was better than any practice we had [in the spring]," Kowalak said. "Everyone was running around, high energy, having fun. It was definitely a great start. Having a season again, honestly, I like having two seasons in one year ... it's kind of fun."