Lyons senior quarterback Joey Antonietti's confidence level borderlines on high to extremely high.
After starting five games in his sophomore season and adding four more starts as a junior — all of Lyons games in the abridged spring season — Antonietti has got the ideal blend of big-game experience, athleticism and moxie to have a successful final season.
"Every game you learn something new and get better," Antonietti said. "I'm really confident going into this last year. I feel I have a ton of experience, feel confident in the offense and my teammates and the game just is moving slower for me. We have a lot of guys coming back, some with good experience, so I feel really confident."
And for good reason.
Antonietti showcased a solid all-around game for the Lions in their four-game season, which was shortened by two games. His accuracy improved and his running ability challenged opposing defenses. He ran for 101 yards and tossed two touchdowns in an 18-15 loss to Oak Park-River Forest.
But there's one area where Antonietti's confidence slightly wavers — when he's in competition with Lyons coach Jon Beutjer. A former star quarterback at Wheaton Warrenville South and collegiately at Iowa and Illinois, Beutjer can still sling the football, Antonietti said.
"Coach will throw the ball now and then," Antonietti said. "He just lays a beautiful spiral, every time. He's a great person to look up to."
Although his skills don't measure with Coach Beutjer's next-level talent, Antonietti said he's benefitted greatly from his second-year coach, especially with two football seasons in such a short time. Antonietti said he's been working on improving his speed during the offseason to go with his consistency and accuracy with his receivers.
"It's really awesome to be working with Coach Beutjer," he said. "He has such an amazing background in football. He knows so much about the game and teaches me and the other quarterbacks so much from his understanding of the offense. It's a different level.
"It's crazy to have so much football (lately). We had our last game just over nine weeks ago, and now are preparing for next season. It's nice, though. It's like Texas football."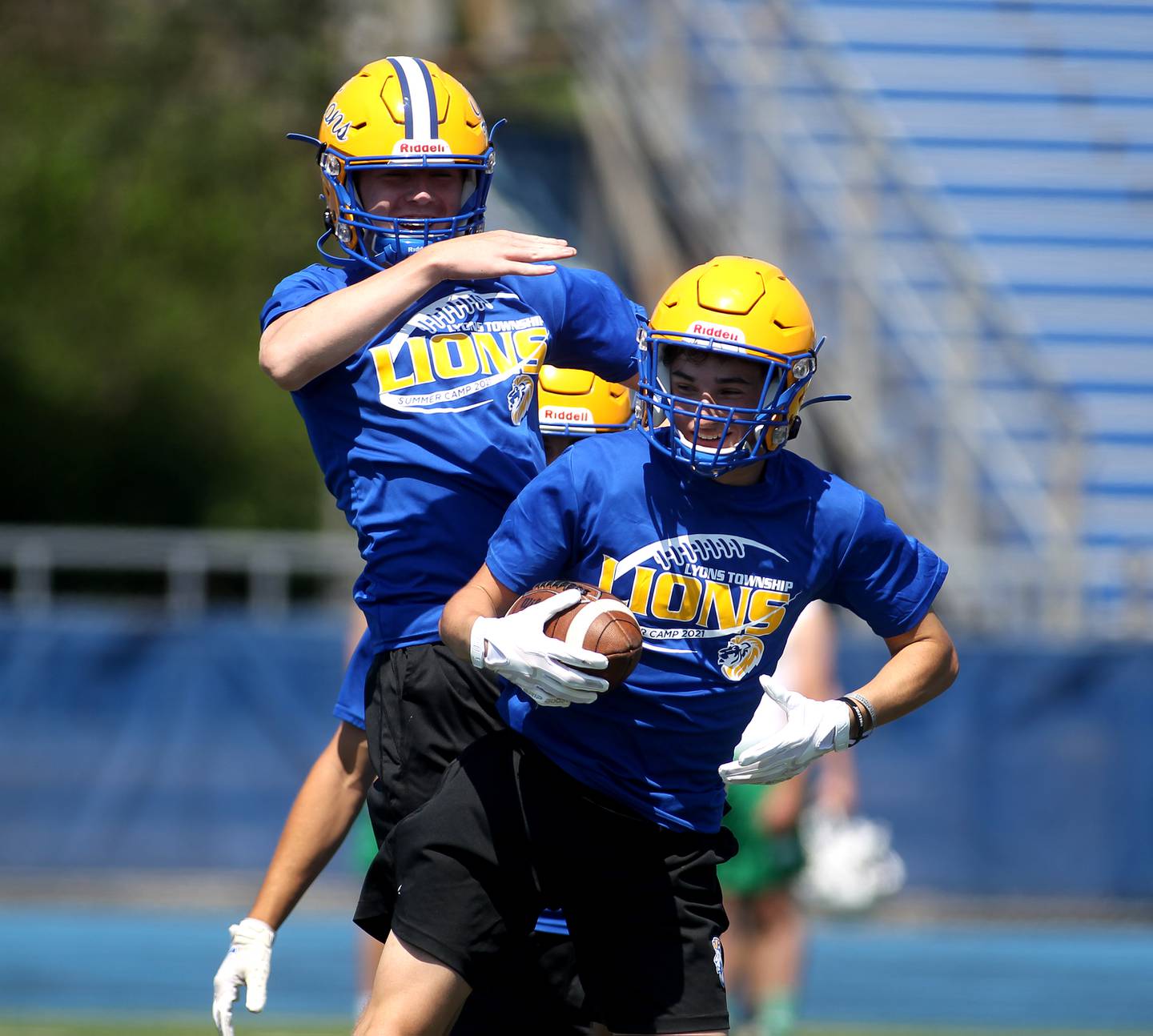 Beutjer said he has the luxury of four quarterbacks capable of playing on the varsity.
"We do have a competition at quarterback," he said. "We do try and tell all of our kids they have to go out and earn it. We have three other quarterbacks, so we're blessed to have four talented quarterbacks. It's nice to have a whole summer with the entire team, so we can evaluate everyone and working with them and seeing who can compete. We're trying to create that winning culture."
Defensively, senior linebacker John Tobin is one of the leaders for the Lions. He started all four games last season and is set to be a vital cog in the defense this fall.
"Last season was a great experience for me," Tobin said. "Playing on the varsity was like a shock. It's more physical and faster, but as the season went on, I got used to it and adapted.
"I'm just trying to make the best of the upcoming season, doing whatever I can in the offseason to get bigger, faster and strong to help the team win. The defense, as a whole, we take pride in playing well. We had a very good defense last year, but we lost some seniors. Some younger guys have step up. We're fast and aggressive."
Beutjer said the defense returns eight starters from last season, which includes emerging sophomore defensive end Eddie Tuerk.
"We feel really good about our linebackers," Beutjer said. "We're going to have a nice mix of seniors, juniors and sophomores playing."