YORKVILLE – Nate Kraus is glad to be reunited with Kendren Smith, and not just because of his own self-preservation.
But that is one good reason.
Kraus and Smith, both Yorkville rising seniors, were last football teammates in the eighth grade. Smith, a lineman, played up a grade level his freshman and sophomore years. Then he missed this past spring season because of injuries.
Kraus, expected to be Yorkville's starting quarterback this fall, sure feels a lot better having the 6-foot-3, 300-pound Smith in front of him.
"I feel safe," Kraus said with a smile. "I haven't played with him since eighth grade so it's good to have him back."
Kraus, Smith and the rest of the Foxes kicked off their summer camp this week, going Monday through Thursday morning. Yorkville is headed to Morris for a 7-on-7 July 13, will compete in the West Aurora linemen challenge July 15 and will be at Batavia July 20 for another 7-on-7.
Smith, a mountain of a young man who projects to play left tackle and nose guard, broke his ankle his sophomore year while playing on varsity. Then he tore his labrum last summer, costing him his junior season.
He said he's probably a little bit bigger than when he last played, but reports a clean bill of health.
"After two years it feels amazing being out here with all these guys," Smith said. "I feel amazing, feel good being back. I still got some getting used to, but I'm enjoying it while I can."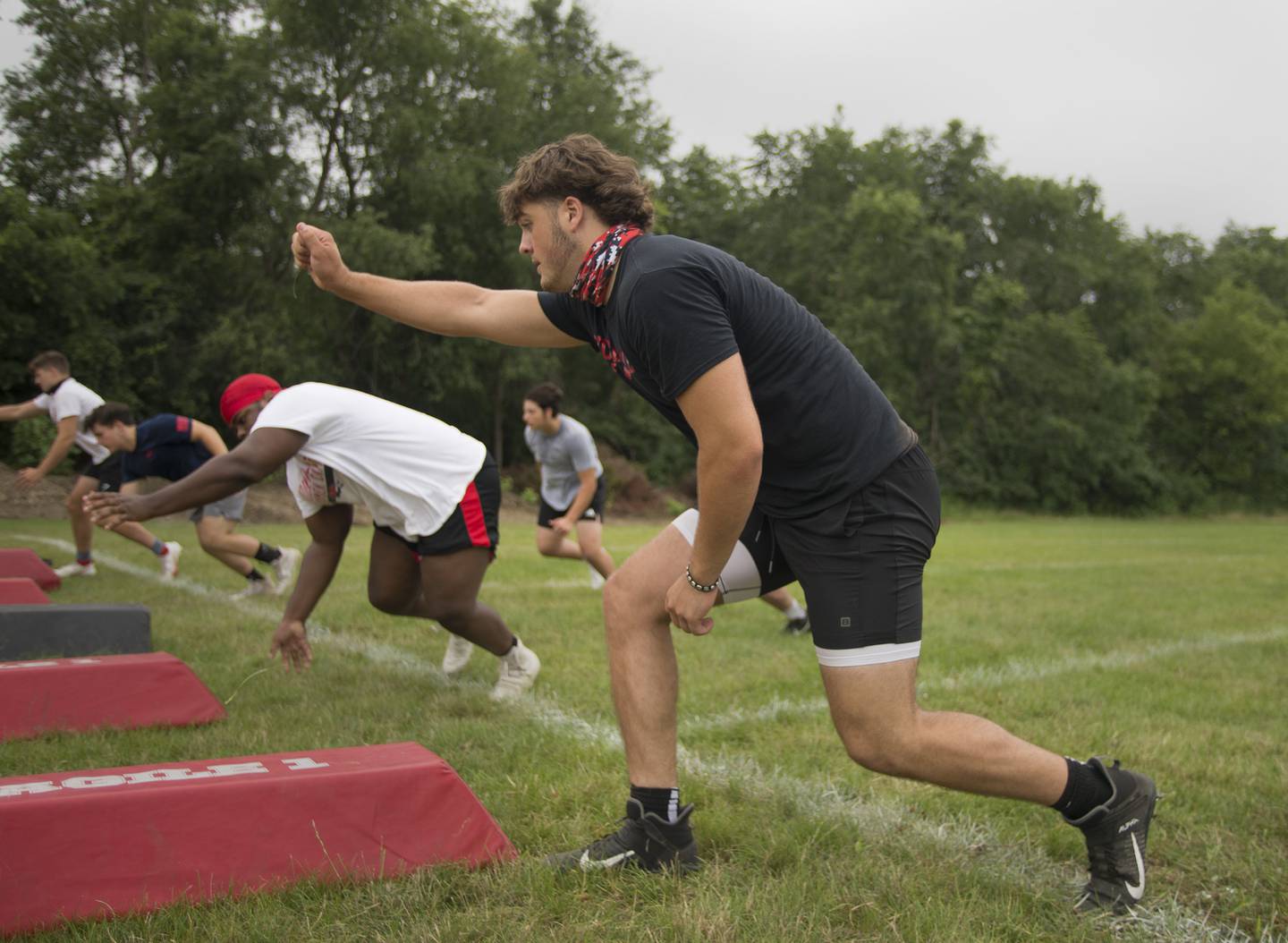 The Foxes are enjoying having a couple key pieces back in the fold up front.
Besides Smith, rising senior Kyle Clabough – who sat out the spring season to prepare for track and field, where he won the Class 3A state shot put title, has returned to football. Andrew Laurich, who will be a junior this fall, is a highly-regarded lineman prospect.
"It's huge having those guys around," Kraus said. "Andrew got bigger, Kyle's back, we got some good size."
Yorkville coach Dan McGuire has noticed a motivated Smith eager to get back on the field.
"Obviously Kendren's strength, size and athleticism stands out," McGuire said. "Anytime you have a guy like Kendren playing it's very beneficial to have. That year or a year and a half off, I think it really made him want to be here even more. He's really appreciated it more than he ever has. He's been a good leader for us, very local."
Kraus, who takes the reins at quarterback after serving as backup in the spring, is not exactly slight of stature himself. Kraus, whose dad is the strength and conditioning coach at West Aurora, looks every bit his 6-foot-2, 210-pound frame while running workouts.
"I was kind of raised into it, always been around lifting," Kraus said. "It's what I enjoy besides football and it helps with my size. I can't get messed around with."
McGuire said that Kraus presents a different skill set than Yorkville's last two quarterbacks, Josh Beetham and Luke Davies, and plans to cater the offense to best use those abilities.
"Nate is a big kid, very strong," McGuire said. "He's going to kind of change the mold of our quarterback position a little bit. Josh and Luke were pretty similar in regards to their body types. We're going to have to change what we do a little bit. We're not going to just be a drop back pass type team. We're going to have to move him around a little bit more and take advantage of his strengths."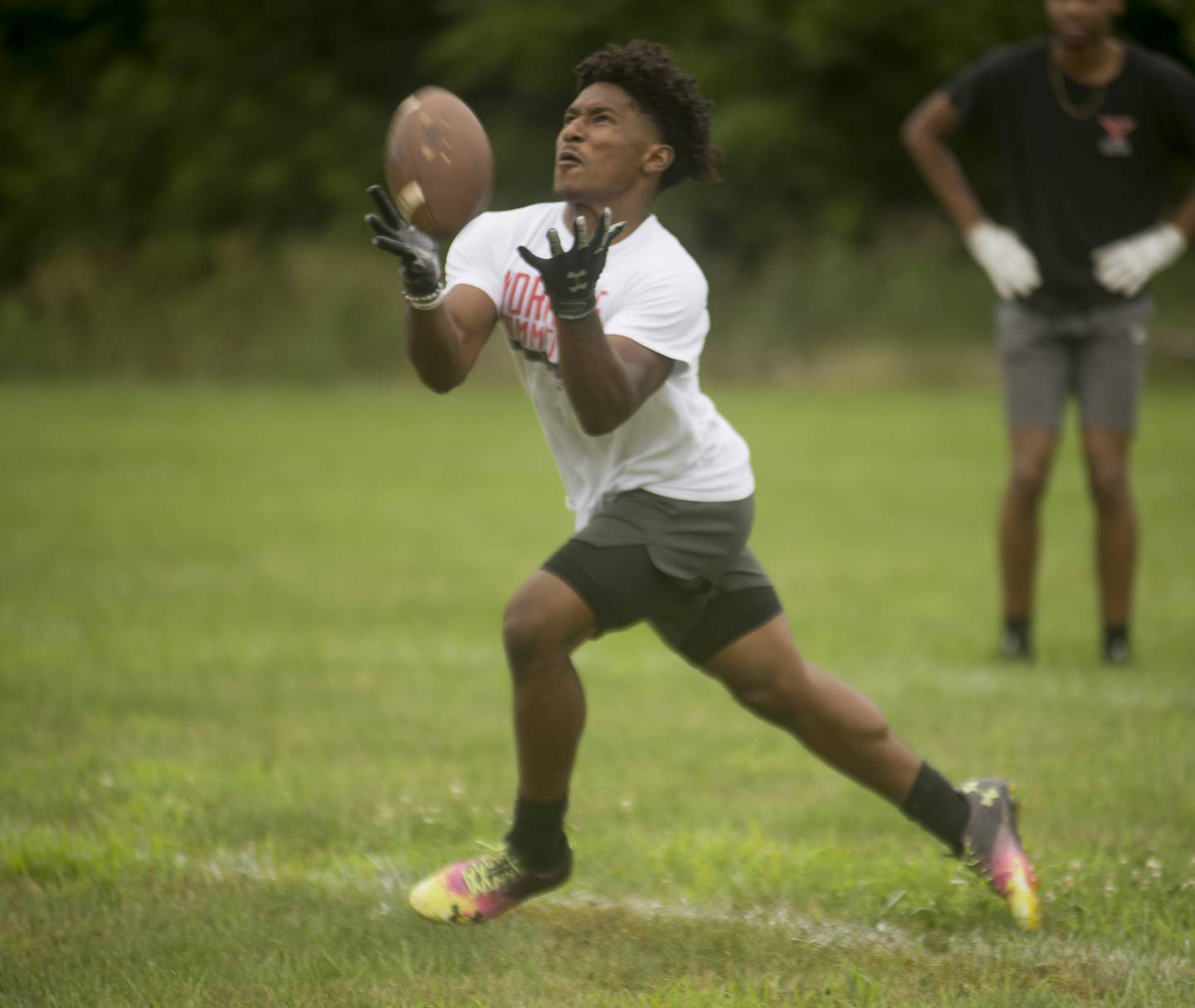 It's a different quarterback in Yorkville, and a very different offseason.
The Foxes and other teams are less than three months removed from the spring season. McGuire said he tried to keep his kids away from football as much as he could between April and July, to keep the juices flowing and prevent injuries.
McGuire said the Foxes came back with solid numbers, 50-55 at the varsity level, mid 30s among the sophomores and an encouraging 40-plus freshmen.
"Those freshman numbers are outstanding, since I've been here we've never had that many freshmen," McGuire said. "Especially without them playing last year at the middle school level I was afraid we'd lose some kids but our numbers all and all are good."
With returning players not far removed from spring football, and a large group of guys who played varsity as juniors and sophomores, McGuire said if anything they're ahead of schedule from where the Foxes typically are at the start of camp.
And, Kraus said, the Foxes welcome a return to a more normal summer camp and fall season that kicks off August 27.
"Last year we were all spread out, just doing some stretches and running," Kraus said. "It's fun having everyone back and being able to see everyone's faces and getting back to being able to play some real football."