York senior linebackers Jeffery Coglianese and Aidan Nawrocki are hoping to ride some past glory to future success this fall.
Two years ago, when the Dukes played a full season, Coglianese and Nawrocki were headline players on the lower levels, helping guide the junior varsity to a 7-1-1 record.
After they participated in the six-game regular season this spring, Coglianse and Nawrocki are slated to be starters in York's 3-3-5 stack defense.
"We're all very excited for this season and playing a (full) season," Nawrocki said. "As sophomores, me and Jeff were on the same field together and we were both leading tacklers that year, so we're looking back to our sophomore year and wanting to build off that when we were together on the field and competing.
"We only lost to Glenbard West and tied Lyons [in 2019], so we're looking to have that type of season again. We just have to play hard, keep hitting people. We have the ability to maybe win the conference. We have a lot of returning starters on the [defensive] line and at linebacker, but we have a whole new group of starters in the defensive backfield. We're trying to do everything we can to win this conference."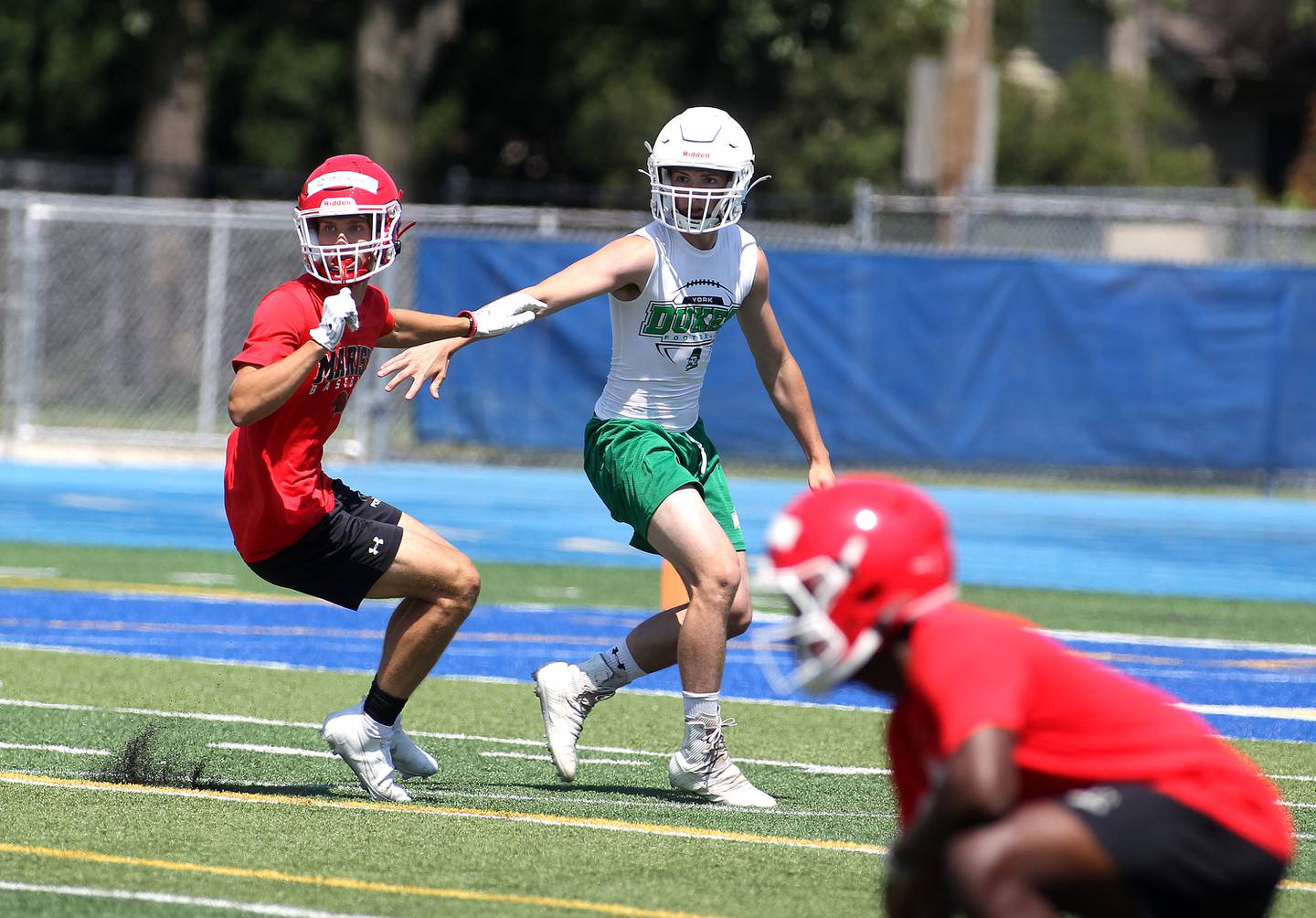 Coglianese, a middle linebacker, gained valuable experience on the varsity this past season, while Nawrocki was a key reserve in York's 4-2 season that ended with three straight wins, including two program-building victories over Willowbrook and Oak Park-River Forest.
"We started off in the fall, not knowing if we were going to have a season, but all the seniors were pushing us to keep working to help make the season special," Coglianese said. "We all bought into it, and we had a good season. I think we have a great chance this coming season since all the returnees bought into what the seniors pushed into us."
Nawrocki made a key second-half tackle in the thrilling two-point victory over the Huskies that was sparked by a memorable comeback.
"The (OPRF) game really boosted my confidence up a lot, especially going into this season," Nawrocki said. "I know what I'm capable of doing. That was a big day for us, shows we're among the top tier teams."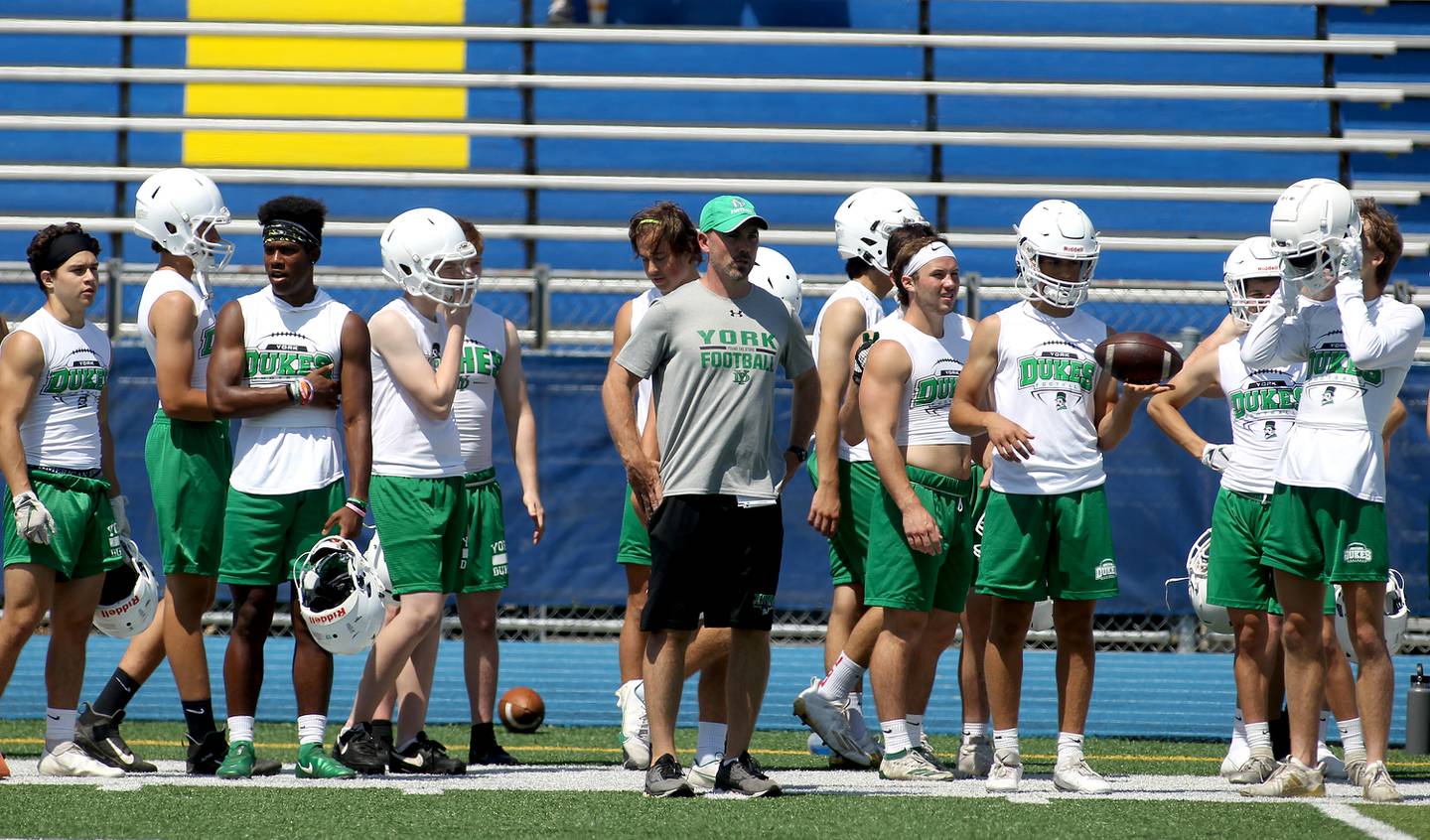 The Dukes lost significant talent on offense, mainly in the vital skill positions. Finding a new quarterback, running back and wide receiver is a difficult task, but York coach Mike Fitzgerald remains optimistic the program's momentum will carry over into the fall.
"I think this is deepest team that I've had here," Fitzgerald said. "There's competitions at a lot of different spots, which will only make us better because we're a deeper football team. We have four out of five offensive linemen returning, so that's good. We have most of our front seven on defense is back. Our team speed and physicality on defense is good.
"But we did graduate a lot of skill players. I feel good about the kids coming up."
Fitzgerald said the Dukes plan on attending a three-day team camp at Olivet Nazarene to go with 7-on-7s at Elk Grove and Prospect.
"We're excited to have a normal season," Fitzgerald said. "We're back to normal the summer, and we're looking forward to some team bonding. This is a weird year, with two years (of football) being thrown together really quick."