Win or lose, there was a common thread that spread all around state championship weekend.
Smiles were everywhere.
It felt like even more than two years had passed since the last state champions in football had been crowned and most people seemed overjoyed that the opportunity had finally arrived to appreciate and enjoy high school football at its best form.
In the end, not everyone got the results they were hoping for, but the gift that everyone got regardless of outcome was tremendous football.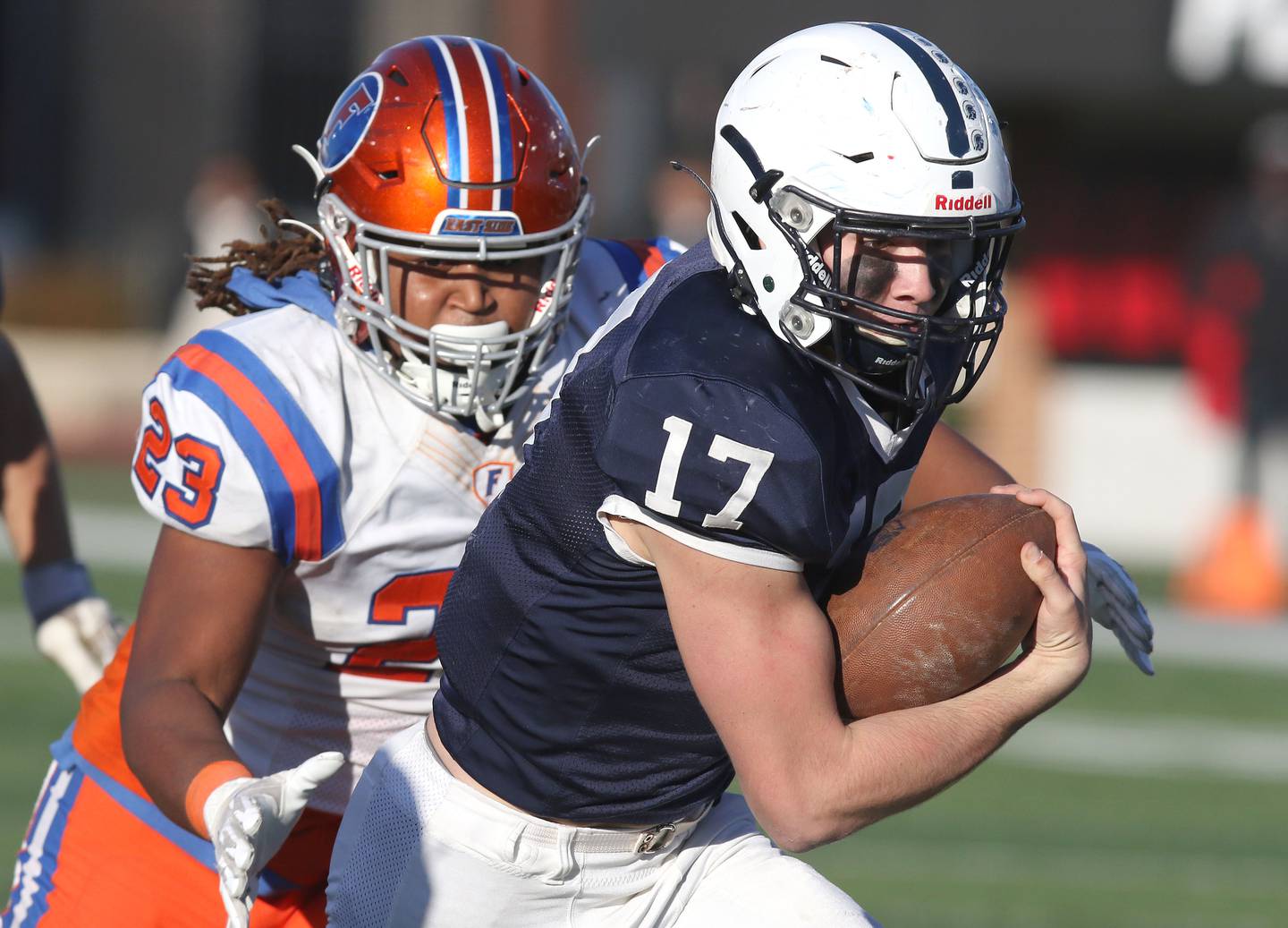 Let's start with the game everyone was talking about and some were labeling the best high school football game they'd ever seen, the Class 6A finale between East St. Louis and Cary-Grove.
Cary-Grove toppled East St. Louis in a contest that featured so many fantastic plays and efforts that if you missed one, you needed only to wait a few minutes before another one popped up.
And when Cary-Grove turned the ball over on downs with 3:15 to play, clinging to a one-point lead, I spent the next few minutes with my heart in my throat wondering what would happen next. Would East St. Louis pull a win out of the fire with an electric offensive play? Could Cary-Grove cap what to that point had been an incredible overall performance by stymying the high-octane Flyers one more time?
When the game ultimately came to its end with a Noah Riley interception for Cary-Grove at midfield with 28 seconds to play, I felt badly for East St. Louis sophomore quarterback Robert Battle, who was just trying to make a play. Had he made the play and it resulted in a touchdown for East St. Louis, I almost certainly would have felt badly for Cary-Grove, which had to that point executed a near perfect game plan that ultimately helped the Trojans earn the win.
Selfishly, I just wanted those teams to keep playing some more. I hadn't gotten my fill. I've been following East St. Louis standout Luther Burden III like a lost puppy dog for three weeks now. I keep doing it because I never know what he might do next. I might move to Missouri, where Burden will continue his career in college. I'm kidding. I think.
It was far from the only moment I'll remember far past this weekend.
The last time I saw Lockport on the field at Northern Illinois University's Huskie Stadium it was as part of a Kickoff Classic event hosted by the university that paired the Porters with Providence to begin the 2018 season. The Porters lost that game and went on to finish 0-9 that season.
If someone would have told me back then that in 2021 Lockport would be back in that venue for the purposes of capturing the Class 8A title, I don't like to throw around the term crazy lightly, but I can't see how I would have avoided using it.
It's probably a lot less stressful to go from underdog to state champion than it is to go from overwhelming favorite to completing the task that everyone expected you to do in the first place.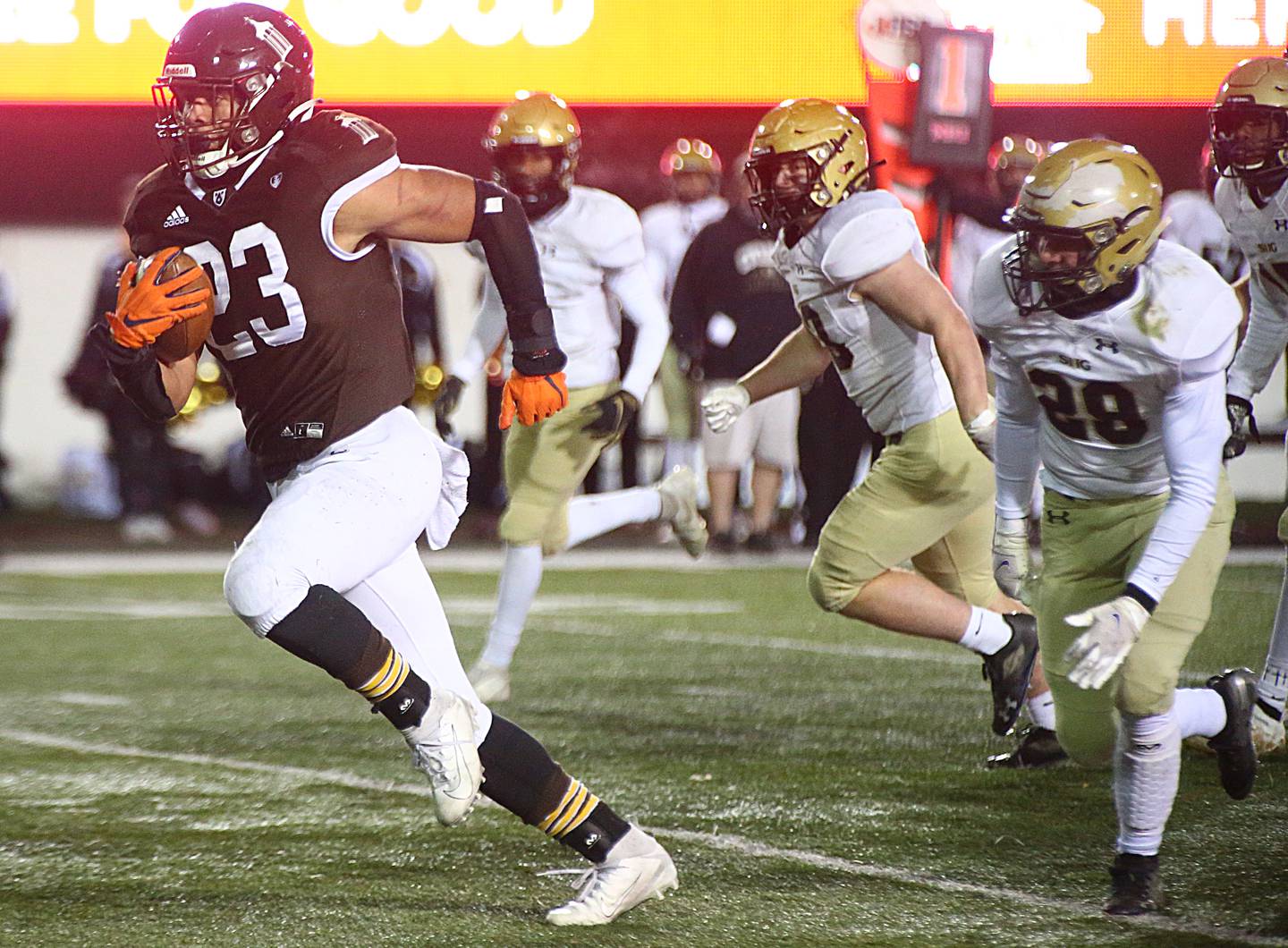 Joliet Catholic coach Jake Jaworski didn't feel like his team really ever felt any pressure as the labeled favorite in Class 4A, but he did admit after his team put forth a dominant performance in the title game in a win over Sacred Heart-Griffin that he felt more at ease.
"For me, I can breathe a sigh of relief now," Jaworski said. "Obviously, the expectations had us there. And it was our job to prepare these kids as coaches, but it was also our job to just stay out of the way. That's how good these kids were. It was like, 'Let's not mess this up.' "
As usual, the private vs. public school debate raged on. Two private schools came home with championship trophies, two didn't. (The Class 4A title pitted two private schools against one another). And if anything, Wheaton North's win in Class 7A over St. Rita proved a team with the right mix of talent and grit stacks up just as well as any.
It wasn't surprising to see Lena-Winslow capture the Class 1A title. A Northwest Upstate Illini Conference teams tends to do that in that class, and the discussion for which team likely will be favored to win that class in the future starts and ends with which program survives that league's regular-season gauntlet.
Watching Wilmington roll to the Class 2A title using only a power running attack that could not be stopped by anyone made me wonder what kind of situation would have to be unearthed in order to force the Wildcats to actually pass. Wilmington was one of five teams in history to win a state championship game without even attempting a pass.
Byron finally captured a big trophy to go next to the school's title from 1999, as the Tigers had dropped each of their past two title game appearances, in 2018 and 2019. Tolono Unity still is searching for its first championship victory, now 0-6 in title games.
And Johnny Lattner's Heisman Trophy, which traveled around as a talisman for Fenwick's run through the postseason, got a nice complementary piece when the Friars captured the Class 5A crown with a win over Kankakee.
All of those memories and more were created on a weekend that I think a lot of people earned a new appreciation for how much we had missed it when it wasn't there.
A coaching friend sensing my impending emotional implosion made me laugh when he sent me an email last week. The final line read, "Camp starts up in 188 days!"
I can't wait. Even if I am in Missouri.
• Steve Soucie is sports editor of the Herald-News in Joliet. Write to him at ssoucie@shawmedia.com.