Class 8A
No. 20 Oswego (6-3) at No. 13 Glenbard West (7-2)
When: 1 p.m. Saturday
Last matchup: Oswego 24, Glenbard West 20 (2017 playoffs)
About the Panthers: Oswego this fall won a share of its 10th Southwest Prairie Conference championship in 11 seasons, although the Panthers need to quickly put behind them a jarring 48-26 loss at Yorkville in Week 9 – the most points an Oswego defense has given up since 2012. Speedy senior Mark Melton has rushed for close to 1,000 yards on the season – around 800 of that total during a spectacular four-week stretch run in the SPC West. Oswego, though, will likely need a consistent effort from junior QB Cruz Ibarra throwing to Deakon Tonielli and Co. to soften up a stingy Glenbard West defense. Oswego linebackers Braedon Hellinger, Nate Perry and A.J. Johnson figure to be busy against an offense that likes to establish the run.
About the Hilltoppers: Glenbard West, like Oswego, needs to regroup after a tough 6-0 loss to Hinsdale Central at Duchon Field in Week 9. The Hilltoppers are making their 14th consecutive playoff appearance under head coach Chad Hetlet. Pat Shadid and Phillip Dozier are notables on a Glenbard West defense that's allowed just 71 points this season, and only 31 in a four-week stretch run against playoff teams York, Downers Grove North, Lyons and Hinsdale Central. Joey Pope is over 1,000 yards rushing and 17 TDs in a breakout season. The Hilltoppers are young on offense with Pope, junior QB Korey Tai and sophomore receiver Julius Ellens and have had their share of struggles scoring against quality defenses.
FND pick: Glenbard West
No. 24 Oswego East (6-3) at No. 9 Lincoln-Way East (7-2)
When: 1 p.m. Saturday
Last matchup: Lincoln-Way East 57, Oswego East 40 (2013)
About the Wolves: Oswego East started the season 5-0, but has lost three of four since then during the teeth of the SPC West slate. Junior QB Tre Jones has shown himself capable of the big play, both running and throwing the deep ball to Ty Carlson, but without those big plays the Wolves' offense has struggled –with just a combined 45 points over the last four weeks. Oswego East will need a yeoman effort from its defense to keep within striking distance of Lincoln-Way East. Fortunately, a unit with playmakers like Jared Badie, Kacey Battle, Juny Almeida and Oshobi Odior has proven capable of just that, as evidenced by their showing in a 15-7 Week 9 loss to Plainfield North. Oswego East's last playoff win came in 2016, 0-3 since.
About the Griffins: As is their custom, Lincoln-Way East seems to be rounding into form at exactly the right time. Although the Griffins struggled to put away a Bradley-Bourbonnais team that was fighting for its playoff lives in Week 9, Lincoln-Way East's young team has matured quite nicely down the stretch turning in some of its best performances of the season over the last two weeks. RB Tre Johnson has really grown into the role after getting a late start on the position and Lincoln-Way East's defense seems to have a knack of making the plays it needs in critical situations.
FND Pick: Lincoln-Way East.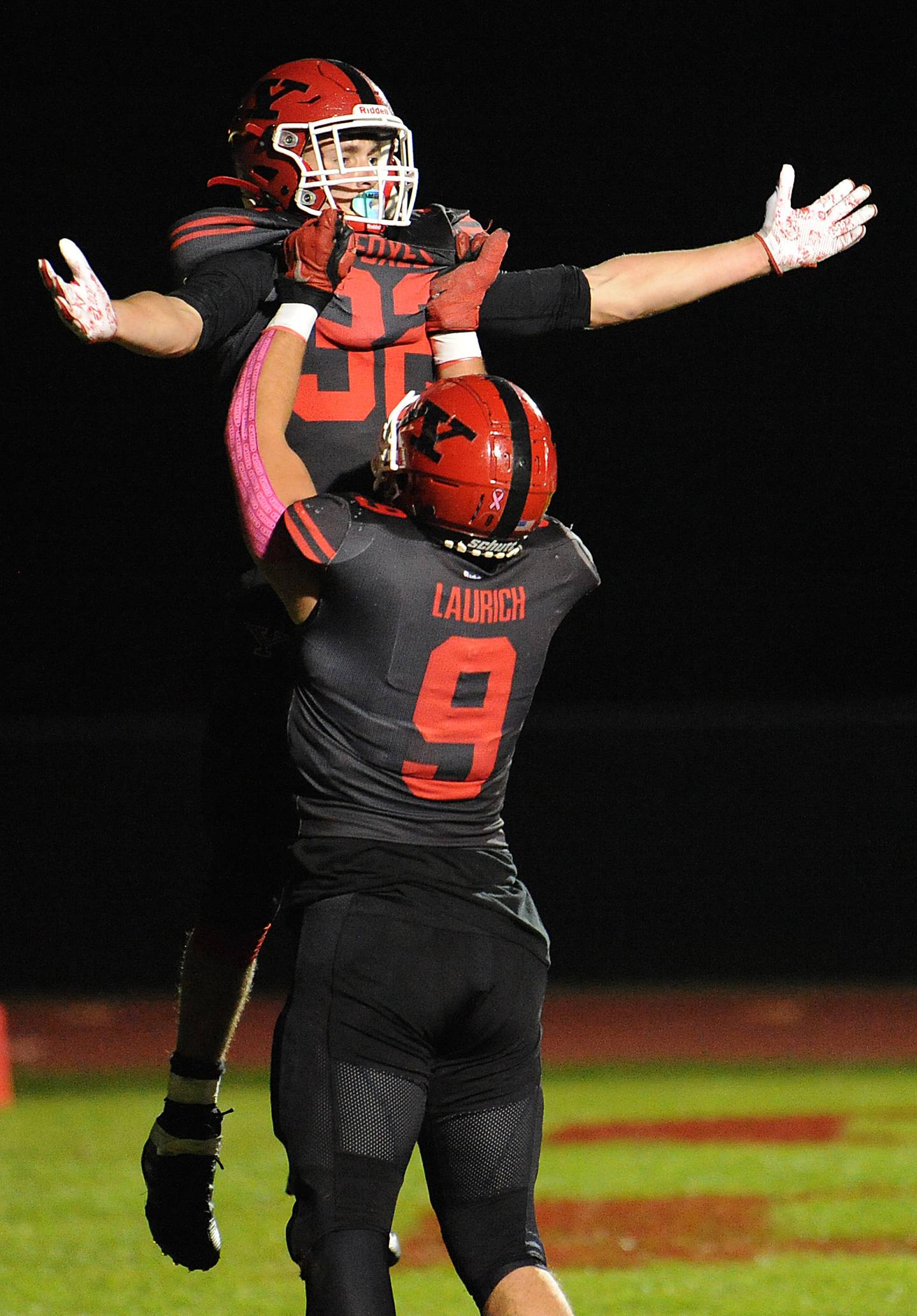 Class 7A
No. 25 Yorkville (5-4) at No. 8 Plainfield Central (8-1)
When: 7 p.m. Friday
Last matchup: Plainfield Central 28, Yorkville 13 (2021)
About the Foxes: Yorkville, which needed a win in Week 9 to make the playoffs, responded in a big way – its offense coming through with a stunning performance in a 48-26 win over SPC West co-champ Oswego. It was the most points scored by a Foxes' team since 2018, a notable breakout from an offense that averaged just over 10 points in its four previous games. Senior QB Nate Kraus, a strong runner with 357 rushing yards and 746 passing yards on the season, topped 200 yards passing for the first time and Gio Zeman, part of a backfield by committee this year, ran for five TDs. Yorkville's defense has been a consistent force all year. Jake Davies, with 59 tackles and 15 for loss, leads a rock-solid defensive line and outside linebacker Blake Kersting, with a team-high 64 tackles, is a playmaker all over the field. The Foxes will be motivated to reverse the outcome of a Week 2 loss to Plainfield Central.
About the Wildcats: Plainfield Central is trying to add even more to its breakout season aiming to capture the program's first playoff win since 2000 (when the school was known as just Plainfield High School). The Wildcats have really caught a groove over the second half of the season and have been particularly staunch on defense. Linebackers Phillip Carlton and Ethan Obeng have played a big part in Plainfield Central's lock down efforts on that side of the ball as the Wildcats have allowed just 40 points over the final five games of the campaign.
FND pick: Yorkville
Class 4A
No. 14 Plano (6-3) at No. 3 Kewanee (8-1)
When: 1 p.m. Saturday
Last meeting: First meeting.
About the Reapers: Plano is back in the playoffs for the first time since 2018 with the program's most wins since 2016. The workhorse of the Reapers' offense is Ray Jones Jr., who has run for 1,014 yards at 8.5 yards per carry and 13 touchdowns in seven games. Speedy sophomore Waleed Johnson, who had two TDs on offense and a pick-six last week, is a threat in all phases and averages nearly 33 yards per kick return. Sean Earwood, with 50 tackles, Nemo Denton, with 45, and Brandon Edmond, with 42, leads a Reapers' defense that posted its third on-field shutout last week at Ottawa. The Reapers have shown that they can compete with elite 4A teams with their one-point loss to Richmond-Burton in Week 4, so they should be well-equipped for this matchup. Plano's last playoff win came in 2015.
About the Boilermakers: Three Rivers Mississippi co-champ Kewanee, under third-year coach Brad Swanson, posted its most regular-season wins since the 1999 Class 3A quarterfinalist. The Boilermakers' only loss came in Week 9, 20-17 to Sterling Newman. Kewanee's notable win came in Week 5, 49-21 win over Princeton. Swanson, a former Galesburg assistant who played collegiately at Monmouth College, took over a program in 2019 coming off back-to-back 2-7 seasons. The Boilermakers, with nine sophomores either starting or playing significant minutes, went 7-4 in 2019. Those sophomores are now seniors, a group that includes QB Will Bruno and running back Keyontiss Patterson for an offense that averages 38 points per game.
FND pick: Plano
Steve Soucie contributed to these previews