Class 5A
No. 9 Sycamore (6-3) at No. 8 Evergreen Park (6-3)
When: 5 p.m. Saturday
Last matchup: Sycamore won a 2019 Class 5A first-round home playoff game against Evergreen Park, 59-7.
About the Spartans: The Spartans' three losses this year are to a 7A team (DeKalb in OT) and a pair of undefeated teams in Morris and Richmond-Burton.
Nathaniel Altepeter leads a balanced rushing attack for the Spartans, averaging 7.1 yards a carry this season with 13 touchdowns and 604 yards. Quarterback Eli Meier has rushed for 442 yards and six scores, Sam Carlson for 368 yards three touchdowns and Zack Crawford for 349 yards and five scores. All four are averaging less than 10 attempts a game.
Carlson also has been one of Meier's top targets through the air, with 12 catches for 319 yards and three touchdowns. Kayden Galto leads with 320 yards and 18 receptions, while Jake O'Donnell has caught 13 balls for 196 yards. Both Galto and O'Donnell have a receiving touchdown. Meier has thrown for 1,269 yards, 11 touchdowns and five interceptions.
Safety Dawson Alexander leads the Spartans with 78 tackles and three interceptions. Despite missing three weeks, Kiefer Tarnoki leads the team with four sacks and has an interception.
About the Mustangs: While the Spartans have played two undefeated teams this year, the Mustangs haven't played anybody with more than seven wins – losing 21-14 to Richards.
Sophomore Deijon Feliciano is an effective passer for the Mustangs, throwing for 212 yards two weeks ago.
"He's intelligent, he sees the field, sees coverage and sees the front," coach Jerry Verde said. "He's matured over the course of nine games. From where he was Weeks 1-2-3 to where he's been Weeks 8-9, he's really gone from a sophomore to a junior in the course of nine games."
Elijah Matthews is his top receiver. James Williams is the team's leading rusher and a four-year starter. Michael Torres has been a three-year starter and splits caries as well with Jedidiah Adjayi.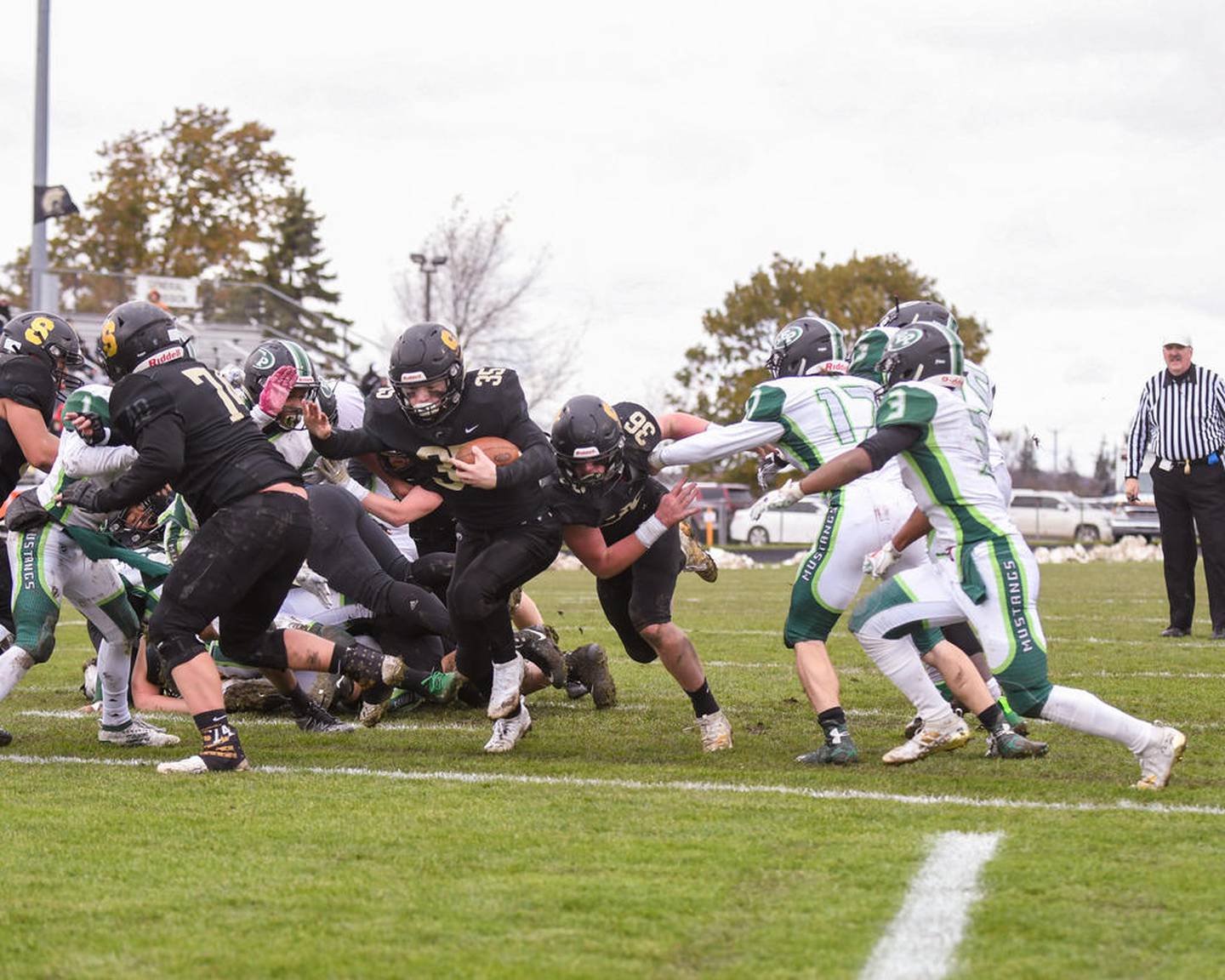 Friday Night Drive pick: Sycamore
No. 15 Kaneland (5-4) at No. 2 Fenwick (7-2)
When: 7 p.m. Friday, Triton College
Last matchup: First meeting since at least 1995
About the Knights: Kaneland surged into the postseason, winning its final two games against Ottawa (52-26) and La Salle-Peru (55-13) to qualify.
The Knights have been dependent on their passing game this season, with Troyer Carlson throwing for 2,643 yards, 35 touchdowns and seven interceptions while completing 67.1% of his passes. Sam Gagne has 56 catches for 1,076 yards and 15 touchdowns. Aric Johnson has 35 catches, 682 yards and nine scores and Dom DeBlasion has 40 catches, 498 yards and five touchdowns.
The defense has struggled this season, giving up 30 or more points in four games, all losses. But coach Pat Ryan said the pass defense has been OK and the run defense stepped up against La Salle-Peru, so he's optimistic that the Knights can have some success defensively against a spread team like the Friars to give the offense a chance.
About the Friars: The Friars, under second-year coach Matt Battaglia, could be poised for their deepest run since reaching the Class 7A semifinals in 2016 and quarterfinals in 2017. It's a talented roster that's been tested in the crucible of the CCL/ESCC. Fenwick's record is perhaps more impressive than a surface glance; its only losses were by one point to Providence in Week 3 and on a last-second field against Loyola in Week 5. Fenwick is coming off its most impressive win of the season, 28-20 on the road in Week 9 against previously undefeated St. Ignatius. Senior QB Kaden Cobb, a Ball State recruit, leads an offense that averages a tick over 35 points a game. His top targets include Illinois commit Eian Pugh and Eastern Michigan recruit Max Reese. Purdue recruit Jimmy Liston, 6-foot-4 and 310 pounds, anchors Fenwick's line.
FND pick: Fenwick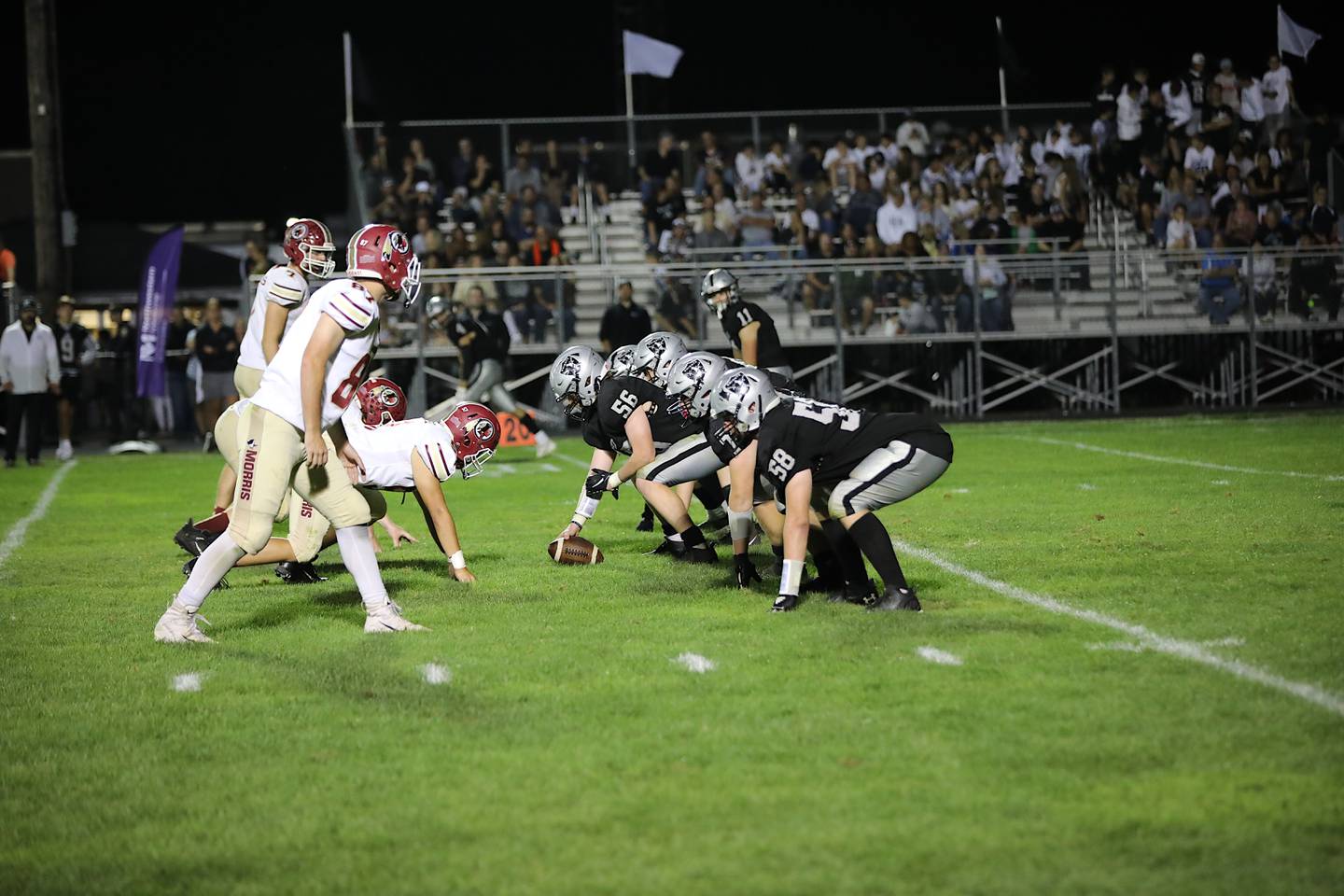 Class 4A
No. 13 Bogan (6-3) at No. 4 Genoa-Kingston (6-3)
When: 7 p.m. Friday
Last matchup: First meeting
About the Cogs: Coach Cam Davekos said the Cogs are focused on playing a clean game in their playoff opener. Penalties haunted the Cogs early before pulling away from Stillman Valley, 35-0, for a Week 9 win.
They also were costly in a 7-3 loss to Byron earlier in the season.
"For some reason sometimes penalties creep up on us in the first half," Davekos said. "We had a nice little powwow at halftime on Friday and did a nice job coming out in the second half. Hopefully, we start out the way we should and have the cleaner game we all hope for."
The Cogs had been balanced in the backfield most of the season, but Friday Chase Engel ran 21 times for 140 yards.
About the Bengals: Davekos said the Bengals used a pro-style split backfield, and like most teams against G-K expects an eight-man box.
The Bengals have given up more than 18 points in a game once this season out of the CPL Illini Great Lakes, going 2-3 in conference play. They also have managed more than 28 only once this season. They allowed the fewest points per game of any team in the conference.
FND pick: Genoa-Kingston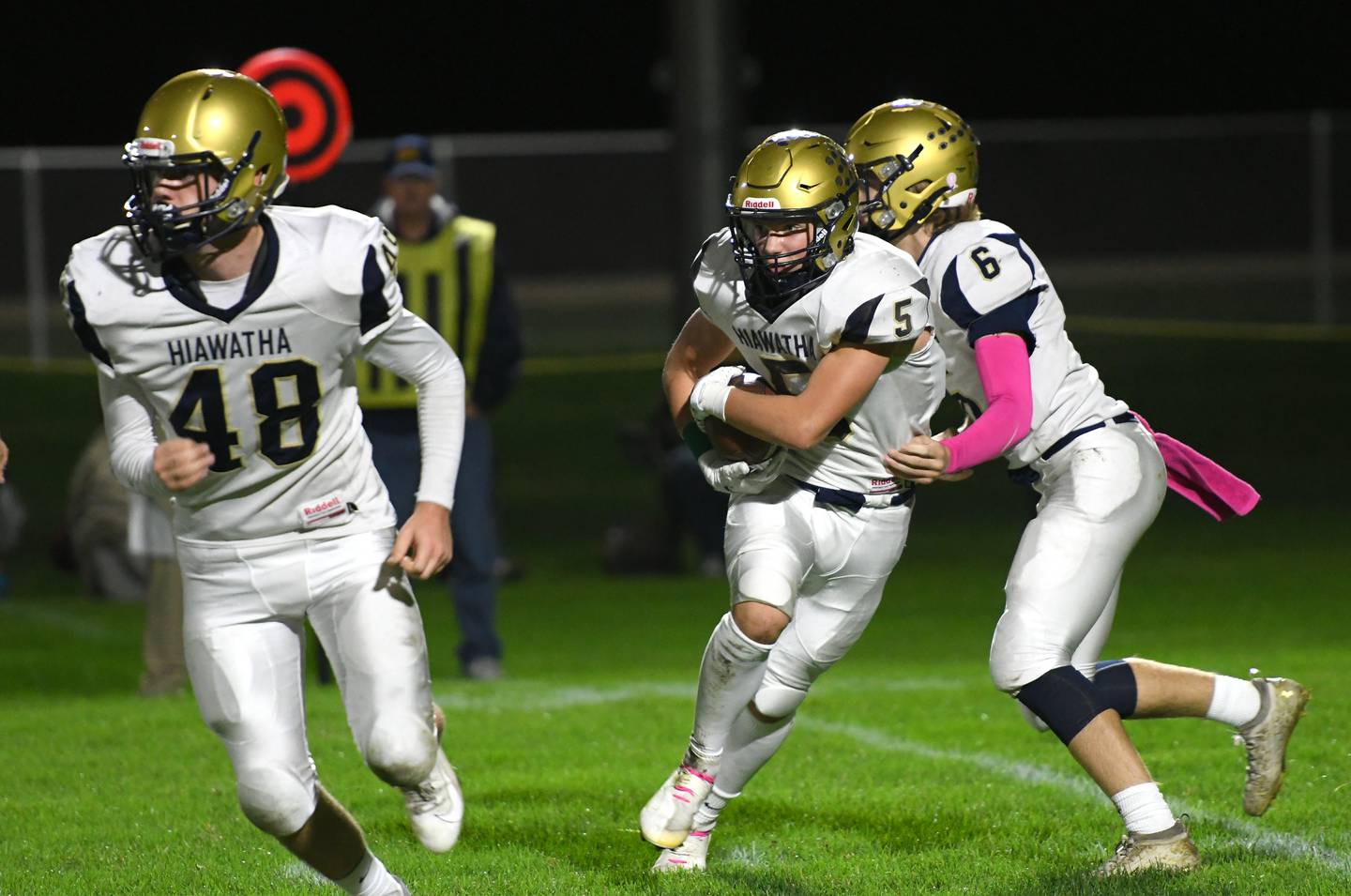 Eight-man
No. 14 Hiawatha (4-5) at No. 3 Orangeville (8-1)
When: 1 p.m. Saturday
Last matchup: The Broncos beat Hiawatha, 56-8, earlier this season.
About the Hawks: The first meeting between the teams was all Orangeville, with the Broncos winning at home. The Hawks will have to travel back to Orangeville for the rematch.
"We weren't ready last time around," coach Nick Doolittle said. "They're a top-caliber team, and we're excited for a second chance."
Hiawatha has given up 50 or more points in six of its past seven games and scored at least 50 in the other two. They are coming off a Week 9 win against River Ridge, 76-62.
In the last meeting, Doolittle said the Hawks weren't ready for the physical play and size of the Broncos. And despite the score last week, he said he likes how the defense is playing.
"The score doesn't reflect how well we did against River Ridge," Doolittle said. "What we struggle with is our front one. So we just need to get more physical up there and it will help us in the long run."
About the Broncos: They were tough all season, although they haven't played on the field since Week 8, a 55-6 win against Amboy. They picked up a forfeit last week against Ashton-Franklin Center.
The 56 they scored against Hiawatha the first meeting is only about a touchdown more than their season average - they average about 49 points a game. Their only loss was, 56-26, to No. 2 Milledgeville.
Gunner Lobdell has been an effective running back, and quarterback Carson Rote can be lethal on the ground as well.
FND pick: Orangeville