NOTE: The Aurora Central Catholic at Westmont game has been canceled due to a COVID situation, with ACC receiving a forfeit win.
West Suburban Conference
Hinsdale Central (7-1, 5-0) at Glenbard West (7-1, 4-1)
When: 1 p.m. Saturday
Last matchup: Hinsdale Central 28, Glenbard West 7 (Spring 2021)
About the Red Devils: Hinsdale Central, coming off a 58-0 win over Proviso West, has won seven straight games since a season-opening loss to Naperville Central and is ranked No. 8 in the latest Associated Press Class 8A poll. The Red Devils can clinch their second consecutive outright Silver title, and second this calendar year, with a win. They've won 12 straight Silver games. Quarterback Billy Cernugel pilots a Red Devils' offense that has averaged over 40 points per game during that seven-game stretch and has not scored fewer than 27 points in a game during that time. Thomas Skokna is a playmaker that makes things happen all over the field. The Red Devils' defense is led by senior linebackers Sean Allison and JT Pyle. While York has thrust itself into the conversation, this has been the game of the year in the Silver the last few years and shapes up as another much-anticipated final game before the playoffs start.
About the Hilltoppers: Glenbard West's offense, which struggled to put points on the board against York and Downers Grove North, busted out last week in a 35-3 win over Lyons. Joey Pope had a combined 250 yards rushing and receiving with three TDs, and is over 1,000 yards rushing with 17 TDs in a breakout season. Pat Shadid and the Hilltoppers' defense has given up just 65 points all season, just 25 over the last five games. Glenbard West, which can grab a share of the Silver title with a win, has won at least a share of the title in all but two seasons since 2008 – 2016 and spring 2021, when Hinsdale Central won it outright. Glenbard West is ranked 10th in Class 8A. The Hilltoppers no doubt haven't forgotten the spring meeting, a game dominated by Hinsdale Central and its defense.
FND pick: Hinsdale Central
Lyons (4-4, 2-3) at Downers Grove North (4-4, 1-4)
When: 7 p.m. Friday
Last matchup: Lyons 22, Downers Grove North 3 (Spring 2021)
About the Lions: Lyons, coming off a 35-3 loss to Glenbard West, is vying for its first playoff appearance since 2017. Before that, the Lions made the playoffs in all but one season dating back to 2002. Senior Joey Antonietti, an all-conference QB as a junior, moved to running back and receiver in Week 6. He alternated between the three positions last Friday with a 65-yard run while playing QB.
About the Trojans: Downers Grove North, like Lyons, faces a must-win for a playoff bid. The Trojans are coming off a heartbreaking 30-28 loss to Oak Park-River Forest, their third straight loss after a 4-1 start to the season. Downers Grove North rallied from a 13-point fourth-quarter deficit to take a 28-27 lead with 2:30 left, but OPRF hit a game-winning field goal with 33 seconds left and Downers North missed a 37-yarder on the game's final play. Sam Reichert threw TD passes to Ethan Thulin and Tommy Finley in the loss.
FND pick: Downers Grove North
Oak Park-River Forest (4-4, 2-3) at York (7-1, 4-1)
When: 7 p.m. Friday
Last matchup: York 18, Oak Park-River Forest 17 (Spring 2021)
About the Huskies: The Huskies, like fellow Silver schools Lyons and Downers Grove North, need a win here to become playoff eligible – a tall task at York. Oak Park-River Forest is coming off a thrilling 30-28 win over Downers Grove North on backup kicker Gavin Johnson's 31-yard field goal with 33.8 seconds left. QB Jack Gooch was 14-for-19 for 130 yards and a TD pass to E.J. Locke and Kelby Gray ran for 154 yards and two TDs on 29 carries. OPRF has won three straight games since a 1-4 start to the season, averaging over 40 points in that stretch.
About the Dukes: York bounced back from its only loss of the season to edge Willowbrook 14-10 last Friday. Brian Filosa's 70-yard punt return for a TD late in the third quarter proved to be the winning score. QB Matt Vezza, continuing his emergence as a dual threat, ran for 120 yards, Kelly Watson 61 and Mark Schneider 50 and a TD. Defensively, defensive end Everett Snyder had six tackles, 2.5 tackles for loss, one sack and three hurries. York can win a share of its first West Suburban Silver title since 2010 with a win here and a Glenbard West win over Hinsdale Central Saturday.
FND pick: York
Willowbrook (5-3, 5-0) at Morton (3-5, 3-2)
When: 7 p.m. Friday
Last matchup: Willowbrook 49, Morton 19 (Spring 2021)
About the Warriors: Willowbrook had its five-game winning streak snapped with a 14-10 loss to York last Friday, but clinched its fifth straight West Suburban Gold title and automatic playoff berth with Downers Grove South's win over Morton. Jaylon White ran for 101 yards against York filling in for injured starting running back Josh Brown, Nick Mabutas caught seven passes for 60 yards and Evan Stubblefield had a 3-yard TD. Willowbrook has won 27 consecutive games in the Gold.
About the Mustangs: Morton comes off a 17-7 loss to Downers Grove South, ending the Mustangs' bid for a playoff appearance. Still, the Mustangs with a victory here could reach four wins for the first time since 2010.
FND pick: Willowbrook
Downers Grove South (4-4, 4-1) at Leyden (3-5, 2-3)
When: 7:30 p.m. Friday
Last matchup: Downers Grove South 28, Leyden 14 (Spring 2021)
About the Mustangs: With four straight wins after an 0-4 start, Downers Grove South with a win here can all but lock up a playoff bid. It's been quite a turnaround for a young Mustangs' team, taking advantage of the West Suburban Gold schedule. Sophomore Deon Davis turned in his second consecutive huge game out of the backfield in a 17-7 win over Morton, running for 194 yards and a TD on 31 carries. Junior defensive lineman Joe Genna scored his second TD in as many games at running back.
About the Eagles: Leyden is coming off a 28-7 win over Addison Trail. The Eagles' offense has had quite a disparity in its wins and losses. Leyden has averaged 32.3 points in its three wins and has scored a total of 10 points in its five losses.
FND pick: Downers Grove South
Addison Trail (0-8, 0-5) at Hinsdale South (3-5, 3-2)
When: 7 p.m. Friday
Last matchup: Hinsdale South 44, Addison Trail 26 (Spring 2021)
About the Hornets: Hinsdale South is coming off a 55-12 win over Proviso East last Friday, more than double the previous high point total the Hornets had had in a game this season. A matchup with winless Addison Trail affords the Hornets the opportunity to finish the season on a high.
About the Blazers: Addison Trail, coming off a 28-7 loss to Leyden, is seeking to avoid the program's first-ever winless season. It's indeed been a rough go of it for the Blazers, outscored by a combined 347-57 margin.
FND pick: Hinsdale South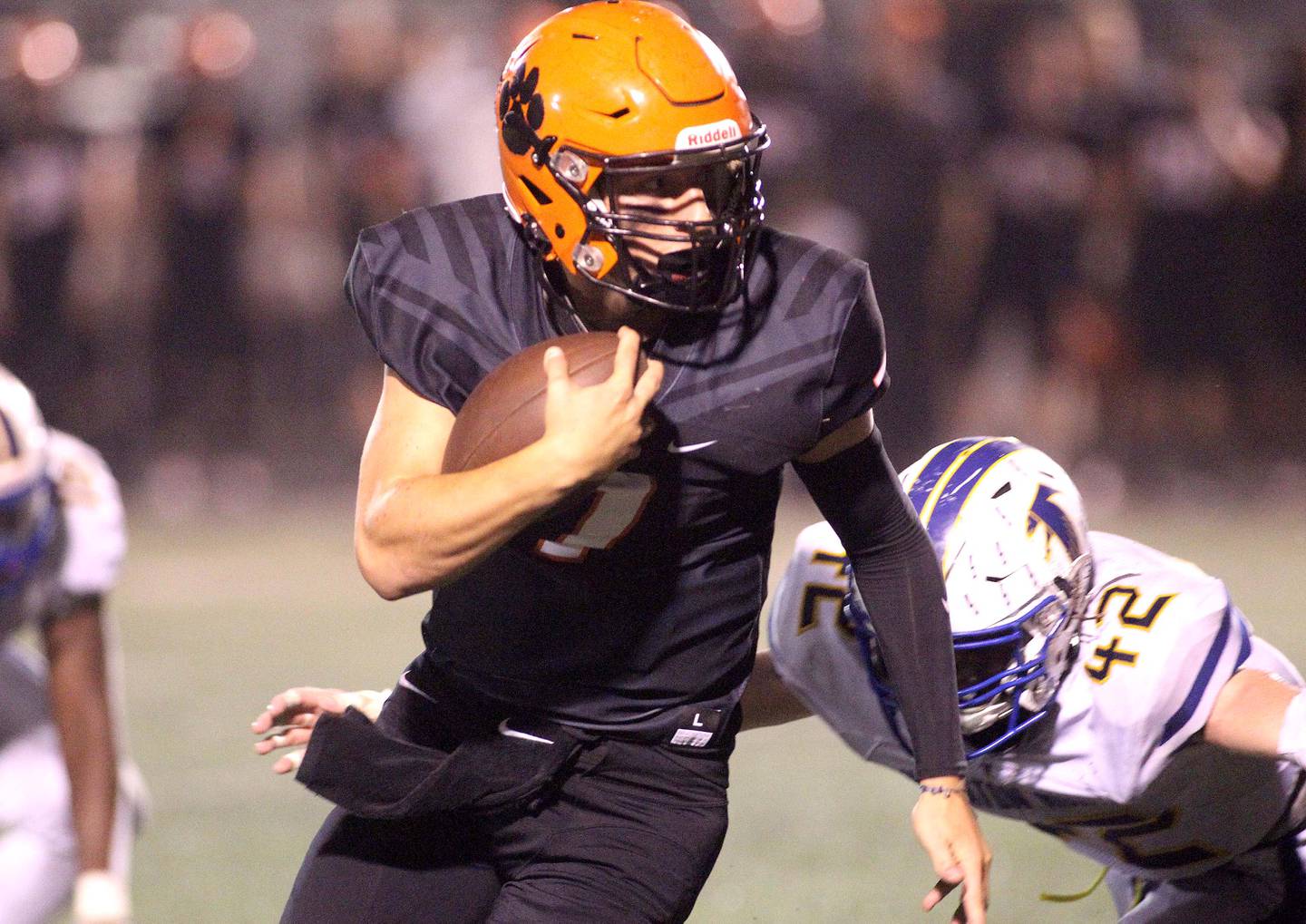 DuKane Conference
Glenbard North (6-2, 4-2) at Wheaton Warrenville South (4-4, 3-3)
When: 7:30 p.m. Friday
Last matchup: WW South 20, Glenbard North 12 (Spring 2021)
About the Panthers: Glenbard North clinched a playoff spot with its 28-16 win over St. Charles North last Friday. The Panthers are two one-point losses (to Batavia and Wheaton North) away from an unbeaten record, to give an idea how good Glenbard North has been this season. Sam Palmer had a huge game against St. Charles North, 213 yards and two TDs. Shea Gaffney, Dylan Ramierez and Joshua Applewhite each had interceptions. A win here would give Glenbard North its best regular-season record since 2016.
About the Tigers: WW South, like conference rivals St. Charles North and Geneva, are in a predicament of needing a Week 9 win to secure a playoff bid – no small task given the opponent. The Tigers took care of business last Friday by beating Lake Park 21-7 to give them the opportunity to play for a playoff spot. Matt Sommerdyke threw TD passes to Reece Young and Quentin Spencer and Matt Crider had a 49-yard TD run. Facing a Glenbard North offense that has scored 20 or more points in seven straight games is a challenge, but WW South's defense has allowed 13 or fewer points in five of its last six games so the Tigers could be up to the task.
FND pick: Glenbard North
Wheaton North (7-1, 5-1) at St. Charles East (2-6, 1-5)
When: 7:30 p.m. Friday
Last matchup: Wheaton North 24, St. Charles East 19 (2019)
About the Falcons: Wheaton North is rolling into the playoffs, winners of five straight games after beating Geneva 27-0 last Friday. The Falcons could grab a share of the DuKane Conference title with a win, but would also need a St. Charles North win over Batavia. A win here would give Wheaton North its most wins in the regular season since 2012. Jackson Moore and Kaiden Libby each had interceptions and Mark Forcucci threw three TDs and ran for one against Geneva. Wheaton North's defense has allowed eight or fewer points in six of its eight games while its offense has been held under 20 points only once.
About the Saints: St. Charles East has had a rough go of it of late. After a big win over Geneva, the Saints have been shut out in back-to-back games by St. Charles North and Batavia by a 79-0 margin. The Saints managed just two first downs and 25 yards of total offense against Batavia. If St. Charles East is to get things going offensively, it starts with senior quarterback Nathan Hayes, a North Dakota State recruit and third-year varsity starter.
FND pick: Wheaton North
CCL/ESCC
Benet (4-4, 1-1) at Nazareth (4-4, 1-1)
When: 7 p.m. Friday
Last matchup: Benet 3, Nazareth 0 (Spring 2021)
About the Redwings: Benet had a three-game winning streak (one of those a forfeit win) snapped last week with a 42-20 loss to Joliet Catholic, putting the Redwings in position to likely need a win Friday to become playoff eligible. Benet has made eight straight playoff appearances since last missing the postseason in 2011. The Redwings were actually quite competitive against unbeaten Joliet Catholic, a good sign going into Week 9. Benet led the Hilltoppers 13-0 early and were within 21-20 midway through the third quarter. Quarterback Antonio Picciolini threw for 123 yards and two TDs and ran for a score, and Ryan Snell caught three passes for 84 yards and two TDs.
About the Roadrunners: Nazareth, like its counterpart from Benet, likely needs a win Friday to secure a playoff bid. The Roadrunners have made seven straight playoff appearances with five championship game appearances since last missing the postseason in 2012. Nazareth has come on strong since an 0-3 start, and is coming off a 42-29 win over Montini in a similar matchup of two teams desperately clinging to playoff hopes. An offense piloted by freshman QB Logan Malachuk, who threw for 177 yards and a TD last week, has averaged nearly 38 points in the last five games. Big-play threat Quentrell Harris had a key 82-yard kick return for a TD against Montini, Nazareth's sixth special teams score this season. Justin Taylor ran for three TDs.
FND pick: Nazareth
Joliet Catholic (8-0) at Montini (3-5)
When: 7:30 p.m. Friday
Last matchup: Joliet Catholic 35, Montini 27 (2018)
About the Hilltoppers: It took a little while to get going for the Hilltoppers in their Week 8 victory over Benet, but even though they were a bit shorthanded, they eventually ran away for a 42-20 win. The victory came with limited usage of RB Jordan Anderson and also without the services of starting QB Aidan Voss, who sat out with an injury. RB Vinny Iannantone had another big night pacing the offense, while TJ Schlageter filled in admirably at quarterback.
About the Broncos: Montini played arguably the most difficult schedule in the state this season and it isn't all that surprising that it now find itself needing to pull off a mammoth upset to even get into the conversation for a potential playoff slot. Montini's opponents have combined for 45 victories through eight weeks, an extremely high total. Since the Broncos weren't multiplied this season, they would be a Class 3A playoff team as a qualifier.
FND pick: Joliet Catholic
-- Steve Soucie
Fenwick (6-2, 2-0) at St. Ignatius (8-0, 2-0)
When: 7:30 p.m. Friday
Last matchup: Fenwick 10, St. Ignatius 0 (Spring 2021)
About the Friars: Fenwick is coming off a 42-7 win over Marian Central, its third straight win. The Friars are very close to an unbeaten season – two losses to Providence and Loyola by a combined four points, the latter on a last-second field goal. Ball State recruit Kaden Cobb was 11-for-22 passing for 183 yards and three TDs and rushed for another 90 yards against Marian Central. The Friars also ran for 203 yards.
About the Wolfpack: It's been quite a breakthrough season for St. Ignatius, which had only won more than seven games one other time (in 2017) since the program restarted in 2005 after not having football for 40 years. A 27-0 win over Mount Carmel in Week 5, St. Ignatius' first win over the Caravan since 1928, was an eye opener, and the Wolfpack has not looked back since. This will mark St. Ignatius' six straight playoff appearance, so it's not like the program came out of nowhere. The Wolfpack's bread and butter is its triple option offense, which amassed 335 rushing yards against Mount Carmel. Vinny Rugai, a junior running back/linebacker, is a player to watch.
FND pick: St. Ignatius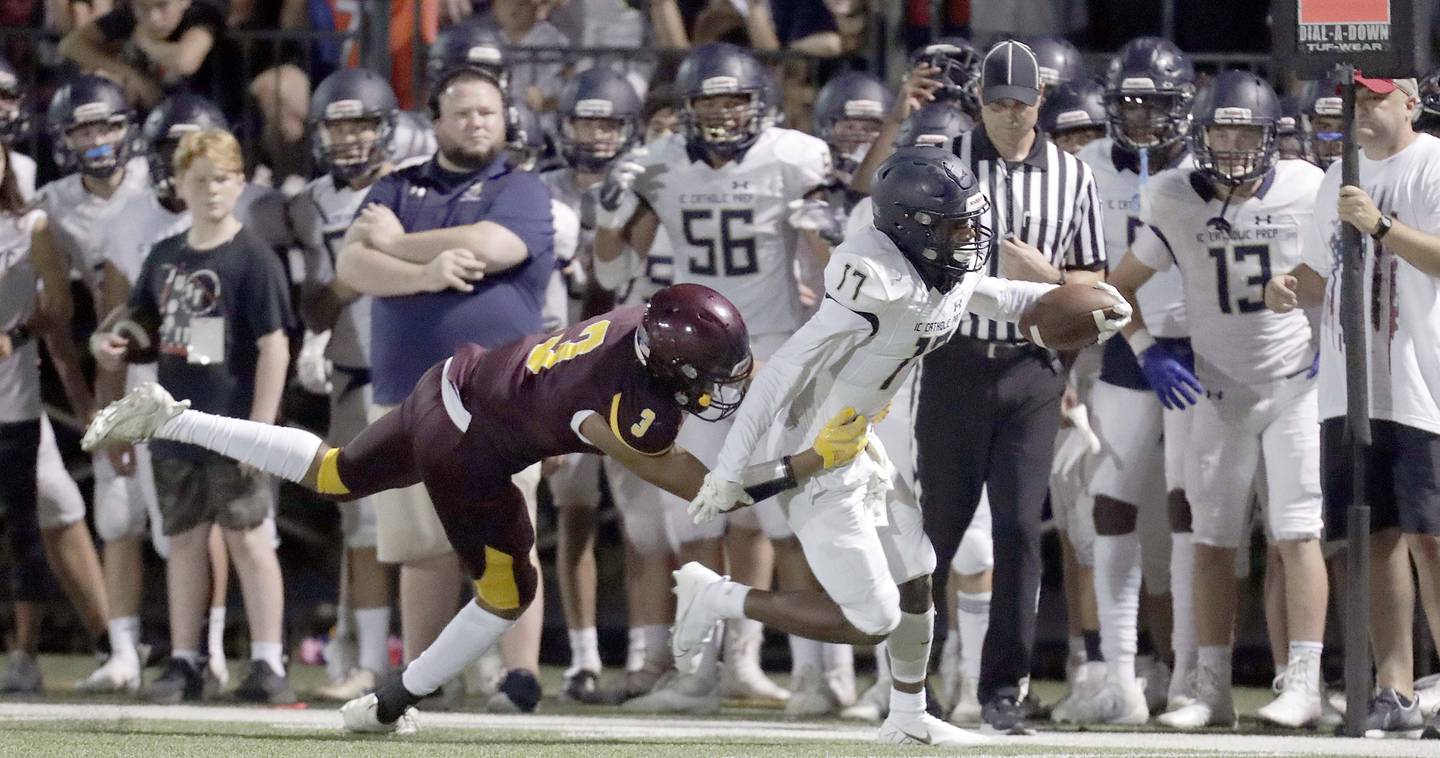 Metro Suburban Conference
IC Catholic Prep (8-0) at St. Francis (6-2)
When: 7:30 p.m. Friday
Last matchup: St. Francis 28, IC Catholic Prep 0 (Spring 2021)
About the Knights: IC Catholic comes off a 28-7 win over Bishop McNamara, who beat St. Francis the previous week. The Knights moved up to No. 1 in the Associated Press Class 3A rankings. Sophomore QB Dennis Mandala has completed 66% of his passes for 930 yards and 16 TDs with Denzell Gibson, KJ Parker and Antonio Richardson his top targets. Malik Gray has rushed for 725 yards and seven TDs. Defensively, Richardson has a whopping 12 sacks from his defensive end position along with 11 hurries, 34 solo tackles and 12 tackles for loss.
About the Spartans: St. Francis bounced back from its loss to Bishop McNamara to beat Riverside-Brookfield 35-7 last week. The Spartans are ranked No. 7 in the latest Class 4A poll. Junior Alessio Milivojevic leads a St. Francis offense that's averaged 37 points per game. Adam Criter, Tyler Bishop and Blake Lawson lead a deep group of playmakers and TJ McMillen is one of the best linemen around. St. Francis has won the last two meetings with IC Catholic, its 2019 win snapping what was at the time a 33-game Knights' winning streak.
FND pick: IC Catholic
Bishop McNamara (4-4) at Riverside-Brookfield (5-3)
When: 7:15 p.m. Friday
Last matchup: Bishop McNamara 34, Riverside-Brookfield 12 (Spring 2021)
About the Irish: The Irish had a three-game winning streak snapped with its 28-7 loss to IC Catholic last week, making this game close to a must-win game if McNamara is to extend longtime coach Rich Zinanni's final season into the playoffs. R-B will remember well McNamara sophomore Tony Phillips, who ran for over 200 yards against the Bulldogs as a freshman in his varsity debut last spring.
About the Bulldogs: R-B is already in the playoffs, but would like to head into the postseason on a positive note after back-to-back losses to IC Catholic and St. Francis in which the Bulldogs were outscored by a combined 90-21. It won't be easy against a desperate McNamara team that has shown what its capable of with the Week 7 win over St. Francis.
FND pick: Bishop McNamara
Wheaton Academy (6-2) at Aurora Christian (6-2)
When: 7 p.m. Friday
Last matchup: Aurora Christian 28, Wheaton Academy 21 (2019)
About the Warriors: Wheaton Academy clinched a playoff berth with its 57-6 win over Elmwood Park last week. The Warriors' six wins are their most since 2016. Senior QB David Dorn threw for 210 yards and two TDs and sophomore Liam White had 111 yards receiving and scored two TDs as the Warriors amassed a season-high 452 yards. Defensively, Peter Johanik had nine tackles and three sacks. and James Kapitaniuk also had two sacks.
About the Eagles: Aurora Christian, like Wheaton Academy, clinched a playoff bid last week with its 17-7 win over St. Edward. Cam Ajazi ran for 143 yards and the Eagles held their fifth opponent to eight or fewer points.
FND pick: Wheaton Academy
South Suburban Conference
Lemont (8-0) at Oak Forest (4-4)
When: 7 p.m. Friday
Last matchup: Lemont 40, Oak Forest 0 (2019)
About Lemont: Lemont is looking to complete the sweep in the South Suburban Conference. Based on previous results, it doesn't look like that's going to be exceptionally difficult. Lemont has scored 286 points in six games against South Suburban foes and this looks like a matchup where it could stack up quite a few more. RB Albert Kunickis will likely play a large role in whatever attack plan Lemont assembles.
About the Bengals: Oak Forest is one of a large list of teams that sit at 4-4 and will need a pretty substantial upset to get to five wins. The Bengals have lost to three opponents this season that Lemont has beaten handily, making it unlikely that Oak Forest could pull such a substantial upset.
FND pick: Lemont
-- Steve Soucie
Upstate Eight Conference
Glenbard South (7-1, 7-1) at Elgin (3-5, 3-5)
When: 7:30 p.m. Friday
Last matchup: Glenbard South 21, Elgin 12 (2019)
About the Raiders: Glenbard South won its fifth straight game and clinched a playoff bid with its 40-20 win over Glenbard East last week. Trevor Burnett, who holds 10 scholarship offers, had a huge game with 243 yards rushing and three TDs. Sophomore Michael Champagne threw a TD to Dominic D'Ambra and also ran for a 20-yard score. The Raiders with a victory would reach the program's most since since 2014 and most wins in the regular season since 2013. Glenbard South is ranked No. 8 in the Associated Press 5A rankings.
About the Maroons: Elgin comes in off a tough 30-28 loss to crosstown rival Larkin, giving up a TD and two-point conversion in the final minute, which all but ended the Maroons' playoff hopes – although they have an outside shot with a win Friday. Elgin's Clem McCullough threw two TD passes to Matt Lawson, had a long TD run and also intercepted three passes defensively in the loss, a game in which the Maroons blew a 14-point fourth-quarter lead.
FND pick: Glenbard South
Fenton (0-8, 0-7) at Glenbard East (6-2, 6-2)
When: 7:30 p.m. Friday
Last matchup: Glenbard East 21, Fenton 12 (2019)
About the Bison: It's been a rough season for Fenton. The winless Bison have been outscored 262-20, and it wouldn't seem to get any better this week versus a Glenbard East team smarting from a loss to a district opponent.
About the Rams: Glenbard East will be looking for a bounce back and momentum into the playoffs after a 40-20 loss to Glenbard South and would appear to have the ideal opponent to do that against. Tyrese Buffkin caught an 11-yard TD pass from junior Dillon Williams in the loss. Buffkin is the Rams' top playmaker while Demontay Mack, Matt Schager and Troy Cooper lead a Glenbard East defense that has allowed seven or fewer points in all six of its wins.
FND pick: Glenbard East