Southwest Prairie Conference
Oswego (6-2, 4-0) at Yorkville (4-4, 1-3)
When: 7 p.m. Friday
Last matchup: Oswego 17, Yorkville 6 (Spring 2021)
About the Panthers: Oswego appears to be peaking at the right time with six consecutive wins – last Friday's 38-14 win over Oswego East clinched at least a share of the program's 10th league title in 11 years. The Panthers have got their running game clicking on all cylinders of late. Mark Melton went for 203 yards and two TDs last Friday, the second time in four weeks he's topped 200 yards. He's run for 785 yards and nine TDs on the season. Junior quarterback Cruz Ibarra, who returned to action last week, has thrown for 665 yards and seven TDs in six games. Junior linebacker Braedon Hellinger, who has a team-high 58 tackles, and sophomore defensive end Taeden Thomas, with 39 tackles, nine tackles for loss and 6.5 sacks, have emerged as forces on a defense that's made strides since Week 1. Oswego has won both meetings with Yorkville since the Foxes joined the SPC.
About the Foxes: Yorkville, coming off a heartbreaking 20-17 overtime loss to Minooka, finds itself in basically a must-win situation if the Foxes are to make their third straight playoff appearance. The Foxes could possibly reach the postseason with four wins, but it's a dicey spot they'd surely rather avoid. Yorkville's defense, with a strong front led by Jake Davies (57 tackles, 15 for loss) and Andrew Laurich (34 tackles, 14 for loss) has held its last two opponents under 100 yards rushing and has allowed only three opponents to break that mark this season – a matchup to watch against Oswego. Offensively, Daejeion Lewis has rushed for a team-best 473 yards and Nate Kraus has passed for 515 and thrown for 263 – but the Foxes' offense has averaged just 10.3 points in four SPC West games, and will likely need more than that to win Friday.
FND pick: Oswego
Plainfield North (6-2, 3-1) at Oswego East (6-2, 2-2)
When: 7 p.m. Friday
Last matchup: Plainfield North 17, Oswego East 10 (Spring 2021)
About the Tigers: Plainfield North is simply grinding opponents into submission right now. The Tigers defense is giving up next to nothing. Although the offense isn't exactly putting up massive numbers, the unit's ability to sustain drives and wear down opponents is proving to be a formula that not too many foes have had a real good answer for.
About the Wolves: Oswego East, after a 5-0 start, has struggled down the stretch in the grind of the SPC West. Good news for the Wolves is that junior QB Tre Jones, who took a shot to the chest in the second quarter against Oswego and didn't return, is expected to go this week – as is Darquel Sanders and Ty Carlson, also dinged up last Friday. The Wolves' defense, considered the team strength, has taken some hits of late as two of Oswego East's last three opponents have topped 30 points. The Wolves gave up nearly 300 yards rushing against Oswego, and need to match the physicality that a big Plainfield North front will bring to the table. Oswego East could potentially be playing for a home playoff game here.
FND pick: Plainfield North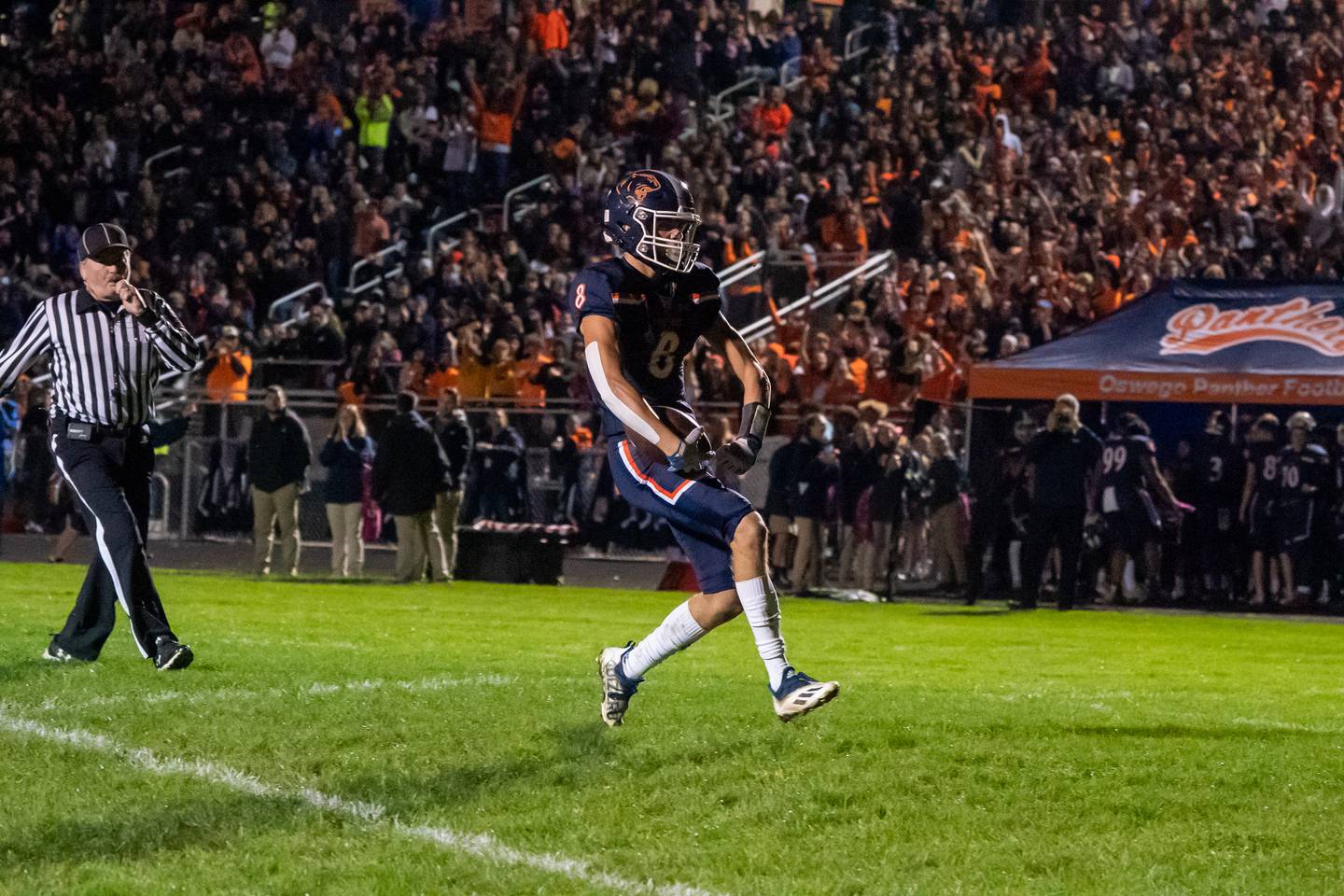 Kishwaukee River/Interstate Eight Blue
Plano (5-3) at Ottawa (2-6)
When: 7 p.m. Friday
Last matchup: Plano 20, Ottawa 7 (Spring 2021)
About the Reapers: Plano, after a 5-1 start with two wins by forfeit, has dropped its last two games by a combined nine points, the latest a 28-20 loss to Rochelle. Needless to say, the Reapers could use a boost going into the postseason. Even without two on-field games, Plano's Ray Jones Jr. could break 1,000 yards this week. He's gone for 901 yards on 8.9 yards per carry and 11 TDs already, and continued his spectacular season with 173 yards and three TDs against Rochelle. Junior QB Samuel Sifuentes was an efficient 8-for-10 for 74 yards against Rochelle and has thrown for 512 yards on the season. Defensively, Sean Earwood leads the way with 45 tackles, Nemo Denton has 39 and Brandon Edmond 36. Plano's defense has allowed its last four opponents on the field to top 20 points after posting three straight shutouts to start the season. A victory here would give Plano its most wins since posting a 7-3 record in 2016.
About the Pirates: Ottawa will close out the season with this Kishwaukee River/Interstate Eight crossover, its first KR/I8 crossover since defeating Sandwich 42-14 to open the season. Aside from losses to La Salle-Peru and Morris earlier in the season the Pirates have consistently been able to pile up yards led by the offensive triumvirate of QB Braiden Miller (99-175, 1,330 yards, nine TDs), RB Javarius Whitfield (825 yards, 11 TDs) and WR Levi Sheehan (40 receptions, 639 yards, 6 TDs). All three will be looking to etch their names into the OHS record book — Miller 28 completions from Ottawa's career record and 237 yards short of the top single-season performance; Whitfield 175 yards from the 15th 1,000-yard rushing season in OHS history; and Sheehan nine catches and 127 yards shy of the single-season school records. LB Ryder Miller comes in with 74 total tackles — 8 1/2 of those behind the line of scrimmage.
FND pick: Plano
Sandwich (0-8, 0-5) at Rochelle (6-2, 4-1)
When: 7 p.m. Friday
Last meeting: Rochelle 42, Sandwich 28 (2019)
About the Indians: Hoping to finish with their first on-the-field win (it had a forfeit win over L-P in 2020) since it beat Ottawa 44-25 in Week 8 of 2019, coach Kris Cassie's Sandwich squad is coming off its two best offensive efforts of the season, albeit in losses: a 29-24 loss at Harvard and 43-21 on last Friday's senior night with Marengo. In that latter game, junior FB Seven Tornga continued his fine season with 29 carries for 190 yards and two scores, while Cainan Haick added a 20-yard TD run. However, the defense gave the visitors 461 total yards on the night. It must do better against the Hubs' solid ground game and find some air yards or it will be SHS's first winless season since 1998.
About the Hubs: After a 1-2 start, the Hubs have taken flight, a five-game win streak including most recently wins over potential playoff clubs Marengo 41-32, Kaneland 43-21 and last Friday a 28-20 road victory over Plano. The main reason for that success has been a running game behind a trio of junior RBs, Trey Taft (139 yards, TD vs. Marengo), Cody Stover-Cullum (102-3) and Garrett Gensler (TD). Defensively, the Hubs are led by 6-3, 190 senior safety Tanner Lager and junior CB Aiden Rodriguez, but they vulnerable to the pass, having given up 323 air yards to Marengo QB Joshua Holst in Week 7. However, the ground-and-pound Indians had no passing yards in their loss to Marengo last week.
FND pick: Rochelle
-- Charlie Ellerbrock
JT Pedelty and Steve Soucie contributed to these previews