DuPage Valley Conference
DeKalb (2-5, 0-5) at Waubonsie Valley (2-6, 1-4)
When: 7 p.m. Friday
Last matchup: Waubonsie Valley won earlier this season in DeKalb, 17-10.
About the Barbs: The teams are meeting for the second time this season, with DeKalb losing the Week 6 battle after giving up a 66-yard touchdown with 4 minutes left in the game.
The Barbs enter the game having lost five straight, all in DVC play. They're coming off a 34-13 loss to Neuqua Valley.
"If you look back at the game a couple weeks ago, we have to score some points," first-year coach Derek Schneeman said. "We have to score some points. We moved the ball, got into the red zone then shot ourselves in the foot. We have to be disciplined. We've shown we can move the ball, we just have to finish some drives."
The offense did score 13 against Neuqua Valley last week after the Wildcats had shutout Metea Valley and the Warriors in consecutive games before facing DeKalb.
With a lot of juniors on the roster, Schneeman said closing the season with a win isn't just big for experience but also for seniors like linebacker Toriano Tate and lineman Christian Lorenzo.
"It's a good opportunity to get a win and end the season on a high note," Schneeman said. "We can build off the momentum in the offseason and send our seniors off the way we feel they deserve."
Schneeman said a win definitely helps going into the postseason.
"It's huge. We're a junior-laden team and pretty young in key spots," Schneeman said. "Our win-loss record is what it is, but this would go a long way to show them what it takes to win games in the DVC. It will get rid of the taste in our mouths from the last five weeks. It's something we all need as a program."
About the Warriors: After the win against the Barbs, the Warriors lost, 28-0, to Neuqua Valley and, 28-19, to Naperville North. The 10 points DeKalb scored is the fewest they've allowed all year.
The Warriors mounted their final drive against DeKalb by starting with a facemask penalty, sophomore quarterback Luke Elsea found Tyler Helbing on a streak, then raced 66 yards for the go-ahead score.
Friday Night Drive pick: Waubonsie Valley
Kishwaukee River/Interstate 8 White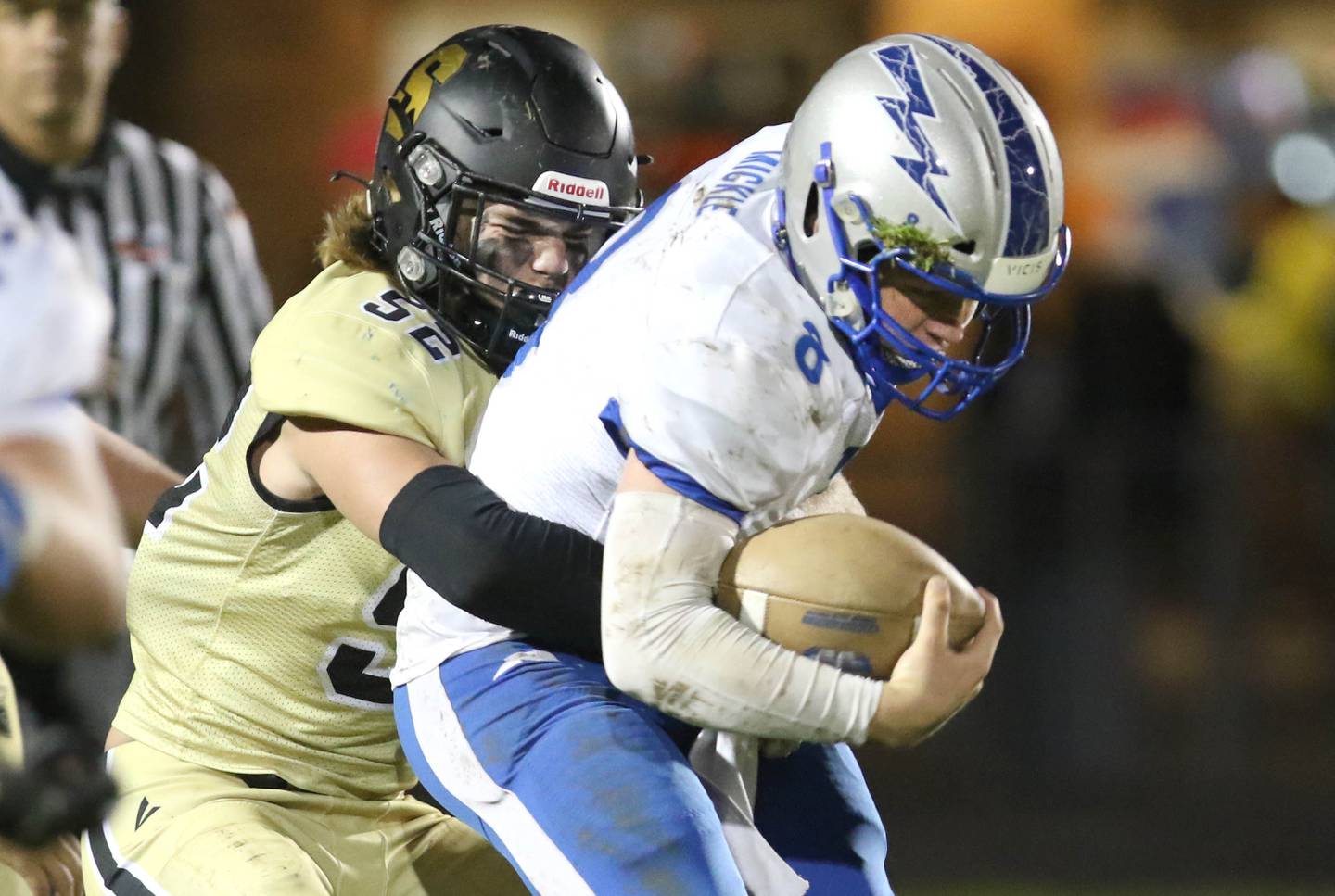 Sycamore (6-2, 5-0) at Morris (8-0, 5-0)
When: 7 p.m. Friday
Last matchup: Sycamore won at Morris last season, 21-14
About the Spartans: Morris and Sycamore get a big game the week before the playoffs start, with the winner claiming the conference title outright. The Spartans won the I-8 title outright their first year in the conference (2019), and shared the title with La Salle-Peru in the spring 2021 season.
"We have an opportunity to play for a conference championship. It's a big task," coach Joe Ryan said. "Going down there and playing' they're always well-coached, and their kids play really hard. We're going to have to play really well. Its a really good 5A football game."
The Spartans have struck a run-pass balance, with junior quarterback Eli Meier throwing for 1,148 yards. He's also second in rushing yards on the team with 395, behind Nathaniel Altepeter's 531.
Sycamore has won two straight by a combined 90-0 against Woodstock and Woodstock North after a 42-40 loss to Richmond-Burton.
About Morris: Morris started the season with a pair of 10-point wins, but only one game since has been closer than last week's 31-7 win at La Salle-Peru. They've scored at least 30 points in every game since the opener (13-3 against Coal City) and have allowed more than 13 only twice in eight games.
Zach Romak doesn't make many mistakes at quarterback with 10 touchdowns and one interception. He has thrown for 1,045 yards and rushed for another 670 and 10 scores. Ashton Yard leads the ground attack with 1,111 yards and 12 scores.
FND pick: Morris
LaSalle-Peru (5-3, 3-2) at Kaneland (4-4, 3-2)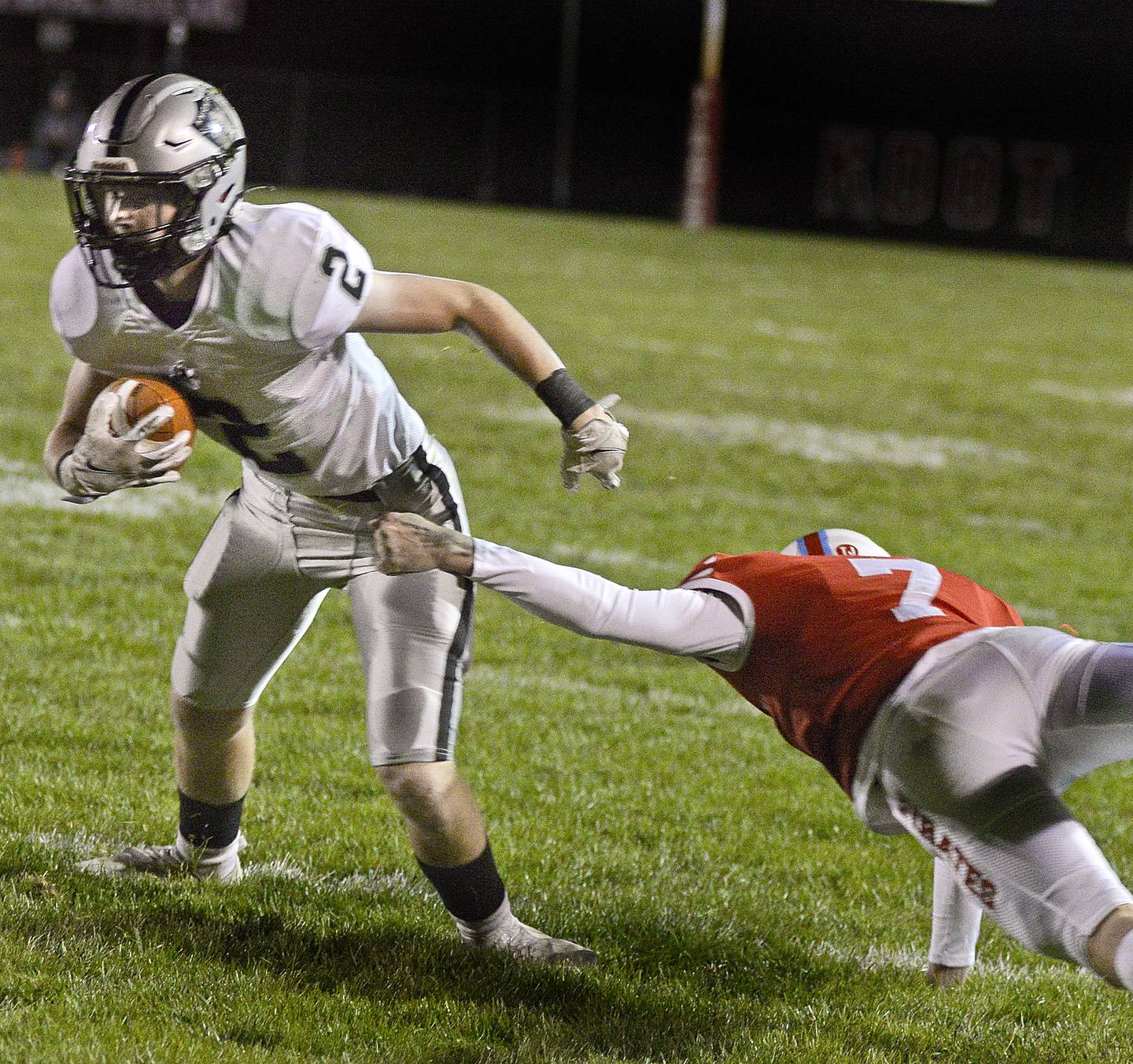 When: 7 p.m. Friday
Last matchup: The Cavaliers were 21-20 winners at home last season.
About the Knights: Kaneland needs a win to ensure the fifth straight playoff berth since coach Pat Ryan took over the program. A loss likely would keep them out of the postseason.
They'd have to do so against a playoff-bound Cavaliers team. Kaneland is 1-4 against teams that have at least a .500 record.
"We're approaching it like any other game," Ryan said. "Our approach has not changed during the week, and it's no different from any of the previous eight weeks. I think that's because we are always shooting to go 1-0 every week, that's our approach. We don't think about having to win to make the playoffs. We're focused on beating La Salle-Peru which would happen if we had one win or eight wins."
The defense had a strong showing against Ottawa, shutting down their run game in a 52-26 road win.
"We've been waiting for our defense to have a really strong game, and they played well," Ryan said. "We limited them to 5 yards rushing, which it's been a thorn in our side to stop the run. We're playing a team that runs the ball effectively, and this gives us a little confidence to stop the run heading into a big game for us."
Ryan said it was a high-energy showing for the defense.
"Some kids that were, I don't want to say quiet all season, but I feel like they were playing at a different level Friday than they had been playing at," Ryan said. "I don't know if the scheme has finally clicked, but they played fast, and if that carries over it will help us out a lot."
Troyer Carlson threw for six touchdowns against the Pirates and has completed 66.4% of his passes for 2,239 yards, 28 touchdowns and seven interceptions.
About the Cavaliers: The Cavaliers like to keep it on the ground, averaging less than 50 passing yards a game.
Matt Carrico leads the rushing attack with 691 yards on 129 carries and five scores, while quarterback Sean Whitfield has rushed for nine touchdowns and 587 yards.
FND pick: La Salle-Peru
Big Northern Conference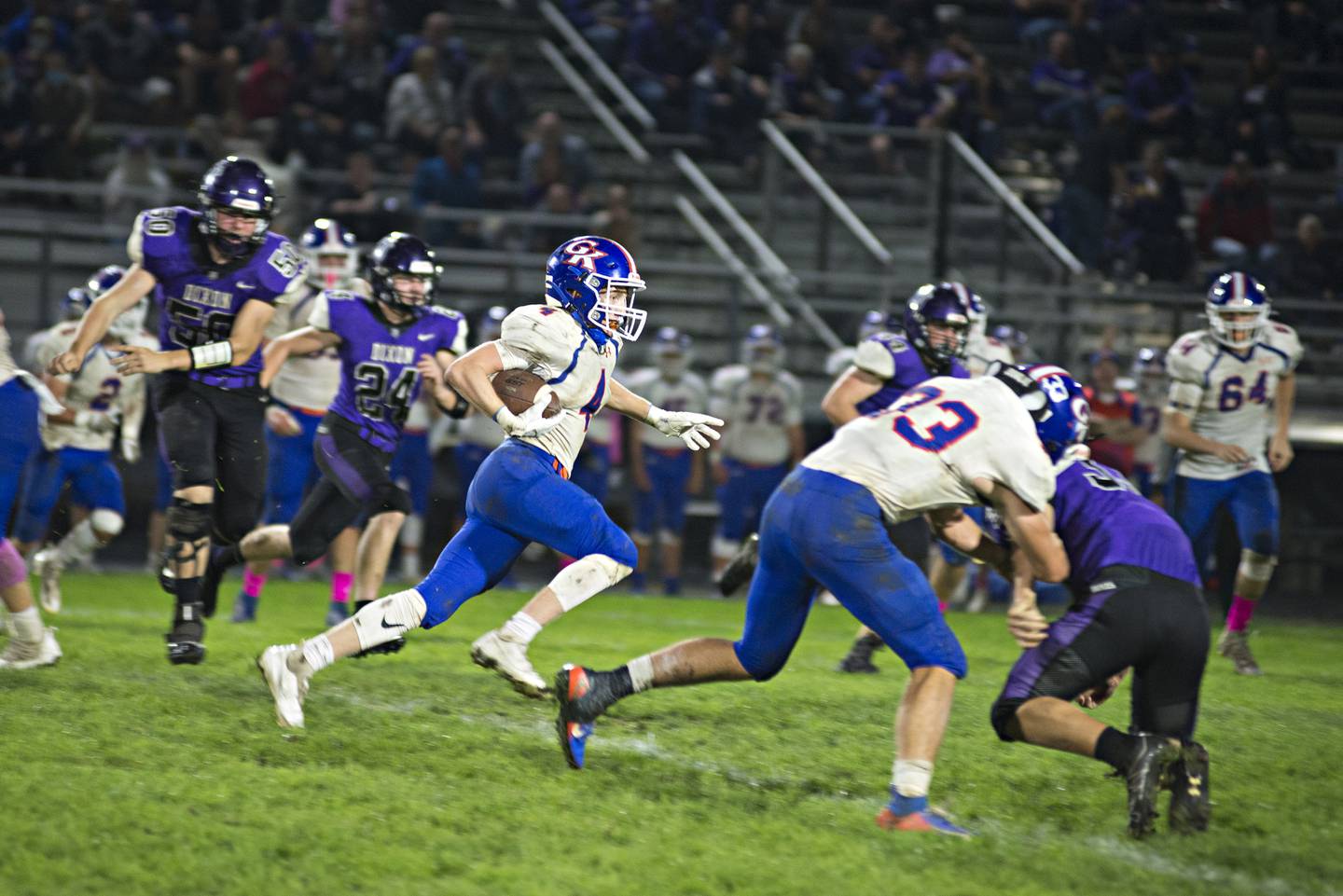 Stillman Valley (7-1, 7-1) at Genoa-Kingston (7-1, 7-1)
When: 7 p.m. Friday
Last matchup: The Cogs were 18-7 winners at Stillman Valley in 2019.
About the Cogs: With Byron undefeated and playing a winless Rockford Christian team Friday, the Tigers seem likely to win the BNC outright, leaving Stillman Valley and G-K – who tied with Byron for the 2019 title – playing for second and prepping for what they hope are long playoff runs.
The Cogs come in having shutout three of their past four opponents. The lone exception a 34-19 win against Dixon, the second most prolific offense in the conference.
"I feel like we're not peaking, but we're definitely on the upswing in terms of what we're doing offensively and defensively in order to get the job done on Friday nights," coach Cam Davekos said. "The kids are excited about the end of our regular season and going into the playoffs. They are kind of amped up and ready to go."
The Cogs have used a multi-prong rush attack out of a Wing-T, with more than a half dozen players running the ball on any night. They didn't throw a pass in Friday's 62-0 win against Rockford Christian, with five players scoring a touchdown on the ground.
They now face a Stillman Valley team that has played three one-score games in a row.
"This week is going to be tough," Davekos said. "That Stillman team is coached up really well. They do the little things well on offense and defense to stay in the game. When they keep it close they've won every single one."
About the Cardinals: Since a 51-16 win against Rockford Christian, the Cardinals have played three straight close games – 21-13 against North Boone, 14-13 against Winnebago and 21-20 against Rockford Lutheran. They also beat Dixon by 6 in Week 4.
The Cardinals have won seven straight since losing to Byron, 35-0, in the opener. G-K lost, 7-3, to the Tigers.
FND pick: Genoa-Kingston
Eight-man
River Ridge (3-5) at Hiawatha (3-5)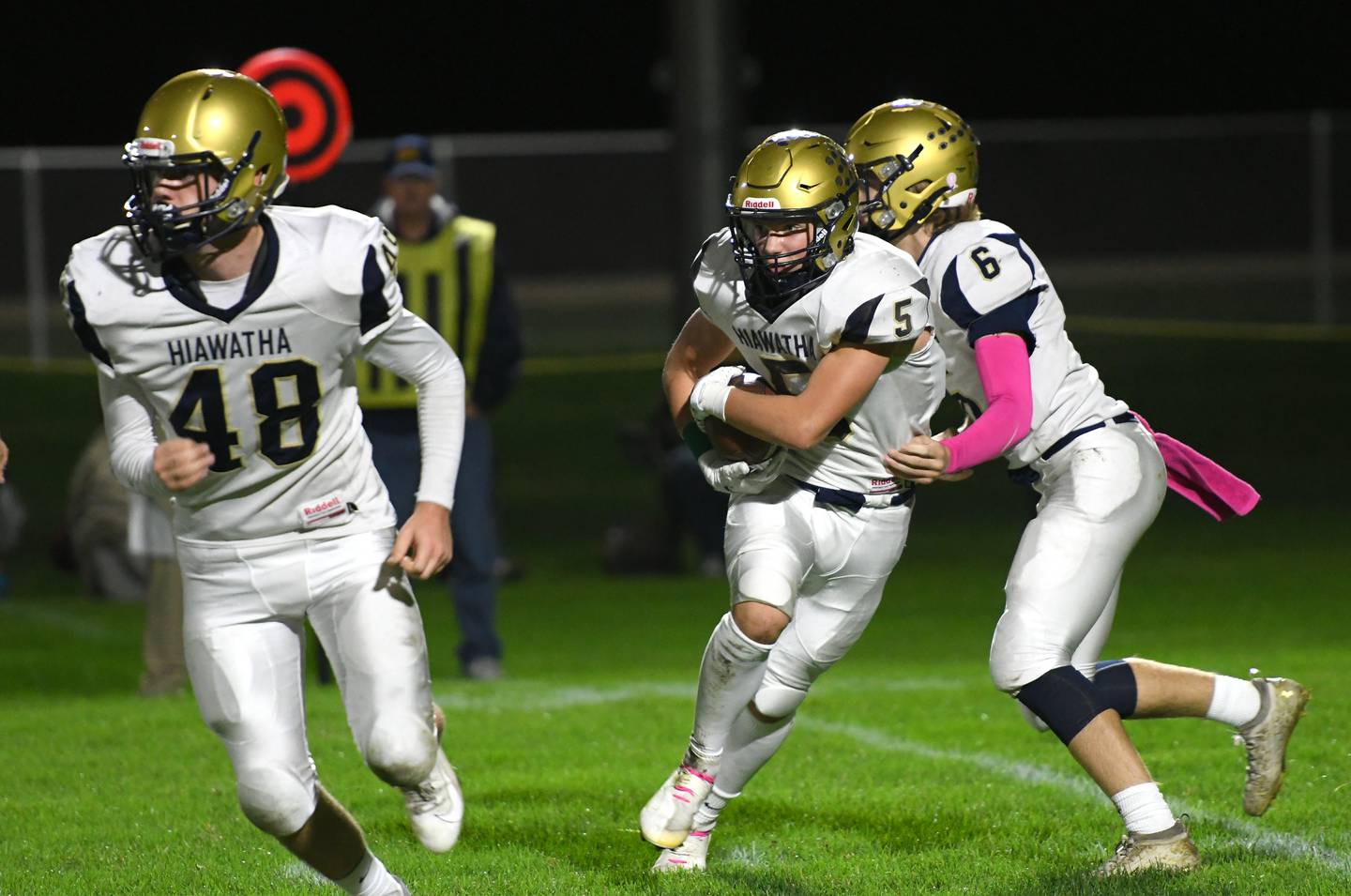 When: 7 p.m. Friday
Last matchup: The Wildcats were 42-8 winners last season.
About the Hawks: Coach Nick Doolittle said a win likely will get the Hawks into the eight-man playoff field, but wins have been hard to come by for the Hawks of late. They've lost three straight and five of six. None of their losses have been closer than 24 points. They lost, 64-8, to undefeated Polo last week.
Doolittle said his young defense, anchored by Chris Korb and Cole Brantley, has been improving.
"We're just trying to be tougher defensively," Doolittle said. "We're struggling in that area, so we try to get better there every week. Having inexperienced players, we're building more reps that will give us experience and help us in the long run."
About the Wildcats: River Ridge picked up a 44-30 win against Alden-Hebron, a team Hiawatha beat, 50-12, in Week 2.
The Wildcats' two on-the-field victories have been by an average of 13 points. Until last week, they hadn't given up less than 42 points in a game.
FND pick: Hiawatha