West Suburban Conference
York (6-1) at Willowbrook (5-2)
When: 7 p.m. Friday
Last matchup: York 25, Willowbrook 23 (Spring 2021)
About the Dukes: York comes off a crushing loss, a 16-point fourth-quarter lead getting away in an eventual 27-23 loss to Hinsdale Central, the Dukes' first of the season. Still, the Dukes have validated their program's rise the last two weeks by going toe-to-toe with beasts of the West Suburban Silver Glenbard West and Hinsdale Central. Junior quarterback Matt Vezza, 15-for-31 for 249 yards with two TD throws and a rushing score last Friday, is an emerging talent with the ability to keep plays alive with his feet. York's defense had a bit of a hiccup in the fourth quarter last Friday but has otherwise been one of the best around with 61 points allowed. The Dukes can't afford to dwell on their first loss with a tough road game against the best of the Gold.
About the Warriors: Willowbrook has puts its 0-2 start well in the rearview mirror with five straight wins, most recently 33-7 last Friday against Hinsdale South, and can win clinch its fifth straight playoff appearance with a win here. The Warriors have continued to dominate the West Suburban Gold, averaging 38 points in divisional games – but how will that translate against one of the elite defenses of the Silver? Either way, it's a good time to gauge Willowbrook's progress with the playoffs around the corner.
Friday Night Drive Pick: York
Proviso West (0-7, 0-4) at Hinsdale Central (6-1, 4-0)
When: 7:30 p.m. Friday
Last matchup: Hinsdale Central 63, Proviso West 0 (Spring 2021)
About the Panthers: A rough season for Proviso West got a small sliver of a silver lining last week – the Panthers scored their first points of the season in a 51-6 loss to Oak Park-River Forest. The Panthers have allowed a staggering 373 points, and a visit to Hinsdale Central wouldn't appear to help the matter any.
About the Red Devils: Hinsdale Central comes into this on a high, scoring three TDs in the fourth quarter last week to stun previously unbeaten York 27-23. Billy Cernugel, 16-for-25 for 212 yards, led two long fourth-quarter scoring drives and Joe Boggs' big interception set up Sean Allison's game-winning TD. The Red Devils, who control their own destiny to repeat as West Suburban Silver champs, have a huge game Week 9 at Glenbard West – but first have to take care of business this Friday. Thomas Skokna is a playmaker catching and running with the football and Carter Contreras, who caught seven passes and a TD at York, is a sophomore receiver to watch.
FND Pick: Hinsdale Central
Glenbard West (6-1, 3-1) at Lyons Township (4-3, 2-2)
When: 7:30 p.m. Friday
Last matchup: Glenbard West 42, Lyons 0 (2019)
About the Hilltoppers: Glenbard West is getting well-versed with close games the last two weeks. Jason Thomas' 1-yard TD run with 25 seconds left last Friday gave the Hilltoppers a 13-10 win at Downers Grove North, a week after York beat Glenbard West 12-10 on a last-minute field goal. Glenbard West, which has already clinched a playoff berth, can win at least a share of the Silver title by beating Lyons and then Hinsdale Central next Saturday. Joey Pope ran for 99 yards on 14 carries and Korey Tai ran for 76 yards and passed for 30 against Downers Grove North. Glenbard West's offense that looked unstoppable the first five weeks has been slowed the last two games against stiff competition, but the Hilltoppers' defense has picked up the slack.
About the Lions: Lyons has rolled the last two weeks against teams it needed to beat, 63-0 over Proviso West and 49-0 against Leyden, to put the Lions in position to qualify for the playoffs for the first time since 2017. It gets much tougher now, games with Glenbard West and Downers Grove North to close the season. Lyons is 0-3 so far this season against teams with a winning record, although its 14-7 loss to York shows it can compete.
FND Pick: Glenbard West
Downers Grove North (4-3, 1-3) at Oak Park-River Forest (3-4, 0-3)
When: 7 p.m. Friday
Last matchup: Oak Park-River Forest 14, Downers Grove North 7 (Spring 2021)
About the Trojans: Downers Grove North nearly pulled off a huge win last Friday, a 13-10 loss to Glenbard West that required a Hilltoppers' TD run in the final minute. The Trojans, while losing both games, were plenty competitive against Hinsdale Central and Glenbard West the last two weeks, a good harbinger of things to come. Now they need to win one of the remaining games against Oak Park and Lyons to become playoff eligible. Noah Battle ran for 76 yards and a 28-yard TD against Glenbard West, Ethan Thulin caught seven passes for 64 yards and quarterback Sam Reichert was 12-for-16 for 102 yards.
About the Huskies: The Huskies, in scramble mode to try to reach the playoffs, have taken care of business the last two weeks against opponents it should beat, 41-7 over Morton and 51-6 over Proviso West. It gets tougher now with games remaining against Downers Grove North and York. Oak Park is 0-4 this season against teams with winning records and its defense has given up 43.8 points per game in those losses, trends that clearly need to be reversed.
FND pick: Downers Grove North
Morton (3-4, 3-1) at Downers Grove South (3-4, 3-1)
When: 6:30 p.m. Friday
Last matchup: Downers Grove South 42, Morton 21 (Spring 2021)
About Morton: The Mustangs come off a huge 68-21 win over Proviso East, huge in that the third win gives Morton its most wins in a season since 2012. It will be a heavy lift with a Week 9 game against Willowbrook, but Morton still has a shot at the playoffs in Week 8 – significant for a long struggling program. The Mustangs have put up big-time numbers in their three wins, averaging over 45 points.
About Downers Grove South: The Mustangs, once 0-4, continued their push for the playoffs last Friday with their fourth straight win, 27-6 over Addison Trail. Sophomore Deon Davis ran for 185 yards on 31 carries with two TDs. NIU recruit Eli Reed missed that game with an ankle injury, but is expected back this week.
FND pick: Downers Grove South
Hinsdale South (2-5, 2-2) at Proviso East (1-6, 1-4)
When: 7 p.m. Friday
Last matchup: Proviso East 8, Hinsdale South 7 (2019)
About the Hornets: Hinsdale South comes off a 33-7 loss to Willowbrook, and has managed just seven points in each of its last two games, both losses – a trend that should change this week against a porous Proviso East defense.
About the Pirates: Proviso East comes in off a 68-21 loss to Morton. The Pirates have had difficulty stopping people this season, giving up close to 44 points per game.
FND pick: Hinsdale South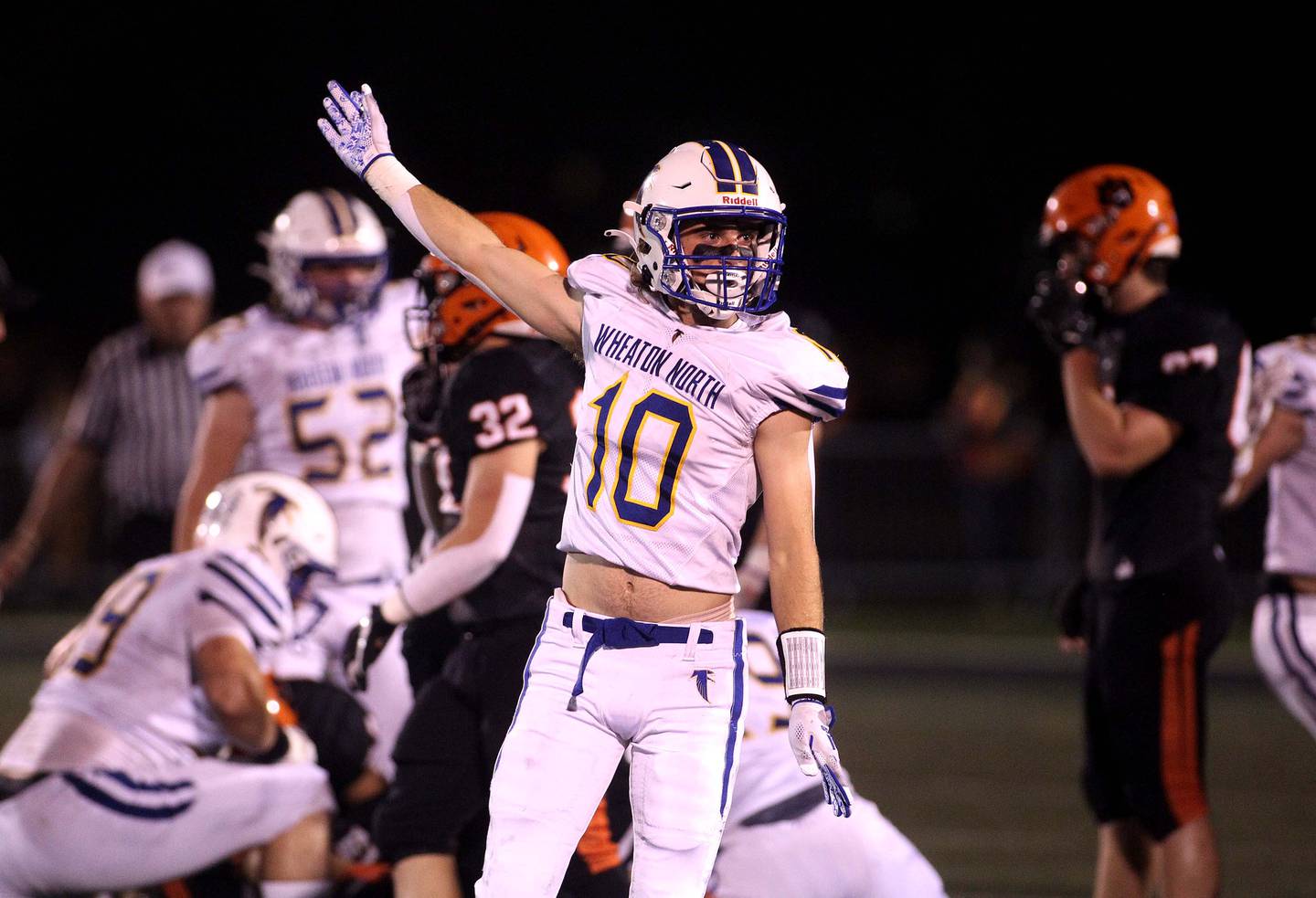 DuKane Conference
Geneva (4-3, 2-3) at Wheaton North (6-1, 4-1)
When: 7:30 p.m. Friday
Last matchup: Wheaton North 34, Geneva 0 (Spring 2021)
About the Vikings: Geneva, a great success story this season after going winless as recently as 2019, nonetheless has had a rough two weeks – a surprise loss to St. Charles East followed by a 35-0 shutout at the hands of rival Batavia. A first playoff bid since 2015 is still very much in play, but a trip to Wheaton isn't an ideal recipe to turn things around. Reestablishing Carter Powelson, who had just 58 yards against Batavia, on the ground is a good place to start getting the offense moving again.
About the Falcons: Wheaton North got all it could handle against rival Wheaton Warrenville South, Seth Kortenhoeven's 39-yard field goal on the last play of the game giving the Falcons a thrilling 10-8 win at Red Grange Field. Kortenhoeven had a huge hand in that win with 11 catches for 105 yards and a 6-yard TD, with four of his catches coming on the final drive. Quarterback Mark Forcucci completed 6 of his 9 passes on the final drive and was 16-for-26 for 135 yards for the game. The Falcons have won four in a row since their only loss, the last two wins by a combined three points. A share of the DuKane Conference title is still in play, should Batavia stub its toe the last two weeks.
FND pick: Wheaton North
Wheaton Warrenville South (3-4, 2-3) at Lake Park (1-6, 1-4)
When: 7:30 p.m. Friday
Last matchup: Wheaton Warrenville South 42, Lake Park 7 (Spring 2021)
About the Tigers: WW South suffered a crushing loss to Wheaton North last Friday on a last-second field goal, and the Tigers are now backed into a corner needing to win their last two games to become playoff eligible. Matt Sommerdyke was 11-for-18 for 164 yards against Wheaton North and Lance Kottke scored the Tigers' lone TD with 1:04 left that had given them an 8-7 lead. The Tigers can't afford any hangover from a tough loss and need to take care of business on the road to give themselves a chance in Week 9.
About the Lancers: Life in the DuKane Conference has again been unkind to the Lancers, who have lost their last four games with none of them particularly competitive. Lake Park has only scored a combined 22 points in those games while giving up 153. It is the last home for Lake Park's seniors, so there should be motivation to go out on a high and play playoff spoiler.
FND pick: WW South
CCL/ESCC
Montini (3-4) at Nazareth (3-4)
When: 7 p.m. Friday
Last matchup: First known meeting
About the Broncos: Montini, coming off a 34-0 loss to Marist, basically faces a must-win here to avoid missing the playoffs for the first time since 1992 – and a Week 9 game with Joliet Catholic doesn't exactly help the situation. An offense led by Cole Teschner, who has thrown for over 1,000 yards on the season, will look to put the Week 7 game at Marist behind them. Josh Robinson has rushed for close to 700 yards on the year for the Broncos.
About the Roadrunners: Like Montini, Nazareth finds itself in desperation mode and likely needing to win this week and next against Benet to avoid missing the playoffs for the first time since 2012. It surely isn't where two marquee programs thought they'd be here going into this much-anticipated meeting, CCL/ESCC powers that never face each other, but certainly adds a layer of intrigue. Quentrell Harris is a playmaker that the Roadrunners will want to give plenty of touches. Freshman Gabe Kaminski, who has made an impact as a freshman at defensive end, recently received an offer from Iowa. QB Logan Malachuk is another freshman who has impressed.
FND pick: Nazareth
Joliet Catholic (7-0) vs. Benet (4-3) at Benedictine
When: 7:30 p.m. Friday
Last matchup: Benet 20, Joliet Catholic 13 (2018)
About the Hilltoppers: Defining Joliet Catholic's offensive performance in Week 7 as awesome is probably underselling it. The spectacular effort allowed the unit to amass over 700 total yards, including 600-plus on the ground. RB Jordan Anderson accounted for 320 of those yards, playing in a full four quarters for only the first time this season. He's appeared in just 11 of Joliet Catholic's 28 quarters played this season. Defensively, Joliet Catholic had more problems with Brother Rice than any opponent this season, but that can be forgiven a bit due to the fact that the Crusaders likely possess considerably more offensive firepower than any team the Hilltoppers have or will see the rest of the season.
About the Redwings: Benet didn't play in Week 7, but not for a COVID related reason. The Redwings were never able to replace St. Joseph, a school that closed last spring, on their schedule with any willing opponent. By rule, Benet is allowed to request a forfeit waiver for the game for the year following a school's closure that was on one's schedule which Benet recently did. Joliet Catholic also faced the same problem, but filled the game date with Crete-Monee in Week 5. Benet, after adding the forfeit victory from St. Joseph, still needs one win in the Redwings' last two to be playoff bound and closes the season with Nazareth in Week 9.
FND pick: Joliet Catholic
-- Steve Soucie
Fenwick (5-2) at Marian Central (3-4)
When: 7:30 p.m. Friday.
Last matchup: This is the first time the two teams have played each other.
About the Friars: Fenwick beat St. Patrick, 42-14, last week. St. Patrick beat Marian, 21-20, in Week 3. … Fenwick is ranked No. 2 in Class 5A and took its losses against Providence, 21-20, and Loyola, 27-24.
About the Hurricanes: Marian lost to St. Rita, 44-28, last week. … WR Christian Bentancur has 43 receptions, 811 yards and eight touchdowns, which leads the area in all three categories. He caught 12 passes for 219 yards and two scores last week. … QB Brendan Hernon has thrown for 1,352 yards and 14 touchdowns. … Marian finishes with DePaul, but likely would not have enough playoff points at 4-5 to get into the playoffs. They probably need to win their last two games to qualify.
FND pick: Fenwick.
-- Joe Stevenson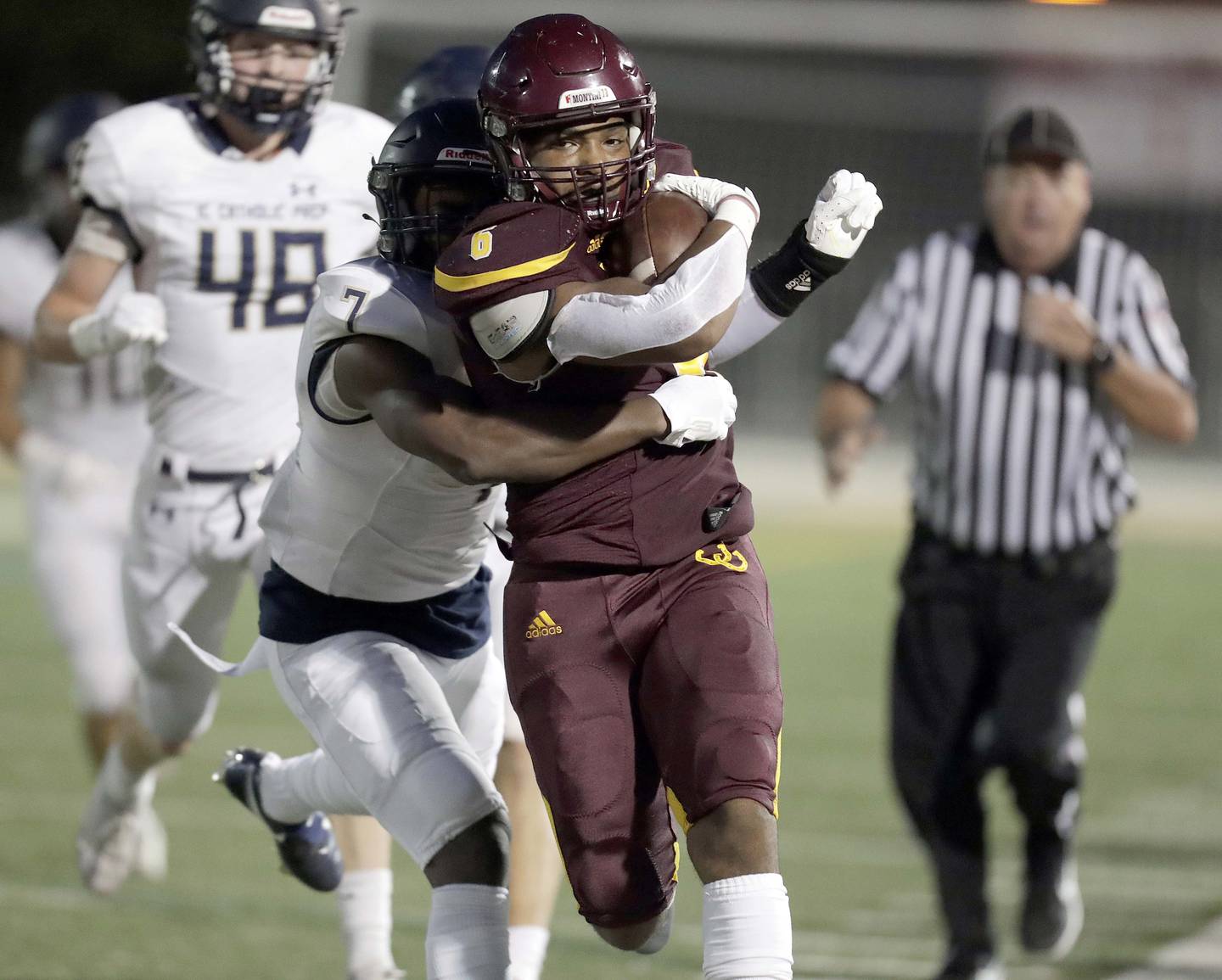 Metro Suburban Conference
Riverside-Brookfield (5-2, 4-0) at St. Francis (5-2, 2-0)
When: 7:30 p.m. Friday
Last matchup: St. Francis 58, Riverside-Brookfield 7 (Spring 2021)
About the Bulldogs: R-B ran into a buzzsaw last Friday, a 55-14 loss to IC Catholic Prep. A visit to a St. Francis team coming off a loss sounds like a case of getting out of the frying pan and into the fire.
About the Spartans: St. Francis ran into its own hornets' nest last Friday, playing Bishop McNamara in head coach Rich Zinanni's last home game, and was victimized by three turnovers in a 36-15 loss. It snapped a five-game winning streak and was the fewest points the Spartans have scored this season. They'll look for a reset before a huge Week 9 game against IC Catholic Prep. Adam Criter had a 9-yard TD run and Dom Beres had a 6-yard TD catch from Alessio Milivojevic in the loss to McNamara.
FND pick: St. Francis
Bishop McNamara (4-3, 3-1) at IC Catholic Prep (7-0, 4-0)
When: 7:15 p.m. Friday
Last matchup: IC Catholic Prep 31, Bishop McNamara 27 (2019)
About the Irish: McNamara will look to ride the emotional wave of last Friday's 36-15 win over St. Francis in head coach Rich Zinanni's last home game – not quite as easy on the road up in Elmhurst. These two programs have played some memorable games over the years, like IC Catholic's 31-21 win over the Irish in the 2018 Class 4A state championship game. While the Irish defense forced three turnovers and had six sacks in a spirited effort against St. Francis, sophomore Tony Phillips ran for 221 of the Irish's 295 rushing yards. Jaydon Wright, who had a 50-yard TD run, is another talented sophomore to watch.
About the Knights: IC Catholic, like McNamara, has some talented sophomores that showcased their talents in a 55-14 win over Riverside-Brookfield. Quarterback Dennis Mandala threw for 270 yards and six TDs in two-plus quarters. KJ Parker had a 15-yard TD catch, a 36-yard interception return for a score and nearly added a kickoff return for a third score. Mandala has completed 67% of his passes and thrown for 829 yards and 13 TDs on the season. Jadon Mims leads the ICCP defense that's allowed just 62 points with 38 tackles. The Knights probably have bigger fish to fry down the road, but they can clinch at least a share of the Metro Suburban Blue title with a win.
FND pick: IC Catholic
Wesmont (1-6, 0-4) at Chicago Christian (2-5, 0-4)
When: 7:15 p.m. Friday
Last matchup: Chicago Christian 48, Westmont 24 (Spring 2021)
About the Sentinels: Westmont picked up its first win of the season last week, a 28-14 win at Ridgewood. Can the Sentinels make it two in a row? It doesn't seem out of the realm of possibility.
About the Crusaders: Chicago Christian, like Westmont, should be feeling better about itself after beating Aurora Central Catholic 26-0 last week. In doing so the Crusaders snapped a five-game losing streak and scored their most points since that season opener.
FND pick: Chicago Christian
Wheaton Academy (5-2, 3-1) at Elmwood Park (2-5, 1-3)
When: 7 p.m. Friday
Last matchup: Wheaton Academy 48, Elmwood Park 6 (Spring 2021)
About the Warriors: Wheaton Academy became playoff eligible with a 49-6 win over St. Edward last week. David Dorn threw TD passes to Liam White and Eddie Kaspar and also scored on a 35-yard TD run. Peter Johanik added his second pick-six of the season. Two more wins would give Wheaton Academy its most wins since the 1957 undefeated team.
About the Tigers: Elmwood Park comes in off a 51-0 loss to Aurora Christian, who Wheaton Academy plays in Week 9. The Tigers, 0-4 against teams with winning records, have allowed a whopping 50.8 points per game in their five losses.
FND pick: Wheaton Academy
South Suburban Conference
T.F. South (6-1) at Lemont (7-0)
When: 7 p.m. Friday
Last matchup: Lemont 49, T.F. South 14 (Spring 2021)
About T.F. South: T.F. South has many similar opponents to Lemont at this point and have won all of them comfortably, just maybe not in the dominant fashion that Lemont has. In fact, T.F. South is riding a six game winning streak where no opponent has come within three touchdowns. T.F. South's lone loss was a lopsided one to Chesterton, currently 6-2 and ranked in Indiana. Sophomore WR Charles Miles is a playmaker that the Lemont defense must contend with.
About Lemont: If Lemont actually gets a push from T.F. South this week they might actually welcome the challenge a bit because absolutely no other South Suburban Conference team has demonstrated the ability to do so. It was the fifth consecutive conference rout for Lemont as it shut out Tinley Park in Week 7. You have to go all the way back to the Nazareth game in Week 2 to find a game that required Lemont to press for the outcome in the second half.
FND pick: Lemont
-- Steve Soucie
Upstate Eight Conference
Glenbard South (6-1, 6-1) at Glenbard East (6-1, 6-1)
When: 7:30 p.m. Friday
Last matchup: Glenbard East 22, Glenbard South 19 (2019)
About the Rams: Glenbard East beat Bartlett 20-7 last week, in doing so clinching the program's third consecutive playoff appearance after a nearly two-decade dryspell. The Rams' defense has been consistently stingy in the team's six wins, allowing just one touchdown in five of them with a shutout in the sixth. Tyrese Buffkin is the man to watch when the Rams have the ball.
About the Raiders: Glenbard South clinched a playoff bid with its 48-16 win over Streamwood last Friday. Sophomore QB Michael Champagne threw three TD passes, two to fellow sophomore Cam Williams and one to Dominic D'Ambra. Jalen Brown ran for two TDs and Trevor Burnett one. The Raiders' offense has been explosive all year, averaging over 40 points per game in their five on-field wins.
FND pick: Glenbard South