DuPage Valley Conference
DeKalb (2-4, 0-3) at Naperville Central (3-3, 1-2)
When: 7 p.m. Friday
Last matchup: The Redhawks were 41-7 winners in DeKalb in the spring 2021 season.
About the Barbs: DeKalb is coming off a 17-10 home loss to Waubonsie Valley, its third in a row.
One more loss and the Barbs likely will miss the playoffs for the first time since 2012, although projections do have some 4-5 teams qualifying for the first time in the current playoff model. They have a pair of tough games remaining with the Redhawks, who were ranked in the Class 8A poll until a loss last week to Naperville North, and No. 2 Neuqua Valley.
"We are really looking forward to the challenge," first-year coach Derek Schneeman said. "It will take our best game of the year, and we are certainly capable of doing that. We'll see. We just continue to prepare to give it the best shot we can on Friday."
Aside from a 45-6 win against a Belleville West team that's still winless, the Barbs haven't scored more than 21 points in a game this season. Talon Tate has emerged as a reliable back, while quarterbacks Adrien McVicar and Josh Klemm, mostly because of injuries, have been swapping time under center.
"We're just up and down, man. We're very inconsistent," Schneeman said. "We're our own worst enemy right now. We get things going, then we commit a penalty or turn it over in the red zone. I sound like a broken record, but we have to be more consistent."
About the Redhawks: Naperville Central is coming off a 38-27 homecoming upset at the hands of Naperville North. Quarterback Owen Prucha threw for 300 yards.
Schneeman said Prucha is even more deadly with Northwestern recruit Reggie Fleurima as his main target at wide receiver.
"They do quite a bit on offense," Schneeman said. "Their QB is a solid player. And they have Reggie, obviously, who's one of the best players in the conference. So I expect them to get the ball to Reggie as much as they can, but they use their power run game, too. A lot of 11 and 21 personnel sets where they have two tight ends and a running back on the field."
Friday Night Drive pick: Naperville Central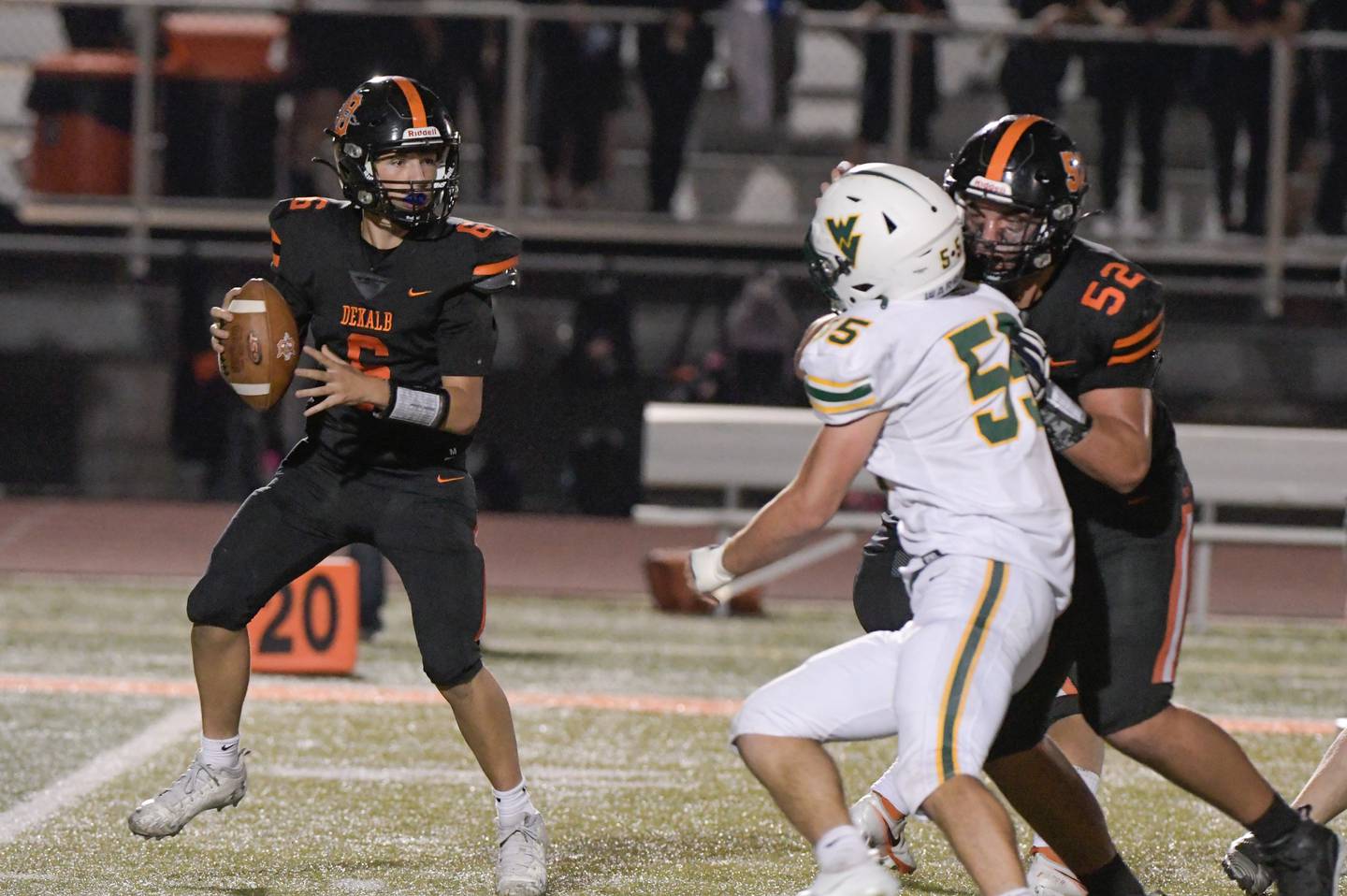 Kishwaukee River/Interstate 8
Sycamore (4-2, 3-0) at Woodstock North (0-6, 0-4)
When: 7 p.m. Friday
Last matchup: First meeting
About the Spartans: Sycamore had its four-game winning streak snapped Friday when Richmond-Burton extended its streak to 26 as the Rockets won, 42-20.
The Spartans return to play in the KRC/I8 White with a pair of games against Woodstock North and Woodstock before a likely conference championship game against Morris (6-0) to close the year.
"Obviously, they know we didn't play the way we wanted to play on Friday," coach Joe Ryan said. "If we want to advance and do things later on this season we'll have to improve."
Part of the issue Friday, Ryan said, was 6-foot-3, 220-pound fullback Brock Wood, who put up 170 rushing yards against Sycamore.
"That kid had a lot to do with it," Ryan said. "They caught us looking at some things we shouldn't have been looking at. When a good team gets you doing that, they can exploit some things. And they certainly did Friday."
Even in the loss, quarterback Eli Meier threw for 172 yards – although he had three interceptions – and ran for 111 yards. He's second on the team in rushing behind Nathaniel Altepeter's 322. Kayden Galto has emerged as Meier's top target, with 302 yards on 16 catches. Eight receivers have a touchdown catch.
About the Thunder: They fell to 0-6 after a 49-7 loss Friday at La Salle-Peru. A pass from Jay Zinnen to Justin Van Acker resulted in the only score of the night for the Thunder. It was Zinnen's second TD toss of the year, both to Van Acker. Henry Goetz leads the team with 695 rushing yards and four touchdowns.
The seven points was the fewest they've put up this season. They haven't allowed less than 34 in a game this season.
FND pick: Sycamore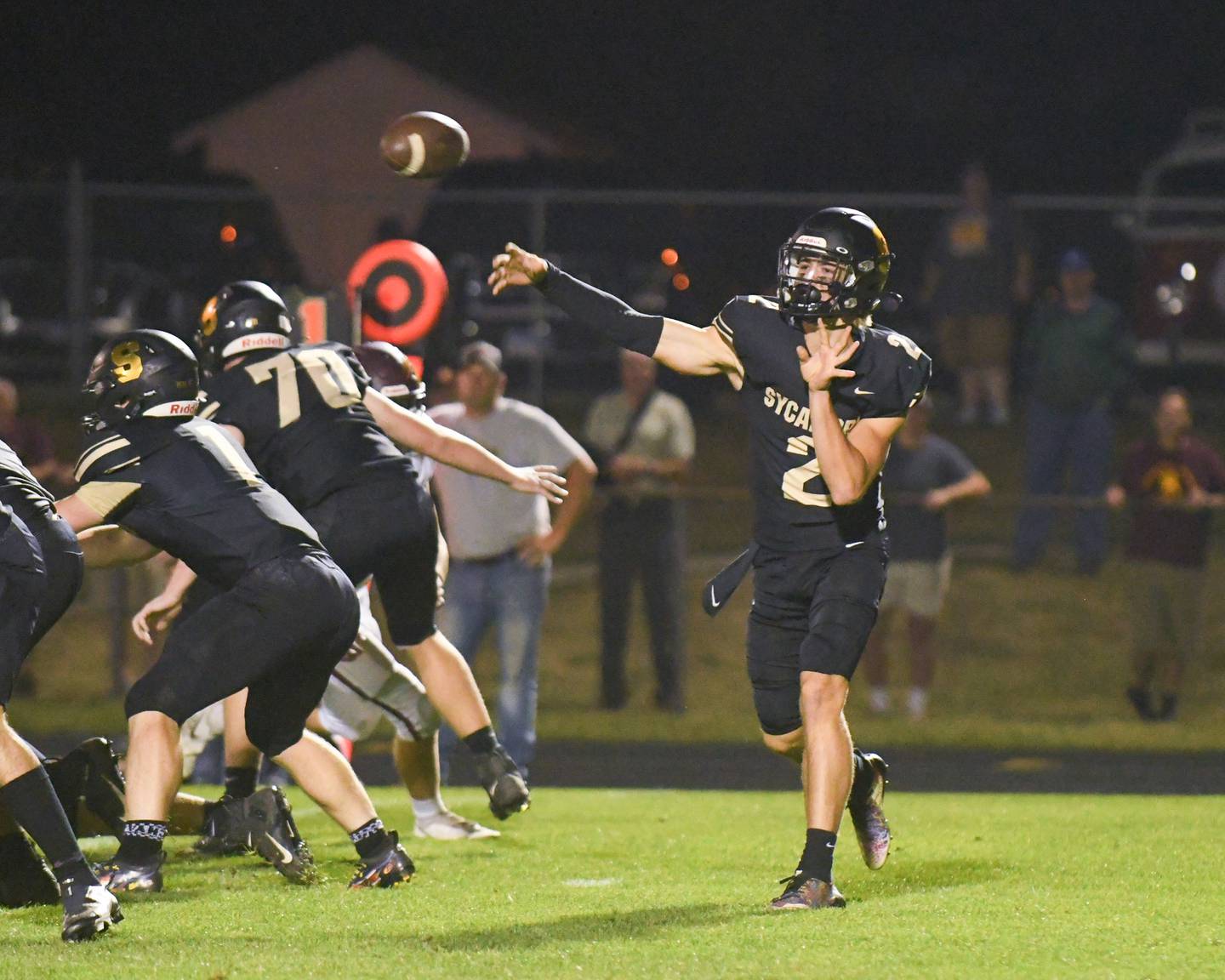 Rochelle (4-2) at Kaneland (3-3)
When: 7 p.m. Friday
Last matchup: Kaneland won the spring 2021 battle, 41-6, in Maple Park.
About the Knights: Kaneland is coming off a 49-35 loss to Morris in which they gave up 676 yards of total offense.
Coach Pat Ryan said the team will try to switch some things this week against the Hubs.
"We've tried different things scheme-wise, and we've tried to practice a little different," Ryan said. "This week we may make some personnel changes. If we're not getting it down with scheme and practice, maybe it's that we don't have the right people in the right spots. We'll move some guys around into different positions and look at some guys who haven't played a whole lot yet."
On offense, Ryan still saw some room for improvement, even though the Knights posted 35 points in the loss - Morris had allowed only 49 points total in its previous five games. Corey Phillips, back from an injury, ran 10 times for 27 yards against Morris.
"We have to allow him space to do work," Ryan said. "We just have to do a better job there. We've focused on that this week. And our tackling has to get better on defense and special teams. We're in position to make plays, and we just don't make them. We need to work on the fundamentals of football, tackling and blocking.
Sophomore quarterback Troyer Carlson has powered the Kaneland offense with 1,628 passing yards, 19 touchdowns and a 67.7 completion percentage while throwing five interceptions. Sam Gagne (40 catches, 726 yards, 7 TDs), Aric Johnson (27-461-7) and Dom DeBlasio (29-342-4) have done most of the damage in the receiving corps.
About the Hubs: They are coming off a 41-32 victory against Marengo last week and sit in second place on the other side of the KR/I-8 heading into the crossover match. They've won three straight since a 1-2 start.
Cody Stover-Cullum ran for 102 yards and three touchdowns in the win Friday as the team looks to make the playoff for the first time since 2018.
Since Rochelle knocked off Kaneland, 31-13, in 2018 during a year the Knights went two rounds deep in the playoffs, Kaneland has won the two meetings by a combined 83-20.
FND pick: Kaneland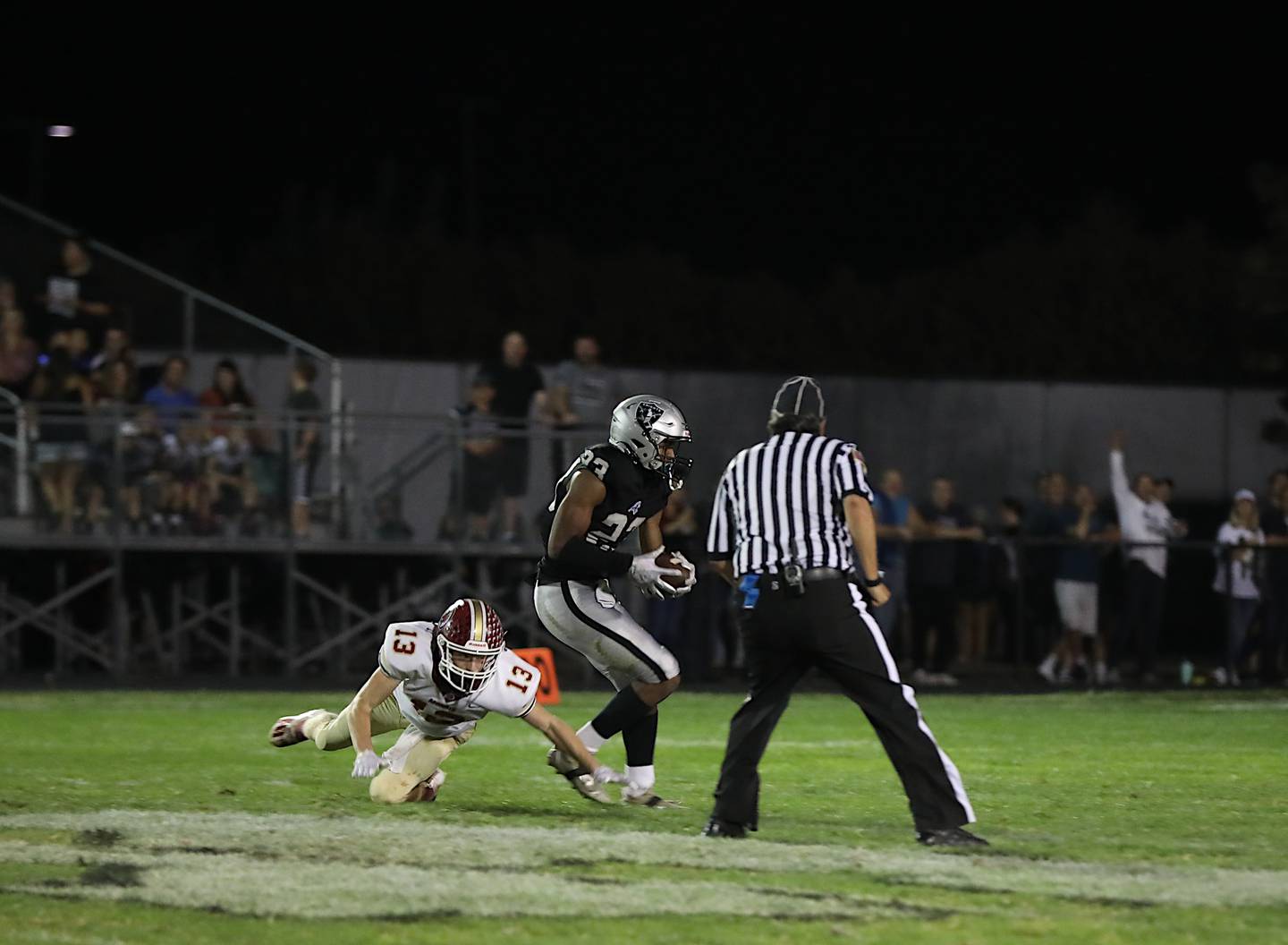 Big Northern Conference
Genoa-Kingston (5-1, 5-1) at Dixon (5-1, 5-1)
When: 7 p.m. Friday
Last matchup: Genoa-Kingston won, 35-12, at home in 2019.
About the Cogs: Their defense has been rolling, as the 30 points they've allowed this season is the fewest in the conference. The only points they've allowed in the past three weeks came in a 7-3 loss to state power Byron.
The offense also is surging for G-K, putting up 88 points the past two weeks after not topping 35 in any of the first four games. They'll try to carry that momentum into Dixon in a battle between two of the three teams in second place in the conference – although the Dukes are the only one of the three not to face Byron yet.
"It is a big one on Friday," first-year coach Cam Davekos said. "It's a big one, and the kids know it. We've been harping on them to make sure they feel good about the plays that they've made the last two weeks, but also to make sure they've got a chip on their shoulder to get better."
About the Dukes: Of the three teams in the three-way tie for second in the BNC (Dixon, G-K and Stillman Valley), Dixon has scored the most points (240). In fact, the only team in the BNC with a higher-powered offense this season is 6-0 Byron, which has scored 242 points, although the Cogs held the Tigers to seven points.
During the spring season, Dixon played four one-possession games, going 1-3. So far this fall, the Dukes have played only one one-possession game, a 20-14 loss at Stillman Valley in Week 4. In their other five games, the Dukes have outscored opponents 226-40.
Sophomore QB Tyler Shaner has run for 449 yards and five TDs, and also thrown for 710 yards and 12 TDs on 59-of-95 passing, with only two interceptions. Rylan Ramsdell leads the Dukes' rushing attack with 477 yards and five TDs, and Zavion Johnson has run for 338 yards and three TDs on only 23 carries (14.7 yards per carry). Mason Randick (22 catches, 281 yards, 8 TDs) and Jacob Gusse (16 catches, 223 yards, 3 TDs) are Shaner's favorite downfield targets.
FND pick: Genoa-Kingston
Eight-man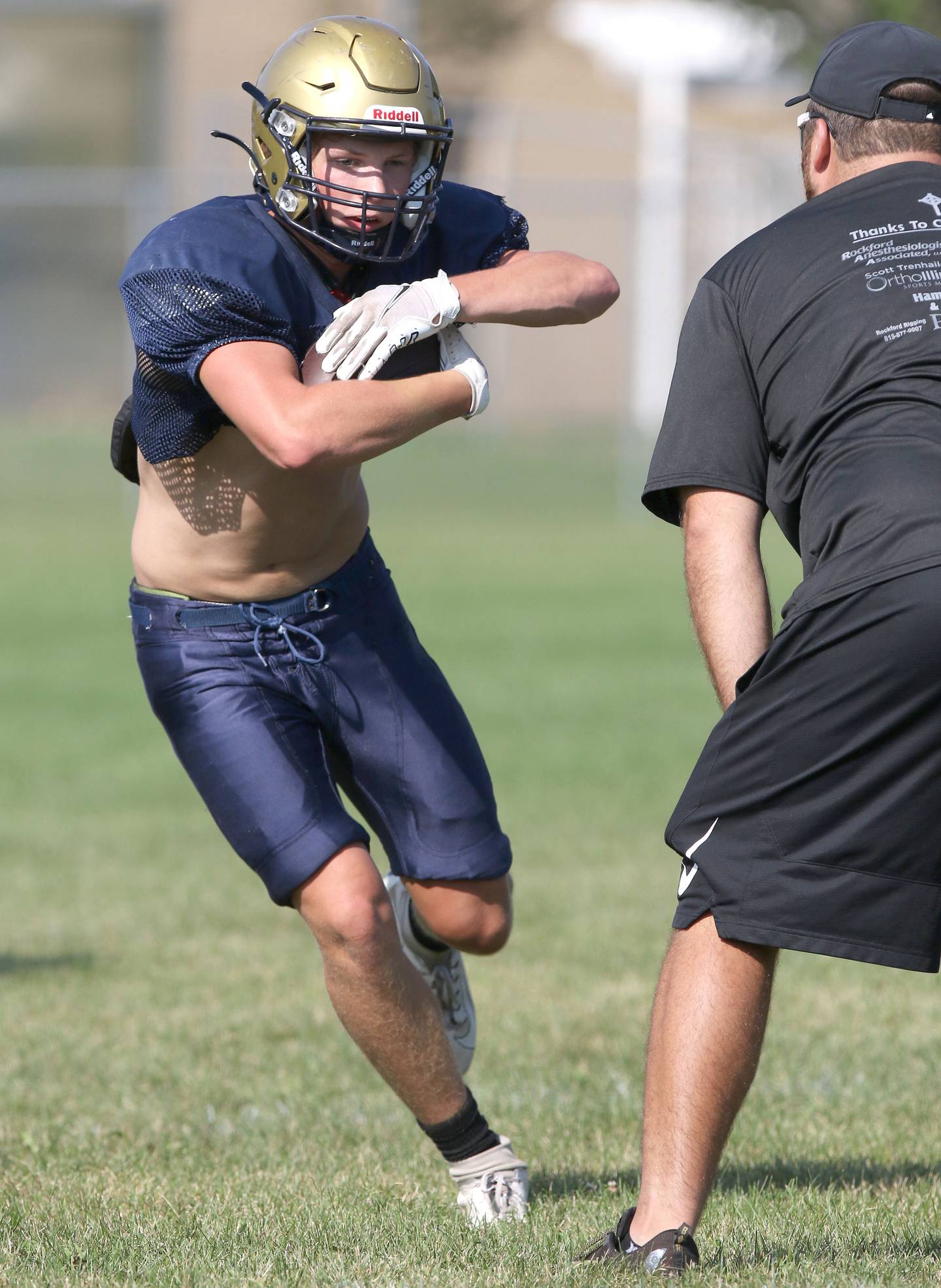 Hiawatha (3-3) at Flanagan-Cornell-Woodland (4-2)
When: 7 p.m. Friday, Woodland School, Streator
Last matchup: First meeting since at least 1995.
About the Hawks: Hiawatha has dropped three of four after losing last week at Amboy, 63-36. The Hawks head to Flanagan still looking for a win against a team with a winning record.
"We're feeling good," first-year coach Nick Doolittle said. "This is another winnable game, for sure. We're working hard on defense and really looking to improve and get the win on Friday."
Hiawatha has either scored or given up 50 points in every game this season – they've put up at least 50 in every win and allowed at least 50 in every loss. Doolittle said the offense is starting to get its footing – Cole Brantley has been a force at running back all year, but other players are starting to step up.
On defense, he said, the team still is being hurt by its youth at times.
"As our kids get more experience, we start doing more experienced things, obviously," Doolittle said. "But sometimes our age still shows and we let up some bigger plays. We're becoming more fluid, and that's allowing our kids to be in a better position to be more successful."
About the Falcons: The Falcons are coming off a 36-13 win against Martinsville, their fourth straight on-the-field win – they forfeited in Week 5 against Polo.
Quarterback Dallas Hamilton had a typically big game against Martinsville, scoring three touchdowns and rushing for 77 yards on nine carries. J.D. Ruddy had 93 yards and two scores on 11 carries.
William Weber also had a typically monstrous game at linebacker with 14 tackles and three tackles for a loss.
FND pick: F-C-W