News of Brock Parker's death on Friday hit close to home for many area football players.
Parker was a senior lineman at Rock Falls, and the son of Rockets coach Kevin Parker.
At Newman's game with Bureau Valley, the 50/50 proceeds were pledged to go to the Parker family to help defray medical costs, and the winner donated the winnings back to help out a bit more.
Rock Falls' opponent on Friday, Genoa-Kingston, also donated $3,500 to the Parker family.
In Dixon, Milledgeville, Orion and Geneseo, there was a moment of silence for Parker before the kickoff.
Brock Parker had been a wrestler and football player for Geneseo for three seasons before transferring to Rock Falls. Kevin Parker had taught and coached at Orion.
Geneseo coach Larry Johnsen Jr. spoke about the loss and its impact on the community after the game.
"He was here all of his life, so that affected some of our kids, I know that," he said. "It affected our school. Our thoughts really go out to the Parker family.
"Even though Brock didn't go to school here this year, he meant a lot to a lot of people. It's hard. Couple guys are playing tonight, and their friend is no longer there."
Sterling coach Jon Schlemmer said he hadn't had a chance to get to know Brock or his father, third-year Rock Falls coach Kevin Parker, yet. But he relayed a message of condolence to one of the RF assistants.
"Text isn't enough, but we wanted to let them know that we're thinking of them," Schlemmer said. "In a tight-knit community like ours in the Sauk Valley area, we want to be supportive of them. Hope the kids can come back and understand the friendships they are making and how important every day is."
Meanwhile in Sterling, after the Newman-Bureau Valley game, players and coaches from both teams kneeled in a circle at midfield as Newman's Marcus Williams stood in the center, offering a prayer for Brock Parker and the Parker family.
The Byron players paid tribute Monday by sitting on their football field in the shape of the number 55, Parker's number, and tweeting the photo. Rock Falls athletic director Rich Montgomery shared the photo with the words "Thanks Tigers." Byron visits Hinders Field this coming Friday.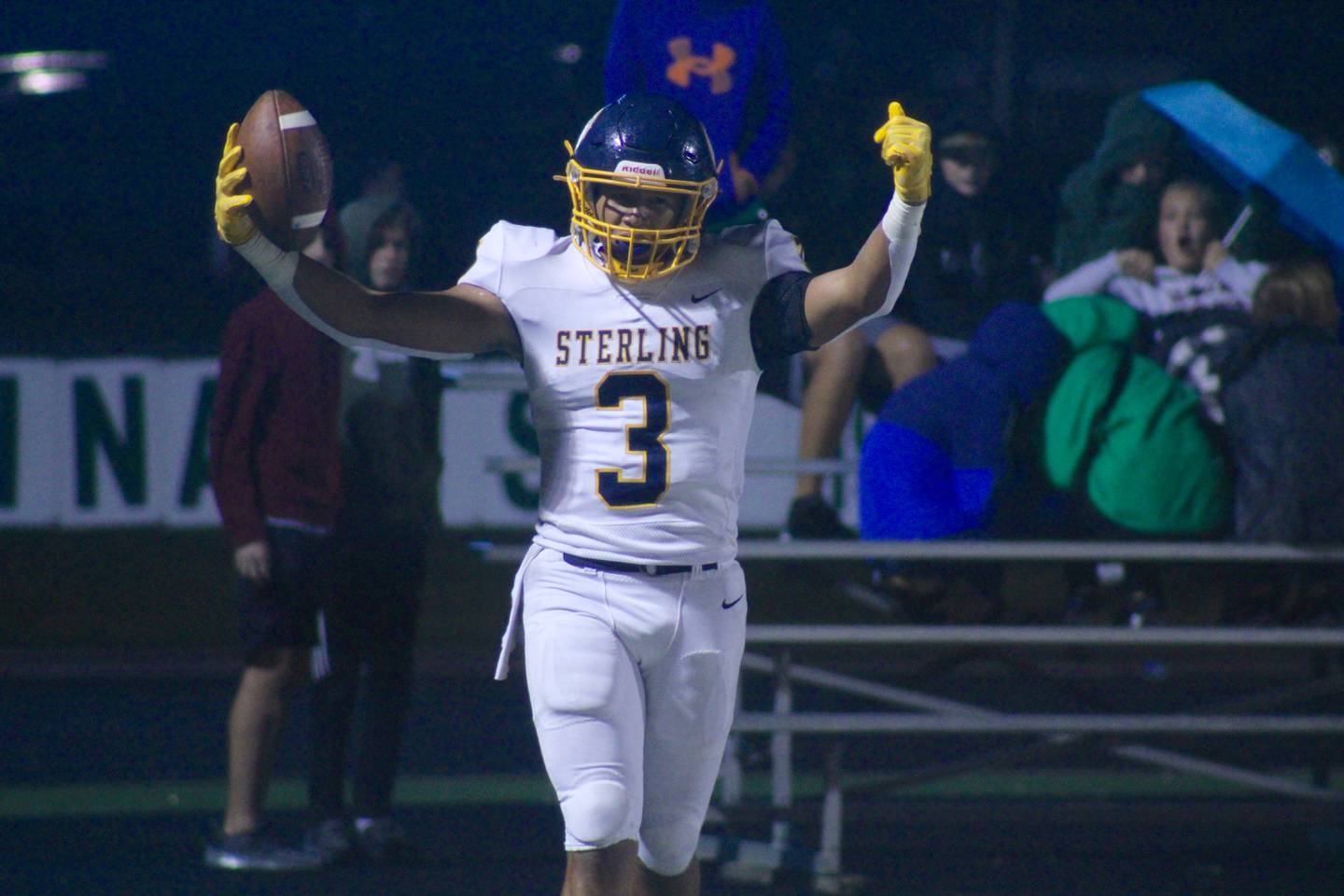 Tight-knit team : Sterling is showing the signs of a team developing cohesion – and not just among certain units, but the entire team.
Friday night's 31-0 victory over Geneseo at Bob Reade Field was just the venue to demonstrate that atmosphere, whether it is the offensive players on the sidelines pulling for the defense, or vice-versa.
Antonio Tablante, who rushed for 114 yards and had touchdown runs of 56, 4 and 3 yards, spoke after the game of the team's chemistry.
"We are all just best buddies right now," he said.
Schlemmer said COVID-19 restrictions and the short layoff after the spring season put team-building on a different schedule than what would be normal. But he's seeing signs that the team is coming together.
"Seeing the kids having fun, building relationships you didn't see before, and that's what it's all about," he said. "It's cool to see different groups of kids come together. When they come together between the lights on a Friday night, it makes it special."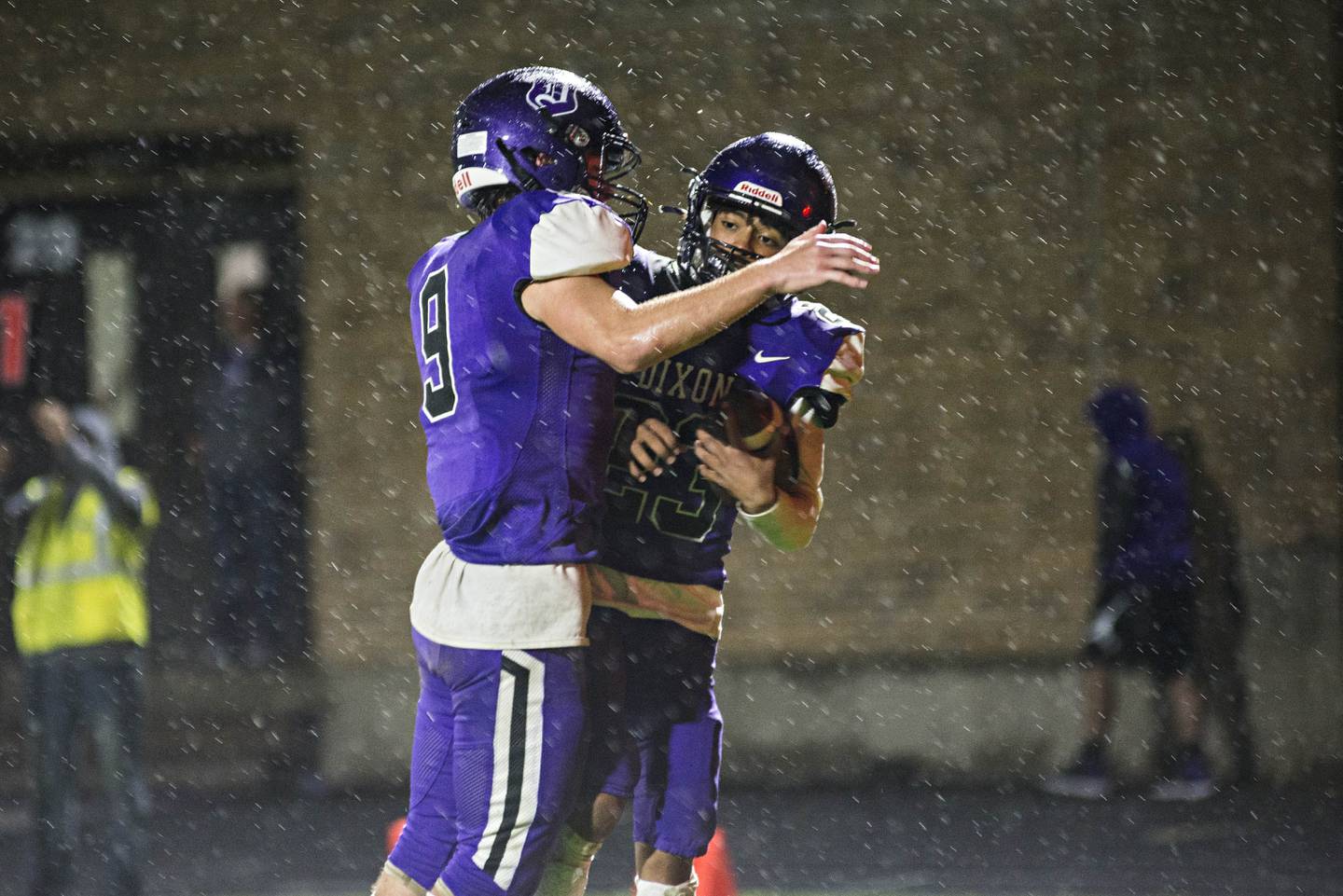 Mixing it up: The Dixon Dukes showed Friday night that they can score different ways – not only with the run and the pass, but with both quick strikes and sustained drives.
Six of their eight scoring drives in a 53-26 win over Winnebago consisted of between seven and nine plays, and three of their five possessions that led to a touchdown in the first half covered more than 60 yards; a fourth went for 55 yards.
"I like our offense because of the read option. It's so easy for a defense to get caught up in focusing on one thing and us doing another," quarterback Tyler Shaner said. "If the defense focuses on the pass, we run it well. If they start to focus on the run, then we pass it. It's trippy in the defense's mind, and that helps a lot in keeping the momentum going on drives."
Quick strikes are also in the Dukes' repertoire: the other two scoring drives were one play after an interception and three plays after a fourth-down stop for the final touchdown.
"It's amazing if we get turnovers and we're already in their territory, that makes us feel like it's easy touchdowns for our offense," receiver Jath St. Pier said.
All three scoring drives in the second half started at the Winnebago 40-yard line. Zavion Johnson returned the second-half kickoff 50 yards to set up the first drive before capping it with a 3-yard TD run, then Brody Potter forced a fumble on a sack that St. Pier recovered to set up the next score.
The final drive also started at the 'Bago 40, as Mitchell White had runs of 10 and 16 yards sandwiched around a 14-yard pass from Shaner to St. Pier.
"We have a lot of playmakers, and no matter how much time we've got or how far we have to go, we're going to get the ball down the field and have a chance to score," Johnson said.
Saturday's roundup
Erie-Prophetstown 49, Orion 14: The Panthers scored 36 unanswered points to win on the road Saturday afternoon, led by 243 rushing yards and three touchdowns from quarterback Kolby Franks.
After the Panthers (3-2, 3-0 Three Rivers West) fumbled the second-half kickoff and Orion turned that into a touchdown for a 14-13 lead, E-P got three TD runs from Franks and two more from Jase Grunder to pull away.
Grunder finished with 62 yards rushing, and also had 10 tackles and a sack. Connor Sibley added 55 yards and the first two TDs on the ground, and also had 10 tackles and an interception. Mason Misfeldt had 13 tackles on defense, and also had two catches for 10 yards; Grunder caught three passes for 40 yards.
Franks was 5-for-7 passing for 50 yards and was intercepted once.
Milford-Cissna Park 48, Amboy-LaMoille 46: The Clippers lost a close game on the road Saturday afternoon, as Milford-Cissna Park's Sawyer Laffoon 1-yard touchdown run with just over two minutes remaining provided the final margin.
Amboy (2-3) took a 46-40 lead with just over four minutes to play, but MCP (1-4) answered for its first win of the season.
Laffoon finished with 228 yards and four touchdowns through the air.