SouthWest Suburban Conference
Andrew (1-3) at Lincoln-Way Central (2-2)
When: 7:30 p.m. Friday
Last matchup: Andrew 33, Lincoln-Way Central 20 (2019)
About the T-Bolts: Andrew seems to be regressing, particularly offensively. The T-Bolts started the season with a narrow loss to a well respected Kaneland program, and after a rebound win over a struggling Stagg program, the offense has gone quiet in back-to-back-losses. They scored only one touchdown in those two games.
About the Knights: Although getting back to .500 certainly is a positive checkmark, it has to be a little disconcerting that the Knights didn't get there a little easier in Week 4. Before Lincoln-Way Central's 24-19 win over the Chargers, Stagg allowed more than 40 points to all three of its opponents and been upended by at least three touchdowns in each of those loses.
Friday Night Drive pick: Lincoln-Way Central
Lincoln-Way East (3-1) at Bolingbrook (4-0)
When: 6 p.m. Friday
Last matchup: Lincoln-Way East 42, Bolingbrook 14 (Spring 2021)
About the Griffins: Lincoln-Way East celebrated the program's 200th victory [against only 40 losses], all of which have been achieved under veteran coach Rob Zvonar. This version of the Griffins may not be as flashy as past incarnations, but it is consistently proving that East's blueprint works. This team, like most East squads, isn't going to defeat itself.
About the Raiders: Bolingbrook's 4-0 start has been a healthy blend of electric offense and punishing defense. In Bolingbrook's Week 4 contest, the Raiders got big plays through the air from their exceptional wide receiver tandem of I'Marion Stewart and Kyan Berry-Johnson and a rushing touchdown from Jaquan Howard, who has been solid all season.
FND pick: Lincoln-Way East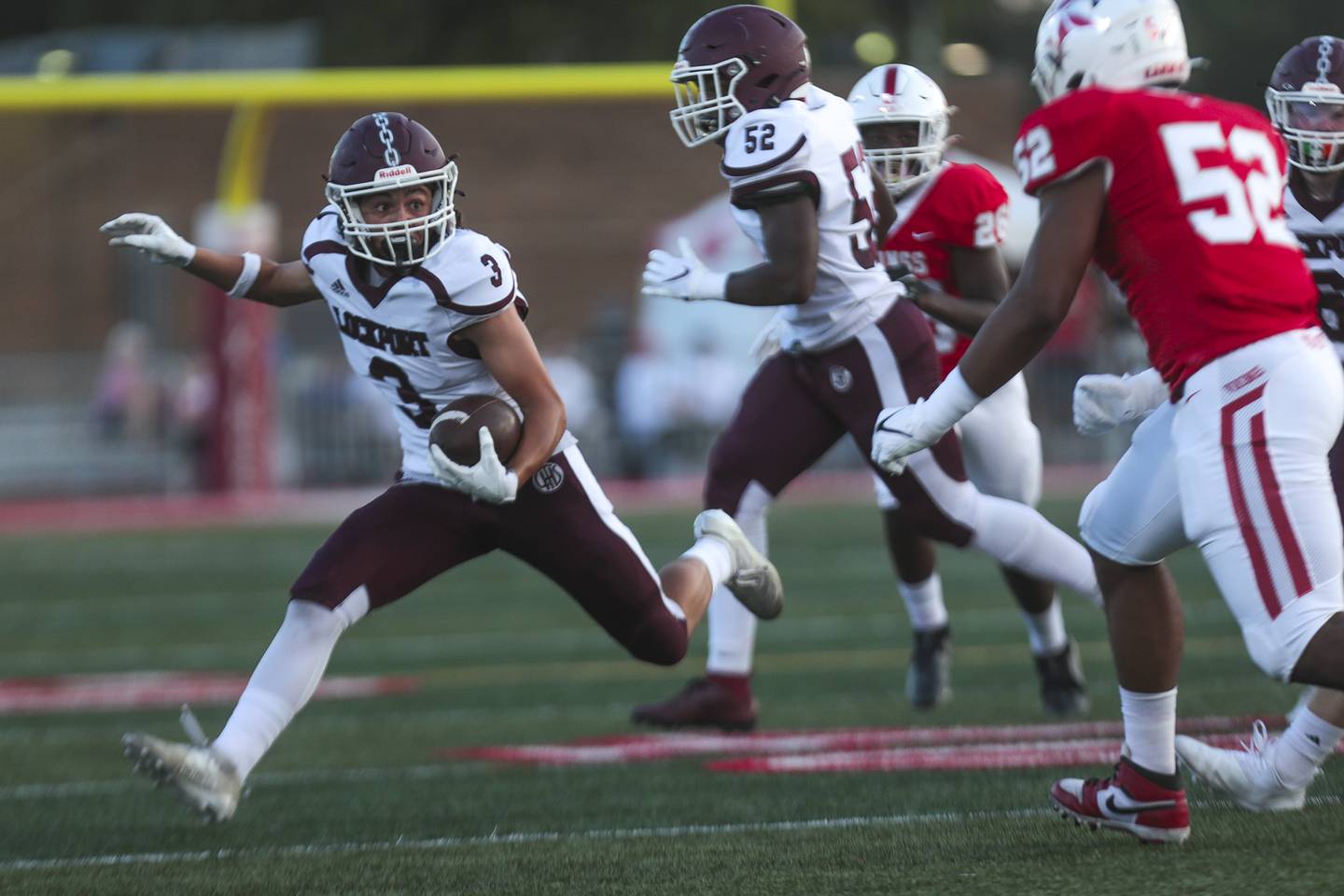 Lockport (4-0) at Sandburg (1-3)
When: 6 p.m. Friday
Last matchup: Lockport 23, Sandburg 0 (Spring 2021)
About the Porters: The Porters have allowed only one touchdown this season, and that came well after the outcome was decided in a Week 3 win over Bradley-Bourbonnais. It wasn't exactly a banner night for Lockport's offense in its Week 4 win over Homewood-Flossmoor, but if the defense continues to play this well the Porters won't need much offense anyway.
About the Eagles: Although Sandburg dropped to 1-3 with a Week 4 loss to Bolingbrook, the Eagles clearly are showing signs of making progress under new coach Troy McCallister. The scores show Sandburg already is improving rapidly on defense. The Eagles also are starting to bridge the gap between some of the upper-tier programs in the SouthWest Suburban Conference.
FND pick: Lockport
Stagg (0-4) at Lincoln-Way West (1-3)
When: 7:30 p.m. Friday
Last matchup: Lincoln-Way West 48, Stagg 0 (Spring 2021)
About the Chargers: Stagg has now dropped 18 consecutive games, but got closer to breaking that string in Week 4 against Lincoln-Way Central than it has in recent memory. Stagg still is surrendering too many points to opponents in general but did a little better job patching those problems in a 24-19 loss last week.
About the Warriors: Lincoln-Way West has been in every one of its four games in the second half but were finally able to turn the tide in its favor against Bradley-Bourbonnais in Week 4. The Warriors got a third-quarter field goal to take the lead and then turned it over to the defense to keep the Boilermakers at bay. West got another big game from wide receiver Jason Harris, while sophomore quarterback Cole Crafton seems to be growing into his role.
FND pick: Lincoln-Way West
Southwest Prairie Conference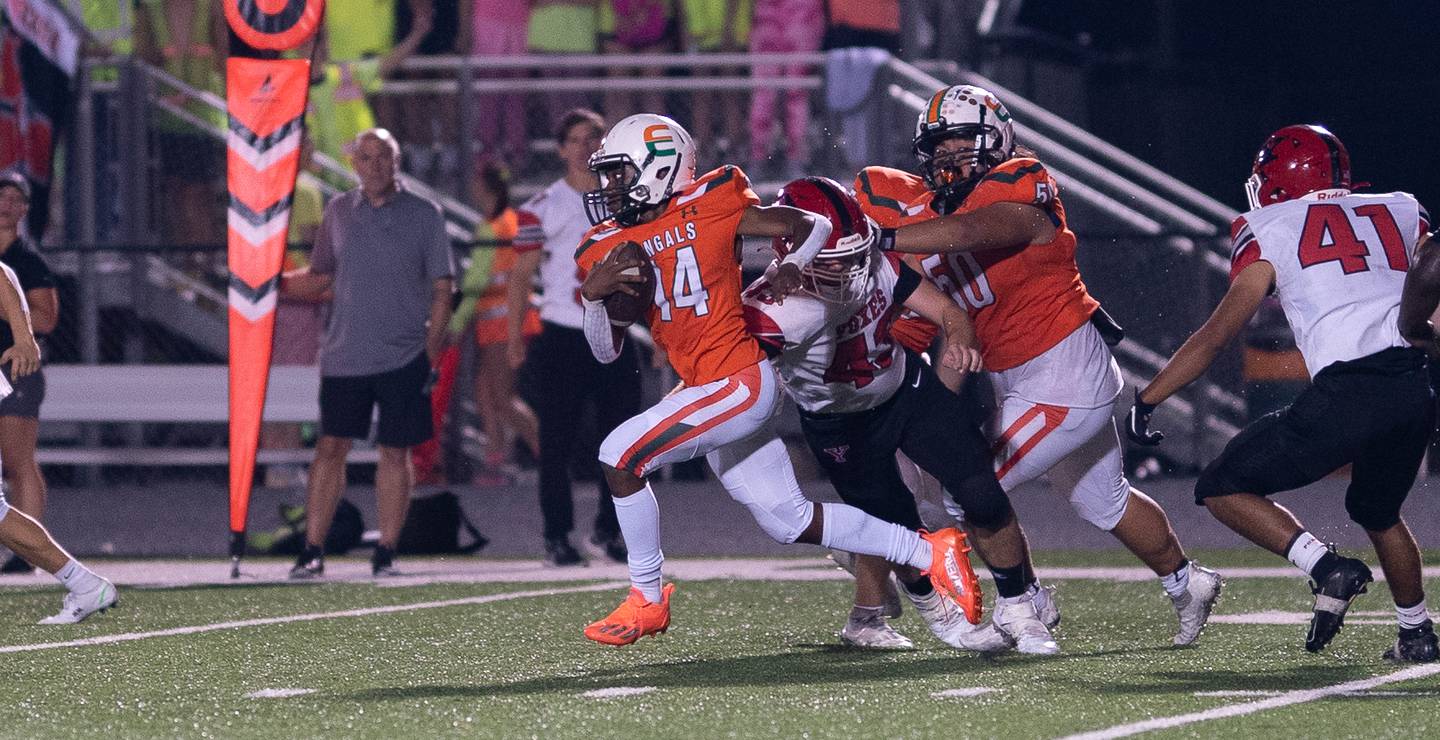 Joliet Central (0-4) at Plainfield East (1-3)
When: 7 p.m. Friday
Last matchup: Plainfield East 68, Joliet Central 12 (Spring 2021)
About the Steelmen: The Steelmen haven't played since Week 2, losing Week 3 to Covid-19 concerns and then losing Week 4 to a combination of Covid-19 protocols and academic eligibility issues. Even if the Steelmen can get clear of those issues to field a squad in Week 5, they'll have to shake off quite a bit of rust and figure out a way to put the clamps down defensively against a team that prefers to play a high-octane style.
About the Bengals: Plainfield East's past few weeks have been marred by turning the ball over. The Bengals have 10 turnovers in their past two games, back-to-back losses to Yorkville and Oswego East that haven't been particularly close. One player that has been a consistent positive is WR Michael Morgan, who caught four passes for 110 yards and Plainfield East's only score in the loss to Yorkville.
FND pick: Plainfield East
Joliet West (0-4) at Plainfield Central (3-1)
When: 7 p.m. Friday
Last matchup: Plainfield Central 31, Joliet West 7 (Spring 2021)
About the Tigers: Over half of Joliet West's varsity roster were slated to be in quarantine until Wednesday, which puts this game in jeopardy. The last time Joliet West hit the field in Week 2 against Minooka, it showed tremendous progress despite a narrow loss.
About the Wildcats: Plainfield Central picked up one of the program's most impressive wins of the past decade with a last-second flurry to beat Minooka, 37-36. The Wildcats are well on their way to securing the school's first playoff appearance since 2012. RB Aaron Larkins continues to be an explosive weapon.
FND pick: Plainfield Central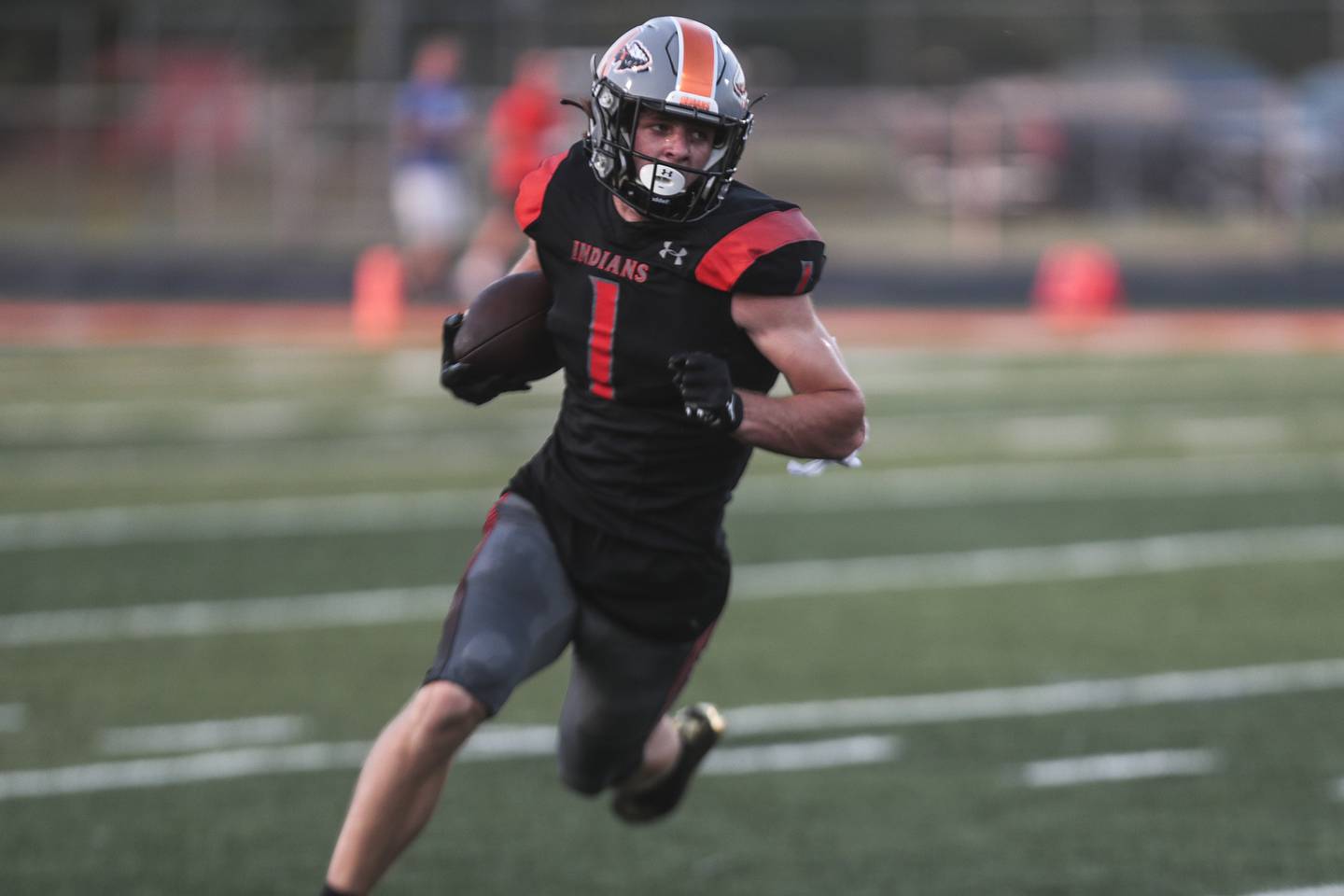 Minooka (2-2) at Oswego (2-2)
When: 6:30 p.m. Friday
Last matchup: Oswego 21, Minooka 14 (Spring 2021)
About the Indians: Minooka's somewhat surprising loss to Plainfield Central in Week 4 puts it in a somewhat perilous place as it heads into a big rivalry game. Minooka's .500 record means it must win at least three division games to get to the five-win plateau, and the treacherous three-game stretch it now faces of Oswego, Oswego East and Plainfield North demands Minooka gets at least one win to keep it on the path. Offensively, Minooka seems to be finding its groove, but defensively some work needs to be done.
About the Panthers: Oswego is back to the .500 mark after starting the season 0-2, but it isn't the classic momentum you'd expect to have while riding a two-game winning streak. The Panthers claimed a forfeit win in Week 4, and while it might have helped having a week off to cure some nagging injuries, it's pretty certain that Oswego would have preferred to be sharper heading into a game against one of its fiercest Southwest Prairie rivals.
FND pick: Oswego
Romeoville (0-4) at Plainfield South (1-3)
When: 7 p.m. Friday
Last matchup: Plainfield South 49, Romeoville 21 (2019)
About the Spartans: Romeoville was happy to get back on the field after losing its Week 3 game to forfeiture, but the Spartans still have a long way to go to get back on track, particularly on defense. In three contested games, Romeoville has given up more than 150 points, and any chance of finding its way to the win column will have to start with improvements there.
About the Cougars: Plainfield South's progression took a major step back in Week 4 as it ran into a brick wall known as the Plainfield North defense. The Cougars barely netted positive yardage in the game. While the schedule does get a little easier moving forward inside of its division, getting the offense back on track will be key.
FND pick: Plainfield South
Yorkville (3-1) at Plainfield North (3-1)
When: 7 p.m. Friday
Last matchup: Plainfield North 27, Yorkville 0 (Spring 2021)
About the Foxes: Despite breaking in a new cast of characters, Yorkville continues to cement itself as one of the strongholds in the Southwest Prairie. The defense continues to be opportunistic, forcing five turnovers in the win over Plainfield East in Week 4, but it will have to take it up a notch here to rein in an offense that has been pretty successful engineering points with a bruising running game.
About the Tigers: Plainfield North's defense truly was astonishing in a rivalry win over Plainfield South in Week 4, holding the Cougars to seven total yards. The Tigers have an old-school feel about them, using a punishing ground game to control the clock and field position.
FND pick: Plainfield North
CCL/ESCC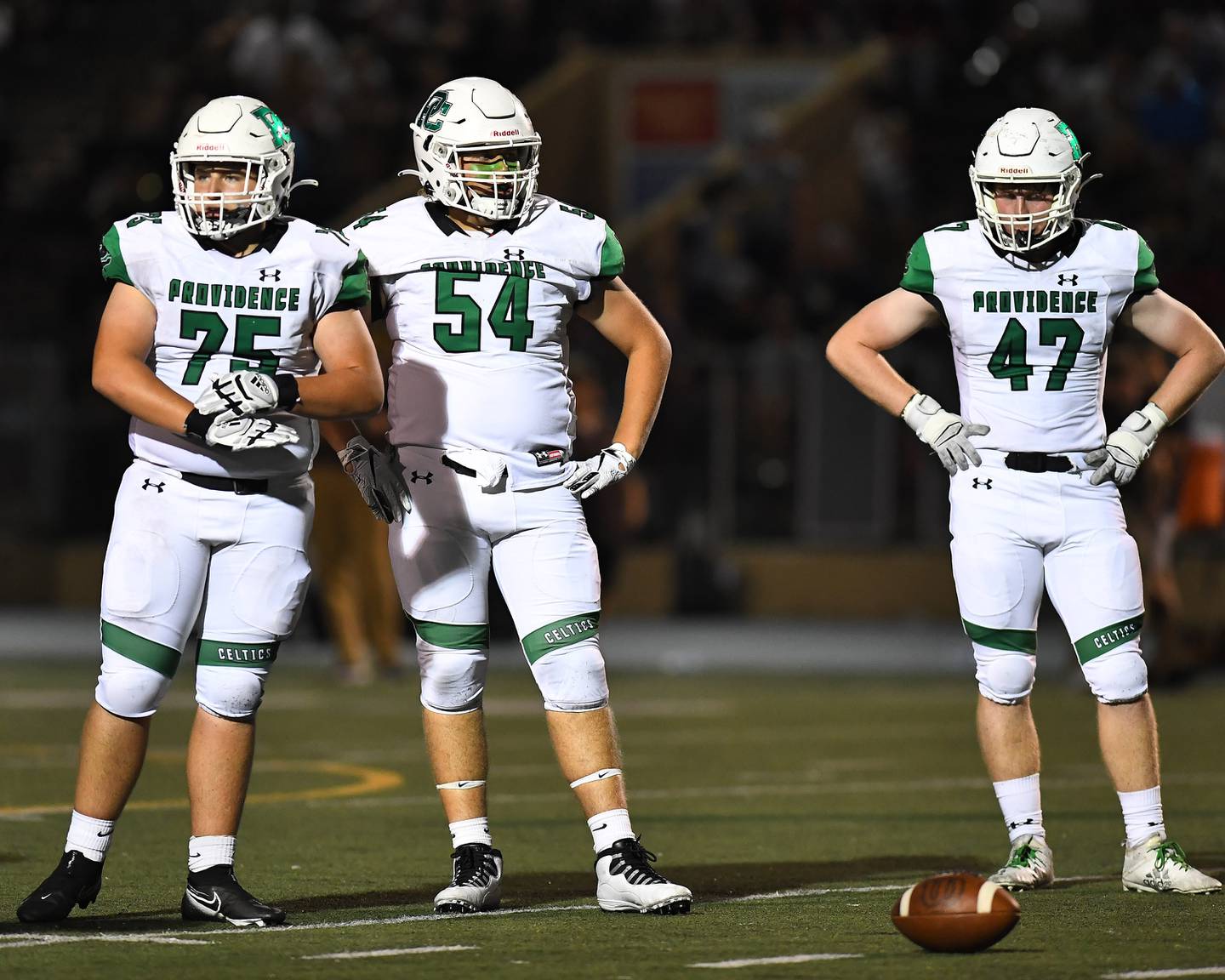 Marian Central Catholic (1-2) at Providence (2-2)
When: 7:30 p.m. Friday
Last matchup: First Meeting
About the Hurricanes: Marian Central finds itself in a tough spot as it was not able to secure a Week 4 opponent. It initially was supposed to play St. Joseph when the CCL/ESCC schedule was released, but with St. Joseph's announced closure in the spring, all teams needed to find replacements, which Marian Central was unable to do. As such, the Hurricanes return from an off week needing to find their footing quickly. They do have some offensive weapons to deploy in QB Brendan Hernon, RB Dante Ricciardi and WR Christian Betancur.
About the Celtics: Absolutely nothing went right for Providence in its showdown with long-time rival Joliet Catholic in Week 4, but the Celtics admittedly came out of the first four weeks in much better shape that most anticipated. Providence's 2-2 mark came with wins over highly-regarded programs in Willowbrook and Fenwick. Key players grew up a lot during that stretch. WR Brayden Garrigan continues to be a player Providence can lean on.
FND pick: Providence
Crete-Monee (3-1) at Joliet Catholic (4-0)
When: 7:30 p.m. Friday
Last matchup: Joliet Catholic 30, Crete-Monee 6 (2008)
About the Warriors: It's been easy, breezy for Crete-Monee in two Southland Conference games, outscoring those foes, 137-18. But, as always, the Warriors welcome the opportunity to test themselves against a high-quality nonconference foe. Offensive weapon Joshua Franklin lines up all over the field and is capable of doing a lot of damage quickly.
About the Hilltoppers: Can anyone stop this steamroller? Signs so far indicate no. RB Jordan Anderson returned to the field Friday and increased reps in the future should give Joliet Catholic a wrecking ball of a backfield as Vinny Iannantone also has emerged as a big-time workhorse.
FND pick: Joliet Catholic
South Suburban Conference
T.F. North (0-4) at Lemont (4-0)
When: 7 p.m. Friday
Last matchup: Lemont 34, T.F. North 6 (Spring 2021)
About the Meteors: It's been a brutal start for T.F. North. The offense really has lacked punch. It took the Meteors until Week 3 to score, and they have only managed solitary touchdowns in each game since. It's hard to imagine a scenario where they give Lemont much resistance.
About Lemont: After Lemont completely demolished what was believed to be its top competition in the South Suburban in Hillcrest in a Week 4 matchup, it is hard to see Lemont being seriously pushed the rest of the way. The offense has put up big numbers, but it appears the defense really is setting the tone, having allowed only 29 points through four games.
FND pick: Lemont
Illinois Central Eight Conference
Lisle (3-1) at Coal City (3-1)
When: 7 p.m. Friday
Last matchup: Coal City 33, Lisle 6 (Spring 2021)
About the Lions: Lisle righted the ship with a win over Streator in Week 4 after being picked apart in a loss to Reed-Custer in Week 3. The Lions likely will need another dramatic step up to put together a two-game winning streak. Coal City is a team they have historically struggled against.
About the Coalers: Coal City really went grinding to collect a win in Week 4. After being shutout in the first half by Herscher, the Coalers posted 17 unanswered points. Ashton Harvey led a rushing attack that posted about 200 yards rushing, but it was the defense that should be commended as it bottled up Herscher's ground game for only 49 yards rushing and held the Tigers leading rusher, Cody Lunsford, to negative yardage.
FND pick: Coal City
Peotone (3-1) at Reed-Custer (4-0)
When: 7 p.m. Friday
Last matchup: Peotone 31, Reed-Custer 8 (2019)
About the Blue Devils: There was nothing doing for Peotone against Wilmington as its struggles scoring against the Wildcats continued in a 10-0 loss. Peotone will still look to lean on its running game moving forward despite the Week 4 issues, and there's more than enough reason to believe that's the correct path.
About the Comets: Reed-Custer's magnificent start continued with a rout of Manteno in Week 4. You might be able to argue with the relatively soft schedule Reed-Custer has undertaken so far, but you can't argue it has done everything it can to prove this start is legitimate. The Comets jumped out to a 42-0 lead in the first half and got a four-touchdown performance from RB Elliot Cassem. This should be the first real test for the Comets offense against a defense that has been pretty salty this year.
FND pick: Peotone
Wilmington (4-0) at Herscher (2-2)
When: 7 p.m. Friday
Last matchup: Wilmington 24, Herscher 6 (Spring 2021)
About the Wildcats: Everyone knows what Wilmington is prepared to do, but even then they can't do enough to keep them from stacking wins. Wilmington's blueprint was put to the test last week, but its defense contained a pretty solid Peotone offense to only 85 yards in a shutout win. Wilmington ran 50 plays from scrimmage, all but one of them was a running play.
About the Tigers: Herscher certainly was game for the battle with Coal City, and the defense answered the bell for much of the contest. The Tigers couldn't manage a single offensive touchdown and allowed Coal City to score 17 points in the second half to escape with a hard-fought win. Herscher's offense certainly doesn't look poised to do a whole lot more against arguably an ever better defense, so they'll have to find a way to break a play or two to keep it interesting.
FND pick: Wilmington
Interstate 8 Conference
Marengo (3-1) at Morris (4-0)
When: 7 p.m. Friday
Last matchup: First Meeting
About the Indians: Marengo has regrouped nicely after a season-opening loss to Wilmington. It has collected three consecutive victories. QB Josh Holst is a big part of that productivity. Holst has thrown for about 900 yards and 11 touchdowns this season and that has allowed the Indians to get out to a fast start during their recent winning streak.
About Morris: Morris had no problem moving to 4-0 as it walloped an overmatched Woodstock North team. The running game was on point as Morris stacked up about 400 rushing yards in the game. QB Zach Romak added two touchdown passes.
FND pick: Morris
Vermilion Valley Conference
Dwight (0-4) at Momence (2-2)
When: 7 p.m. Friday
Last matchup: Momence 48, Dwight 0 (Spring 2021)
About the Trojans: Dwight competed well after a two-week layoff because of COVID-19 concerns but still dropped a narrow decision to Oakwood. It's difficult to get a good read on exactly what Dwight can do with so little game experience to this point.
About the Redskins: Momence's two losses came against two of the better teams in the Vermilion, but Momence has largely competed well other than a lopsided loss to the league stronghold, Bismarck-Henning. Momence has the ability to put points up in a hurry, which might be a little too much for Dwight to deal with.
FND pick: Momence
Iroquois West (3-1) at Seneca (1-3)
When: 7 p.m. Friday
Last matchup: Seneca 25, Iroquois West 22 (Spring 2021)
About the Raiders: Led by Illinois recruit two-way lineman Clayton Leonard, Iroquois West has looked pretty solid to start the season despite being knocked from the ranks of the undefeated by Salt Fork in Week 4.
About the Fighting Irish: Seneca got things in order at the expense of Georgetown-Ridge Farm in Week 4. GRF has been beaten soundly by every opponent it has played this season, but it still was a relief for Seneca to crack the win column. Seneca continues to go as it is ground game goes and not surprisingly it was highly effective against Georgetown.
FND pick: Iroquois West