DuPage Valley Conference
Naperville North (1-3, 0-1) at DeKalb (2-2, 0-1)
When: 7 p.m. Friday
Last matchup: Naperville North won, 49-19, in 2019.
About the Barbs: DeKalb lost last week at Metea Valley, 29-21, after falling behind early, getting back on top but stumbling late when a safety changed momentum in the loss.
"I think we're hanging in there, doing all right," coach Derek Schneeman said. "It was a tough game for a lot of reasons. It felt like one we should have had.
"We have to play our best football and put four quarters together. Last week, offensively in the first half, the rain affected us, and we didn't handle it well. We have to put a complete 48 minutes together against a good team."
Adrien McVicar scored all three touchdowns for DeKalb, all on keepers from his quarterback position. Schneeman said McVicar has emerged from the competition for the position with Josh Klemm.
"I feel like he's naturally gifted," Schneeman said. "He has a very good arm. He makes mistakes, but at this point, we want to see him improve and continue to overcome mistakes. He has the potential to be a very, very good varsity quarterback."
Schneeman said consistency has escaped the Barbs this year. They've had leads in both games they've lost this year, including the first two scores in a 27-17 loss to Plainfield South.
"It has been an issue," Schneeman said. "It's about coming to practice ready to work. It starts on the practice field. That's where it has to come from. We need to make sure we pay attention to detail on Monday through Friday, watch film to see where can improve."
About the Huskies: Despite the losing record, the Huskies have hung with some good teams - losing last week, 21-7, to DVC favorite Neuqua Valley and 36-31 earlier this year to still-undefeated Glenbard North
Quarterback Aidan Gray had the only touchdown last week, drawing the team to within 14-7 at halftime with a 6-yard sneak, set up by a 35-yard pass to Luke Williams.
"Their record is deceiving," Schneeman said. "It doesn't tell you how good of a team it is. They have weapons all over the field. Their quarterback has an exceptional arm. Receivers Luke and Zeke Williams are a threat every time. And they have a potent run game. They bring a lot to the table."
Friday Night Drive pick: Naperville North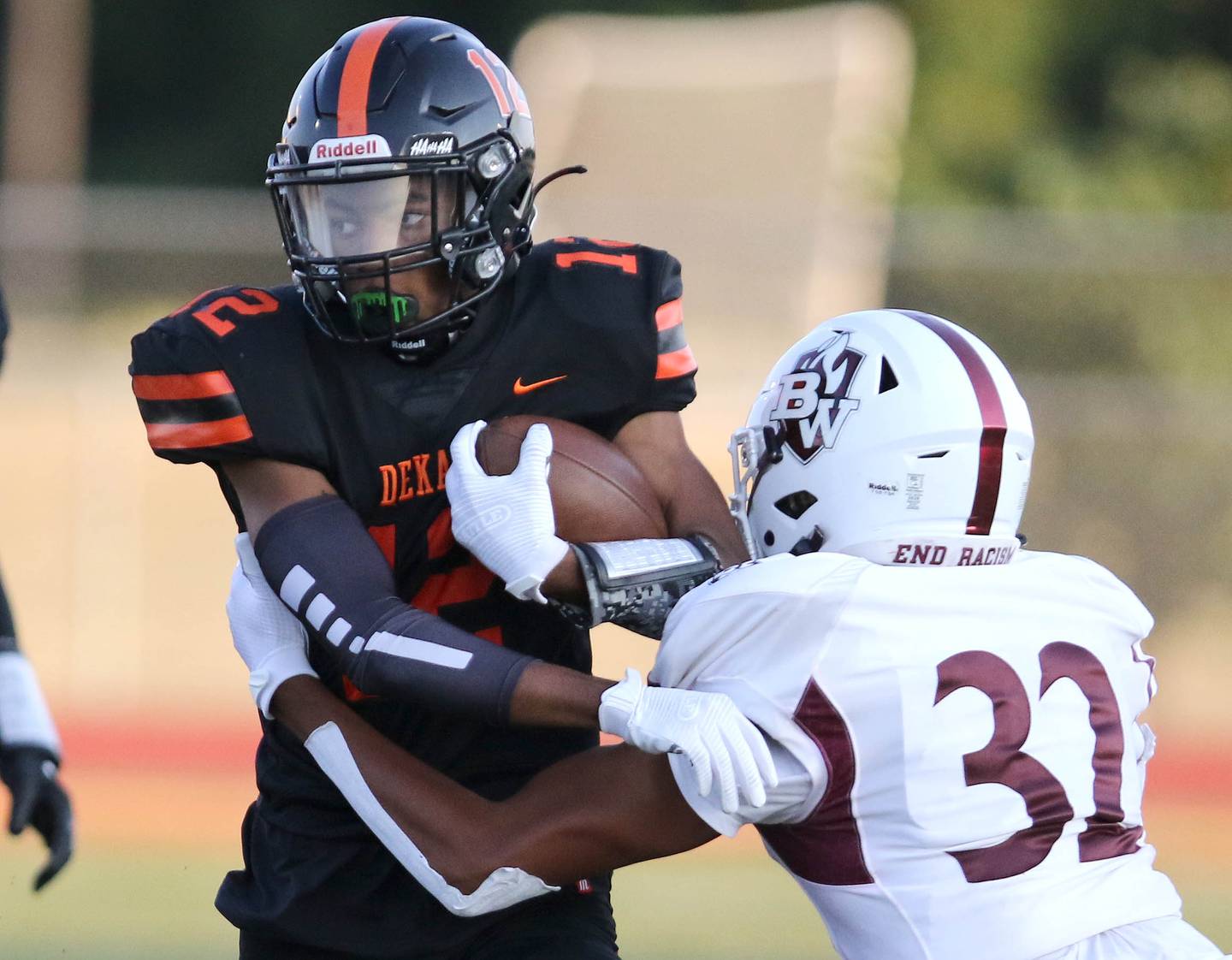 Kishwaukee River/Interstate 8 White
LaSalle-Peru (3-1, 1-0) at Sycamore (3-1, 2-0)
When: 7 p.m. Friday
Last matchup: Sycamore won, 45-0, in 2019.
About the Spartans: Sycamore rolled to a 42-6 win last week at Ottawa, its third straight victory since an overtime loss against DeKalb. The Spartans have scored at least 40 points in each win.
Quarterback Eli Meier hasn't thrown an interception since Week 1, completing 25 of 32 passes in that span for 617 yards in the three wins.
About the Cavaliers: L-P last played Sept. 10 – a 28-0 win over Ottawa – after Sandwich had to forfeit in Week 4.
L-P is 0-3 against Sycamore since the teams joined the same conference in 2010.
The Cavaliers are averaging 308 rushing yards a game, led by Matt Carrico, who has rushed for 423 yards and three touchdowns on 61 carries, including 246 yards and a pair of TDs against Ottawa. QB Sean Whitfield has run for 240 yards and four TDs.
The L-P defense is allowing 103.3 rushing yards, 107.7 passing yards and 11.7 points a game. Defensive lineman Will Daugherty had nine tackles, six tackles for loss and a sack against Ottawa.
FND pick: Sycamore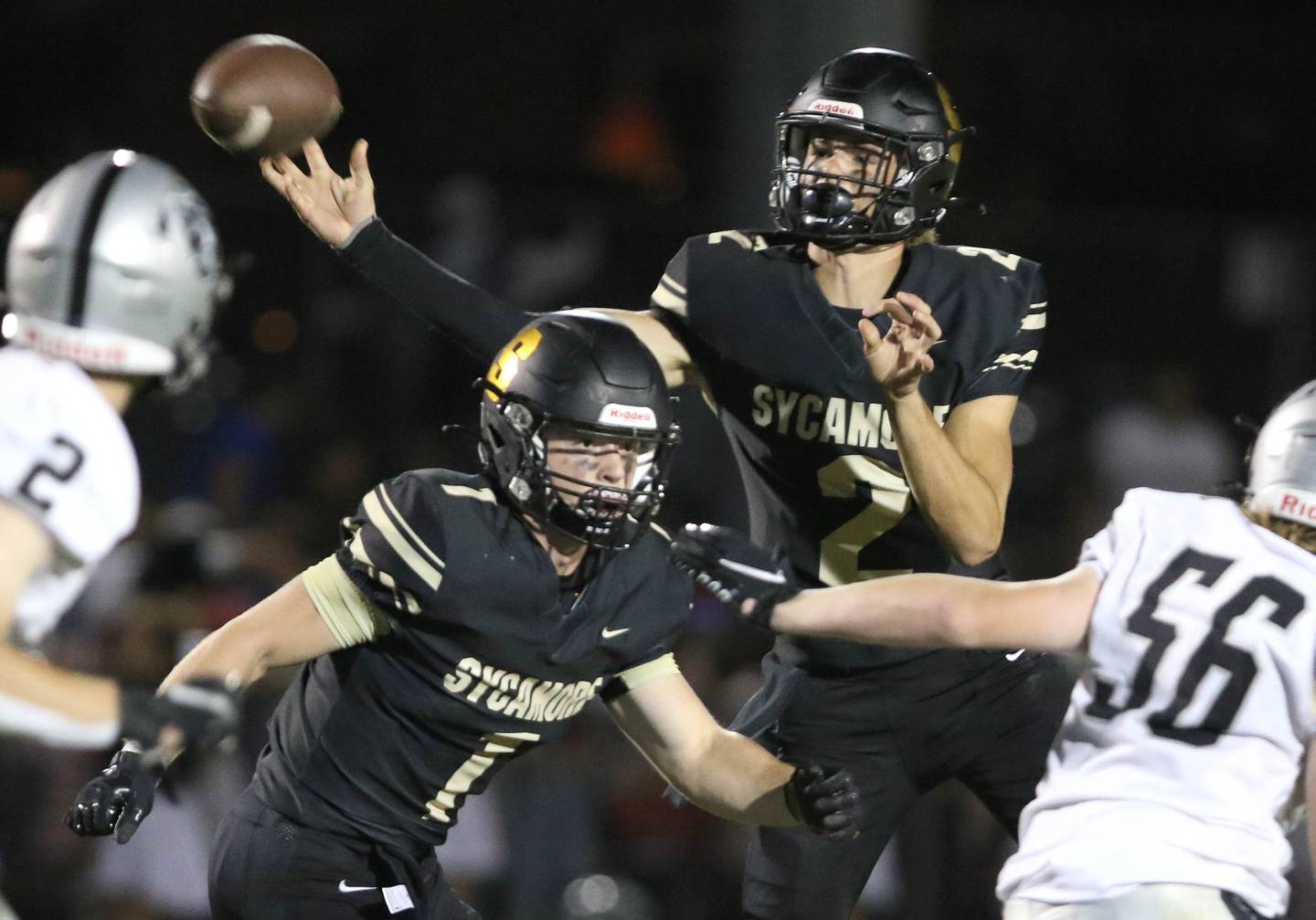 Kaneland (2-2, 1-1) at Woodstock (2-2, 0-1)
When: 7 p.m. Friday
Last matchup: First meeting since at least 1995
About the Knights: Kaneland snapped a two-game losing skid last week with a 56-21 win against Woodstock North.
"We got back on the winning side of things after a couple tough losses in Weeks 2 and 3," coach Pat Ryan said. "We got back rolling again. I think we're feeling good, and we've got some momentum, but the road doesn't get any easier. We keep getting better but still have room for improvement. We have still got to get healthy."
Playing without lead running back Corey Phillips, Chris Ruchaj stepped up with 147 yards and three touchdowns in the win.
Ryan said Phillips' status for Friday is up in the air.
"It showed we have someone else who can effectively run the ball," Ryan said. "We weren't necessarily expecting that kind of performance. One thing we knew is he is fast – he ran track in the spring. He's a good athlete for us, playing defense. In a pinch, we threw him in there, and after a week of practice he emerged."
It was the fewest points the Knights have given up this season, as Ryan said the defense has been steadily improving.
About the Blue Streaks: Woodstock is coming off its worst loss of the season, 63-13 to Morris, and the second time it has given up 60 points in a game this season.
The Blue Streaks like to keep the ball in the air, with quarterback Liam Mickle completing 65% of his passes for 784 yards, 10 touchdowns and three interceptions.
Ryan said with the Knights struggling at times against the run, this seems to be a good matchup for his team.
"Our matchup this week is a little better for us. I think we match up better with the spread than we do against power running type teams," Ryan said. "We're feeling good going into this week that maybe we have a better performance. We haven't been super effective at stopping the run. We're improving, but we still have room to grow."
FND pick: Kaneland
Big Northern Conference
Rock Falls (1-3, 1-3) at Genoa-Kingston (3-1, 3-1)
When: 7 p.m. Friday
Last matchup: Genoa-Kingston won, 47-7, in the spring 2021 season.
About the Cogs: Genoa-Kingston suffered its first loss of the season last week, 7-3 at Byron, in a game that figures to have major implications on the BNC title race. Byron already has beaten two of the three teams with one loss in the conference.
"We are refocused, recharged and ready to get after it and prove that last Friday is just a speed bump," first-year G-K coach Cam Davekos said. "It won't derail our goals and what we want to do moving forward."
The Cogs are sixth in the 10-team BNC in scoring, averaging 23 points a game.
"I would say our offense is not at all where we should be," Davekos said. "We still have a lot of work to do to make sure our blocking assignments are covered, our backs are hitting the correct holes and we're making the right reads from the snap to the end of the play."
Davekos said the team just has to take care of the small things to get the offense where he expects it to be.
"To be honest, it's just discipline," Davekos said. "When we walk to to the line, we need to make sure we line up where we need to be to get the job done. We've done an OK job of that so far, but there is still room for improvement."
About the Rockets: Rock Falls has lost three straight since opening the season with a 50-8 win against Rockford Christian. The Rockets have scored 16 points since, including last week's 14-8 loss to Rockford Lutheran.
Running back Booker Cross had the touchdown for the Rockets. Ryan McCord had 2.5 tackles for a loss in the defeat.
FND pick: Genoa-Kingston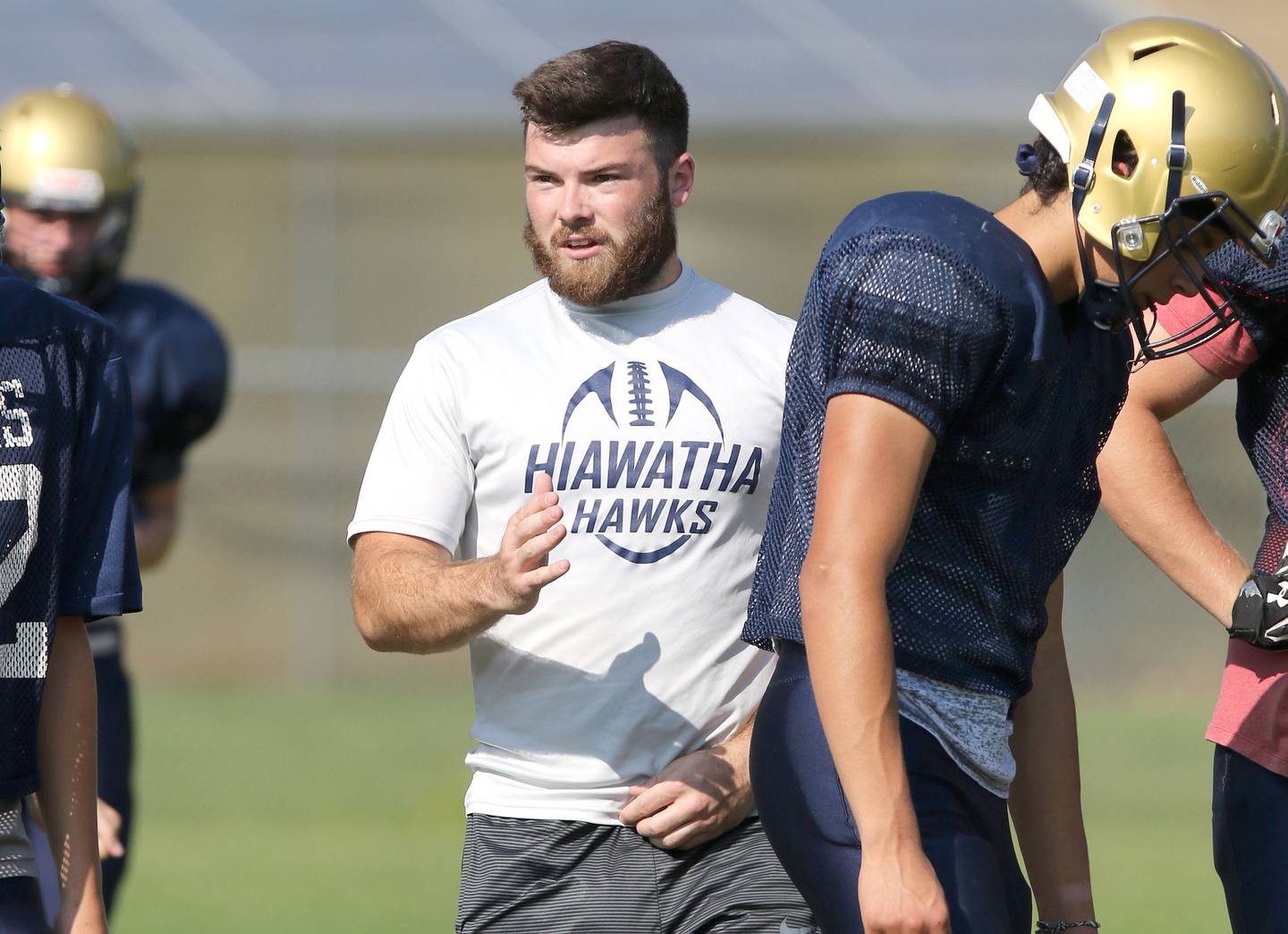 Eight-man
Hiawatha (2-2) at Ashton-Franklin Center (0-4)
When: 7 p.m. Friday
Last matchup: The teams last met in the last year of the Four Rivers Conference, with the Raiders rolling to a 53-0 win en route to an 11-1 season, while the Hawks finished 0-9.
About the Hawks: Hiawatha has allowed 50 points in each of the past two games after scoring 50 in the first two games of the year.
"We're feeling good still," first-year coach Nick Doolittle said. "We're hoping to bounce back this week and working on things we need to sharpen up offensively a little. We keep learning and getting better every game, and we'll show that Friday for sure."
Doolittle said the defense still is learning how to play at the varsity level.
"I feel like we're young – that's probably the best way to describe the defense," Doolittle said. "We made some inexperienced mistakes, which is going to happen with young teams. I think that's the best way to learn, though. We're improving and doing the things in practice we need to do – just apply it to the game."
Offensively, Doolittle said the Hawks need to get back to running the ball more with Chris Brantley, who had 505 yards and eight touchdowns in the two wins. That should open up Chris Korb and the passing game.
"We've go to get back to what worked at the start of the season, which is to establish the run and air out a little bit after that," Doolittle said. "Defensively, we've got to flow well, the linebackers need a good game, and the interior line needs to control the line of scrimmage. That will help us secure victory this week."
About the Raiders: They are in their first full season of eight-man football, going 0-9 in the NUIC south in their last full season in 2019. Since the schools merged in 2004, the team has made the playoffs only twice, in 2004 and 2005. They last won Oct. 20, 2017 against Warren, 34-8.
A-FC had to forfeit last week against River Ridge and gave up 50 points in each of their first three games of the season.
FND pick: Hiawatha