The Fulton football team used a huge second quarter to pull away for a 42-0 win over Madison (IL) in a nonconference road win Saturday afternoon.
Patrick Lower threw touchdown passes of 5 yards to Brock Mason in the first quarter and 13 yards to Baylen Damhoff in the second quarter to stake the Steamers (3-1) to a 14-0 lead.
Keegan VanKampen then returned an interception 46 yards for a score, before adding an 11-yard TD run. Ryan Eads capped the 28-point second period with a 77-yard interception return for a touchdown and a 35-0 halftime lead.
VanKampen, who ran for 109 yards on 11 carries, added a 4-yard scoring scamper in the third quarter.
What's a trap game?: Despite hosting an Alleman team that hadn't scored a point in the first three weeks, Sterling looked locked in Friday night in a 49-7 victory at Roscoe Eades Stadium.
After two close games – a tough loss to Montini in Week 2 and a fourth-quarter comeback victory over Galesburg in Week 3 – and a rivalry game on the road in Geneseo coming up in Week 5, a home game against an overmatched Pioneers team could have been easy to overlook for some teams.
But the Golden Warriors made sure that wasn't the case right from the start Friday night. The defense didn't allow a first down in the first half, held Alleman to zero or negative yards on 16 of its 24 plays, and even had a pick-6 from Tyree Kelly to contribute to 28 first-quarter points.
Offensively, Sterling ran just two plays in its own territory before halftime, gained double-digit yards on 11 of its 25 first-half plays, and scored on six of its seven first-half drives; the only possession on which it came up empty was when time expired in the half and the Warriors were on the Alleman 2-yard line.
While the Pioneers did get their first touchdown of the season, it came against Sterling's reserves with 5:48 left to play in a running-clock game.
There was simply no chance of a letdown for the Warriors.
"We come out and play the same every game, it doesn't matter the opponent or how good anybody thinks they are," Kelly said. "Anything can happen – it's football – so we come out here with the same mentality for every game, come out and pound the ball, hit them in the face, go as hard as you can every play."
Missed opportunities: In its 20-14 loss to Stillman Valley on Friday, Dixon left more than a couple of points on the board.
The Dukes' second drive of the game saw quarterback Tyler Shaner roll out on a read-option for a big gain to the Cardinals' 8, but the play was called back for a holding penalty and the drive stalled out a couple of plays later.
In the third quarter, after a 58-yard Zavion Johnson touchdown tied the game 6-6, the Dukes had a chance to take the lead when Mitchell White recovered a fumble and returned it into Cardinals territory, but Stillman Valley's Chris Seper intercepted a pass on the next play.
Dixon seemingly caught a break late in the third when the Dukes' Hunter Vacek recovered a muffed punt, but that drive too stalled out, in part thanks to a sack by the Cardinals' Andrew Latham.
"What we had been having success with the first three weeks of the year was we were limiting penalties and weren't stalling out drives," Dixon coach Jared Shaner said. "There were two for sure [Week 4] where back-to-back penalties put us in third-and-forever, which is tough to get out of. We're going to have to work this week to improve that and get better."
Dixon was flagged nine times for 52 yards.
Good second effort: Newman's third-quarter scoring drive was textbook: it started from its own 36, then ate up 8 minutes off the clock.
Second-effort pushes by Gabe Padilla, to carry a pile with him 10 yards for a first down, and Ethan VanLanduit, to dive forward with a defender on his back and still reach the end zone, were essential.
Moreover, there were no turnovers.
"That's Blue Machine football," said Newman coach Brandon Kreczmer after his team's 13-7 loss to St. Bede on Friday in Peru. "If we hold onto the ball, we're successful."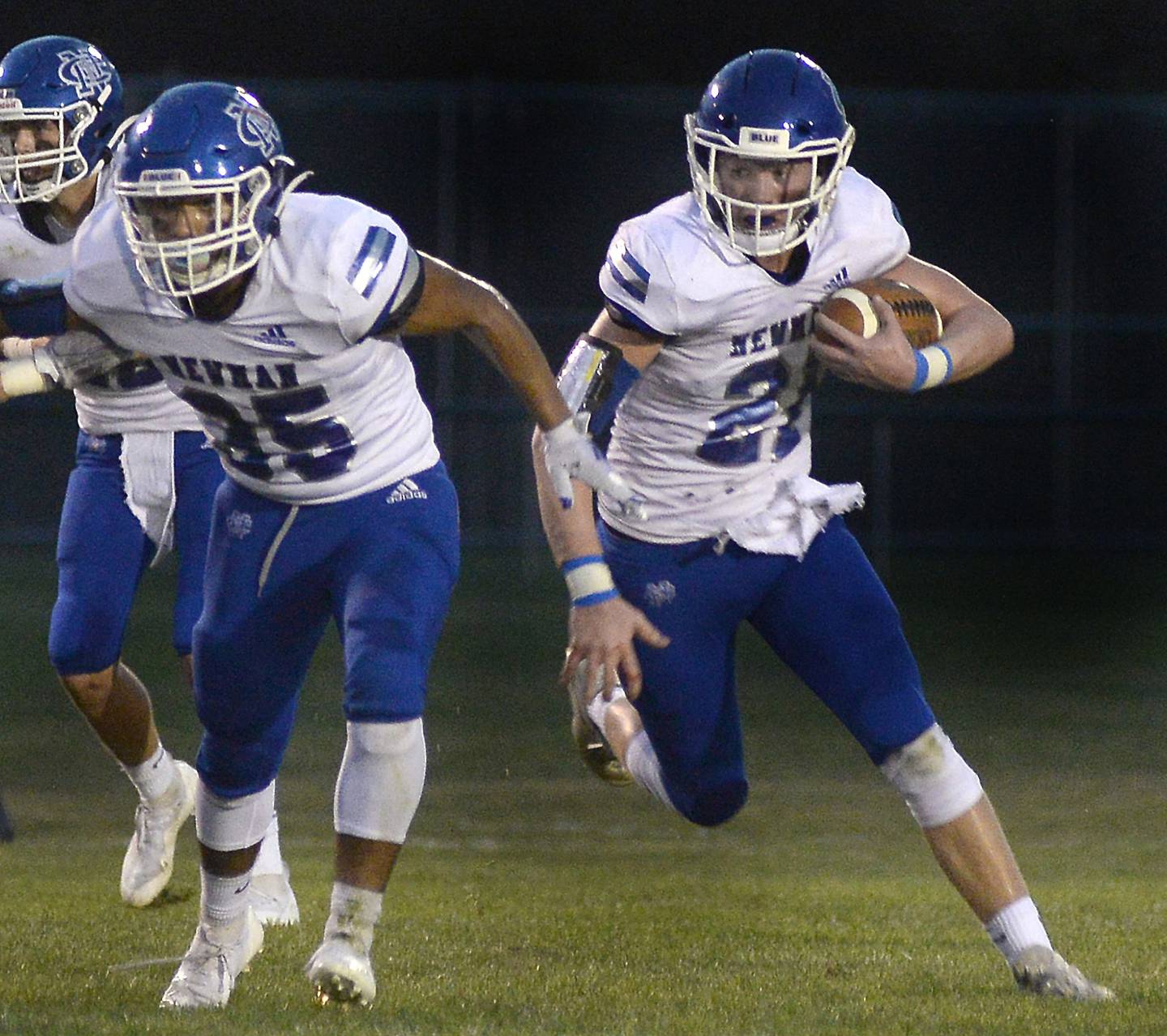 It's a simple enough formula. As 2-2 Newman regroups this week before its home date against Bureau Valley on Friday, the emphasis will be on eliminating turnovers.
Against St. Bede, Newman had three lost fumbles and three interceptions. Even with all that, Newman had a chance to win in the fourth quarter.
Kreczmer said errors aside, his players had good effort. The team was within striking distance with more than 2 minutes remaining, advancing the ball across midfield on a 12-yard pass from Cody Donna to Brennen Cook.
"I told the kids we were in this game," he said. "We have to learn from our mistakes."
Defensive plays: Twice Newman defenders got to wily St. Bede quarterback John Brady – which is no mean feat.
VanLanduit caught Brady for a six-yard loss in the first quarter. Hunter Luyando brought him down for a 12-yard loss to stall a St. Bede drive early in the fourth quarter.
Brady had 21 carries and finished with 69 yards rushing.
Ayden Batten had Newman's lone interception, which came with 1:46 left in the second quarter.