DuPage Valley Conference
DeKalb (2-1, 0-0) at Metea Valley (1-2, 0-0)
When: 7 p.m. Friday
Last matchup: DeKalb won, 31-30, in 2019 in Aurora.
About the Barbs: The Barbs rebounded after a 27-17 loss to Plainfield South with a 45-6 win against Belleville West, both home games.
Jamari Brown ran for more than 100 yards last week and has seen his usage increase each week, spelling Toriano Tate and playing more on defense.
Quarterback is still a split between Josh Klemm and Adrien McVicar; neither has been available at the same time since midway through Week 1 against Sycamore, but both are expected to play Friday.
"I think we're in a good spot," coach Derek Schneeman said. "It was nice to get that bad taste out of our mouths from Plainfield South. Metea is much improved, and they bring a lot to the table, so it should be fun Friday."
About the Mustangs: Metea Valley picked up its first home win since 2015 with a 15-14 victory against Belleville East. Three-year starter Logan Frederick found NIU commit Jalen Johnson for 54-yard, go-ahead score in the fourth quarter, then the Mustangs held off two Belleville East drives late for the win. Johnson had eight catches for 149 yards, and John Flynn had five for 90.
"We'll have to try to contain those three (Frederick, Johnson and Flynn) the best we can on defense," Schneeman said.
Friday Night Drive pick: DeKalb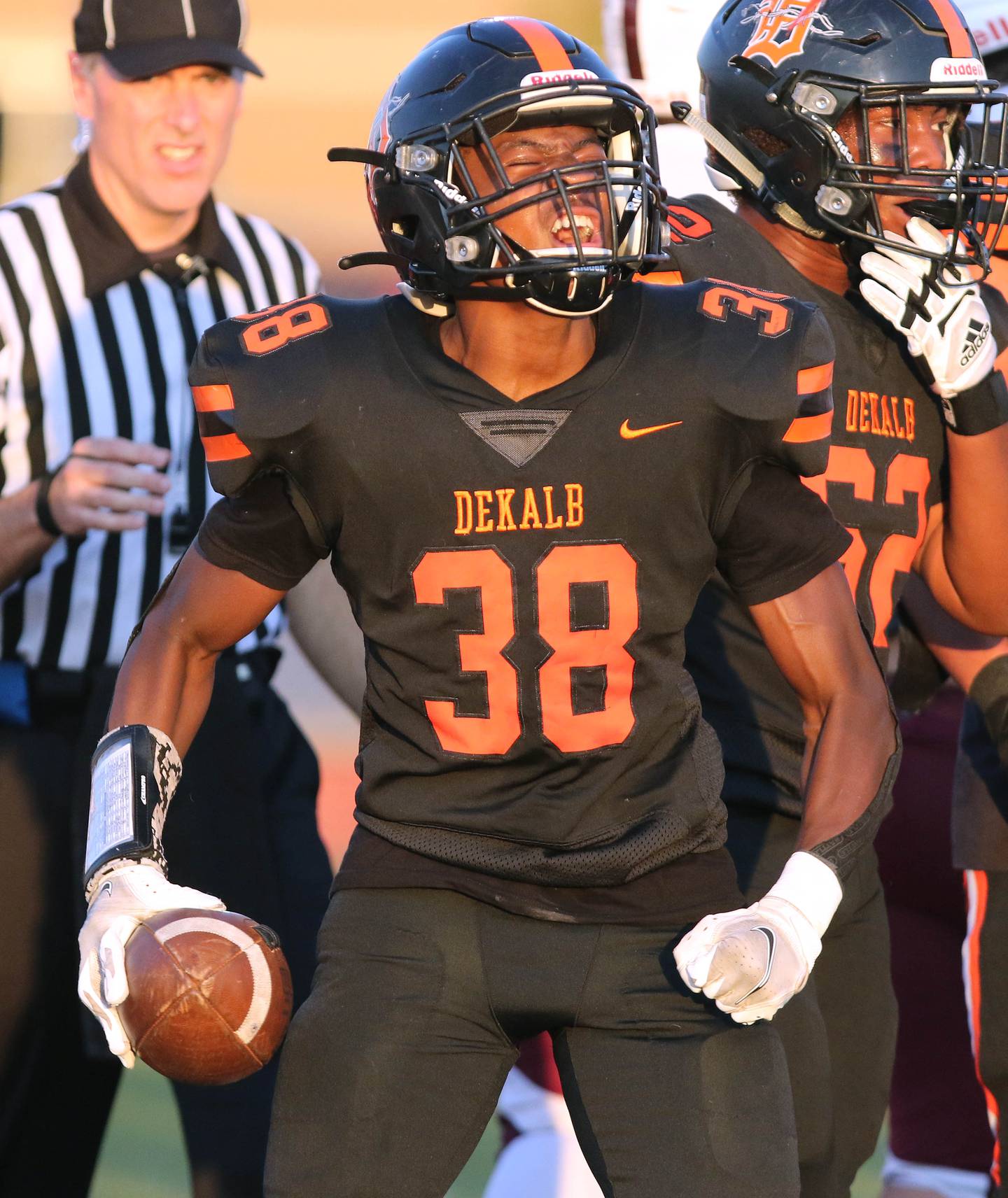 Kishwaukee River/Interstate 8 White
Sycamore (2-1, 1-0) at Ottawa (1-2, 0-1)
When: 7 p.m. Friday
Last matchup: Sycamore was a 27-7 winner in the spring 2021 season.
About the Spartans: The Spartans are fresh off a 56-28 victory against Kaneland, a game they trailed, 21-7, in the first quarter.
"Obviously, when you fall behind 21-7, there are things that, one, they did well and, two, we didn't do well and they exploited," coach Joe Ryan said. "Those things are correctable. We have to take care of the ball, or that will haunt us. We can't fall down 21-7."
Most of those correctable things, Ryan said, have to do with coverage. He said there were lapses at times, although he also said two of the three early scores for Kaneland were on well-thrown passes from their quarterback.
Safety Dawson Alexander has been one of the top defenders for Sycamore, intercepting three passes this year with 22 tackles. Ethan Bode leads the team with 32 tackles and also has a sack and a fumble recovery.
The Spartans have been rolling with a multiback attack in the run game, with four rushers with more than 100 yards but none with more than 200. Nathaniel Altepeter leads the group with 193 yards and six scores on 30 carries.
Quarterback Eli Meier has completed 27 of his 37 passes for 575 yards and only one interception. His five touchdown passes have gone to five receivers. Kayden Galto has seven catches for 172 yards and has been a strong kick returner.
About the Pirates: After a convincing Week 1 win over Sandwich, the Pirates have dropped a pair of fierce La Salle County rivalry games to Streator, 28-23, and La Salle-Peru, 28-0. As Sycamore likely remembers from the team's spring meeting – a 27-7 win over the Pirates – Ottawa has been much improved and has a number of dangerous threats. Chief among them is senior QB Braiden Miller, who even after a rough 6-of-21, 34-yard outing against La Salle-Peru, is 35-of-73 passing for 472 yards. His favorite target is Levi Sheehan (18 receptions, 279 yards), although arguably Ottawa's most explosive big-play threat has been RB Javarius Whitfield (298 yards), who broke off a 99-yard touchdown run against Sandwich. LB Brandon Aguirre is coming off a 17-tackle effort against L-P for a defense that has been able to keep the Pirates in games the past two Fridays against teams currently a combined 5-1.
"They've got a quarterback with experience," Ryan said. "He had a good spring. He's a big kid and sees the field well. We've got to, again, limit big plays."
FND Pick: Sycamore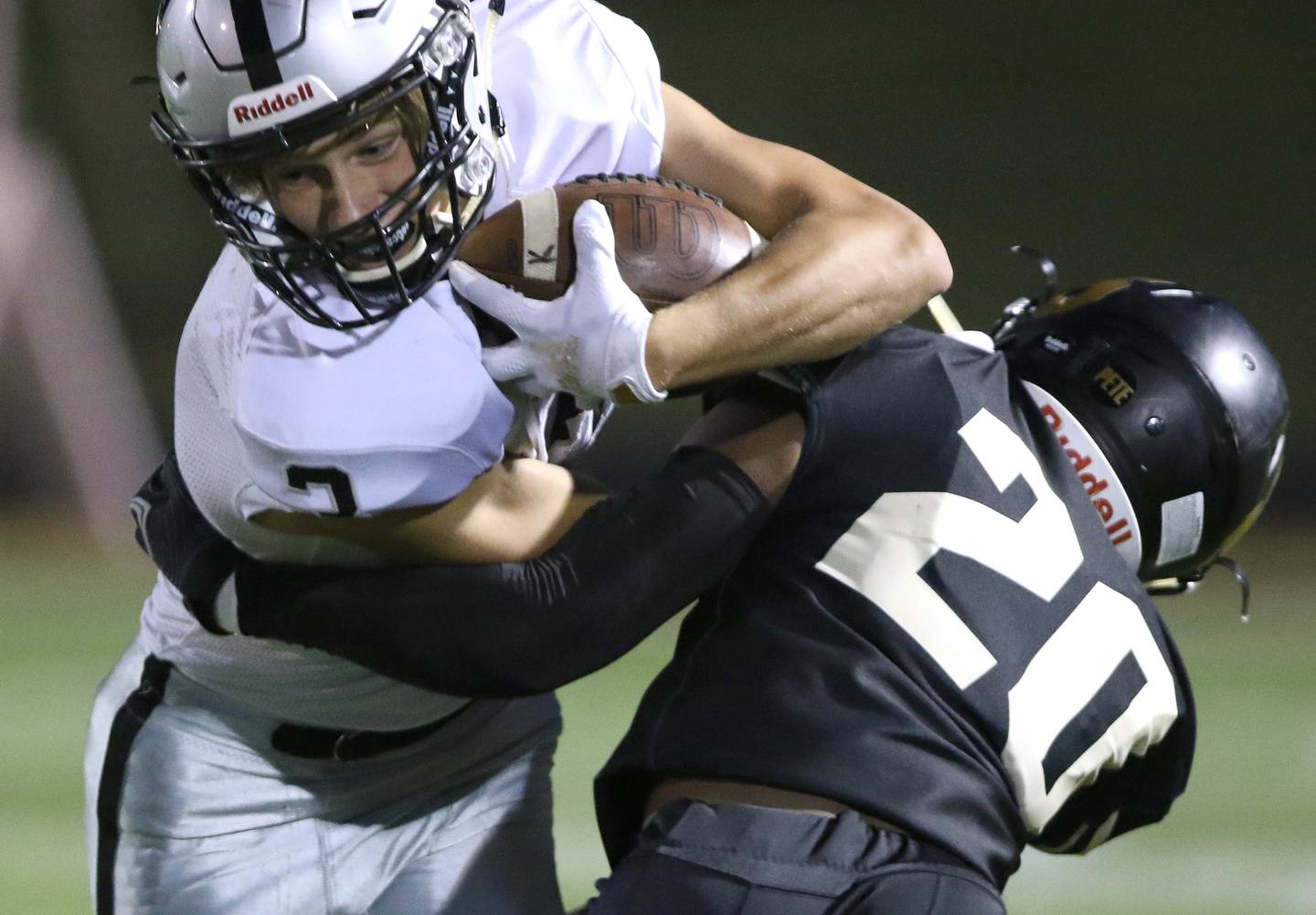 Woodstock North (0-3, 0-1) at Kaneland (1-2, 0-1)
When: 7 p.m. Friday
Last matchup: First meeting
About the Knights: Kaneland led against Sycamore, 21-7, in the first quarter of the conference opener last week, but injuries to the Knights' top two backs and some costly turnovers sank their chances in a 56-28 loss.
Backup Tony DeBlassio is done for the year, coach Pat Ryan said, and Corey Phillips is questionable. That will leave a lot up to quarterback Troyer Carlson, who has thrown for 847 yards, eight scores and four picks this year.
"We're using this week to figure out who to play at running back," Ryan said. "We'll figure out who the best options are, and it will be sorted out by Friday. The other piece is we have to continue to protect Troyer at quarterback and give him time to throw the ball. At the end of the day, we can't turn it over, either."
Friday will be military appreciation night at the stadium. Ryan said the Knights will be wearing special desert camouflage uniforms, and there will be ceremonies throughout the game.
About the Thunder: North went 2-1 in the abbreviated spring 2021 season but are searching for their first win of the fall after a 56-12 loss to Morris last week.
Henry Goetz has led the offense with 346 rushing yards, averaging 4.3 yards a carry.
"It's not a familiar opponent; it's the first time we've played them," Ryan said. "What we do know is they run a triple-option that can be a fit for teams. If you make a mistake on your assignments, it turns into a big play. They've put together some sustained drives in their previous games, and we haven't been exactly lights out against the run."
FND Pick: Kaneland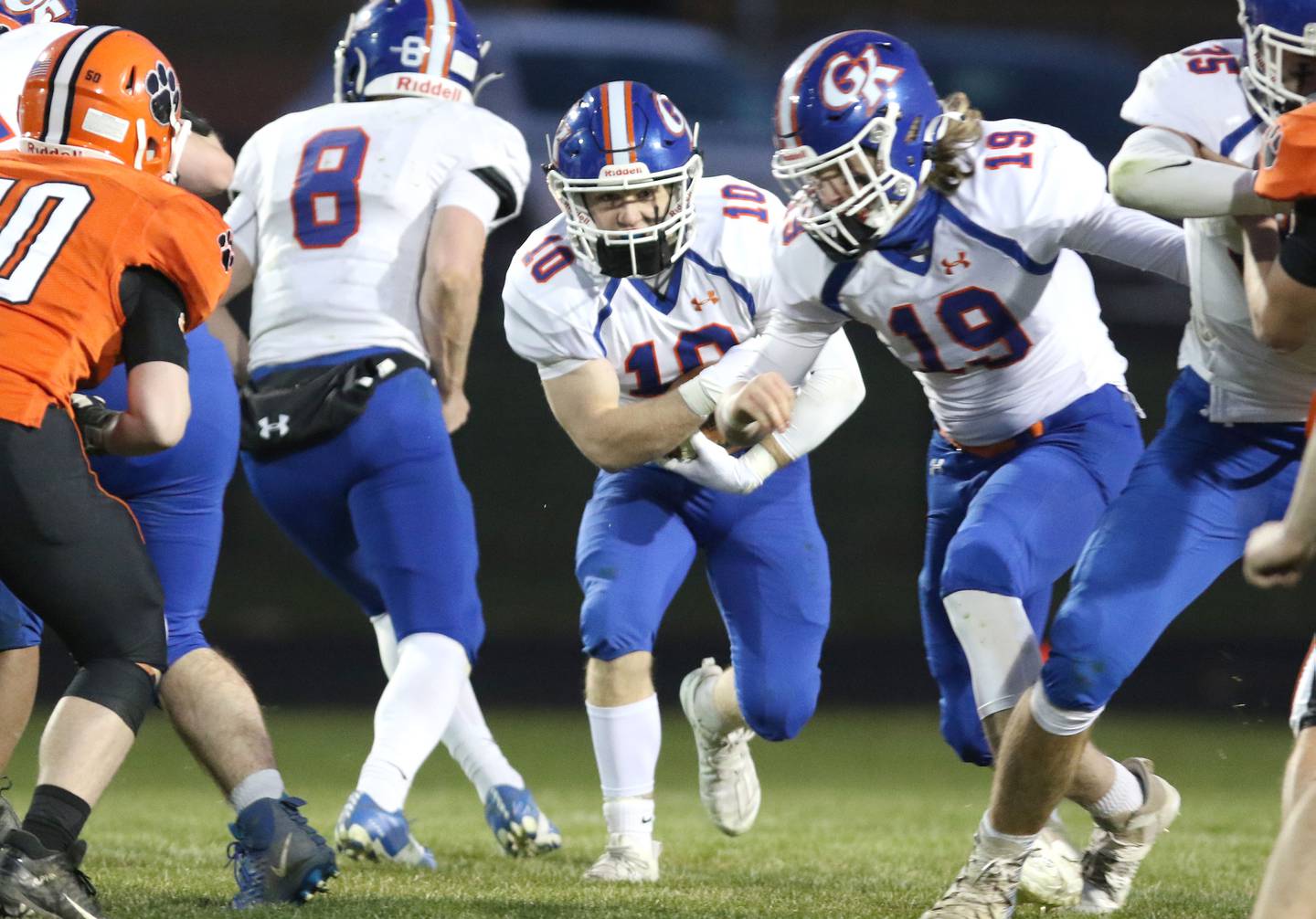 Big Northern Conference
Genoa-Kingston (3-0, 3-0) at Byron (3-0, 3-0)
When: 7 p.m. Friday
Last matchup: The Cogs were 14-0 winners in the spring season in Byron.
About the Cogs: Genoa-Kingston topped North Boone, 28-14, last week to remain perfect. Once against the Cogs threw multiple rushers at an opponent – 46 carries but no one with more than 11. Ethan Wilnau had seven carries for 132 yards and two touchdowns.
Byron won the 2019 matchup on its way to a state title game appearance, but G-K won in Byron last season, 14-0.
"We know about the hype behind the game, but we're not getting caught up in it," first-year G-K coach Cam Davekos said. "We just trust what we've been practicing and what we've been doing, and on Friday we'll do it 100%, then good things will come."
About the Tigers: Chandler Binkley leads the BNC with 334 rushing yards and seven scores as Byron has raced out to a 3-0 start, including a 47-19 win over Rockford Lutheran last week.
"They're going to keep to their power run game," Davekos said. "Defensively, we have to make sure to keep them in front of u and don't give up any easy blocks and make sure we tackle."
FND Pick: Byron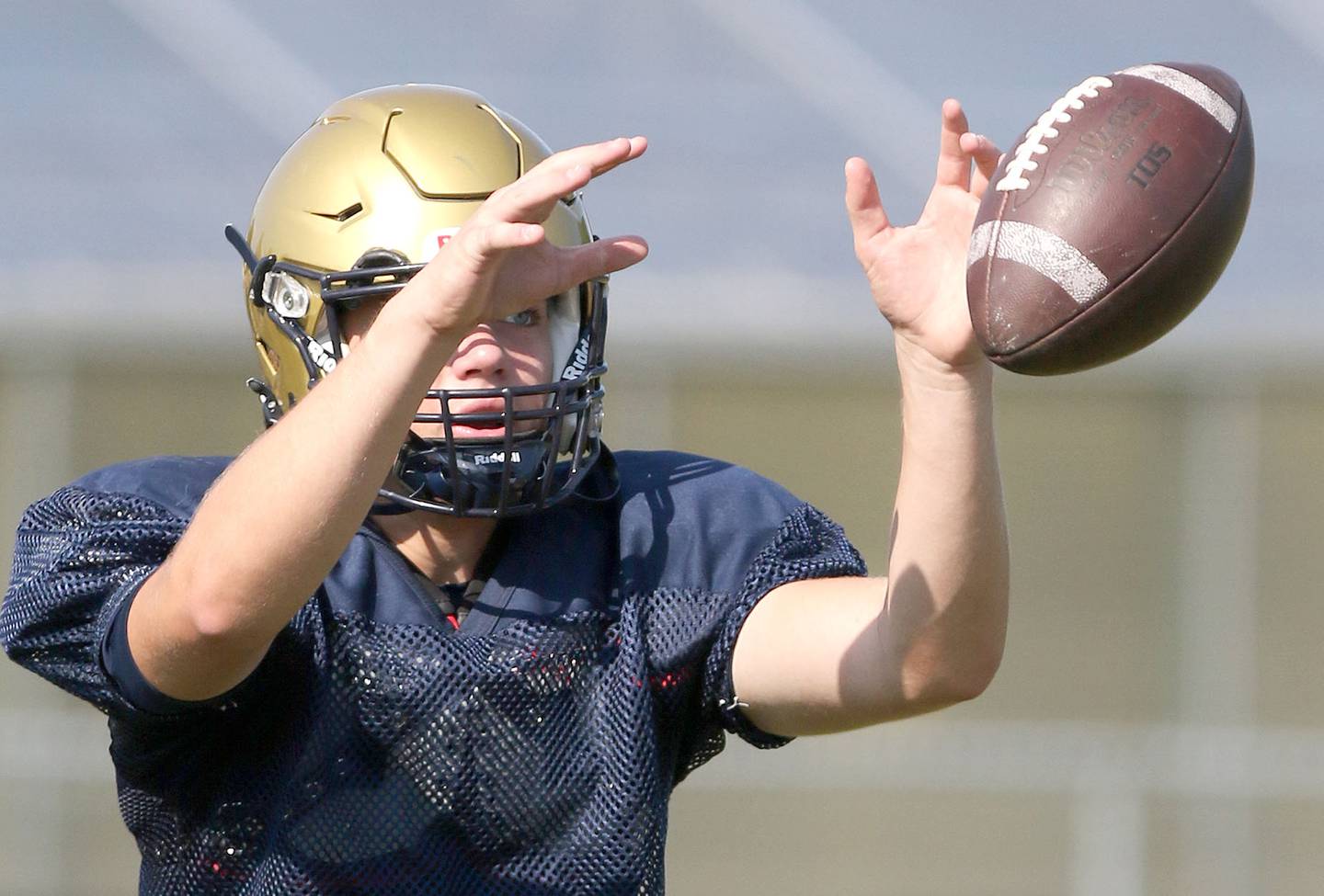 8-man
Hiawatha (2-1) at South Beloit (2-1)
When: 7 p.m. Friday
Last matchup: Hiawatha won, 58-14, in the spring season.
About the Hawks: Hiawatha ran into a tough Orangeville team, falling, 56-8, to the highly ranked Broncos.
Hiawatha coach Nick Doolittle said the Hawks just couldn't get their ground game, led by Cole Brantley, going.
"I learned that we have a lot to work on offensively," Doolittle said of the loss. Some of our blocking techniques are not where they need to be. We're working on that this week. I also found out our guys have a lot of heart and want to work hard and are ready to move on from that game."
About the Sobos: South Beloit also suffered its first loss of the season last week, 44-38 to Flanagan-Cornell-Woodcrest in overtime.
FND Pick: Hiawatha