West Suburban Conference
Downers Grove North (2-0) at Downers Grove South (0-2)
When: 6:30 p.m. Friday
Last matchup: Downers Grove North 23, Downers Grove South 7 (2021 spring season)
About the Trojans: Downers Grove North comes in off an impressive 27-14 win over Willowbrook, the class of the West Suburban Gold in recent years. The Trojans have held the upper hand in the crosstown rivalry of late with six straight wins. Junior Ethan Thulin, who had a game-turning 78-yard punt return for a TD last Friday, has shown himself to be a playmaker in all three phases in two varsity seasons.
About the Mustangs: It's been a rough first two weeks for the Mustangs, to say the least. Downers Grove South has been outscored by a combined margin of 99-0 against elite opponents Wheaton North and Glenbard West. Perhaps the emotion of the crosstown rivalry will put some pep in the Mustangs' step. Needless to say, generating some offense should start with getting the ball in the hands of NIU recruit Eli Reed. Mack O'Halloran is another top target for junior quarterback Ryan Dawson.
FND Pick: Downers Grove North
Lyons Township (1-1) at Hinsdale Central (1-1)
When: 7:30 p.m. Friday
Last matchup: Hinsdale Central 31, Lyons Township 10 (2021 spring season)
About the Lions: Lyons has momentum coming into this Silver opener and rivalry game, a 56-0 win over Addison Trail last week. The Lions' last win in this series came in 2013, so this game will clearly provide a gauge on any progress Lyons has made this season. Division I prospect Eddie Tuerk is a player to watch on the Lions' defensive line.
About the Red Devils: Hinsdale Central bounced back from a tough Week 1 loss to Naperville Central to beat Proviso East 51-0 last week. Now the Red Devils begin defense of their West Suburban Silver title against their 55th Street rival. Thomas Skokna returned a kickoff 94 yards for a TD and and caught TD passes of 36 and 33 yards from Billy Cernugel against Addison Trail. Nick Fahy ran for two TDs and caught a TD.
FND Pick: Hinsdale Central
York (2-0) at Proviso West (0-2)
When: 7:30 p.m. Friday
Last matchup: York 41, Proviso West 0 (2019)
About the Dukes: York has taken full advantage of the soft part of its schedule before it enters the teeth of the West Suburban Silver grind, outscoring its first two opponents 91-7. There's no reason to think that will not continue this week at Proviso.
About the Panthers: Proviso West, outscored by a combined 98-0 in losses to Wauconda and Leyden, has not scored a point in five straight games dating back to 2019, a stretch that started with a loss to York to end the 2019 season.
FND Pick: York
Glenbard West (2-0) at Oak Park-River Forest (1-1)
When: 7:30 p.m. Friday
Last matchup: Glenbard West 42, Oak Park-River Forest 0 (2019)
About the Hilltoppers: Joey Pope has taken full advantage of his opportunity to be the Hilltoppers' new lead back, going over 100 yards rushing in each of Glenbard West's first two games. Glenbard West's defense looks like no slouch, either. The Hilltoppers had eight sacks last week against Downers Grove South, Jack Oberhofer and Philip Dozier each accounting for two, and held the Mustangs to minus one yard rushing in the first half. Glenbard West is tied for sixth in the latest Class 8A Associated Press statewide poll.
About the Huskies: Oak Park-River Forest comes into this one with a full head of steam, a 48-7 win over Hinsdale South last weekend. Players to watch for the Huskies include wide receiver Eric Locke, linebacker Owen Detmer and running backs Kelby Gray and Demetrius Dortch.
FND Pick: Glenbard West
Proviso East (0-2) at Willowbrook (0-2)
When: 7 p.m. Friday
Last matchup: Willowbrook 44, Proviso East 6 (2019)
About the Pirates: Proviso East has been outscored 103-0 in losses to Bradley-Bourbonnais and Hinsdale Central, and has lost four straight games with three shutouts dating back to the 2019 season.
About the Warriors: Willowbrook is 0-2 for the first time since 2014, which is the program's only losing season since Nick Hildreth became permanent head coach in 2012. That's the bad news. The good news is Willowbrook starts play in the West Suburban Gold this week, and has not lost a game in the Gold since 2016 with four straight conference titles. The Warriors, who have only scored 14 points in two games – none in the second half – need to re-establish the run. Downers Grove North limited Willowbrook to 105 yards rushing last week and held Josh Brown to 71 yards.
FND Pick: Willowbrook
Morton (0-2) at Addison Trail (0-2)
When: 7 p.m. Friday
Last matchup: Addison Trail 50, Morton 47 (2021 spring season)
About the Mustangs: A tale of two games so far for Morton, but neither was a particularly good result. After dropping a heartbreaker to Riverside-Brookfield on a last-second field goal, the Mustangs were rolled 54-0 by York last week. The would seem to be one of Morton's best chances for a win. The Mustangs' last win on the field came against Addison Trail in Week 8 of 2018.
About the Blazers: It's been a difficult start to the season for the Blazers, shut out by Plainfield Central and Lyons by a combined margin of 114-0. Those offensive struggles could change this week if recent history is any indication. Addison Trail scored 50-plus points in high-scoring wins over Morton in both 2019 and the spring of 2021.
FND Pick: Morton
Hinsdale South (0-2) at Leyden (1-1)
When: 7 p.m. Friday
Last matchup: Hinsdale South 31, Leyden 21 (2021 spring season)
About the Hornets: Hinsdale South is probably ready to take its chances against a West Suburban Gold opponent after an 0-2 start and 48-7 loss to Oak Park-River Forest last week. Ryan Kohlsaat scored on a quarterback keeper for the Hornets' lone points against OPRF.
About the Eagles: Leyden got one in the win column last week, taking care of Proviso West 29-0. Leyden and Hinsdale South have traded fairly close outcomes the last four seasons, each winning two, so one would expect more of the same this time around.
FND Pick: Leyden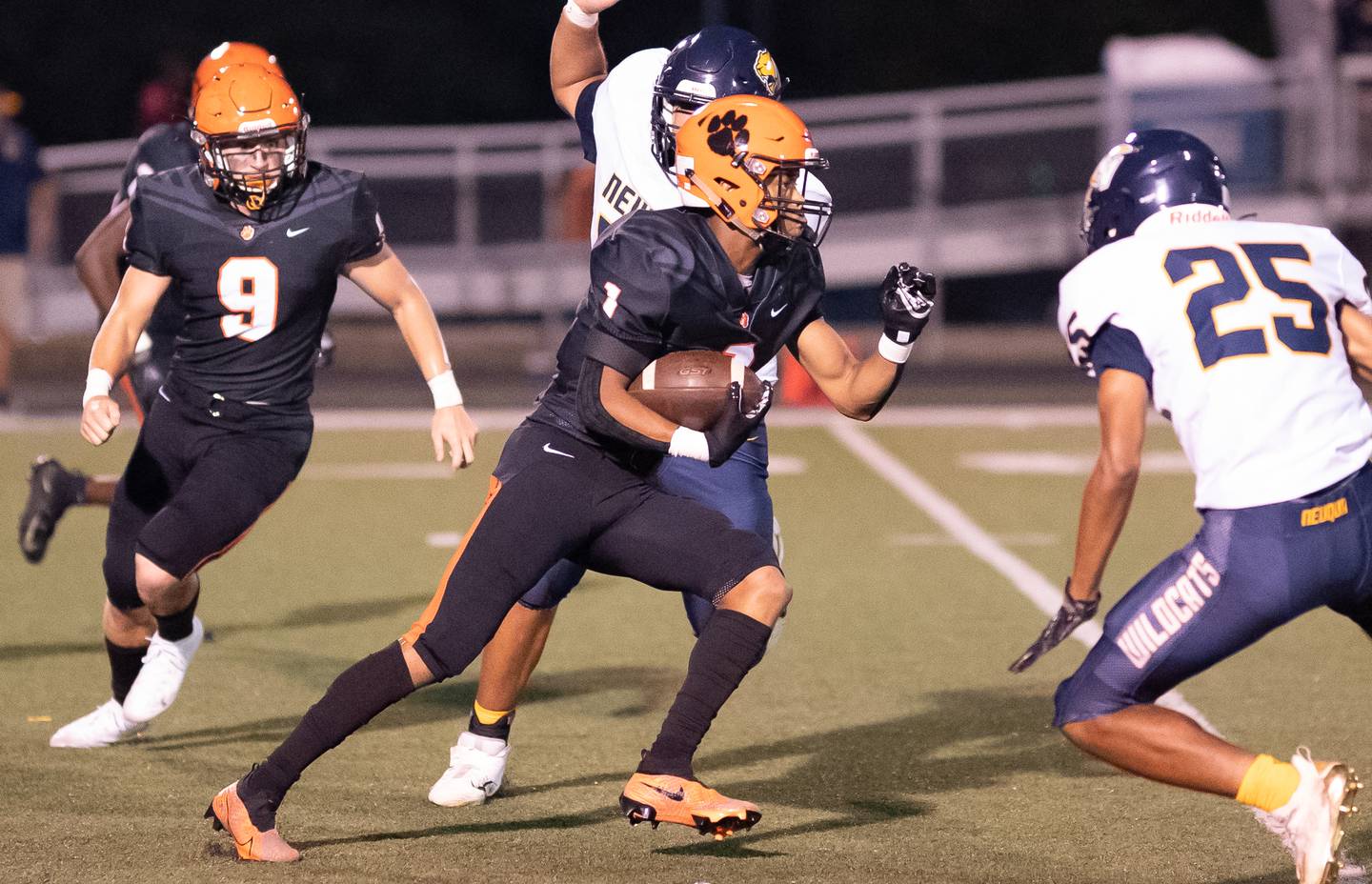 DuKane Conference
Wheaton North (2-0) at Batavia (2-0)
When: 7:30 p.m. Friday
Last matchup: Wheaton North 16, Batavia 7 (2021 spring season)
About the Falcons: Wheaton North is ranked No. 5 in the latest Class 7A Associated Press statewide poll. The Falcons were expected to be a team to watch this fall with so many players back from a successful spring and haven't disappointed with two wins by a combined margin of 80-7. Third-year starting quarterback Mark Forcucci, a Holy Cross recruit, comes off a solid 15-for-20, 166-yard game in a 30-7 win over Providence. Seth Kortenhoeven is one of his favorite targets and was so against Providence.
About the Bulldogs: Batavia comes off an inspired 21-13 win at Oswego, rallying from a 13-0 deficit in the second half. The Bulldogs' defense is fast and physical, presenting a great matchup with a veteran Wheaton North group. Keep an eye on defensive lineman Tyler Sapit, who had eight tackles and three for loss at Oswego. Running back Josh Dornink turned an ankle at Oswego; if he can't go, Jalen Buckley figures to get the bulk of the touches on the ground. Batavia surely hasn't forgotten the season-ending loss to Wheaton North at NIU in the spring.
FND Pick: Batavia
St. Charles North (2-0) at Wheaton Warrenville South (1-1)
When: 7:30 p.m. Friday
Last matchup: St. Charles North 28, Wheaton Warrenville South 21 (2021 spring season)
About the North Stars: St. Charles North's defense has impressed early with shutouts of Palatine and Lake Zurich. Senior linebacker George Litgen and lineman Paolo Gennarelli, the latter an Army recruit, anchor the North Stars' unit. Drew Surges, who also plays safety, ran for 121 yards last week at Lake Zurich. Freshman quarterback Ethan Plumb has more than held his own in the early going this season.
About the Tigers: WW South looks to get back on track after running into a tough Neuqua Valley team in a 26-7 Week 2 loss. Matt Sommerdyke was 19-for-31 with 173 passing yards and a 14-yard TD in the final minute to Eric Swanson. Brandon Bell, who had five catches for 42 yards, is a top target.
FND Pick: St. Charles North.
CCL/ESCC
Nazareth (0-2) at Marist (2-0)
When: 6 p.m. Friday
Last matchup: Marist 13, Nazareth 0 (2021 spring season)
About the Roadrunners: Nazareth is in an unfamiliar spot, 0-2 for the first time since 2004 and first time since Tim Racki came aboard as head coach. How well the Roadrunners recovered from a heartbreaking 15-10 loss to Lemont on a last-second Hail Mary pass will be key going on the road to an always tough Marist opponent. Logan Malachuk, Racki's first-ever freshman starting quarterback, showed flashes of his tremendous potential against Lemont with senior Aidan Pieper injured in Nazareth's opener. The Roadrunners could use some big plays from the likes of Trell Harris in this one.
About the RedHawks: Marist has impressed in the early going this season, beating Curie and Richards by a combined margin of 94-7. The RedHawks are ranked No. 3 in the latest Associated Press Class 8A poll. Senior QB Dontrell Jackson, a Coastal Carolina commit, is a legitimate dual-threat quarterback who had 273 yards of total offense last week. Ak'Tavion had five catches for 131 yards against Richards and Illinois baseball commit Jimmy Rolder had a pick-six.
FND Pick: Marist
Marmion (2-0) at Montini (1-1)
When: 7:30 p.m. Friday
Last matchup: Montini 27, Marmion 3 (2018)
About the Cadets: Marmion did well in taking care of business outside the CCL/ESCC with a close win over Bishop McNamara and blowout of Chicago Lake View. Dan Thorpe became the program's winningest coach with the Week 1 win. Northern Illinois-bound receiver Dane Pardridge is a player to watch on the outside for an offense that returned nearly its entire offensive line this season.
About the Broncos: Montini's defense rose to the occasion last week in a big 17-10 win at an always tough Sterling opponent, giving up just one offensive score. Jackson McWhinney had 17 tackles and a huge sack on the last drive, fellow senior linebacker Michael Carver had 12 tackles and defensive end Luke Cushing nine tackles with a sack and a hurry. The Broncos are well-tested already, splitting two one-score, relatively low scoring games. Julian Turner, who had two TDs last week, is a gamebreaker.
FND Pick: Montini
Benet (1-1) at Brother Rice (2-0)
When: 6 p.m. Friday
Last matchup: First known meeting
About the Redwings: Needing a big road win with a brutal schedule ahead, Benet got it last week, coming home from the long trip west to Moline with a 23-21 victory. Carson Forney scored on a 45-yard TD run and Benet intercepted three passes. The road doesn't get any easier, as games at Brother Rice and St. Rita start the CCL/ESCC ringer.
About the Crusaders: Brother Rice took a forfeit win last week after handling Hillcrest 42-6 in the opener. Senior QB Jack Lausch will play both football and baseball at Notre Dame as a preferred walk-on. Brother Rice is ranked No. 3 in the latest Class 7A Associated Press poll. Is there any chance the Crusaders are caught looking ahead? They host No. 1 Loyola in Week 4.
FND Pick: Brother Rice
Fenwick (2-0) at Providence (1-1)
When: 7:30 p.m. Friday
Last matchup: Providence 37, Fenwick 0 (2017)
About the Friars: Fenwick has a lot of Division I-caliber talent, including QB Kaden Cobb (Ball State), WR Eian Pugh (Illinois) and OL Jimmy Liston (Purdue), and it appears to have some complementary pieces to make the Friars pretty powerful. The 2-0 start was also pretty important for Fenwick as they enter a rather rigorous league schedule here.
About the Celtics: Providence experienced the ups of the season with a shut-out victory over Willowbrook in Week 1, but then the downs as it got ran away from quickly in a Week 2 loss, 30-7, at Wheaton North. In both cases, it's clear that Providence is going to have to figure out a way to get a few more points on the board. Averaging just over eight points a game through two contests isn't going to cut it in the CCL/ESCC.
FND pick: Fenwick
- Steve Soucie
South Suburban Conference
Lemont (2-0) at Shepard (0-2)
When: 7 p.m. Friday
Last matchup: Lemont 41, Shepard 7 (Spring 2021)
About Lemont: Best teams in 6A? Lemont would like a word. It turned in another tremendous performance, particularly on defense, in edging out, 15-10, Nazareth in Week 2. That defense, led by defensive lineman Tyler Wilms, has been extremely stingy. As such, the burden hasn't been heavy on the offense, but it is capable as well, anchored by RB Albert Kunickis, who has rushed for over 100 yards in each of Lemont's two games.
About the Astros: Shepard has a very experienced base, but very little of that has translated to success on the field thus far. The Astros have dropped back-to-back decisions to Kankakee, 27-6, and Plainfield East, 32-21.
FND pick: Lemont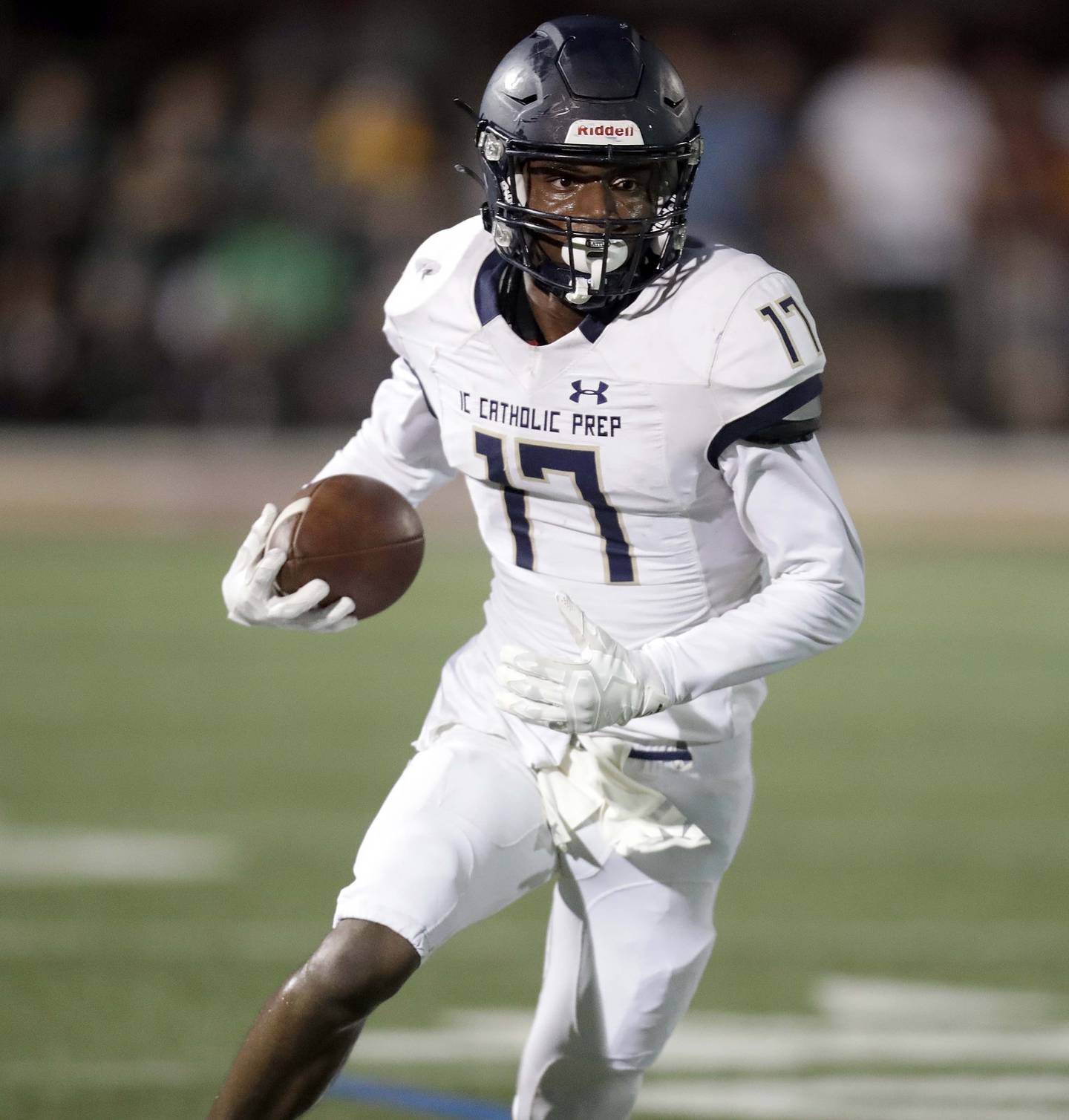 Metro Suburban Conference
IC Catholic Prep (2-0) at Elmwood Park (1-1)
When: 7 p.m. Friday
Last matchup: IC Catholic 54, Elmwood Park 0 (2017)
About the Knights: IC Catholic, ranked No. 2 in the latest Class 2A Associated Poll, already has a couple strong non-conference wins under its belt against Montini and Marian Central. Sophomore QB Dennis Mandela had a good showing on the road last week, 14-for-20 for 194 yards and two TDs. Antonio Richardson had four catches for 66 yards and a TD. The Knights surely hope for a cleaner game than the penalty-filled game at Marian.
About the Tigers: Elmwood Park comes in off a 28-6 win over Walther Christian, but it remains to be seen if there is carryover in a clear step up in class this week.
FND Pick: IC Catholic
Riverside-Brookfield (1-1) at Chicago Christian (1-1)
When: 7:15 p.m. Friday
Last matchup: First known meeting
About the Bulldogs: R-B took it on the chin last week, a 20-0 loss to Wauconda in its home opener. The Bulldogs' playoff chances would be well-served with a win this week, because the schedule toughens considerably down the road with games remaining against Aurora Christian, IC Catholic, St. Francis ad Bishop McNamara.
About the Knights: Chicago Christian ran into a tough opponent in Week 2, a 47-8 loss to Ottawa Marquette. The Knights are coming off a strong 5-1 spring season that won them the Metro Suburban Red title, but this current team is young with just 11 seniors. Senior Luke Jelderks, who plays quarterback, defensive back and special teams, is a player to watch.
FND Pick: Chicago Christian
Wheaton Academy (1-1) at Aurora Central Catholic (0-2)
When: 6 p.m. Friday
Last matchup: Wheaton Academy 26, Aurora Central Catholic 6 (2019)
About the Warriors: Wheaton Academy had no trouble taking care of business in its home opener, a 59-0 win over Christ the King. Liam White and Eddie Kaspar each scored two TDs, and David Dorn and Belay Brummel combined to throw for 180 yards and three TDs. Defensively, Peter Johanik had nine tackles in a half of action. Now the Warriors turn their attention to Metro Suburban Conference play, where they handled themselves quite well during a 5-1 spring season.
About the Chargers: It's been a rough start to the season in the non-conference for the Chargers, who have lost to Plano and Richmond-Burton by a combined margin of 85-0. Depth is a concern for Aurora Central Catholic, back under the direction of veteran coach John Belskis this season. Senior RB-LB Ty Hopp, who is considering offers from Army, Air Force and Minnesota State, does it all for the Chargers.
FND Pick: Wheaton Academy
Aurora Christian (2-0) at Westmont (0-2)
When: 7 p.m. Friday
Last matchup: Aurora Christian 41, Westmont 6 (2021 spring season)
About the Eagles: Aurora Christian put up huge numbers in two non-conference wins, scoring a combined 119 points. The Eagle look like St. Francis' toughest competition in the Metro Suburban Red. Speedy running back Cam Ajazi and wide receiver/safety Trey Beebe are among the Eagles to watch.
About the Sentinels: Westmont was rolled by former Interstate Eight Conference rival Lisle 51-0 last week. It doesn't get any easier for the Sentinels this week as they start league play.
FND Pick: Aurora Christian
Upstate Eight Conference
Glenbard South (2-0) at South Elgin (2-0)
When: 7:30 p.m. Friday
Last matchup: South Elgin 31, Glenbard South 20 (2021 spring season)
About the Raiders: Glenbard South has put itself in position to potentially contend for a UEC title with wins over Bartlett and West Chicago to start the season. It's started on the defensive side, where Dominic D'Ambra and the Raiders have yet to allow a point. Glenbard South is 0-3 against South Elgin since joining the Upstate Eight, but the margin in the spring closed considerably from 2018 and 2019. Hitting some big plays to Trevor Burnett would help against a South Elgin defense that has allowed just one score over two games.
About the Storm: South Elgin has established itself as a force in the Upstate Eight and beyond under fourth-year coach Dragan Teonic, going 24-6 in that time period. The Storm has outscored its two opponents by a whopping 106-7 margin. Top players include returning all-conference tight end Joey Viverito and all-conference receiver Jalen Jones. Twin brother Jordan Jones plays quarterback and defensive back.
FND Pick: South Elgin
Glenbard East (2-0) at Streamwood (1-1)
When: 7:30 p.m. Friday
Last matchup: Streamwood 36, Glenbard East 13 (2021 spring season)
About the Rams: Glenbard East is off to a good start in bouncing back from a so-so spring season, cleaning up on the two Elgin schools to the tune of a 61-13 margin. Connor Cerkas threw four TD passes in the win over Elgin, three of them going to Tyrese Buffkin. The Rams surely remember their surprising spring result against Streamwood and will be motivated.
About the Sabres: Have the Sabres caught their breath yet? Streamwood comes in off a 59-58 shootout loss to Bartlett, a game in which the Sabres blew a two-touchdown lead in the last five minutes. Streamwood's triple option offense had a massive game against Bartlett with 515 rushing yards, Isaac Martinez going for 226 yards and Michael Estrada 196. Streamwood has put up huge numbers offensively through two weeks, 120 points total.
FND Pick: Glenbard East
Nonconference
St. Francis (1-1) at Prospect (2-0)
When: 7 p.m. Friday
Last matchup: First known meeting
About the Spartans: St. Francis' regularly-scheduled game at St. Edward was canceled due to a positive COVID case in the St. Edward program, setting up this interesting non-conference matchup. The Spartans bounced back in a big way from a Week 1 loss, beating a good Peoria club 50-26. Adam Criter ran for 157 yards and three TDs and had one catch for 34 yards. Defensively, Sammy Atkins had 12 tackles and three for loss, and Ryan Calcagno seven tackles and a pick-six. Tested in the non-conference, St. Francis now turns its attention to a league it dominated in the spring. This is the first meeting with former Suburban Christian Conference rival St. Edward since 2013.
About the Knights: Prospect's scheduled game was canceled because of COVID issues at Niles West. Prospect, out of the Mid-Suburban East, is ranked No. 9 in the latest Associated Press Class 7A poll. The Knights own blowout wins over Sandburg and Fremd. The Knights returned nine starters on defense from a team that won the MSL East title in the spring. Quarterback Frank Covey, who played wide receiver last season, appears to have made a smooth transition to quarterback. He threw for 196 yards and a touchdown and ran for two TDs last week against Fremd.
FND Pick: Prospect