For much of Friday's game between Sterling and Montini, the Golden Warriors offense was stymied by the Broncos defense.
Getting stopped three-and-out four times, while also having the Sterling defense pick up plenty of stops, turned the game into a battle of field position.
In that battle, Yuriy Guerrero was a major asset for Sterling. The Warriors' junior punter booted the ball seven times in the game, averaging 43.4 yards per kick. That included a monstrous 62-yard punt after the Warriors' offense had been forced backward on the preceding drive.
"Yuriy did a really good job," Sterling coach Jon Schlemmer said. "He'd been struggling in practice. There are days he booms that thing. [Friday] he did a good job of flipping field position a few times."
He also had a 50-yard kick got wiped out by a penalty flag. Where Montini would have started at its own 5, after the re-kick, the Broncos began at their own 31 after a 31-punt.
Lopsidedness for Dukes, Big Northern
In the first two games of the season, Dixon has outscored opponents 85-7, having beaten North Boone 50-7 on Friday and Oregon 35-0 in the season opener. The seven points allowed come against teams that otherwise have combined for 80 points so far.
The lopsided scoring advantage after the first two games are the Dukes' best since 2000, when they outscored Rock Falls and Alleman 95-6.
The Big Northern Conference has yet to see any of its 10 games so far be decided by less than three touchdowns. In Week 1, Winnebago's three points scored against Genoa-Kingston represented the only points scored by a losing team in the conference; winners outscored losers 181-3 that week. Friday saw some more fight from eventual losing teams, but nothing close, as the combined deficit was 219-46.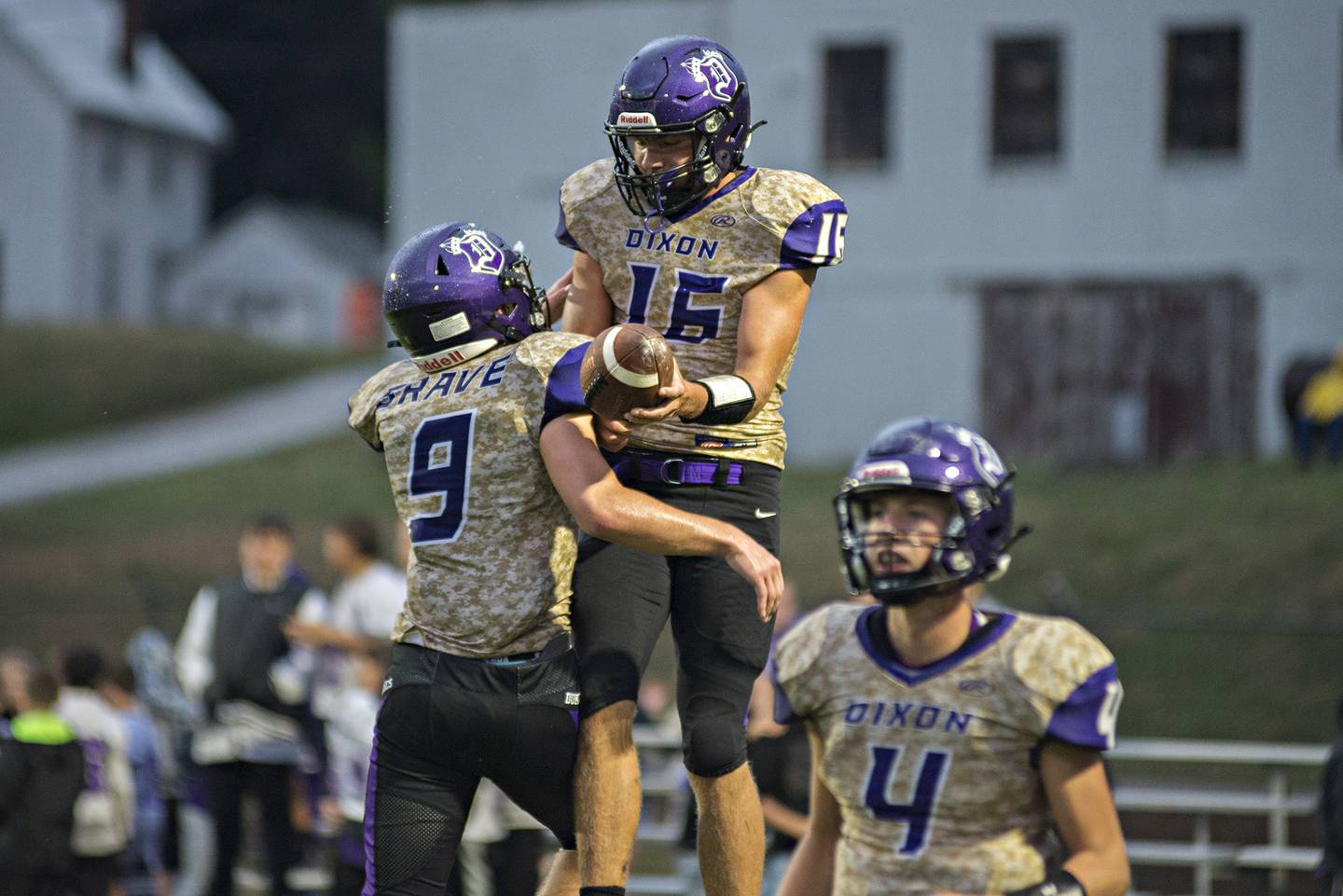 Learning the game
In fairness, the players and coaches at Milledgeville are just getting a feel for 8-man football.
But if quarterback Connor Nye keeps finding receivers in the end zone like he did in a 24-12 victory over Amboy, it'll work out.
"The kids are learning, making progress, headed in the right direction," said Milledgeville coach Jason Wroble.
Nye had three touchdown passes, two to Bryce Aude and one to Ashton Nobis. For the night, Nye was 10-for-21 passing and didn't have an interception. He also completed passes on all three two-point conversions.
"It was a great game," said Nye. "I love each and every one of these guys."
A sophomore, Nye stands 5-foot-11 and weighs 165 pounds. In the spring, he only played in two varsity games as a defender. This fall, he rests when his team is on defense so he can focus on developing his quarterbacking skills.
Wroble said Nye shows a lot of potential.
"He's making huge steps," Wroble said. "He's got a lot of natural ability, natural instincts. He reads the field well, got a really strong arm."
Nye got a chance to show his arm strength. His second TD pass to Aude – who was streaking downfield right off the snap – was a heave of 45 yards.
"It was a great ball by Nye," said Aude, a 5-10, 135-pound junior. "I just went up and got it."
Aude was Nye's favorite target, hauling in five passes for 119 yards.
"Bryce, he's got a lot of speed," Wroble said. "He's one of those kids in practice, sometimes he misses easy catches, then makes spectacular ones down the field. Smart player."
Other receivers saw action as well. Nobis had two catches, as did Kieren Harris. Kacen Johnson had an 8-yard reception.
But expect Nye to keep firing to Aude.
"Bryce and Connor are going to be a dangerous duo," Wroble said.
Big sack
The Milledgeville victory wasn't all offense. A key defensive play came midway through the third quarter that set the tone for the rest of the period.
Senior defenders Blake Schurman and Dimetri Garza combined on a sack of Amboy quarterback Tucker Lindenmeyer for a 9-yard loss.
The same series ended in a loss of downs. Amboy's subsequent possession was three-and-out.
Amboy didn't regroup offensively until Lindenmeyer ran for 38 yards on the last play of the third period to set up a touchdown pass to Joe Quest on the next set of downs.
Nobis, who is a linebacker on defense, led Milledgeville with 11 assisted tackles, according to the team's stats sheet.
Close it out
Milledgeville put on a display of ball control to close out the final 9:48 of the game. The Missiles started with the ball on their own 30, and over the next 20 plays, picked up four first downs and advanced the ball to the Amboy 21. Nye took a knee on the final three snaps to run out the clock.
"Even though we didn't punch it in, it's the mark of a good team to get first downs," Wroble said. "Keep building, kids getting confidence."