After a rivalry victory to open the season, the Newman football team is looking to build on that momentum in its first road game of the season.
The Comets visit Rockridge on Friday night, with the Rockets likely to be seething after a 48-7 loss to Princeton in Week 1.
"I told the kids that if they were looking at that score, don't buy into it, because Rockridge is way better than that score," Newman coach Brandon Kreczmer said.
Newman, meanwhile, defeated Morrison 34-6 on Saturday night at Roscoe Eades Stadium. The Comets limited the Mustangs to 107 yards of total offense, with 75 of that coming on Morrison's lone touchdown drive to open the second half.
As much as big plays helped the Comets pull away, Kreczmer was thrilled with his team's defensive effort.
"There were a lot of questions marks going in. We're a young team, we didn't have a lot of experience, and there were a lot of unknowns for us," he said. "But our kids just played fast, we tried to keep things as simple as we could, and it obviously worked out. Some big plays offensively helped, and defensively we were just really able to use our speed and athleticism to get to the ball."
Lineman Elliot Noble noted that the key for the Comets was nobody trying to do too much, and relying on their teammates next to them – as well as keeping a positive attitude all game long.
"We just had everyone doing what they were supposed to, not getting down on our teammates if someone made a mistake," Noble said. "We picked each other up as best we could, kept our heads up and just went on to the next play."
More of the same will be required this week. Rockridge boasts a balanced offensive attack – Morrison did not attempt a single pass against Newman in Week 1 – run by last year's first-team all-Three Rivers Mississippi quarterback Brayden Deem.
Deem ran for 42 yards and threw for 128 against Princeton, completing 7 of 18 passes with a pair of interceptions. On the ground, Peyton Locke managed just 30 yards on 15 carries as the Rockets were limited to 119 yards rushing and 128 yards passing.
"Deem is a dual threat, and they just missed a couple of big plays last week against Princeton. A couple near-misses that would've been touchdowns, so they probably won't miss those against us this week," Kreczmer said. "Deem makes them go, Locke is a good runner, and they have athletes all over the field, so we're definitely going to need to play a stout defensive game."
The Rockets will likely be hungry for a win against Newman; they've lost six straight to the Comets since beating them in 2013 – Rockridge's first year in the Three Rivers.
The biggest key Newman's defense is focusing on is Rockridge's offensive line play. The Rockets like to have their linemen pull in order to lead block for the ground game, and the Comets are looking to zero in on that.
"We're just working on the offensive line pulling, because Rockridge pulls on a lot more plays than Morrison does, so we're just going to keep focusing on that," Trenten Hicks said. "If we follow them, they're going to lead us right to the running back. It's going to be to our advantage to learn that this week."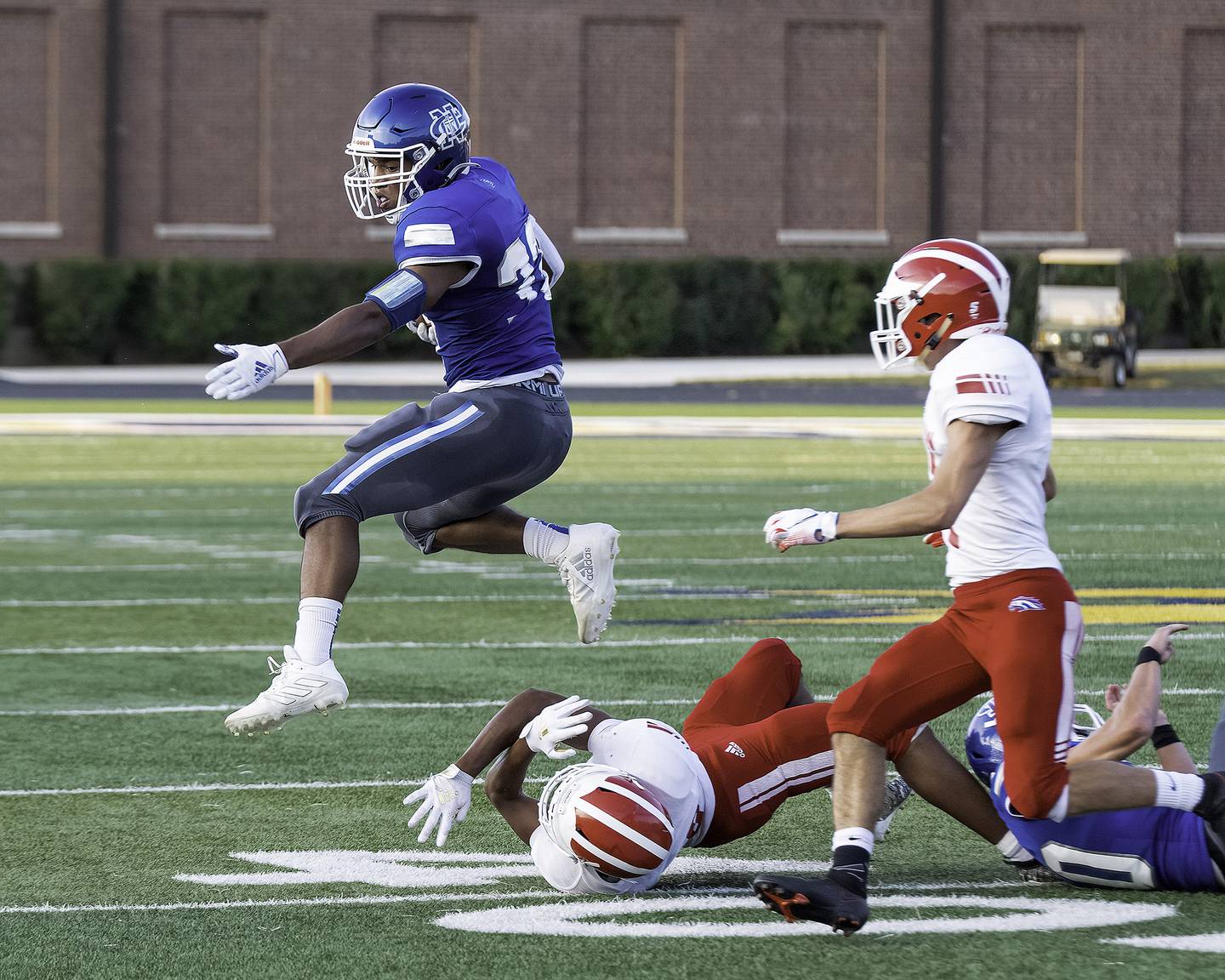 Marcus Williams led Newman's rushing attack with 129 yards in Week 1, with Brennen Cook (43 yards) and Ethan Van Landuit (33 yards) helping to spread the touches evenly. Cody Donna also completed 3 of 5 passes for 62 yards, including a 36-yarder to Drew Scott to set up the first touchdown.
"First road game, getting ready for that bus ride, but everybody's just got to do their jobs, make sure we all know what we're doing, and rely on your teammates and ask questions and ask for help if you're not sure what you're supposed to be doing," Noble said. "We've just got to be active and loud and aggressive at practice this week, just do whatever we can to keep that momentum from last week."
And with a short week after playing Saturday night, that could be a big key for the Comets: carrying over some of that momentum – and a few more of those big plays – into Week 2.
"We're a really motivated team, and we really rely on each other," Hicks said. "We keep each other pumped up at practice, and whenever we come off series as the D-line or the O-line, we keep each other motivated and fired up, no matter if it's a good drive or a bad drive. We love to have good drives, so we just keep our heads up and work hard to make every one a good one."