Nonconference games
Providence (1-0) at Wheaton North (1-0)
When: 7:30 p.m. Friday
Last matchup: First meeting
About the Celtics: The Week 1 victory over Willowbrook was a little surprising in the sense that Providence was breaking in a number of new players all over the field, but the bigger surprise came with the fact that the defense turned in a shutout against a Willowbrook team that historically posted points in bunches.
About the Falcons: Wheaton North had a very strong spring, going 5-1, and appears to have carried that momentum right into the fall by throttling Downers Grove South in its opener. Holy Cross-bound quarterback Mark Forcucci, 7-for-7 for 101 yards and four touchdowns in a half of action last week, is a playmaker with his arms and his legs. Karsten Libby made a memorable varsity debut with three catches, all three going for TDs. Junior linebacker Ross Dansdill, who had a 55-yard pick-six against Downers South, is a player to watch defensively.
Friday Night Drive Pick: Wheaton North
-- Steve Soucie
Neuqua Valley (1-0) at Wheaton Warrenville South (1-0)
When: 7:30 p.m. Friday
Last matchup: Neuqua Valley 35, Wheaton Warrenville 14 (2017)
About the Tigers: WW South's meeting with Neuqua is the programs' first since the Tigers left the DuPage Valley Conference for the DuKane. The Tigers made Sean Norris a winner in his head coaching debut last Friday, a 42-28 victory at Oak Park-River Forest. Matt Sommerdyke in his first game as WW South starting quarterback was 11-for-17 for 244 yards and four TDs. By the looks of things, this could be a high-scoring affair at Red Grange Field.
About the Wildcats: The Neuqua offense looked in midseason form in last Friday's 37-26 win over Oswego. Junior quarterback Mark Mennecke threw two touchdown passes, including one highlight reel throw to Carter Sessa, and Sessa caught two touchdown passes and ran for a third. Grant Larkin is another threat for the Wildcats, who hit on several big plays against Oswego. Neuqua is No. 6 in the latest Associated Press Class 8A poll, WW South No. 8 in the Class 7A poll.
FND Pick: Neuqua Valley
Nazareth (0-1) at Lemont (1-0)
When: 7 p.m. Friday
Last matchup: Nazareth 26, Lemont 7 (2014)
About the Roadrunners: Nazareth has a different look than in years past with its top expected returning player Tyler Morris, who injured his ACL in the spring, transferring to Plainfield East. There's still top-shelf talent on the roster in players such as Trell Harris, who holds multiple Division I offers, and Naval Academy recruit Peter Roll. Nazareth doesn't have a lot of depth overall though and lost its opener to Richards, 20-19.
About Lemont: Lemont dismantled St. Charles East, 47-6, in Week 1, scoring on its first six possessions. RB Albert Kunickis ran with authority with 121 yards and two TDs, which could provide a nice balance with a defense that looks like a top-notch group.
FND Pick: Lemont
Willowbrook (0-1) at Downers Grove North (1-0)
When: 7 p.m. Friday
Last matchup: Downers Grove North 42, Willowbrook 14 (2010)
About the Warriors: Willowbrook will definitely want to get its offense back on track. Providence shut out the Warriors 10-0 in Week 1, the first time Willowbrook had been shut out in nine years. Providence also handed Willowbrook its only regular-season loss in 2019, so the Warriors have been here before. Getting the offense going probably should start with establishing Josh Brown on the ground.
About the Trojans: Downers Grove North got its season off on a good note, beating Hoffman Estates 17-13. Now the Trojans get a chance to gauge themselves against the class of the Gold division over the last several years. The two programs have not met in over a decade, which adds a little intrigue to how they match up.
FND Pick: Willowbrook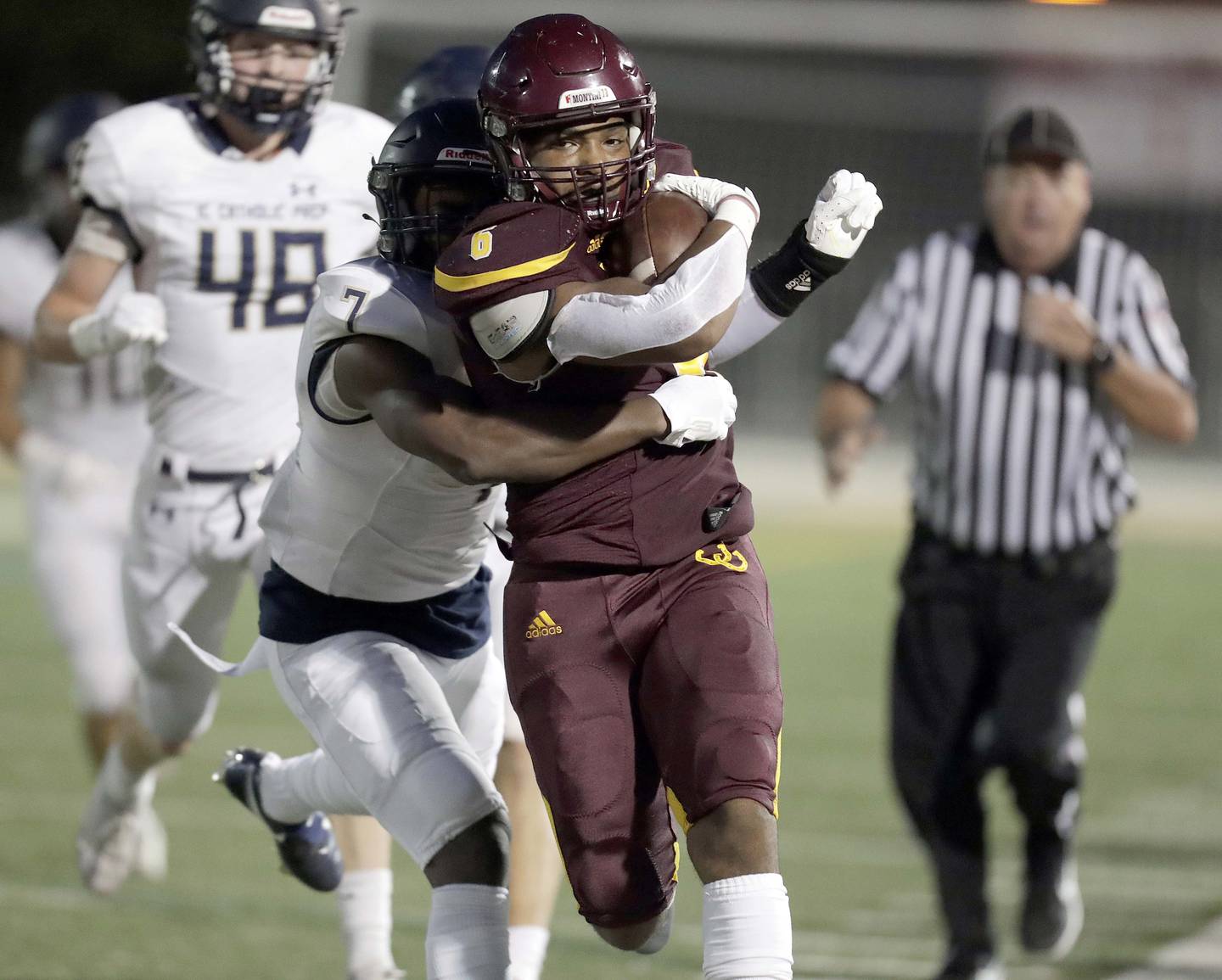 Montini (0-1) at Sterling (1-0)
When: 7 p.m. Friday
Last matchup: Montini 42, Sterling 20 (2018)
About the Golden Warriors: AJ Kested had 157 all-purpose yards for the Golden Warriors in the win at Lakes Week 1, producing in all three phases of the game as a running back, defensive back and return man. His special teams play in the second half helped set up Sterling with a short field on multiple drives, helping Sterling outscore Lakes 21-0 in the final 24 minutes. He returned five punts for 57 yards and three kickoffs for 69 yards. .On the line, Alejandro Arellano started most of the snaps on both offense and defense in Week 1. .On special teams, kicker Luis Diaz was 4-for-4 on extra points in the win over Lakes, added a field goal and booted a pair of kickoffs for touchbacks.
About the Broncos: Montini won the last meeting between the schools at Roscoe Eades Stadium, a 2018 Class 5A semifinal before losing to Joliet Catholic in the Class 5A championship. In that previous game at Sterling, Montini scored three touchdowns in just over three minutes thanks to Warriors turnovers and a punt return for a score. Montini turned to trickeration for its second score in the Week 1 loss to IC Catholic, using a double pass for a 37-yard touchdown with 19 seconds left. Defense came through for Montini in Week 1 as Evan Raczkowski and Eric Melendez both came up with interceptions.
FND Pick: Montini
-- Eric Ingles
Downers Grove South (0-1) at Glenbard West (1-0)
When: 1:30 p.m. Saturday
Last matchup: Glenbard West 48, Downers Grove South 2 (2019 first-round playoff game)
About the Mustangs: It was a rough opener for the Mustangs, who had just 35 yards and three first downs in the first half of a 50-0 loss to Wheaton North. Things don't get any easier for a team that starts just five seniors with a Saturday matinee at Duchon Field. It's no easy task to sustain drives against the Glenbard West defense, so hitting a few big plays to NIU recruit Eli Reed (five catches for 35 yards in Week 1) would seem to be a good place for Downers Grove South to start.
About the Hilltoppers: Some young Hilltoppers made quite a good first impression this past Saturday in a 50-26 win over Grandville (Mich.). Junior Joey Pope accumulated 272 all-purpose yards with a TD run and reception and 86-yard kickoff return for a third score. Sophomore Julius Ellens had a 53-yard TD reception. The Glenbard West defense wasn't too shabby either, limiting Grandville to just one score until the game was well in hand.
FND Pick: Glenbard West
Addison Trail (0-1) at Lyons (0-1)
When: 7 p.m. Friday
Last matchup: Lyons 42, Addison Trail 14 (2010)
About the Blazers: Addison Trail's opener, a 58-0 loss to a Plainfield Central team that won just one game in the spring, does not exactly portend good things to come. The Blazers have been given up points in bunches in 2021, over 40 points per game in the spring.
About the Lions: While no team is happy with a defeat, staying within 30-23 of a traditionally strong New Trier program seems to be a good sign for Lyons. A get-well game against Addison Trail before the Lions start the Silver portion of the schedule at Hinsdale Central next week comes at an opportune time.
FND Pick: Lyons.
Morton (0-1) at York (1-0)
When: 7 p.m. Friday
Last matchup: York 34, Morton 6 (2010)
About the Mustangs: Morton lost a heartbreaker in Week 1, losing 23-21 on a last-second field goal. The Mustangs showed quite a bit of grit in defeat, however, rallying from a 20-0 third-quarter deficit to take the lead with 1:29 left on a touchdown run by Quentin Dillion. Dillion, a 240-pound running back, gained 55 yards on 10 carries.
About the Dukes: York, coming off its first winning season in a decade, started this one in impressive fashion, a 37-7 win over Schaumburg. The Dukes scored 30 unanswered points. Junior wide receiver Charlie Specht had five catches for 129 yards and a TD in his varsity debut. Jeff Coglianese had seven tackles, three tackles for loss, and blocked a punt that he recovered for a TD.
FND Pick: York
Notre Dame (0-1) at Fenwick (1-0)
When: 7:30 p.m. Friday
Last matchup: Notre Dame 23, Fenwick 19 (2010)
About the Dons: Notre Dame lost to Glenbard North 19-14 in Week 1 in a game that went down to the wire. The Dons took a 14-13 lead with 2:52 left on Enzo Ricciardi's 8-yard TD pass to Kevin Durkin and Jack Doherty's 2-point conversion pass to Jalil Johnson. Ricciardi also scored on a 29-yard TD run.
About the Friars: Fenwick started its season in impressive fashion, rolling out to a 28-0 halftime lead and going on to beat Morgan Park 35-12. A tough early-season schedule continues with Notre Dame and Providence the next two weeks. Keep an eye on Max Reese, a 6-foot-3, 220-pound receiver/tight end who committed to Eastern Michigan in August.
FND Pick: Fenwick
Wauconda (1-0) at Riverside-Brookfield (1-0)
When: 7:15 p.m. Friday
Last matchup: Riverside-Brookfield 26, Wauconda 21 (2019)
About Wauconda: Wauconda won't complain about its start to the season, a 69-0 win over Proviso West, although that game is probably not an adequate barometer on the Bulldogs. Wauconda did go 5-1 in the spring, the program's first finish above .500 since 2007, so things could be trending up.
About Riverside-Brookfield: Matt Novak became an unlikely hero for the Bulldogs last Friday with a game-winning 49-yard field goal – Novak's first-ever varsity field goal attempt. Novak, who also caught seven passes for 50 yards, had never even attempted a 49-yarder in practice. R-B blew a 20-0 third-quarter lead but still came away with the thrilling win. The Bulldogs played without one of its best players, wide receiver Owen Murphy, who was in Florida trying out for the 18-under Team USA baseball team.
FND Pick: Riverside-Brookfield.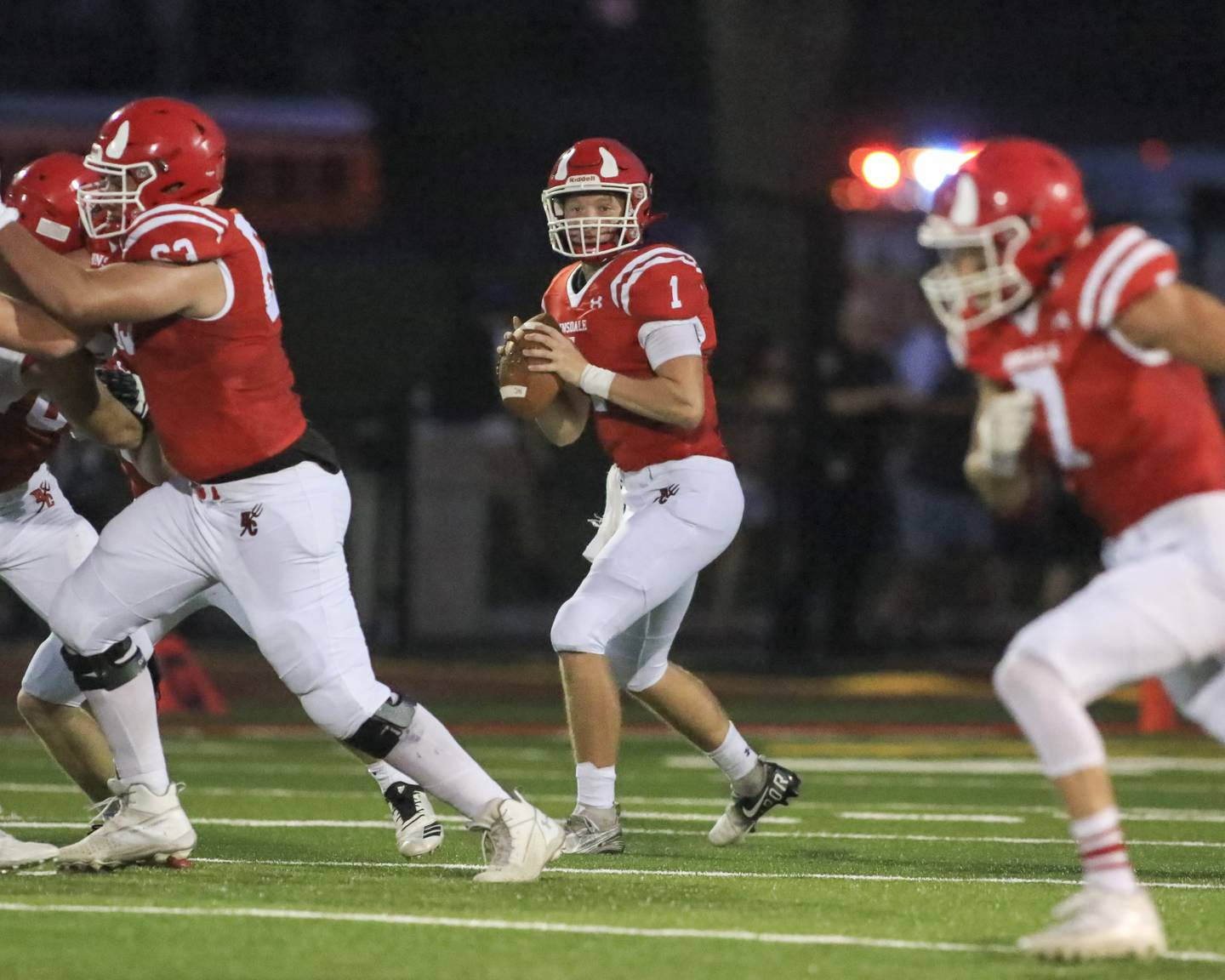 Proviso East (0-1) at Hinsdale Central (0-1)
When: 7:30 p.m. Friday
Last matchup: Hinsdale Central 28, Proviso East 0 (2010)
About the Pirates: A rough start to the season for Proviso East, which lost at Bradley-Bourbonnais 52-0. The Pirates were held to under 100 yards of offense in the game, and only managed two first downs in the first half when Bradley broke out to a 38-0 lead.
About the Red Devils: It would appear that Hinsdale Central's defense is a little ahead of its offense at this juncture of the season. The Red Devils managed just 28 rushing yards in a 14-2 Week 1 loss to Naperville Central, but its defense rose to the occasion in holding the Redhawks scoreless for a half. A matchup with Proviso East could provide an opportunity to work out the kinks before Hinsdale Central starts defense of its Silver division title.
FND Pick: Hinsdale Central
Hinsdale South (0-1) at Oak Park-River Forest (0-1)
When: 7 p.m. Friday
Last matchup: Oak Park-River Forest 49, Hinsdale South 26 (2010)
About the Hornets: The Hornets dropped their season opener 39-16 to Deerfield. Coincidentally, the last eight opponents on Hinsdale South's schedule also are 0-1 after Week 1. This crossover should provide a good opportunity to measure the relative strengths of teams in the Gold and Silver divisions.
About the Huskies: Oak Park-River Forest, like Hinsdale South, struggled to stop its Week 1 opponent from scoring in bunches, a 42-28 loss to Wheaton Warrenville South.
FND Pick: Oak Park-River Forest
Benet (0-1) at Moline (1-0)
When: 7 p.m. Friday
Last matchup: Benet 28, Moline 19 (2019)
About the Redwings: Benet dropped its season opener 35-13 to Naperville North, but it would be hard to blame Carson Forney for the loss. The Redwings' running back went for 153 yards and a touchdown. A nasty three-game stretch of road games is next with Moline, Brother Rice and St. Rita, which would seen to add a little more urgency to this one. Benet did well the last time it met up with Western Big Six power Moline.
About the Maroons: Moline acquitted itself quite well against the first of two CCL/ESCC teams on its schedule, dispatching of St. Laurence 28-7 in Week 1. Alec Ponder connected with Matthew Bailey for two TD passes and Riley Fuller had a long TD run. Ponder holds the single-game school record for passing yards with 374 against Galesburg in the spring, and also threw six TD passes in a win over Geneseo. Bailey was an honorable mention All-State pick as a junior in the spring.
FND Pick: Moline
Westmont (0-1) at Lisle (1-0)
When: 7 p.m. Friday
Last matchup: Westmont 18, Lisle 14 (2017)
About the Sentinels: It wasn't exactly the start to the season Westmont would have liked, dropping what looked like a winnable Week 1 game 15-8 to Walther Christian. The schedule stiffens considerably from here, starting with a date with former Interstate Eight Conference rival Lisle. After that is Aurora Christian, St. Edward and St. Francis.
About the Lions: Lisle, now part of the Illinois Central Eight Conference, beat Harvard 26-16 in Week 1. The Lions under veteran coach Paul Parpet made back-to-back Class 3A playoff appearances in 2018 and 2019. Lisle looks strong at the skill positions with dual-threat quarterback Tyrese Watson and two-way standout Gabe Quinones, a running back/linebacker.
FND Pick: Lisle
West Chicago (0-1) at Glenbard South (1-0)
When: 7:30 p.m. Friday
Last matchup: Glenbard South 48, West Chicago 7 (2019)
About the Wildcats: It was a rough opener for West Chicago, a 62-7 loser to Streamwood. Tyler Belding, a 2002 West Chicago graduate, is in his third season as head coach, with a record of 1-11 so far. Wide receiver Mason Wright, who had 14 catches for 285 yards and three TDs during the abbreviated two-game spring season, is one to watch offensively.
About the Raiders: Glenbard South comes out of Week 1 with a full head of steam after beating Bartlett 28-0, the Raiders' first win over the Hawks since moving to the Upstate Eight Conference in 2018. Glenbard South's defense held Bartlett to just 65 yards of offense. Standout running back Trevor Burnett, one of the more dynamic threats in the area, ran for 165 yards on 28 carries with two TDs. Sophomore quarterback Michael Champagne threw for two TD passes.
FND Pick: Glenbard South
Peoria (1-0) at St. Francis (0-1)
When: 7:30 p.m. Friday
Last matchup: First known meeting
About the Lions: The Lions beat Peoria Richwoods 62-27 in Week 1, and that kind of offense is nothing new for those who follow Peoria football. The Lions averaged just a tick under 40 points per game during the spring, twice topping 60 points. Head coach Tim Thornton, in his 11th season, seems to have Peoria rolling again with records of 9-2 and 6-1 the last two seasons after going 4-5 in 2018, only his second losing season.
About the Spartans: St. Francis certainly is testing itself with bigger schools and quality opponents in the non-conference. The Spartans lost to Class 6A school Lake Forest 41-21 in Week 1, and now get Peoria, almost double the classification enrollment of St. Francis. St. Francis sophomore quarterback Alessio Milivojevic, in his first varsity start, was 15-for-30 for 198 yards with one TD and one interception. Freshman wide receiver Ian Willis made an eye-opening high school debut with nine receptions for 124 yards, including an 18-yard TD catch in the third.
FND Pick: Peoria
Christ the King (0-1) at Wheaton Academy (0-1)
When: 7:30 p.m. Friday
Last matchup: Wheaton Academy 51, Christ the King 6 (2019)
About Christ the King: Christ the King, an independent school, dropped its season opener 51-22 to another Metro Suburban Conference opponent, St. Edward. Christ the King, with first-year head coach Elbert Muhammad, did not play in the spring and went 2-7 in 2019.
About Wheaton Academy: The Warriors dropped their season opener in Wisconsin, 17-14 to Brookfield. This looks like an ideal opportunity for Wheaton Academy to put up a win before heading into Metro Suburban Conference play in Week 3.
FND Pick: Wheaton Academy
IC Catholic Prep (1-0) at Marian Central (1-0)
When: 7:15 p.m. Friday
Last matchup: Marian Central 49, IC Catholic 17 (2013)
About the Knights: IC Catholic defeated Montini, 17-15, in the opener, and continue their reunion tour against former Suburban Christian Conference rivals with Marian Central. RB Malik Gray rushed for 120 yards and two touchdowns in the victory over Montini. Defensively, Connor McCoy had 12 tackles, Jadon Mims 10 and sophomore KJ Parker had two interceptions. The Knights are ranked No. 3 in Class 2A.
About the Hurricanes: Marian defeated Johnsburg, 39-25, in their opener. The Hurricanes trailed, 25-12, late in the first half before QB Brendan Hernon hit WR Christian Bentancur with a 17-yard touchdown pass to close the half. Hernon threw for 343 yards and four touchdowns, Bentancur caught seven passes for 10 yards.
FND pick: IC Catholic.
-- Joe Stevenson
Upstate Eight Conference
Glenbard East (1-0, 1-0) at Elgin (0-1, 0-1)
When: 7:30 p.m. Friday
Last matchup: Elgin 14, Glenbard East 7 (spring 2021)
About the Rams: Glenbard East took care of Larkin 24-7 in Week 1, and now go for the sweep of Elgin schools. The close spring loss to Elgin is surely one the Rams want to reverse the script on as they stay on pace to make the program's third straight playoff appearance.
About the Maroons: Elgin lost to East Aurora 32-14 in Week 1, a bit of an eye-opening result considering East Aurora went winless in the spring and Elgin is coming off a 4-2 spring – the program's first winning season since 2010. Elgin graduated standout quarterback Jeff Lomax but does have experience up front with four senior returning offensive linemen.
FND Pick: Glenbard East