Nonconference games
Batavia (1-0) at Oswego (0-1)
When: 7 p.m. Friday
Last matchup: Batavia 36, Oswego 28 (2015)
About the Bulldogs: That Batavia was a winner last week over visiting Phillips was one thing. The fact that the Bulldogs did so by a 33-6 margin was an eye-opener and testament to Batavia's talent and preparation. Josh Dornink, one of a strong group of Batavia running backs, went for three touchdowns and two-way star Jalen Buckley had a long TD run. Junior linebacker Tyler Jansey, the younger brother of former Batavia standout Michael Jansey, already holds an offer from Wisconsin. Batavia is starting a sophomore, Ryan Boe, at quarterback, so establishing the run figures to be a priority.
About the Panthers: Oswego's relatively inexperienced defense received a tough introduction to the fall season in a 37-26 loss to Neuqua Valley, the most points given up by the Panthers since 2015. Oswego has the pedigree to figure things out, although it doesn't get any easier with Batavia. Junior Cruz Ibarra, sharing reps at quarterback with Julian Toma, ran for a 13-yard TD and threw one to Connor Deal. The two schools met up in two memorable meetings in 2014 and 2015, splitting two games that came down to the final minute. Oswego seeks to avoid its first 0-2 start since 2013.
FND Pick: Batavia
Lincoln-Way West (0-1) at Oswego East (1-0)
When: 7 p.m. Friday
Last matchup: First meeting
About the Warriors: Lincoln-Way West stepped up its nonconference schedule this season and there were consequences to that as a very difficult Hersey squad made life difficult for them last week. The Warriors did run the ball effectively behind a 129-yard effort from Justin Harris, but the passing game really scuffled completing just nine passes in 26 tries. The Warriors will also need to shore up their pass defense as they gave up four touchdown passes in the loss.
About the Wolves: If Week 1 is any indication, Oswego East's defense will be a strong suit again as it shut out Waubonsie Valley into the fourth quarter and forced three turnovers in a 17-7 win. Illinois recruit Jared Badie made his presence felt immediately with two forced fumbles, one of which he recovered himself. The Wolves' offense, with five new linemen, looks like a work in progress as it struggled to sustain much of anything against Waubonsie. Junior quarterback Tre Jones showed flashes of his potential with a 57-yard TD run and a key 29-yard pass to set up another score.
FND Pick: Oswego East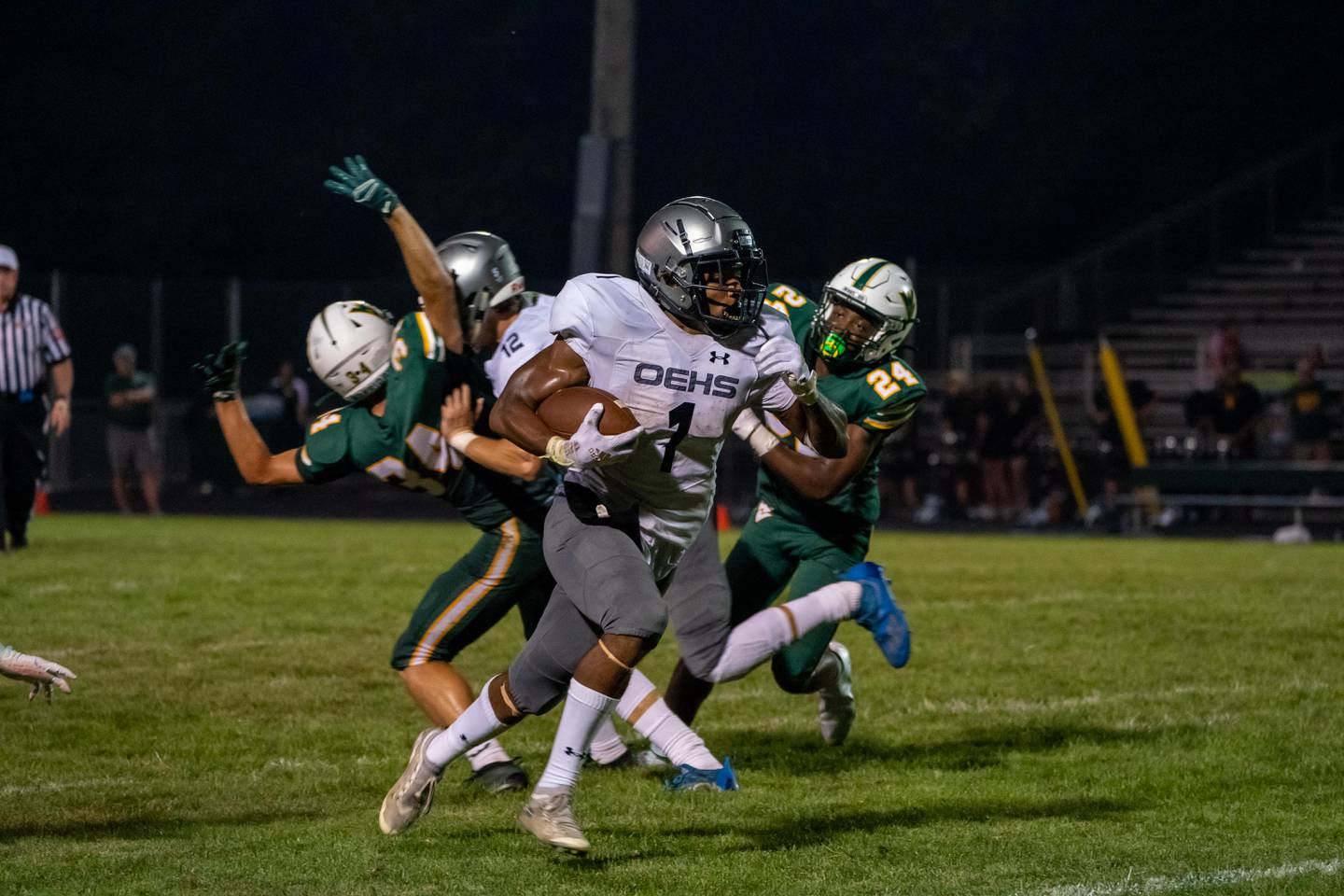 Yorkville (1-0) at Plainfield Central (1-0)
When: 7 p.m. Friday
Last matchup: Yorkville 26, Plainfield Central 14 (spring 2021)
About the Foxes: Yorkville took care of business in Week 1, jumping out to a 37-0 halftime lead on Romeoville en route to a 44-14 win. Senior quarterback Nate Kraus, in his varsity debut, showcased multiple skill sets as he threw for 72 yards and a TD and ran for 68 and a TD. Deajeion Lewis ran for 107 yards. Junior Andrew Laurich, a leader of what shapes up to be a strong Foxes' defensive line, had six tackles, two tackles for loss and two sacks. The Foxes are wary of Plainfield Central running back Aaron Larkins, who broke a long TD run against them in the spring.
About the Wildcats: Plainfield Central looked to be turning the corner during the spring season and continued that progression with a win over Addison Trail. Although it would be hasty to put too much stock in a big win over a historically struggling program, the dominating fashion in which it was done is a good sign for the Wildcats. Aaron Larkins netted five touchdowns, while Abram Zimmerman joined Larkins in breaking the 100-yard barrier.
FND Pick: Yorkville
Plano (1-0) at Manteno (0-1)
When: 7:30 p.m. Friday
Last matchup: Plano 33, Manteno 19 (2018)
About the Panthers: Manteno, a former Interstate Eight Conference rival of Plano's, is now in its third season in the Illinois Central Eight Conference. The Panthers were shut out by Evergreen Park 20-0 in Week 1. Wide receiver Jack Prindeville, also a defensive stalwart at cornerback, is a player to watch. Manteno has made playoff appearances in all but one season since 2010 under head coach RJ Haines.
About the Reapers: Plano projects to have increased team speed this fall, and that certainly was on full display in a 44-0 Week 1 win over Aurora Central Catholic. Senior tailback Ray Jones and sophomore wide receiver Waleed Johnson combined for 392 yards of total offense and each scored three TDs, breaking off several long scoring plays. Plano seeks its first 2-0 start since 2015.
FND Pick: Plano
Sandwich (0-1) at Geneseo (1-0)
When: 7 p.m. Friday
Last matchup: Sandwich 10, Geneseo 7 (2010 second-round playoff game)
About the Indians: Sandwich got off to a tough start to the season, a 42-14 loss to Ottawa, and it doesn't get any easier with a road trip west to traditionally strong Geneseo. Ottawa outgained Sandwich 433-271. The Indians did get 55 yards rushing from Austin Marks. Although this iteration of the Indians face an uphill climb Friday, the last meeting between these two programs was a memorable one for the Sandwich program. In a 2010 second-round playoff game Sandwich beat Geneseo 10-7 on a last-second field goal, en route to a run to the Class 4A state semifinals.
About the Maple Leafs: Geneseo, out of the Western Big Six, had no problem with Chicago Noble/Corner last week, rolling 49-0. The Maple Leafs' strength looks to be its veteran offensive line, a group anchored by Nathan VandeWoestyne. A young Geneseo defense could start as many as five sophomores. Geneseo missed the playoffs in 4-5 2018 and 2019 seasons, but prior to that made the postseason in all but one year going back to 1995.
FND Pick: Geneseo