Nonconference games
Batavia (1-0) at Oswego (0-1)
When: 7 p.m. Friday
Last matchup: Batavia 36, Oswego 28 (2015)
About the Bulldogs: That Batavia was a winner last week over visiting Phillips was one thing. The fact that the Bulldogs did so by a 33-6 margin was an eye-opener and testament to Batavia's talent and preparation. Josh Dornink, one of a strong group of Batavia running backs, went for three touchdowns and two-way star Jalen Buckley had a long TD run. Junior linebacker Tyler Jansey, the younger brother of former Batavia standout Michael Jansey, already holds an offer from Wisconsin. Batavia is starting a sophomore, Ryan Boe, at quarterback, so establishing the run figures to be a priority.
About the Panthers: Oswego's relatively inexperienced defense received a tough introduction to the fall season in a 37-26 loss to Neuqua Valley, the most points given up by the Panthers since 2015. Oswego has the pedigree to figure things out, although it doesn't get any easier with Batavia. Junior Cruz Ibarra, sharing reps at quarterback with Julian Toma, ran for a 13-yard TD and threw one to Connor Deal. The two schools met up in two memorable meetings in 2014 and 2015, splitting two games that came down to the final minute. Oswego seeks to avoid its first 0-2 start since 2013.
Friday Night Drive Pick: Batavia
Kaneland (1-0) at Geneva (1-0)
When: 7 p.m. Friday
Last matchup: Kaneland won, 42-14, in 2019.
About the Knights: It was a late touchdown for Corey Phillips that sealed the Knights' 27-23 win at Andrew last week, but it was sophomore quarterback Troyer Carlson who had a breakout game, with 285 of Kaneland's 376 yards coming through the air. Carlson was 20 of 27 with three touchdowns and no interceptions.
"I thought Troyer had a good game," coach Pat Ryan said. "All players on the roster have room for improvement, Troyer included. But the exciting part is they played pretty [good], and there's also room for improvement. He has an extremely high ceiling in terms of potential. He's so young, but there's room for growth."
Sam Gagne and Aric Johnson caught almost two-third of those passes, with Gagne making two grabs for 109 yards and Johnson six for 104 and two touchdowns. Phillips, in addition to his 88 yards on the ground, had three catches for 24 yards and a touchdown.
While giving up 325 yards to the Thunderbolts, Kaneland forced five turnovers. Johnny Spalasso and Tony DeBlasio each got an interception, while Michael Weintraub, Jackson Marler and Billy Bruno each had a fumble recovery.
"We have 11 new faces on that defense," Ryan said. "I think it took us a few series to get a feel for what is like to play varsity football. Once we settled in we started playing a lot better. We tackled better. We had better pursuit. We forced turnovers, and that helped us win the game."
Ryan also pointed out that there will be a battle on the sidelines between his defensive coordinator, Mike Thorgesen, and new Geneva head coach Boone Thorgesen. Both are sons of hall of fame Kaneland coach Joe Thorgesen. Ryan said Boone Thorgesen calls the plays for the Vikings and will go against his brother, the Knights' defensive coordinator.
About the Vikings: Alex Porter is in his first full season starting after splitting reps with Jackson Reyes in the spring. The Vikings converted defensive end Carter Powelson to running back and got a good early return last week. Their strength should lie on their offensive line with three coming back from the spring. They graduated a good amount on defense, so it's still a little bit of an unknown.
FND Pick: Kaneland
Lake View (0-1) at Marmion (1-0)
When: 7:30 p.m. Friday
Last Matchup: Believed to be first meeting
About the Cadets: The Cadets were able to establish the run last week against Bishop McNamara in a big way with 185 rushing yards. Nine Cadets received at least one carry, led by Josh Lim. Quarterback Danny Chung was only 3-of-12 through the air, but connected on a 50-yard touchdown pass to Lim. Ivan Erickson led with six tackles defensively, three for-loss.
About the Wildcats: Lake View opened with a 59-0 loss to Niles North last week.
FND Pick: Marmion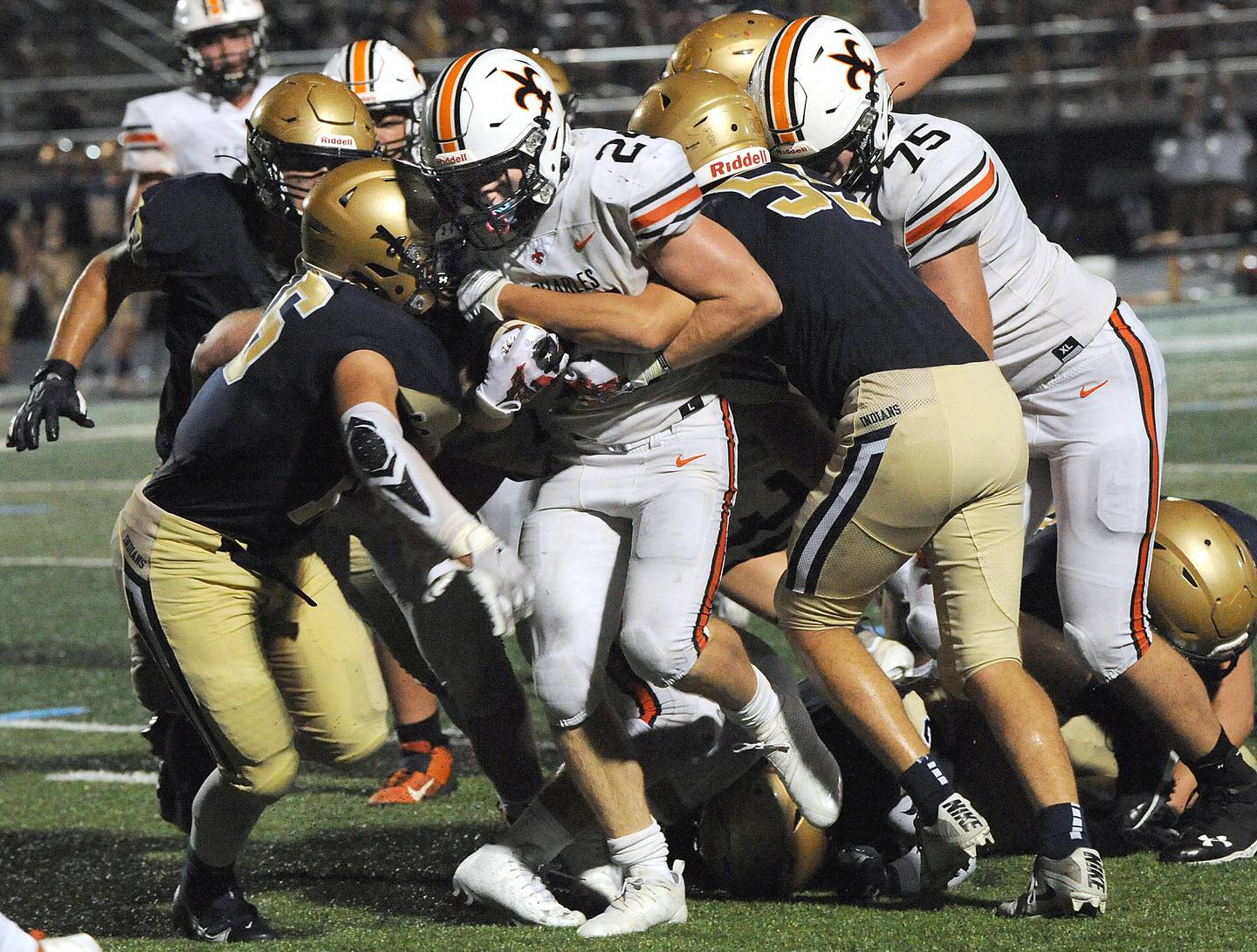 Peoria (1-0) at St. Francis (0-1)
When: 7:30 p.m. Friday
Last matchup: First known meeting
About the Lions: The Lions beat Peoria Richwoods 62-27 in Week 1, and that kind of offense is nothing new for those who follow Peoria football. The Lions averaged just a tick under 40 points per game during the spring, twice topping 60 points. Head coach Tim Thornton, in his 11th season, seems to have Peoria rolling again with records of 9-2 and 6-1 the last two seasons after going 4-5 in 2018, only his second losing season.
About the Spartans: St. Francis certainly is testing itself with bigger schools and quality opponents in the non-conference. The Spartans lost to Class 6A school Lake Forest 41-21 in Week 1, and now get Peoria, almost double the classification enrollment of St. Francis. St. Francis sophomore quarterback Alessio Milivojevic, in his first varsity start, was 15-for-30 for 198 yards with one TD and one interception. Freshman wide receiver Ian Willis made an eye-opening high school debut with nine receptions for 124 yards, including an 18-yard TD catch in the third.
FND Pick: Peoria
Waubonsie Valley (0-1) at St. Charles East (0-1)
When: 7:30 p.m. Friday
Last Matchup: 21-14 Waubonsie Valley in 2009
About the Saints: The Saints had a rough start to their season with a difficult loss to Lemont last week. Turnovers and establishing drives were an apparent problem. Quarterback Nathan Hayes was limited to just 8-of-23 passes for 104 yards. Calin Smith paced the Saints on the ground with 48 rushing yards, so finding a breakout candidate or two will be a development to watch as they attempt to get back on track.
About the Warriors: Waubonsie Valley running back Antonio Torres is definitely a feature player in their offense. Torres had ran for 68 yards on 19 carries and caught four passes for 44 yards last week. The Warriors struggled with three turnovers against Oswego East, so taking better care of the football should be a focus.
FND Pick: St. Charles East
St. Charles North (1-0) at Lake Zurich (1-0)
When: 7:30 p.m. Friday
Last Matchup: Believed to be first meeting
About the North Stars: The North Stars defense limited Palatine last week to just seven first downs and shut down Iowa commit Jacob Bostick. Senior star linebacker George Litgen led the way with seven tackles and is among the top linebackers in the conference. Freshman quarterback Ethan Plumb had a solid debut and the North Stars are getting contributions from other underclassmen like Jake Mettetal and Anthony Taormina.
About the Bears: Ben Cooper received the bulk of carries for the Bears, who combined for 190 yards on the ground last week in a convincing win over Fremd. He'll also be supplemented by Cal Grabowski. Quarterback Jarred Meyers didn't pass very much last week with only seven attempts, but he'll be tested by the North Stars' front seven, which can generate pressure.
FND Pick: St. Charles North
Fox Valley Conference
Burlington Central (1-0, 1-0) at Prairie Ridge (1-0, 1-0)
When: 7 p.m. Friday.
Last matchup: Prairie Ridge defeated Burlington Central, 56-16, in Week 7 of the 2019 season.
About the Rockets: Burlington beat Hampshire, 28-25, in the opener. … The Rockets got a huge game from RB-LB Gavin Sarvis, who ran 30 times for 158 yards and two touchdowns on offense, and recorded 12 tackles, with three sacks and three quarterback pressures on defense. … LB Robbie Gaul added 11 tackles and returned a fumble for a touchdown.
About the Wolves: Prairie Ridge beat McHenry, 41-31, in the opener. … QB Mason Loucks stepped in for injured Tyler Vasey and led the offense to 418 yards rushing. The Wolves' offensive line paved the way for three 100-yard rushers – Zach Bentsen (181), FB Nathan Greetham (125) and Loucks (112).
FND pick: Prairie Ridge.