Nonconference Games
Plainfield South at DeKalb
When: 7 p.m. Friday
Last matchup: First meeting since at least 1995
About the Barbs: DeKalb needed overtime but took care of rival Sycamore, 23-16. Toriano Tate had 15 carries for 125 yards and a touchdown, plus an 11-yard touchdown catch to tie the game with 13 seconds left. Josh Klemm started at quarterback and was 10 of 19 for 142 yards and an interception.
"We did just OK [offensively]," coach Derek Schneeman said. "In the first half we shot ourselves in the foot too many times. There were times we put drives together and ended them with a penalty. In the second half, we came into ourselves more and settled down and did a better job executing our blocks to get Toriano free more. Hopefully that's momentum. It finally clicked at the end of the game, and hopefully that carries into Friday and we can get rid of broken plays and penalties."
Klemm was injured, however, on a big hit by Ethan Storm that caused a fumble that was returned by Kiefer Tarnoki to put Sycamore ahead late in the fourth. Adrien McVicar – who was playing receiver while Klemm was at quarterback – threw the tying touchdown pass in regulation and the go-ahead score to Ethan McCarter in overtime.
Schneeman said Klemm is questionable to play Friday, but on the whole the team is pretty healthy.
"I'm immensely pleased with both Josh and Adrien," Schneeman said. "When Adrian stepped in he made impressive throws not a ton of high school kids can make. He impressed me with his poise. He looked like he was in total control and nothing phased him, not the crowd, anything."
Cooper Phelps was the team's lead receiver with seven catches for 94 yards, McCarter had four catches for 87 yards, McVicar three for 26 and Tate two for 12.
Defensively, Isaac Genseke and Kenneth Weeks had first-quarter fumble recoveries for the Barbs, while Ethan Tierney had the game-winning interception in overtime. Sycamore's only touchdown drive was a two-play, 56-yard drive.
Schneeman said he was pleased with the defense.
"Sycamore is really good and tough to defend because they can spread you out or go to their wing-T sets, too," Schneeman said. "We held when we needed to, and to only give up 16 points to a team of that caliber is great, and really on 10 because they got six on a fumble recovery."
About the Cougars: Plainfield South coach Bill Bicker didn't make it a secret that the Cougars would be going into the season with a young, relatively inexperienced squad. They showed they've still got some growing todo in a Week 1 loss to a more seasoned West Aurora team. But any team with an explosive runner like Brian Stanton can't be discounted.
FND Pick: DeKalb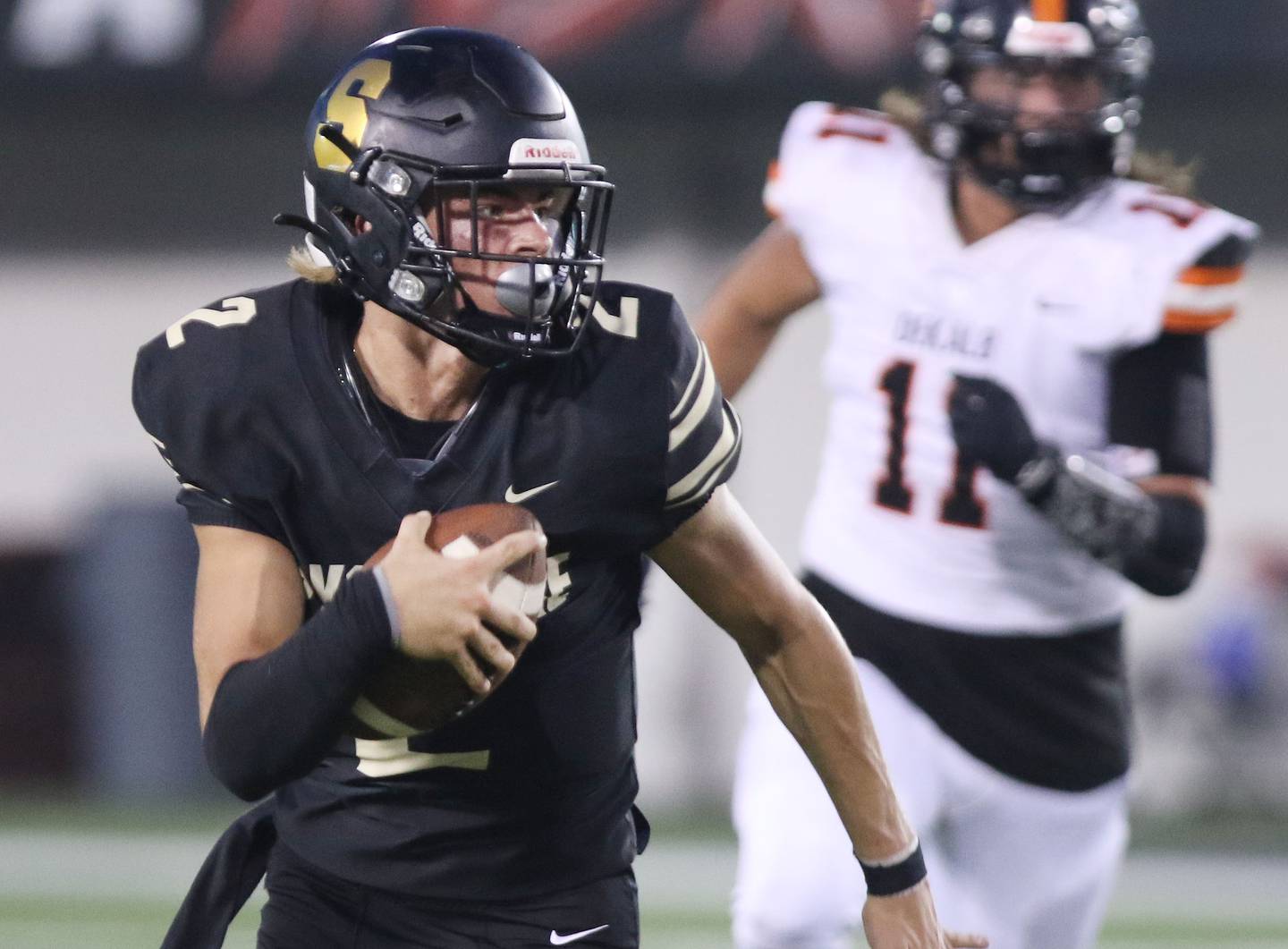 Sycamore at Oak Forest
When: 7 p.m. Friday
Last matchup: First meeting since at least 1995.
About the Spartans: Although it was a 23-16 overtime loss to DeKalb in the opener, Eli Meier had a strong game for the Spartans. The junior quarterback, who started in the spring season for Sycamore, was 12 for 18 for 212 yards and one interception, although that came in the overtime and secured the win for the Barbs. He also had a 20-yard run for a touchdown, finishing with 65 yards on the ground.
The linebacking corps that returned all four starters from the spring shined. That was evident late in the game when Ethan Storm hit DeKalb quarterback Josh Klemm on a bad snap, which allowed Kiefer Tarnoki to scoop it up and go 60 yards for a touchdown, putting the Spartans up, 16-10.
"We got good film 'cause we got to see a good team," Sycamore coach Joe Ryan said. "Obviously, we didn't come out on what we wanted to be the right end of the score, but that's where you can see where you're at. But we're making those corrections this week. The kids came back ready to go, and we had a really good first two days of practice and continue to do so, and I think we'll play well on Friday."
About the Bengals: After a 1-1 spring season, Oak Forest opened the fall season with a 28-6 win against Westinghouse. It was a win in the first game for coach Anthony Malopsy.
The Bengals made the playoffs every year from 2000 to 2016 but had gone winless in 2019.
"We went and watched them Saturday, and they're very aggressive defensively," Ryan said. "I think that's their strong side of the ball. I think they're still working through some things on offense, but they fly to the ball and play hard on defense. We just have to execute blocks, 'cause they don't stay blocked."
FND Pick: Sycamore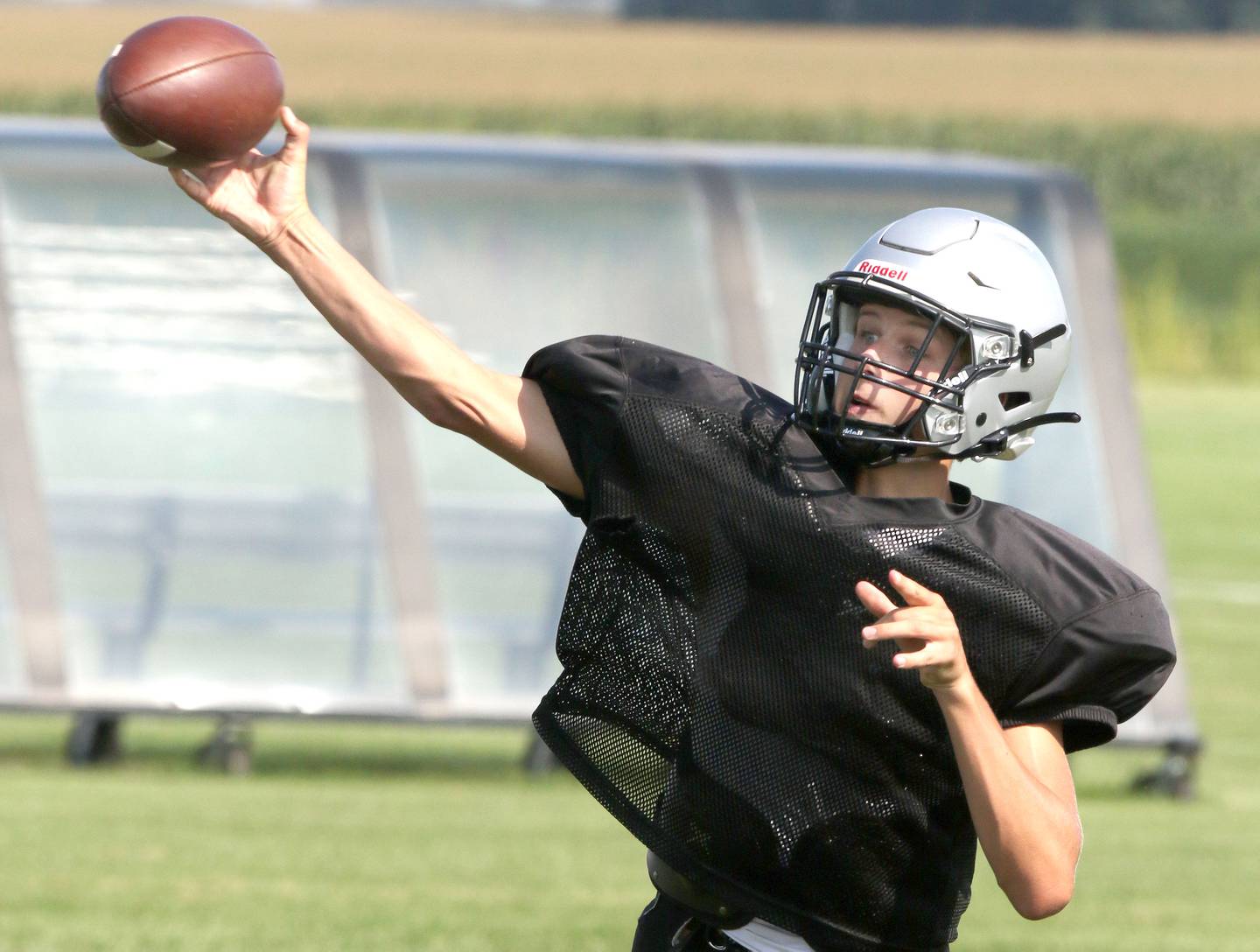 Kaneland at Geneva
When: 7 p.m. Friday
Last matchup: Kaneland won, 42-14, in 2019.
About the Knights: It was a late touchdown for Corey Phillips that sealed the Knights' 27-23 win at Andrew last week, but it was sophomore quarterback Troyer Carlson who had a breakout game, with 285 of Kaneland's 376 yards coming through the air. Carlson was 20 of 27 with three touchdowns and no interceptions.
"I thought Troyer had a good game," coach Pat Ryan said. "All players on the roster have room for improvement, Troyer included. But the exciting part is they played pretty [good], and there's also room for improvement. He has an extremely high ceiling in terms of potential. He's so young, but there's room for growth."
Sam Gagne and Aric Johnson caught almost two-third of those passes, with Gagne making two grabs for 109 yards and Johnson six for 104 and two touchdowns. Phillips, in addition to his 88 yards on the ground, had three catches for 24 yards and a touchdown.
While giving up 325 yards to the Thunderbolts, Kaneland forced five turnovers. Johnny Spalasso and Tony DeBlasio each got an interception, while Michael Weintraub, Jackson Marler and Billy Bruno each had a fumble recovery.
"We have 11 new faces on that defense," Ryan said. "I think it took us a few series to get a feel for what is like to play varsity football. Once we settled in we started playing a lot better. We tackled better. We had better pursuit. We forced turnovers, and that helped us win the game."
Ryan also pointed out that there will be a battle on the sidelines between his defensive coordinator, Mike Thorgesen, and new Geneva head coach Boone Thorgesen. Both are sons of hall of fame Kaneland coach Joe Thorgesen. Ryan said Boone Thorgesen calls the plays for the Vikings and will go against his brother, the Knights' defensive coordinator.
About the Vikings: Alex Porter is in his first full season starting after splitting reps with Jackson Reyes in the spring. The Vikings converted defensive end Carter Powelson to running back and got a good early return last week. Their strength should lie on their offensive line with three coming back from the spring. They graduated a good amount on defense, so it's still a little bit of an unknown.
FND Pick: Kaneland
Big Northern Conference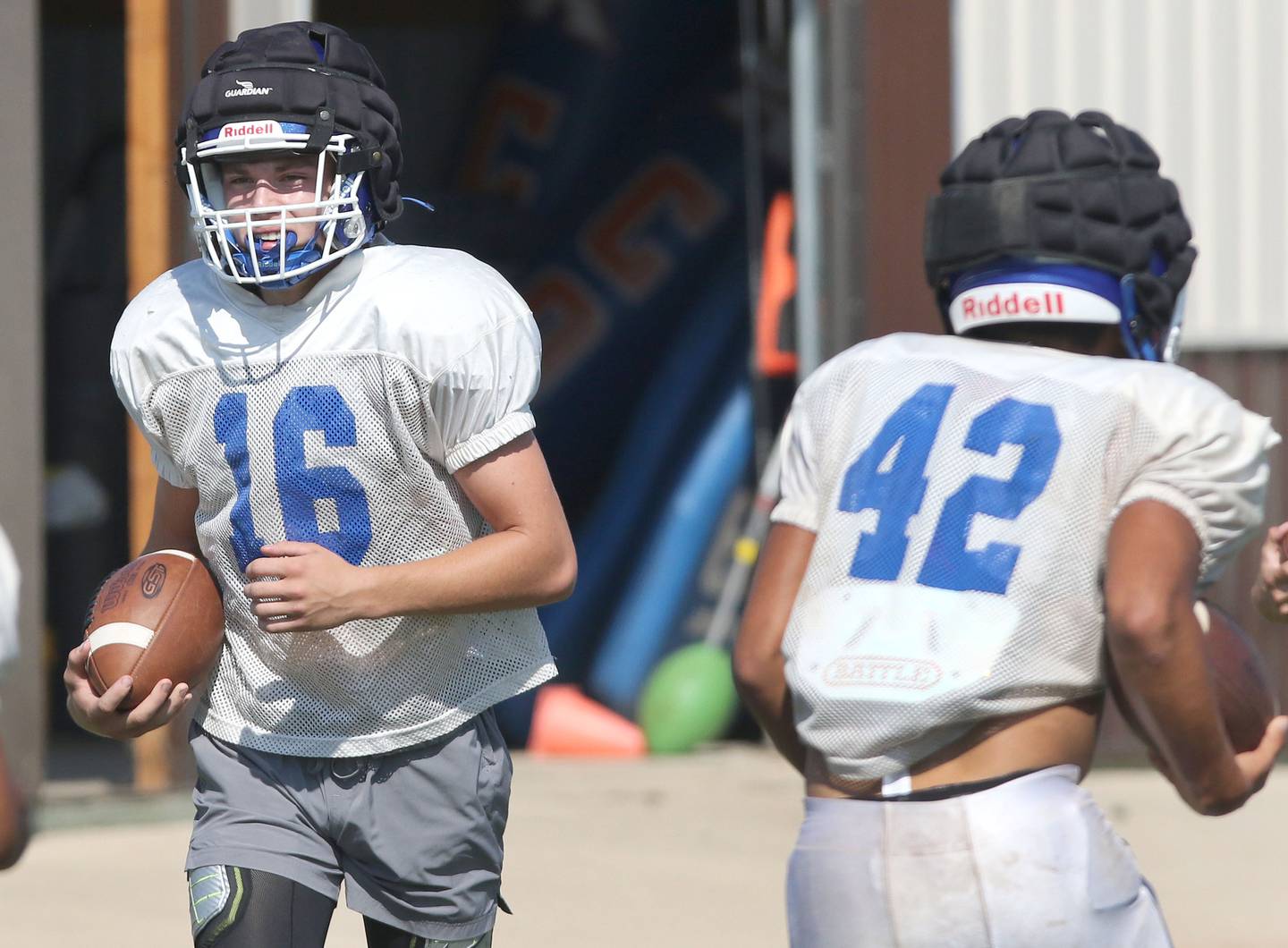 Rockford Lutheran at Genoa-Kingston
When: 7 p.m. Friday
Last matchup: The Cogs were 21-0 winners in 2019.
About the Crusaders: The Crusaders were shut out in Week 1 (35-0) by a resurgent North Boone team. It was the eighth straight regular-season win for the Vikings.
The Crusaders went 2-0 in the spring season and were 4-5 in 2019, last making the playoffs in 2016.
"On film they look physical and athletic," first-year Genoa-Kingston head coach Cam Davekos said. "We're not taking anybody lightly, each and every week we prepare like they're the best team we're going to face. We have to make sure we have everything in line for us to do our jobs and do our jobs well."
About the Cogs: Technically, the Cogs' 26-3 win over Winnebago was the closest BNC game of Week 1 and the only game that was not a shutout. Winnebago kicked a late field goal to deprive the Cogs of the shutout.
"We just look at that like it is what it is," Davekos said. "They kicked a field goal with 30 seconds left with a pretty good field goal kicker. A shutout would have been nice but it's not something we think about. We think about doing our job and making sure we are focused and do what we need to do to get the job done."
Jake Oates led the team defensively, while Colin Nesler ran the ball 18 times for 97 yards. Brody Engel ran six times for 41 yards and two touchdowns in the win.
"We're feeling pretty good," Davekos said. "The kids say they're sore, which to me is a good thing. In my eye, it means we pushed our limits out there in Game 1. We had some mental mistakes, a few penalties here and there we need to clean up."
Davekos said the team actually is getting healthier with three more players available this week that weren't last week – Colton Hinds, Tyler Benson and Andrew Benson.
FND Pick: Genoa-Kingston
8-man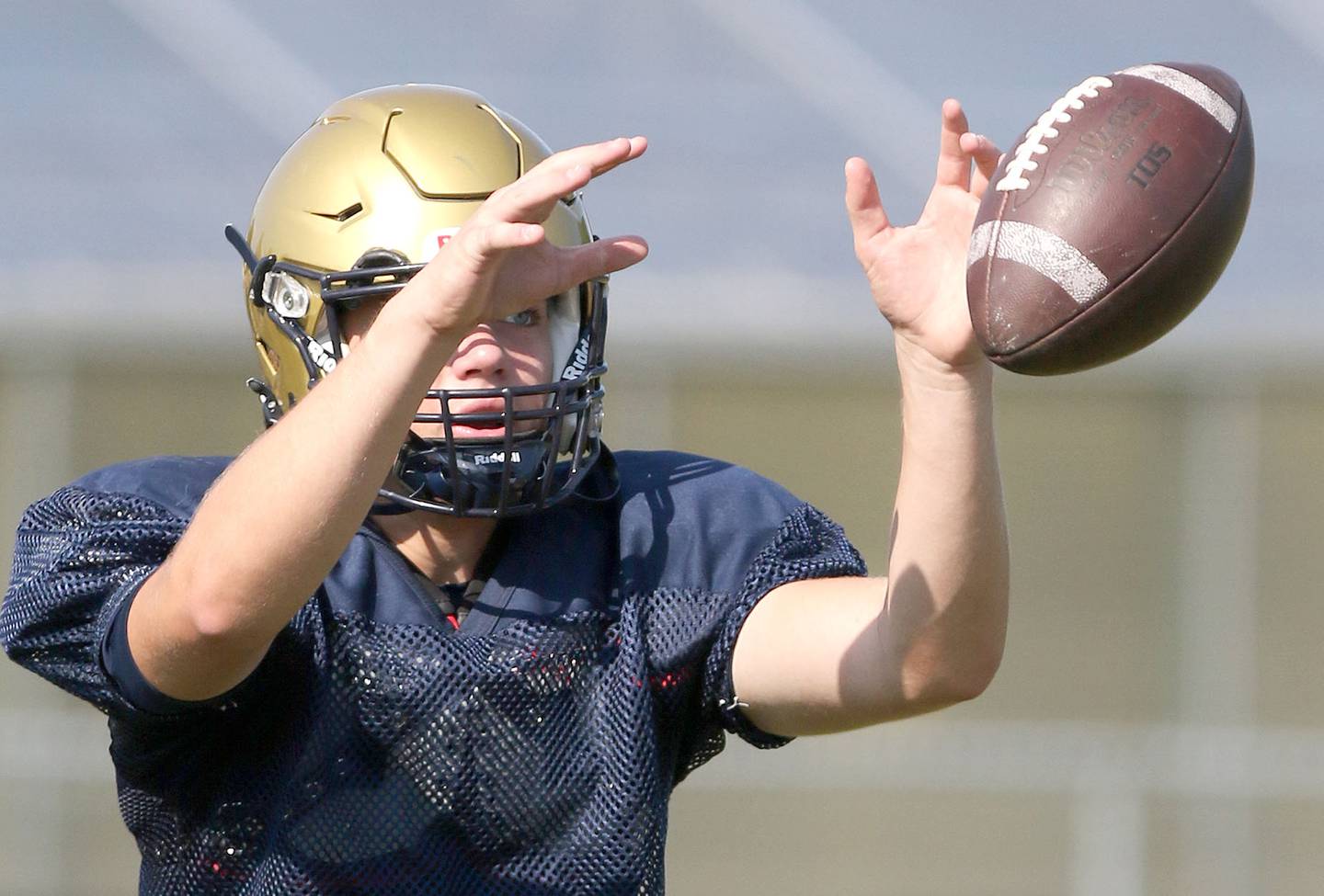 Alden-Hebron at Hiawatha
When: 7 p.m. Friday
Last matchup: It's the first 8-man matchup between the teams. The Hawks won, 21-6, in 2016 in a Northeastern Athletic Conference game.
About the Hawks: Hiawatha opened its first full-season at the 8-man level with a 54-6 win against Blue Ridge. Cole Brantley led the way with 192 rushing yards and three touchdowns, as the Hawks didn't have to attempt a pass in the game.
"We feel optimistic," first-year coach Nick Doolittle said. "We know that it's definitely going to be a better game this week. The kids are really working positively and working hard to be ready Friday. I think it will be a good game."
Backup Hayden Bingaman also had a big game for the Hawks, rushing for 151 yards and two touchdowns on only eight carries. Lucas Norvell had a 35-yard interception return for a score as well.
"We have to play like we know we can play," Doolittle said. "They play good on defense. They run a lot out of different formations and packages. We have to be able to communicate and do our jobs. Hopefully, that will make us successful. Offensively we need to keep it rolling and just do our jobs."
About the Giants: Alden-Hebron dropped its opener, 67-15, to Orangeville, but quarterback Ben Vole managed to go 10 of 17 for 136 yards and a touchdown. Nik Rapa had the other touchdown, a fumble return for a 37-yards. The Giants allowed 411 total yards, 401 on the ground.
Thomas Weber was the leading rusher for the Giants carrying six times for 17 yards. Parker Elswick was the leading receiver with four catches for 89 yards and a score.
FND Pick: Hiawatha