Rock Falls beat Rockford Christian 50-0 Friday, holding the Royal Lions to two first downs in the game and just 23 rushing yards and 19 passing yards.
Of the 31 plays from scrimmage Rockford Christian ran, six were thrown for a loss, with 12 others gaining 0 to 2 yards. Quarterback Keon Leach was sacked three times, and with sacks counting as lost rushing yards in high school football, that left him with seven carries for minus-29 yards in the game.
Rockford Christian never crossed midfield in the game, only getting the ball as far as its own 47.
Rock Falls coach Kevin Parker said he saw his defensive line "getting off the ball, playing our gaps there and pushing them back. We have to step it up for next week."
Field position comes up big in second half: Sterling played a close first half in a Week 1 win over Lake Villa Lakes.
The second half was not as close, as the Golden Warriors pulled away with a 21-0 edge in the final 24 minutes.
A big part of that came down to field position, helped by AJ Kested breaking off returns both on kickoffs and punts.
"He did a great job in getting us great field position to start the second half and we were able to punch it in," Sterling coach Jon Schlemmer said. "I think once you are able to punch it in and we were able to go up two scores, it was really kind of our defense that came out and got some stops."
Kested also contributed on offense and defense, accounting for 157 all-purpose yards.
Steamers bring defense to NUIC: Fulton opened its tenure as an NUIC team with a 14-13 win at Galena, with Kole Schipper coming through with a sack.
"It became kind of a field position-type game and it was really hard for either offense to get anything going," Fulton coach Patrick Lower said. "It was one of those games where a punt wasn't a bad thing."
Lower said he is proud of the way his players fought through both the extreme heat and a few mistakes that were made.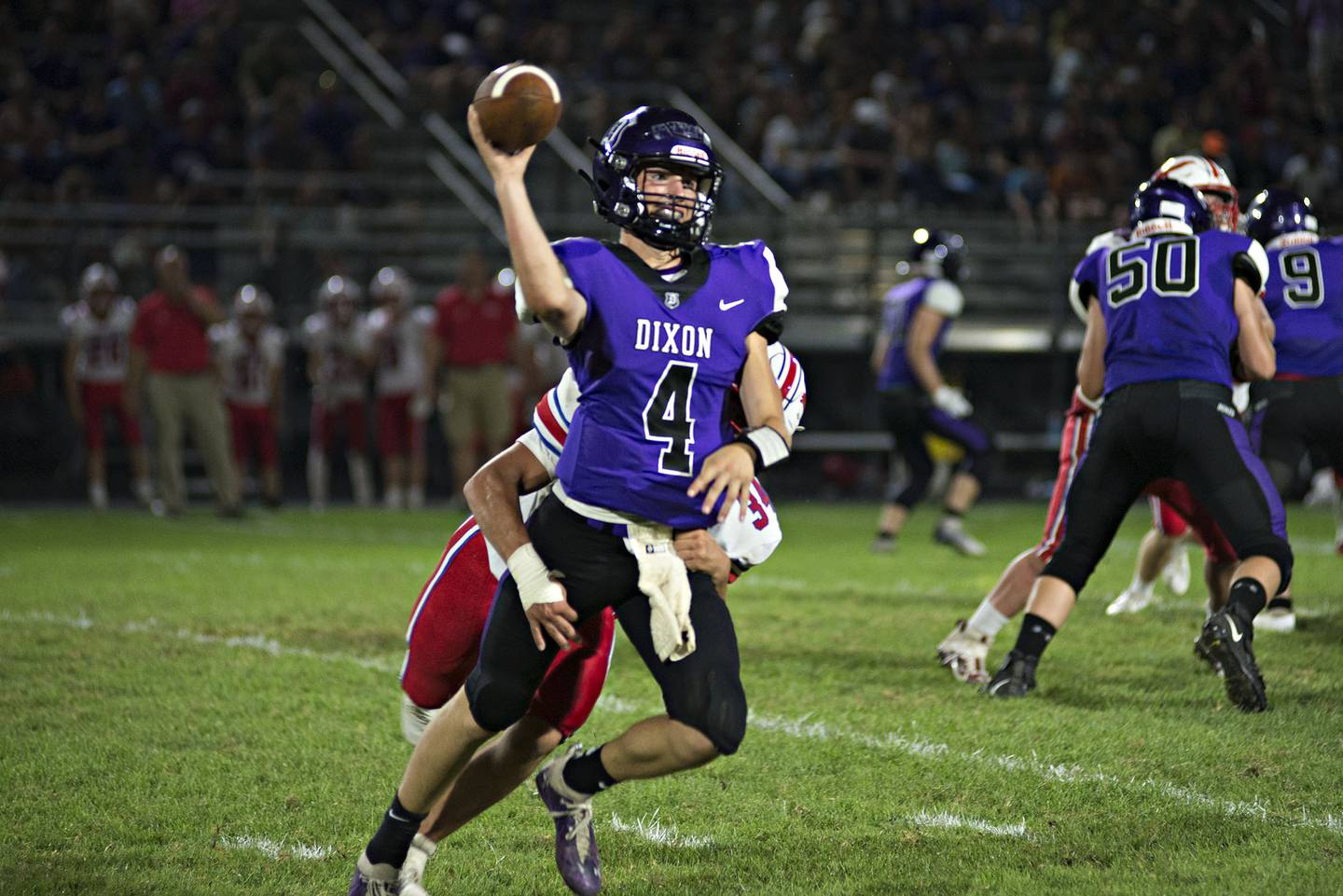 New QB in Dixon: Nothing like a little adversity before the season even starts. The Dixon Dukes were forced to change their plans under center just a couple of days before the opener Friday night against Oregon when senior standout Jacob Gaither injured his finger during practice.
According to coach Jared Shaner, Gaither hurt the finger on his throwing hand reaching down to brace himself as he fell to the ground during a drill last week. Gaither will see a specialist this week to determine if surgery is needed.
Gaither still lined up at wide receiver in Friday's 35-0 win, but the only ball thrown his way was a near interception that he knocked away from the Oregon defender. But his presence was greatly appreciated by his teammates.
"We got told midweek that Jake couldn't play, and by Friday he and texted us that he was playing," said junior running back Rylan Ramsdell, who ran for 98 yards and a touchdown. "Thanks to Jake for coming in, and I think that's what really got us going there before the game."
Sophomore Tyler Shaner, the coach's son, stepped in on short notice and performed admirably, completing 12 of 18 passes for 121 yards and a pair of second-half scoring strikes to Mason Randick.
"At first, I was a little nervous, especially before the game. Then we got out here and the crowd started cheering, and I thought, 'This is my moment. I live for this, I'm ready for this, I was born for this,'" Tyler Shaner said. I was listening to my teammates, they were helping me, telling me to calm down, flush all my emotions out, and I did. After the opening kickoff, I was good to go."
"I was obviously proud of Tyler stepping in there," coach Shaner said. "Two weeks ago, I wouldn't have thought he was getting a snap this year behind who I think is one of the best quarterbacks in our area, who is just unfortunately out for a while. But he played well in a tough situation."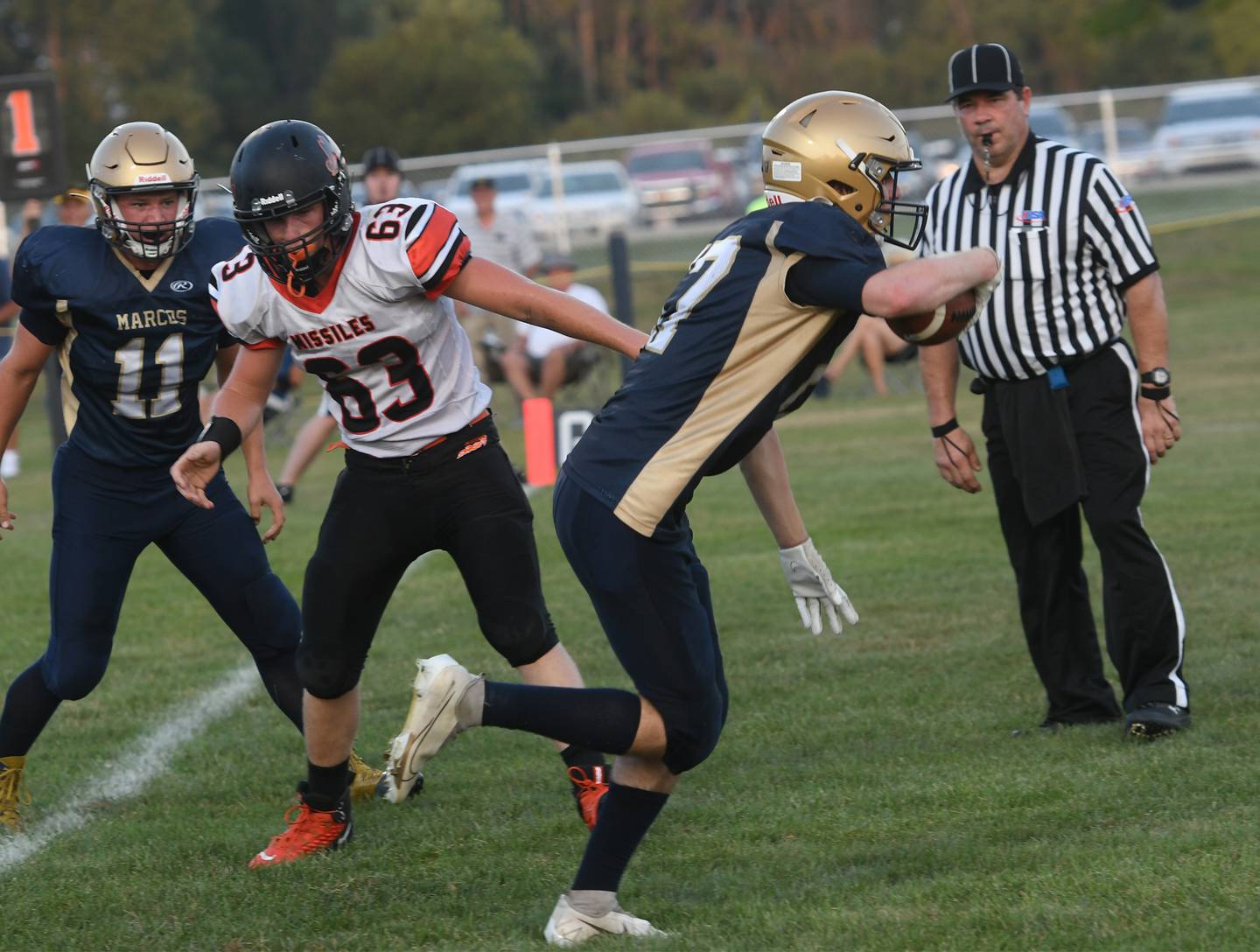 Renewing the rivalry: The Marcos and Missiles played against one another Friday for the first time since 2018, and Polo eked out a 40-38 win on its home field.
Polo now is 19-10 against Milledgeville since the two began playing each other as conference foes in 1991 in the former Upstate Illini. While not technically conference rivals this year on the gridiron, the atmosphere felt just the same as any other year whether playing in Polo or Floyd Daub Field in Milledgeville – and finally playing in front of a crowd on both sides of the field for the first time in 2 years made it even better.
Milledgeville, in its first year playing in the 8-man ranks, learned the hard way just how important 2-point conversions are in the modified format. The difference in the game was Avery Grenoble's short run around left end after catching a pitch from quarterback Tyler Merdian with 5:25 left to play.
"We talked about this to the kids all week that this was going to be one of those games that's going to be close and is going to come down to the end of the fourth quarter," Polo coach Alston said. "Every time we thought we were getting a little bit of momentum, [Milledgeville] would score fast on us. They've got great players, we've got great players. It's a good rivalry, and it played out exactly how we thought, and we're just real fortunate to be on the winning side."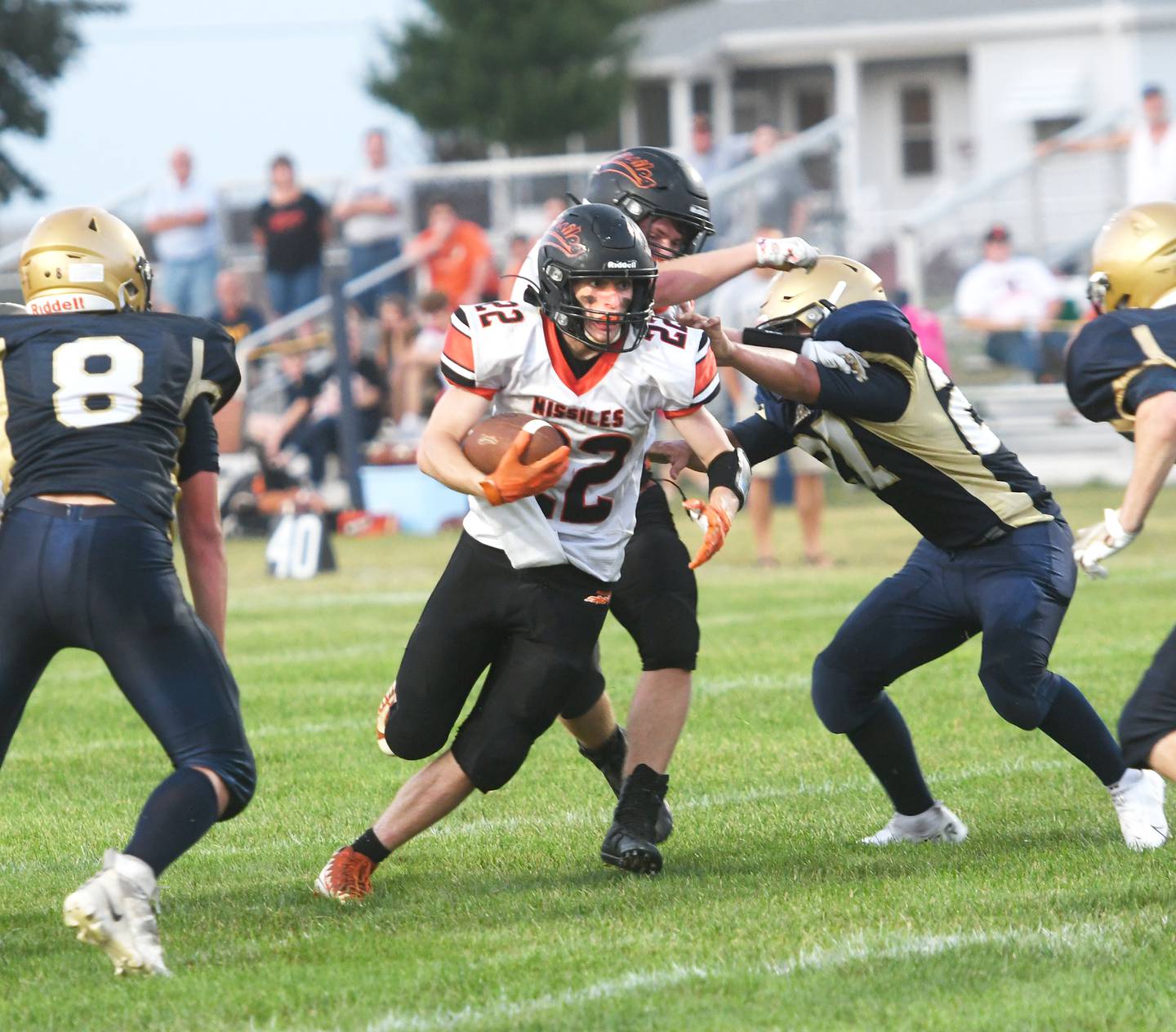 Of the game's 12 touchdowns, only four conversion attempts were successful. The other three were both team's first scores of the game, and the Marcos' third TD. The next six scores each saw conversion failures until Grenoble's game-winner.
"One of the things about 8-man is that 2-point conversions are so huge, because there is so much more scoring than you'd have in 11-man, and kicking for extra points just is not an option," Alston said. "Being able to get a couple of those 2-pointers at the end was huge."
The margin of victory is tied for the second smallest in the rivalry, along with a 24-22 Missiles win in 2008; the closest margin was a 14-13 Missiles win in 2006. Milledgeville's 38 points is the most by a losing team in the rivalry.
EPC regroup: After Eastland-Pearl City broke its postgame huddle, the coaching staff stayed and had an extended conference with coach Jared McNutt.
Regrouping after a 54-6 loss under a running clock is the task for the coming week. The team had two interceptions, one returned by Lena-Winslow for a TD, and lost three fumbles.
"We asked the players to look inside themselves," McNutt said, adding that how the coaches interact with players to correct mistakes is key. "Look at how we're coaching these kids in practice. … You know how to correct them, but maybe we've got to be a little harder when they do make a mistake, make sure they don't do it again.
"One coach can't do it alone. It's a whole team effort with the staff. I think our staff is a pretty good staff. We're going to get it fixed. We're going to get it right."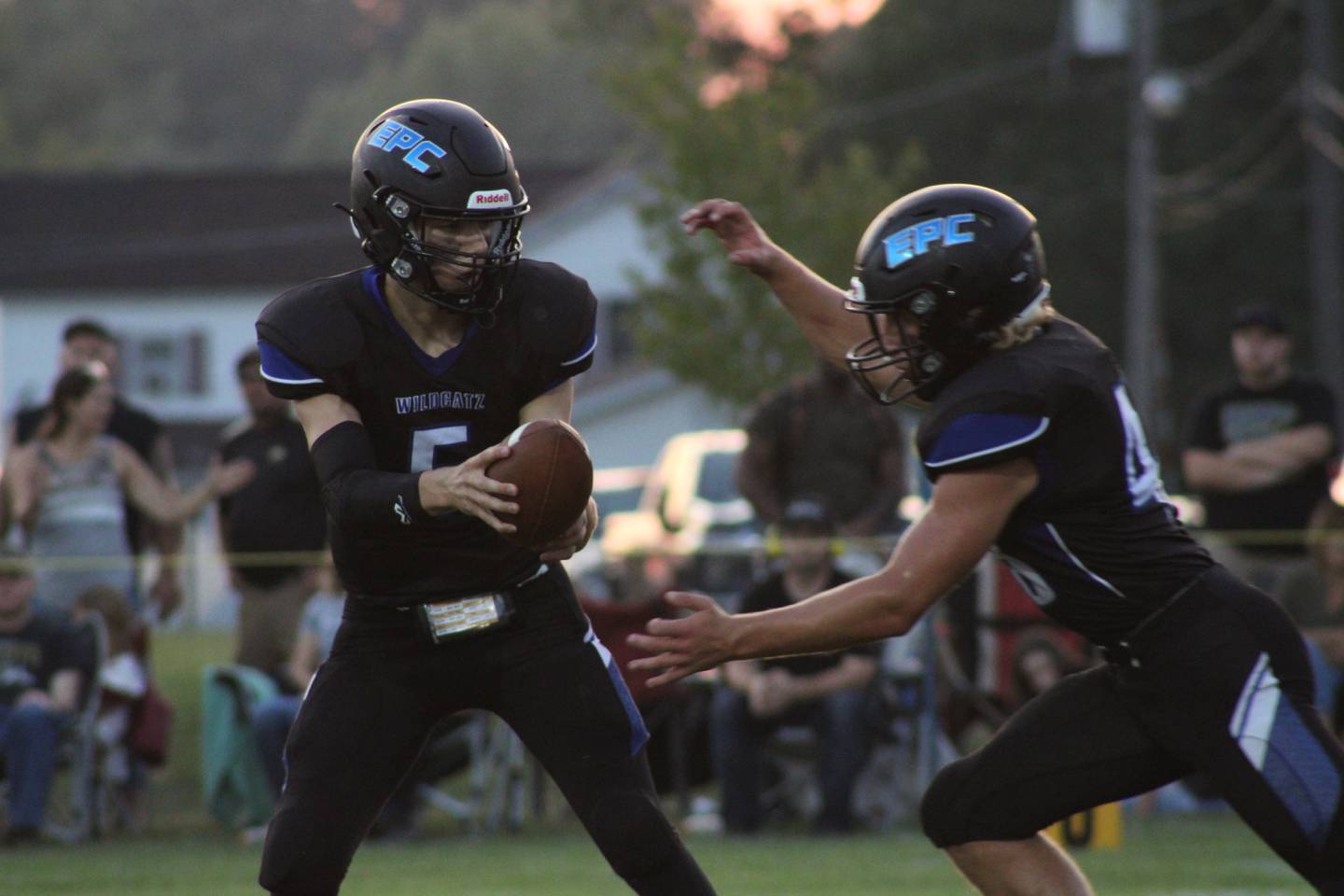 Family time: After Le-Win beat EPC by 48 on Friday, finding veteran coach Ric Arand took some doing.
Even a member of the Le-Win staff was having difficulty spotting the coach, who'd just notched win No. 220 in his 26-year tenure at the school.
Turns out, Arand was far down the sideline, visiting with family members who stood across the rope that separated fans and the field.
In particular, he was cradling his first grandchild, 7-month-old Nora.
Big win? Sure. But in this time of COVID-19, it was important to spend some time with family, too.
Then it was time for a family picture. So Arand's wife and six daughters ducked under the rope to pose alongside Arand — and, of course, Nora.
It was a pleasant reminder that for the folks who make the games, Friday Night Drive is as much about coming together as it is for the folks in the crowd.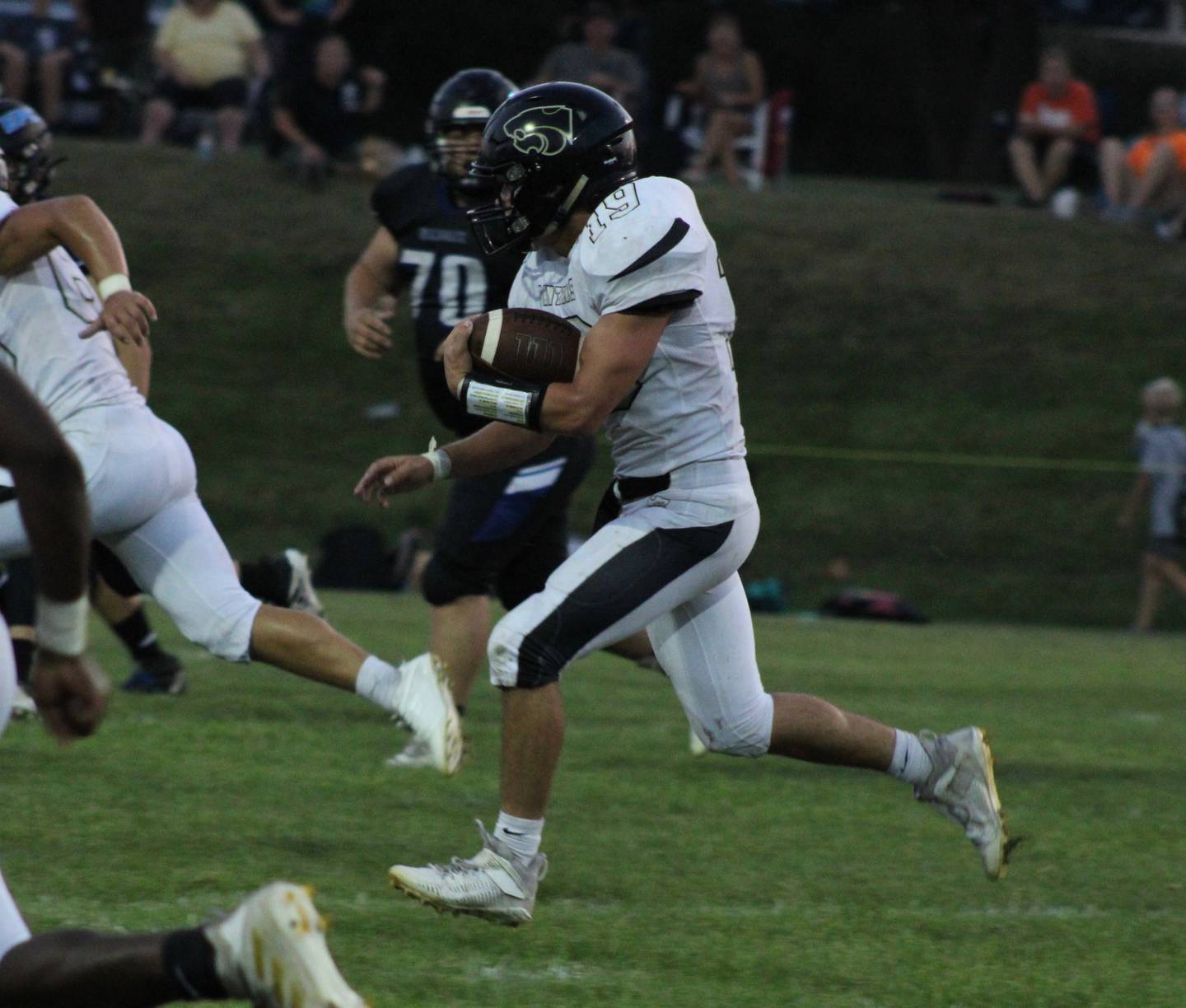 Depth on offense: Lena-Winslow is ranked second in Class 1A. While the 2019 state championship is a dimming memory, there's no question this team has another playoff run in mind. The team's strength was evident in the opener.
"Good depth, deep at running back position," Arand said. "We got some guys some playing time. Worked up a great sweat."
Le-Win used eight backs, six of whom got 20-plus yards. Four scored on running plays.
Clearing the running lanes were linemen like 227-pound Henry Engel, 260-pound Tyler Croatt, and 230-pound Maddex Sargent.
"Offensive line, we've got some work to do," Arand said. "But we're capable of being pretty good."
A little leg: Le-Win kicker Brody Mahon, a 6-foot-3 senior, saw plenty of action. His second kick went to the end zone for a touchback. But he also sent one as deep as the 12, and later, after a penalty pushed the tee back, he still booted the ball down to the 20.