Nonconference games
Naperville Central (4-0 last season) at Hinsdale Central (6-0)
When: 7:30 p.m. Friday
Last matchup: Hinsdale Central 14, Naperville Central 6 (2019)
About the Redhawks: Naperville Central should be happy to put a tumultuous offseason in the rearview mirror. The IHSA sanctioned the football team for violation of its transfer bylaws and 17 football wins were forfeited. Head coach Mike Stine retired after 15 seasons with Mike Ulreich, defensive coordinator since 2010, taking over the program. The Redhawks' defense graduated quite a bit of talent, particularly on the line, but quarterback Owen Prucha returns to lead a big-play offense. He threw for 15 touchdowns with just one interception in the spring. The player to watch is senior wide receiver Reggie Fleurima, a Northwestern recruit.
About the Red Devils: Hinsdale Central enjoyed a stellar spring season, riding the talents of since graduated quarterback Michael Brescia and a defense that allowed just 31 points to a West Suburban Silver title. Brescia is gone, but linebackers Sean Allison and JT Pyle and lineman Micah McCurry return to anchor the Red Devils' defense. Hinsdale Central won two close games with Naperville Central in 2018 and 2019, so a resumption of the series is much-anticipated. The Red Devils are quite young and inexperienced, so this provides a good early barometer.
FND Pick: Hinsdale Central
IC Catholic Prep (3-1 last season) at Montini (2-3)
When: 7:15 p.m. Friday
Last matchup: Montini 38, IC Catholic Prep 21 (2013)
About the Knights: IC Catholic Prep will look a lot different offensively this fall. Four-year varsity running back Kyle Franklin, who ran for over 5,000 career yards and 75 touchdowns, is now at Indiana State. Look for the Knights to play a fair amount of juniors and sophomores, including sophomore quarterback Dennis Mandala, who played as a freshman. Jadon Mims is among ICCP's players to watch. This early-season test is the first meeting between powerhouse parochial school programs since both were members of the since defunct Suburban Christian Conference.
About the Broncos: Montini's defense could be a strength right off the bat, as Jackson McWhinney and Mike Carver lead seven returning starters. Josh Robinson, who ran for 520 yards and five TDs in five games as a sophomore, is back at running back. Junior quarterback Cole Teschner shared playing time in the spring and is a potential Division I prospect. These two programs have combined for eight state titles since 2009.
FND Pick: Montini
Wheaton North (5-1 last season) at Downers Grove South (3-2)
When: 6:30 p.m. Friday
Last matchup: Wheaton North 13, Downers Grove South 12 (2019)
About the Falcons: Wheaton North returns a ton of talent from a team that opened eyes by winning a share of the DuKane Conference title, beating Batavia on the season's last day. Senior quarterback Mark Forcucci, who committed to Holy Cross this month, can make plays with his arm and feet. He is valuable as a third-year varsity starter, as is running back Brayton Maske. Big 6-foot-3, 220-pound junior linebacker Ross Dansdill is a player to watch defensively.
About the Mustangs: Downers Grove South begins its fall season with a brutal four-game stretch – Wheaton North, Glenbard West and Willowbrook sandwiched around its rivalry game with Downers Grove North. Senior Eli Reed, an NIU recruit, is an electric talent who can affect a game at receiver, defensive back and on special teams. Junior tight end/running back Mack O'Halloran is another Division I prospect. The development of junior quarterback Ryan Dawson, a second-year starter, is a storyline to follow.
FND Pick: Wheaton North
Richards (3-2 last season) at Nazareth (2-3)
When: 7 p.m. Friday
Last matchup: First known meeting
About the Bulldogs: South suburban powerhouse Richards has been a model of consistency, with 11 consecutive playoff appearances under head coach Tony Sheehan and its last losing season in 2008. The Bulldogs reached the Class 6A quarterfinals in 2019 and the semifinals in 2018.
About the Roadrunners: Nazareth looks for a return to its winning form after the abridged spring season, the program's first losing record since 2010. Michigan recruit Tyler Morris, who tore his ACL in the spring, is no longer at Nazareth, transferring to Plainfield East, but plenty of skill-position talent remains. Senior receiver Trell Harris holds nine scholarship offers. Senior wide receiver/defensive back Peter Roll, a three-year varsity player, committed to Navy in July. Junior Kaleb Miller, also a third-year varsity player, is a dynamic athlete.
FND Pick: Nazareth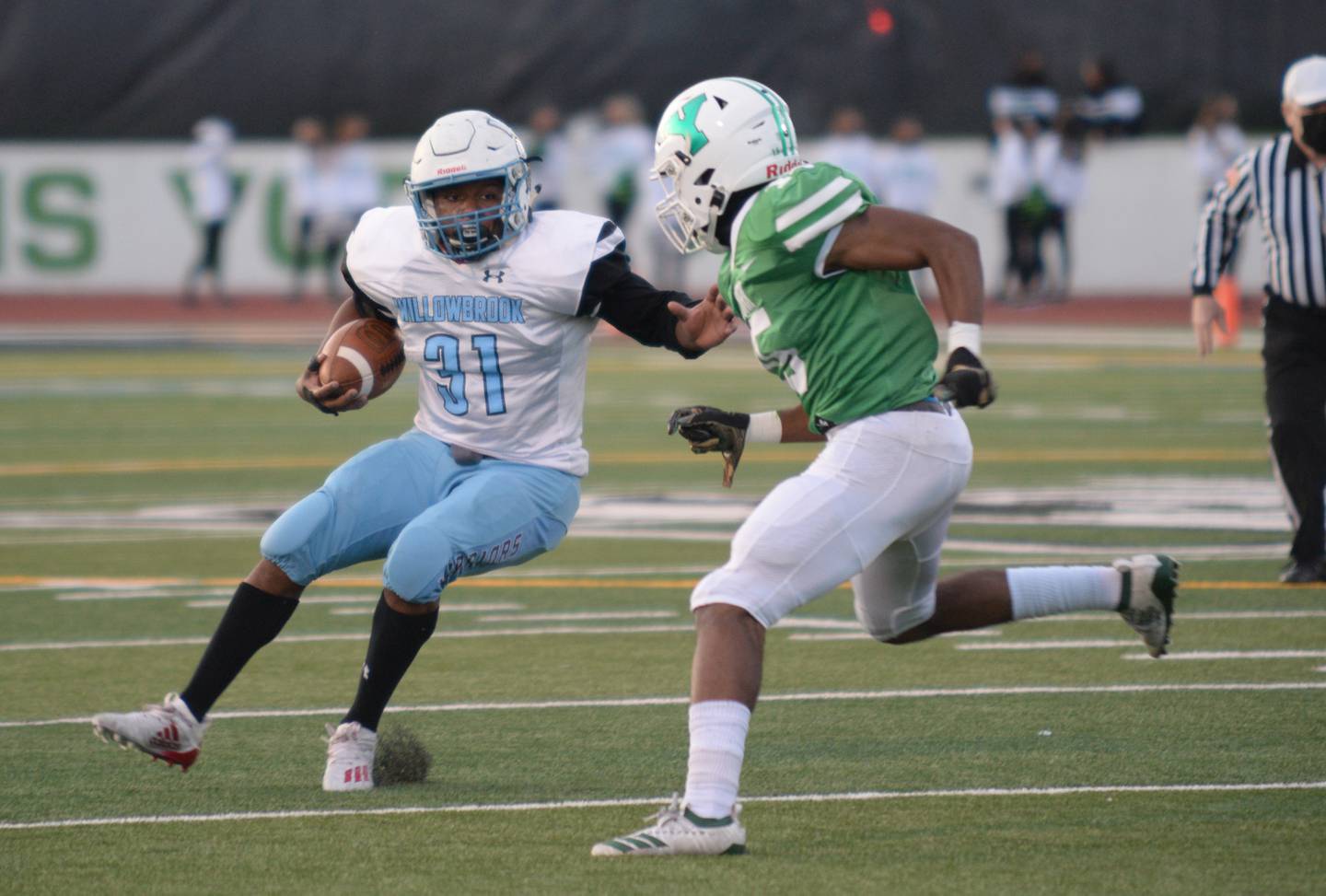 Willowbrook (5-1 last season) at Providence (4-2)
When: 7:30 p.m. Friday
Last matchup: Providence 14, Willowbrook 7 (2019)
About the Warriors: This is an opportunity for Willowbrook to make a mark outside of the West Suburban Gold, a league the Warriors have dominated in recent seasons. Providence handed Willowbrook its only regular-season loss in 2019. Senior running back Joshua Brown comes off a huge junior season with 1,750 yards and 23 touchdowns in just six games. The Warriors are replacing some pretty significant pieces on the offensive line and defensw, something to keep an eye on early.
About the Celtics: Providence will go to battle for the last season with veteran coach Mark Coglianese, who will retire from coaching at the conclusion of the season. The Celtics will be a largely new look team particularly at the skill positions. Wide receiver Brayden Garrigan does give Providence one experienced playmaker on which to rely.
FND Pick: Willowbrook
– Steve Soucie contributed
St. Charles East (0-5 last season) at Lemont (3-0)
When: 7:30 p.m. Friday
Last matchup: St. Charles East 12, Lemont 6 (2019)
About the Saints: In one of the more surprising stories of the spring season, the Saints went winless in five games. If there is one program that likely is to have at the very least a modest turnaround, it's this one. Quarterback Nathan Hayes gives the Saints a great place to start on offense, while offensive tackle Austin Barrett should give Hayes plenty of time to operate.
About Lemont: The Indians went young last season. Almost the entire defense is made up of players that played extensively in the spring. Offensively, Lemont also has experience with a full backfield of players that saw plenty of snaps, including running backs Sam Andreotti and Albert Kunickis, but the breakout player might be massive offensive lineman Mack Indestad.
FND Pick: Lemont
Wheaton Warrenville South (4-2 last season) at Oak Park-River Forest (3-2)
When: 7:30 p.m. Friday
Last matchup: First known meeting.
About the Tigers: There is a changing of the guard in Wheaton. Ron Muhitch retired as head coach after 19 seasons, 41 total with the program. Taking over is Sean Norris, previously the Tigers' offensive coordinator and a former standout quarterback at Wheaton North and Wheaton College. WW South graduated two-year starting QB Parker Brown, but does return eight starters on offense, four of them on the line. Tyler Fawcett and Brandon Bell are players to watch offensively, while cornerback Danny Healy is among the returners defensively.
About the Huskies: Oak Park went 4-5 in the last nine-game season, in 2019, but made seven consecutive playoff appearances under head coach John Hoerster prior to that. Players to watch include receiver Eric Locke, linebacker Owen Detmer and running backs Kelby Gray and Demetrius Dortch.
FND Pick: Wheaton Warrenville South.
Hoffman Estates (3-3 last year) at Downers Grove North (2-2)
When: 7 p.m. Friday
Last matchup: First known meeting.
About the Hawks: Wide receiver Jashawn Johnson, a three-year starter and Western Michigan recruit, is the top target for Hoffman Estates offensively. A pair of juniors, Aidan Cyr and Nate Frank, were competing for the starting quarterback job in the preseason. Whoever gets the nod should get good protection from two-year starting lineman Laduan Jones, 6-foot-4 and 395 pounds.
About the Trojans: Downers Grove North played quite a few underclassmen who gained experience during the spring season. The Trojans return all of their skill-position players, including junior quarterback Sam Reichert and junior wide receiver/defensive back Ethan Thulin. Downers Grove North was a 6-5 playoff team in the last nine-game season in 2019.
FND Pick: Downers Grove North.
Grandville (Mich.) (8-2 last season) at Glenbard West (3-1)
When: 11 a.m. Saturday
Last matchup: First known meeting.
About the Bulldogs: Grandville, a suburb of Grand Rapids in western Michigan, is making its second trip to Illinois in three seasons; the Bulldogs beat Lockport 47-24 in 2019. Grandville is known to run a wing-T offense, so expect plenty of power football on both sides of the ball. Senior quarterback Ian Sanders returns, but the Bulldogs graduated their three running backs and a receiver.
About the Hilltoppers: Glenbard West graduated quite a bit of talent from a team that had hopes of contending for a state title, had the playoffs been held last season. So there's the double unknown of several fresh faces, and an unfamiliar opponent to deal with in Week 1. Senior linebacker Pat Shadid is back to lead the Hilltoppers' defense with Nick D'Argento taking over as the lead running back. First-year starting quarterback Korey Tai does have some big-game experience, as he started against Hinsdale Central last season.
FND Pick: Glenbard West.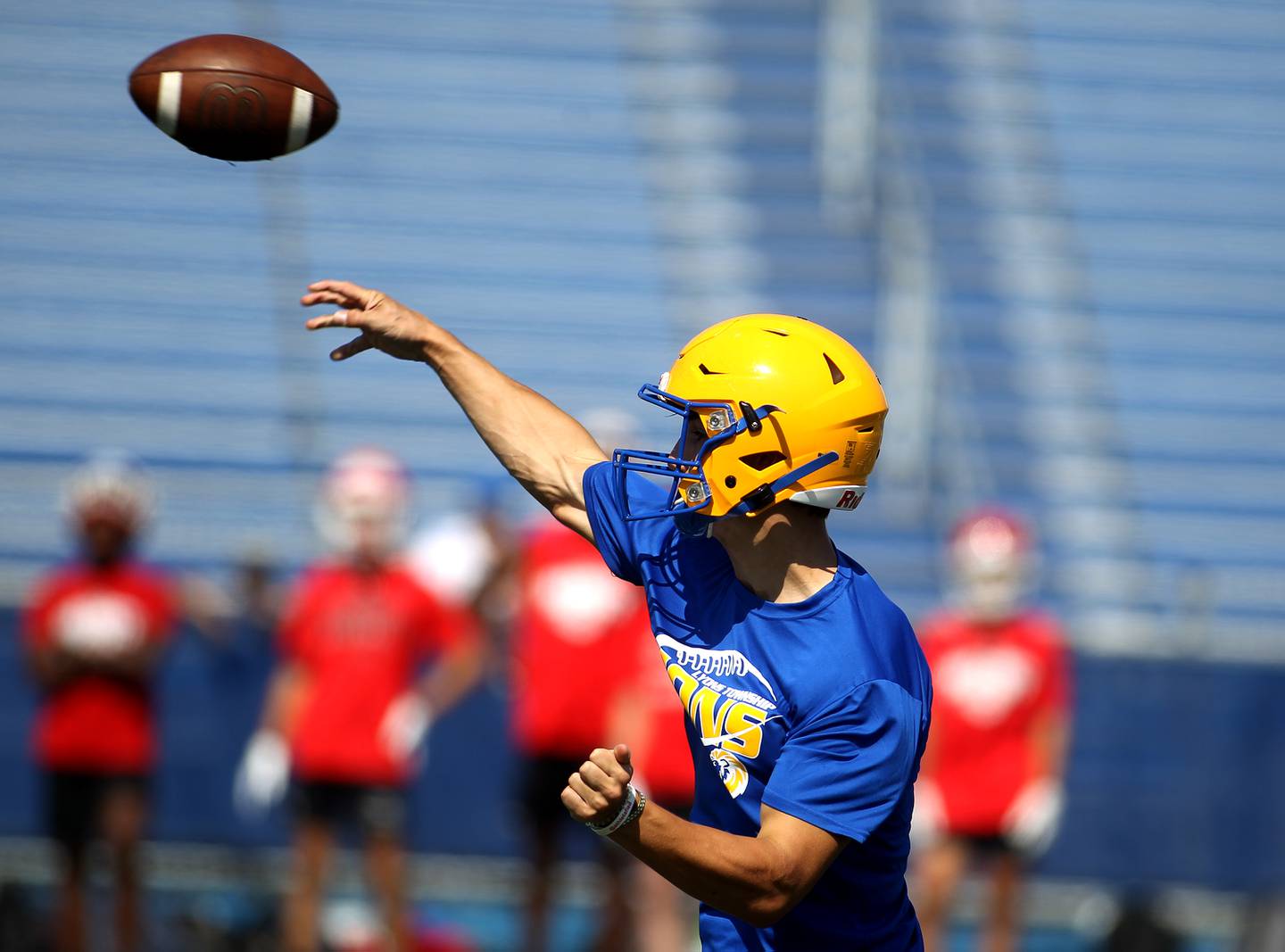 New Trier (5-1 last season) at Lyons (2-2)
When: 7 p.m. Friday
Last matchup: New Trier 20, Lyons 10 (2019)
About the Trevians: New Trier bounced back from an unusually mediocre 4-5 2019 season with a strong spring. Prior to 2019 the Trevians made 16 straight playoff appearances, the last five under current head coach Brian Doll. Nevan Cremascoli, 6-foot-4 and 210 pounds, is a returning all-conference quarterback with two scholarship offers. Luc Elias, a 6-foot-5, 280-pound tackle, is one of four returning offensive linemen.
About the Lions: Joey Antonietti is back for his third season as starting quarterback, so Lyons has plenty of experience at the lead position on the field. This is the first full nine-game season for Lyons' head coach Jon Beutjer. The Lions would love to start things on the right foot as they seek the program's first playoff appearance since 2017. Sophomore defensive lineman Eddie Tuerk holds multiple offers from Power 5 schools.
FND Pick: New Trier.
Morton (0-3 last season) at Riverside-Brookfield (1-4)
When: 7:15 p.m. Friday
Last matchup: Riverside-Brookfield 40, Morton 28 (2019)
About the Mustangs: Morton, with either one or two wins in each of the last eight full nine-game seasons, seeks a breakthrough. Ten starters return. Another player to watch is 6-foot-4, 245-pound junior tight end Aaron Miramontes. The Mustangs allowed 47 points per game in the spring, so there is plenty of room for improvement on the defensive side.
About the Bulldogs: Riverside-Brookfield had a youth movement in the spring, with nine freshmen or sophomores playing at the varsity level – so that experience should pay dividends. The Bulldogs return nine starters on offense, four on the line, and five on defense.
FND Pick: Riverside-Brookfield.
Morgan Park (4-0 last season) at Fenwick (3-2)
When: 7:30 p.m. Friday
Last matchup: First known meeting
About the Mustangs: Morgan Park is traditionally one of the stronger programs in the Chicago Public League, with playoff appearances in 19 of 20 seasons since 2000. This venture to Oak Park should provide a good early-season test of the Mustangs' pedigree.
About the Friars: Fenwick was 6-5 in the last nine-game regular season, in 2019, the program's seventh playoff appearance since 2010. There is plenty of future college talent on the current roster. Wide receiver Eian Pugh is committed to play at Illinois, Kaden Cobb is committed to Ball State and wide receiver Max Reese to Eastern Michigan. Offensive lineman Jimmy Liston has offers from Penn State, Arizona State and Texas Tech, among others.
FND Pick: Fenwick.
Deerfield (5-1 last season) at Hinsdale South (3-3)
When: 7 p.m. Friday
Last matchup: First known meeting
About the Warriors: Deerfield went 10-3 in 2019 to reach the Class 6A semifinals, the program's fourth playoff appearance in five seasons and most wins since 2002. Senior quarterback Austin Layette, who threw for 900 yards and seven touchdowns with just one interception in the spring, returns to lead the offense.
About the Hornets: The Hornets seek a fast start for a return to the postseason after winning three games each of the last two years, including the shortened spring season. A player to watch up front is Joshua Sander, 6-foot-6 and 320 pounds. Graduated Jaylon Smith leaves big shoes to fill offensively, but Hornets coach Mike Barry said there is plenty of speed and big-play potential in the program if they execute.
FND Pick: Deerfield.
Naperville North (2-1 last season) at Benet (2-1)
When: 7 p.m. Friday
Last matchup: Benet 28, Naperville North 21 (2019)
About the Huskies: Naperville North, seeking its first playoff appearance since 2017, has the big-play talent offensively to serve as catalyst. Senior wide receiver Zeke Williams, a Northern Illinois recruit, can be a gamebreaker, and younger brother Luke Williams is a player to watch going forward. Junior quarterback Aidan Gray had a strong junior season this past spring.
About the Redwings: Benet, as much as any team, surely looks forward to the normalcy of a nine-game season after multiple cancellations in the spring. Junior wide receiver/defensive end Pierce Walsh is a Division I prospect with multiple offers in hand. Junior linebacker John Weidenbach is another to watch.
FND Pick: Naperville North
Westmont (1-5) at Walther Christian (0-6)
When: 7 p.m. Friday
Last matchup: First known meeting
About the Sentinels: Westmont's lone win in 2020 came against Ridgewood. This game seems like a prime opportunity for an early mark in the victory column.
About the Broncos: Walther Christian would like to see progress from its recent performance. The Broncos have had just one winning season since 2008, the year it made its 17th straight playoff appearance.
FND Pick: Westmont.
Lake Forest (6-0) at St. Francis (6-0)
When: 7:30 p.m. Friday
Last matchup: First known meeting
About the Scouts: Lake Forest has established itself as quite a program up north, with the spring's perfect season following a run of 13 playoff appearances in 14 seasons under head coach Chuck Spagnoli. It provides St. Francis, itself coming off a banner spring, as a nice little non-conference gauge tight off the bat.
About the Spartans: St. Francis, with seven returning starters on offense and eight on defense from a 6-0 spring team, looks like it is set up for another big season. The biggest question is who replaces three-year starting quarterback Tommy Rittenhouse, now at Illinois State. Junior lineman TJ McMillen is a Power 5 recruit with more than a half-dozen Division I offers. Tyler Bishop is one of many talented skill-position players for whoever winds up behind center.
FND Pick: St. Francis.
Wheaton Academy (5-1 last season) at Brookfield East (Wisc.) (4-4)
When: 7 p.m. Friday
Last matchup: First meeting
About the Warriors: The Warriors come off a very strong first season under head coach Jim Johanik, with a four-game winning streak to end the season highlighted by a huge comeback win over Bishop McNamara. Senior David Dorn is a two-year starter at quarterback and threw for 677 yards during the spring. Keep an eye on Belay Brummel, a transfer from IC Catholic Prep.
About the Spartans: Brookfield East, in a western suburb of Milwaukee, already owns a victory this season, as the Spartans beat Watertown 35-7 last week.
FND Pick: Wheaton Academy.
York (4-2 last season) at Schaumburg (1-5)
When: 7:30 p.m. Friday
Last matchup: York 16, Schaumburg 13 (2019)
About the Dukes: York has much to build on from the spring, its 4-2 mark the program's first winning season in a decade. Could a playoff appearance be next? The Dukes will need a fast start, because the tail end of its schedule is rough. Headlining the returners is all-conference linebacker Jeff Coglianese, who had 53 tackles, two sacks ad two forced fumbles as a junior, and fellow linebacker David Koch, who impressed as a sophomore with 57 tackles and two interceptions.
About the Saxons: It was a tough spring for Schaumburg, which did win its last game which lends some optimism at a potential first playoff trip since 2017. The Saxons return Takumi Fred at running back and defensive ends Hayden Mores and Evan Rees on that side of the ball.
FND Pick: York
Upstate Eight Conference
Bartlett (4-0 last season) at Glenbard South (1-2)
When: 7:30 p.m. Friday
Last matchup: Bartlett 10, Glenbard South 7 (2021)
About the Hawks: Bartlett graduated two-time All-Stater Alec Palella, now at Central Michigan, and will have several first-time starters. The Hawks have posted an impressive 19-5 record in head coach Matthew Erlenbaugh's first three seasons.
About the Raiders: Glenbard South certainly looks forward to the full nine-game schedule, after the Raiders were limited to just three games in the spring. Four-year varsity starter Trevor Burnett, who ran for nearly 600 yards in just the three games, is one of the area's most electric talents. Linebacker/receiver Dominic D'Ambra is a three-year starter.
FND Pick: Glenbard South
Larkin (0-4 last season) at Glenbard East (2-3)
When: 7:30 p.m. Friday
Last matchup: Glenbard East 28, Larkin 0 (2021)
About the Royals: Royals coach Grant Dietz is Larkin's third head football coach in three years. He'll build around three-year starting QB Dontrell Maxie, with Jamarion Stubbs his top target. Michael Hibbler is a returning all-conference lineman. Larkin's last winning regular season and playoff appearance came in 2006.
About the Rams: Glenbard East is trying to return to the playoffs for the third consecutive full season, having qualified in 2018 and 2019. Six starters return on offense and five on defense. Connor Cerkas is in his third season as a varsity quarterback.
FND Pick: Glenbard East.