Nonconference
Chicago Phillips (3-1) at Batavia (4-2 spring)
When: 7:30 p.m. Friday
Last Matchup: Believed to be first matchup (as recent as 1996)
About the Bulldogs: Defensively, the Bulldogs are again loaded with depth and a bit of star power, a unit headlined by defensive back Jalen Buckley and linebacker Tyler Jansey. Batavia has an experienced secondary and usually an underrated defensive line. Offensively, junior JP Chaney is expected to earn his first ever start at quarterback at the varsity level and will be flanked by Buckley, AJ Sanders, Josh Dornink and others in the backfield.
About the Wildcats: Phillips will be coached by Joe Winslow after the departure of Troy McAlister. Phillips is traditionally a very strong program out of the Chicago Public League and has a number of state titles in recent seasons. Antown McAdams is an emerging two-way lineman talent that is gaining steam with interest. Watch also for senior lineman Keontay Taylor. Junior quarterback Tyler Turner is a two-star recruit and has high-end athleticism.
FND Pick: Phillips
Geneva (2-4 in spring) at Metea Valley (0-5 in spring)
When: 7 p.m. Friday
Last Matchup: 49-45 Geneva in 2013
About the Vikings: The Vikings officially kick off a new era under coach Boone Thorgesen. Alex Porter is expected to start at quarterback after piloting the offense the majority of the spring season. While the Vikings have a number of returners on their offensive line, how the rest of the skill positions materialize will be a key development. Under former coach Rob Wicinski, establishing the run – and running on early downs – was a key staple, but we'll see how Thorgesen and his staff choose to handle their tendencies. Defensively, Mason Pawelko and Blake Stempowski should flash early and often.
About the Mustangs: Despite a difficult spring season, wideout Jalen Johnson, a Northern Illinois recruit, has a lot of buzz as the headliner in the Mustangs' offense. They also return starting quarterback Logan Frederick for his third season and with program passing records in his sights. Defensively, the Mustangs have six starters back.
FND Pick: Geneva
Kaneland (3-2 in spring) at Andrew (2-4)
When: 7 p.m. Friday
Last matchup: First meeting since at least 1995.
About the Knights: While the offensive line was a question for the Knights in the preseason, coach Pat Ryan said it has fallen into place well behind returning starter Matt Slough with guys like Brett Larson and Austin Lilly fitting in well.
"It's pretty clear the line is clicking right now," Ryan said. "Through camp in July and two weeks of preseason that group has gotten a lot better."
They'll be paving the way for an experienced group of skill players, including Corey Phillips, who started at running back last year and got stronger as the year went on. Troyer Carlson started as a freshman at quarterback last year and returns with top targets Sam Gagne and Aric Johnson.
Friday also will be the debut of 11 new starters on the Kaneland defense.
"I think we've got a pretty good handle on personnel and things are clicking," Ryan said. "Our new faces on defense are catching on to the scheme and are playing fast. There's a lot less thinking and a lot more playing."
About the Thunderbolts: Andrew has qualified for three straight postseasons under coach Adam Lewandowski, although the team went 2-4 in the spring 2021 season. The team's last playoff win came in 2011.
FND Pick: Kaneland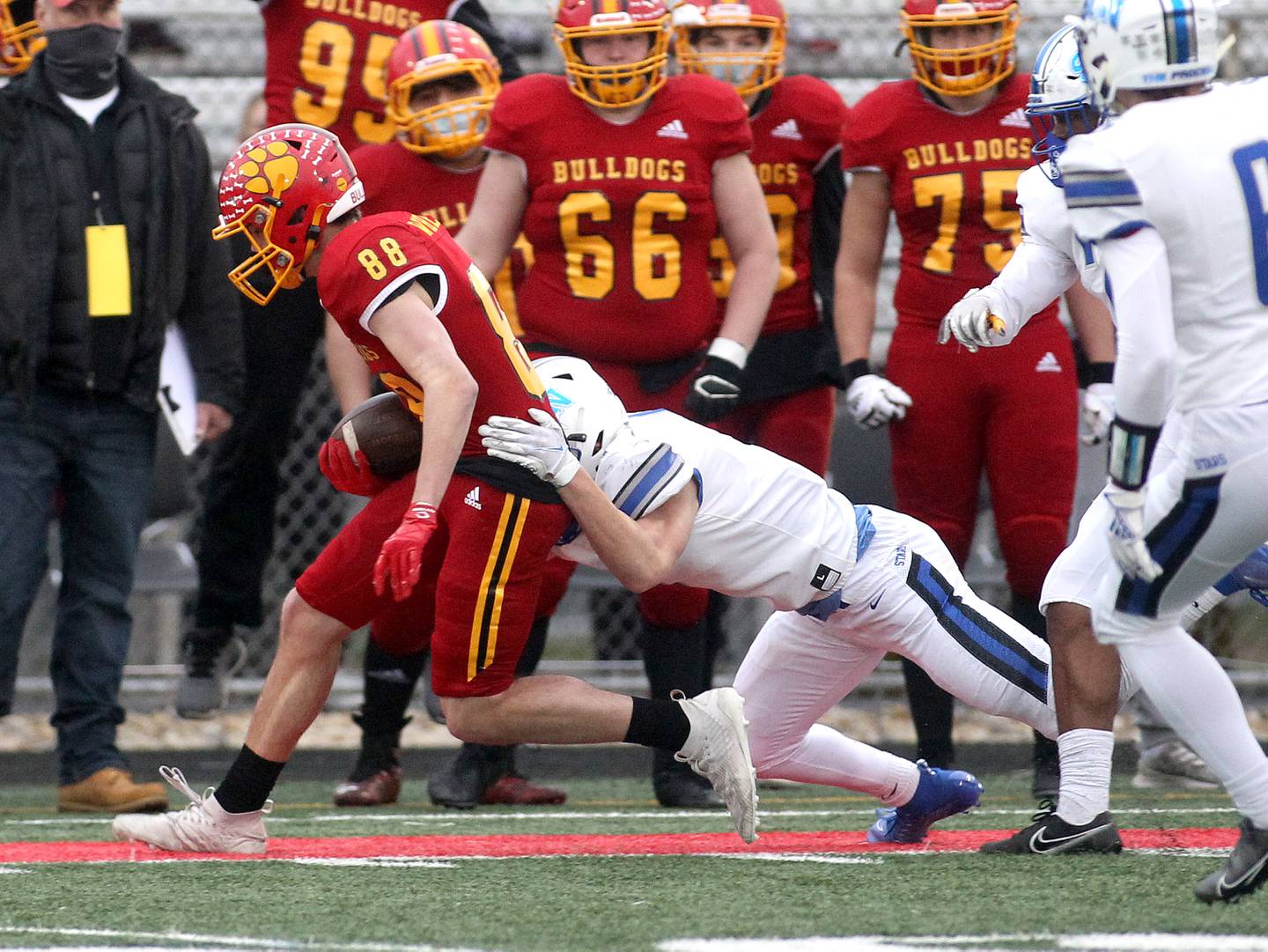 Lake Forest (6-0 spring) at St. Francis (6-0)
When: 7:30 p.m. Friday
Last matchup: First known meeting
About the Scouts: Lake Forest has established itself as quite a program up north, with the spring's perfect season following a run of 13 playoff appearances in 14 seasons under head coach Chuck Spagnoli. It provides St. Francis, itself coming off a banner spring, as a nice little non-conference gauge tight off the bat.
About the Spartans: St. Francis, with seven returning starters on offense and eight on defense from a 6-0 spring team, looks like it is set up for another big season. The biggest question is who replaces three-year starting quarterback Tommy Rittenhouse, now at Illinois State. Junior lineman TJ McMillen is a Power 5 recruit with more than a half-dozen Division I offers. Tyler Bishop is one of many talented skill-position players for whoever winds up behind center.
FND Pick: St. Francis.
Marmion (1-2 spring) vs. Bishop McNamara (3-2)
When: 7:30 p.m. Friday
Last Matchup: 34-31 Marmion in 2017
About the Cadets: Marmion brings back nearly its entire starting offensive line, along with a number of solid receivers in NIU commit Dane Pardridge and Anthony Kuceba. Defensively, the Cadets also bring back linebacker Jacob Bottarini, a All-White division selection. The Cadets also return four starters in the secondary.
About the Irish: The Irish return nine starters on offense and six on defense. Chief among them on offense are running backs Tony Phillips and Jaydon Wright, a highly-effective tandem in the backfield. Linebackers Mel Hay and Caden Marten flashed a lot of production last season.
FND Pick: Bishop McNamara
St. Charles East (0-5 last season) at Lemont (3-0)
When: 7:30 p.m. Friday
Last matchup: St. Charles East 12, Lemont 6 (2019)
About the Saints: In one of the more surprising stories of the spring season, the Saints went winless in five games. If there is one program that likely is to have at the very least a modest turnaround, it's this one. Quarterback Nathan Hayes gives the Saints a great place to start on offense, while offensive tackle Austin Barrett should give Hayes plenty of time to operate.
About Lemont: The Indians went young last season. Almost the entire defense is made up of players that played extensively in the spring. Offensively, Lemont also has experience with a full backfield of players that saw plenty of snaps, including running backs Sam Andreotti and Albert Kunickis, but the breakout player might be massive offensive lineman Mack Indestad.
FND Pick: Lemont
Palatine (4-2 spring) at St. Charles North (5-1)
When: 7:30 p.m. Friday
Last matchup: 24-14 North Stars in 2019
About the North Stars: Linebacker George Litgen is the star of the North Stars' defense, but Paolo Gennarelli is his 1B sidekick. Watch for Drew Surges to make plenty of plays, too. Defensively, the North Stars should be relatively consistent, but time will tell to see how quickly the offense can sustain drives. Freshman quarterback Ethan Plumb is expected to get his first start, and while talented, he will be tested. Carson Kuligowski might be a busy young man in the backfield.
About the Pirates: The Pirates will be bringing to town a very talented wideout corps, led by Iowa-commit Jake Bostick. Sophomore running back Dominick Ball will probably get plenty of touches, while junior quarterback Grant Dersnah will be running the show.
FND Pick: St. Charles North
Fox Valley Conference
Hampshire (4-1 spring) at Burlington Central (1-4)
When: 7 p.m. Friday
Last matchup: Hampshire beat Burlington Central, 34-6, in Week 3 of the 2021 spring season.
About the Whip-Purs: Hampshire stopped a 24-game losing streak with two wins to end the 2019 season, then stretched its winning streak to five with three victories to start the 2021 spring season. … There is plenty coming back for the Whips, starting with junior QB Tyler Fikis, who threw for 871 yards and ran for 317 in five spring games. … Three offensive linemen are back, and LB Devin Yeats (a former safety) is back as a defensive leader. Yeats also will be used in the passing game at WR or TE.
About the Rockets: Burlington has several third-year starters back as they start their third season in the FVC, led by RB-LB Gavin Sarvis (521 yards). WR-SS Nate Majewski and QB-DB Shawn Adkerson are two other three-year starters. … The Rockets have competed respectably for a school coming into a tough league with, by far, the lowest enrollment.
FND pick: Hampshire