FORRESTON – The good news for Forreston Cardinals football fans: a dozen seniors return on an experienced squad, including running back Devonte King-Black.
In the spring, the Forreston running back averaged 6.1 yards per carry for the Cardinals on 29. The now-graduated Jordan Neuschwander led the team with 595 yards on 50 carries, an average of 11.9 yards every time he took a handoff.
Neuschwander is gone, King-Black is still in Forreston, but the keys to the offense aren't simply his. With Forreston's depth at running back, he has to earn his carries.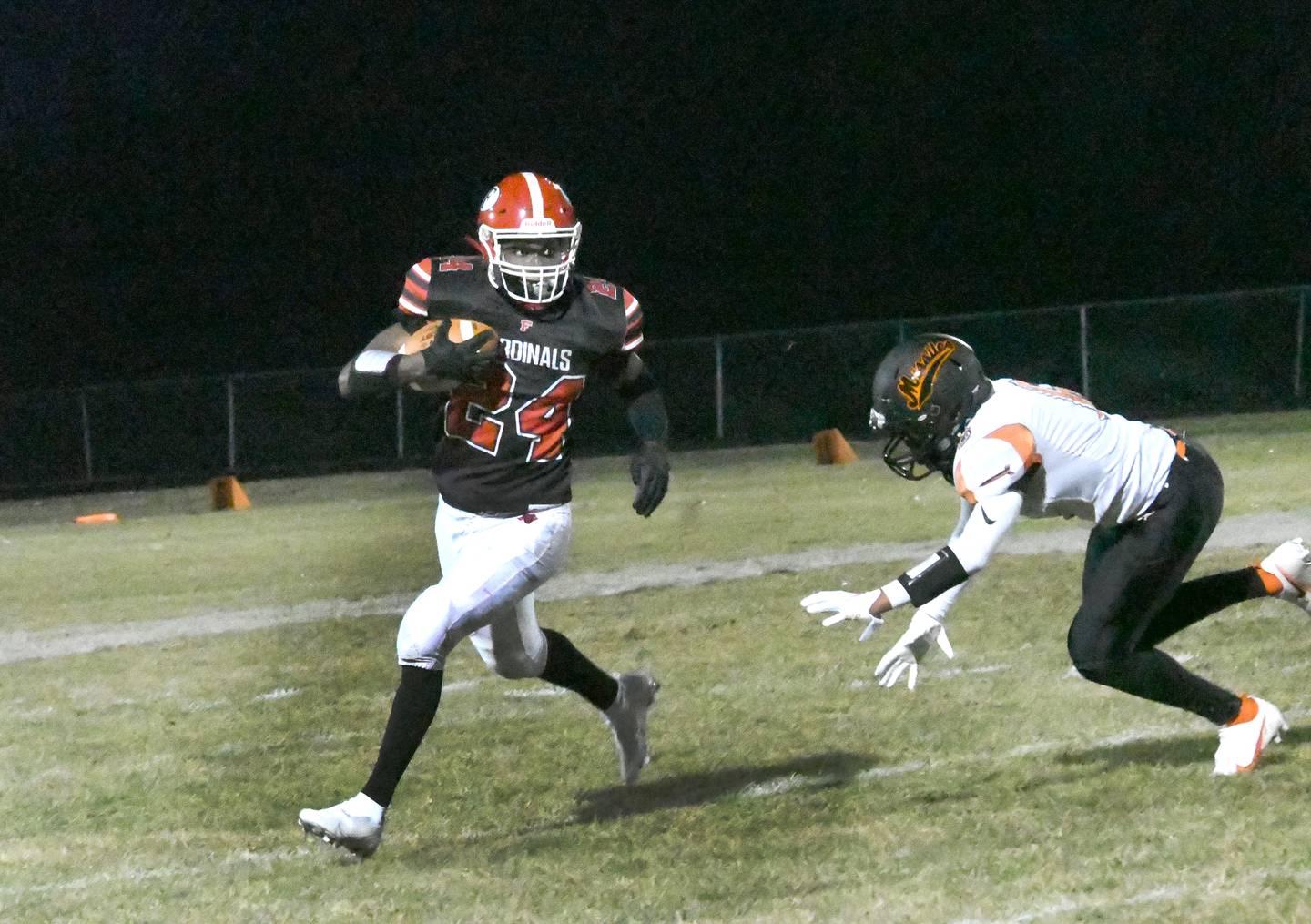 "Really just [have to] work my hardest, get my mind on the position, loving the sport, grinding, staying motivated," King-Black said.
King-Black is one of 12 seniors on the team which is just as packed with talented running backs. If he's not moving the ball forward, Cardinals coach Keynon Janicke can call upon Jacob Fiorello or Tommy Appel or Matt Beltran or Quinn Frederick or Carter Daws or Noah Johnson.
"We talked about the competition, and how we're all working toward the same goals," Janicke said. "There's still competition within the room. Who wants those reps and who wants to be part of the rotation. We talk about it all the time that it's OK to be a little nasty during football practice and then shake hands or kiss and make up or whatever you need to do after."
When it comes to how the Cardinals run the football, Janicke is not expecting too many changes. Blocking for those runners is another deep group of veterans on the offensive line.
"We have Cole Becker coming back, who was second-team all-conference at tight end," Janicke said. "Johnny Kobler moving over from guard to tackle. It's going to be his junior year; he played a lot as a sophomore last year. Casey DeVries, a sophomore who got a lot of time, is now a junior playing center. Mason Fox on the other side. So we have a lot of guys coming back."
Meanwhile on defense, the Cardinals have the speed to swarm to a ballcarrier.
The last full season that was played in 2019, Forreston allowed 19.9 points per game, but those numbers were inflated considerably in losses to Aquin and Lena-Winslow, and a shootout win over West Carroll. Over the first five weeks of the season, all Forreston wins, the Cardinals allowed a total of 44 points.
"It's looking pretty good," Daws said. "We've got a few things to work on, but I think we're doing pretty good."
Fiorello and Appel at cornerback and Beltran and Logan Dyson at safety will supply a lot of that speed in the secondary. Up front, King-Black will bring some of his speed as an edge rusher.
"We want to try our best to play mistake-free defense," Janicke said. "But even if we are making mistakes, as long as we're being fast and more physical, that will usually cover some things up. As long as we're doing that, we're going to be doing well."
"Our defense is aggressive," King-Black said. "We're smart, fast, strong. We're just going to blow [things] up."