DuKane Conference
Wheaton North (3-0) at St. Charles North (2-1)
When: 6:30 p.m. Friday
Last matchup: St. Charles North 20, Wheaton North 17 (2019)
About the Falcons: Wheaton North opened eyes with two blowout wins to start the season, but its 17-14 win over Wheaton Warrenville South last week was even more impressive. Junior quarterback Mark Forcucci is a playmaker both with his arm and his legs, as he showed against the Tigers. The Falcons' big offensive line will be tested against a good North Stars' defense. Linebacker Ross Dansdill, who leads Wheaton North in tackles, is an impressive sophomore.
About the North Stars: St. Charles North bounced back from a close lose to Batavia in Week 2 in resounding fashion, shutting out rival St. Charles East last week. Jordan Nubin, a Minnesota recruit, scored three touchdowns and Josh Bridges ran for 130 yards. Junior linebacker George Litgen is a player to watch on the North Stars' defense.
FND Pick: Wheaton North
Wheaton Warrenville South (2-1) at Batavia (3-0)
When: 6:30 p.m. Friday
Last matchup: Batavia 42, Wheaton Warrenville South 21 (2019)
About the Tigers: It doesn't get any easier for WW South after a 17-14 loss to Wheaton North, turning right around to face the powerhouse Bulldogs. Hard-running Eddie Robinson, with 344 yards and an 8.2 per carry average, is off to an impressive start to the season, although it's a heavy lift keeping it going against Batavia. It would help the Tigers to get the ball in the hands of playmaker Kaleb Clousing outside.
About the Bulldogs: Batavia has been as impressive in the young season as any team, outscoring three opponents 116-26. Arizona recruit Matt Weerts and sophomore Tyler Jansey are quite a pair of linebackers and headline a nasty defense. The Bulldogs lost starting quarterback Kyle Oroni to a season-ending leg injury in Week 2, but the offense has continued to hum, particularly on the ground, with NIU commit Trey Urwiler handling the snaps.
FND Pick: Batavia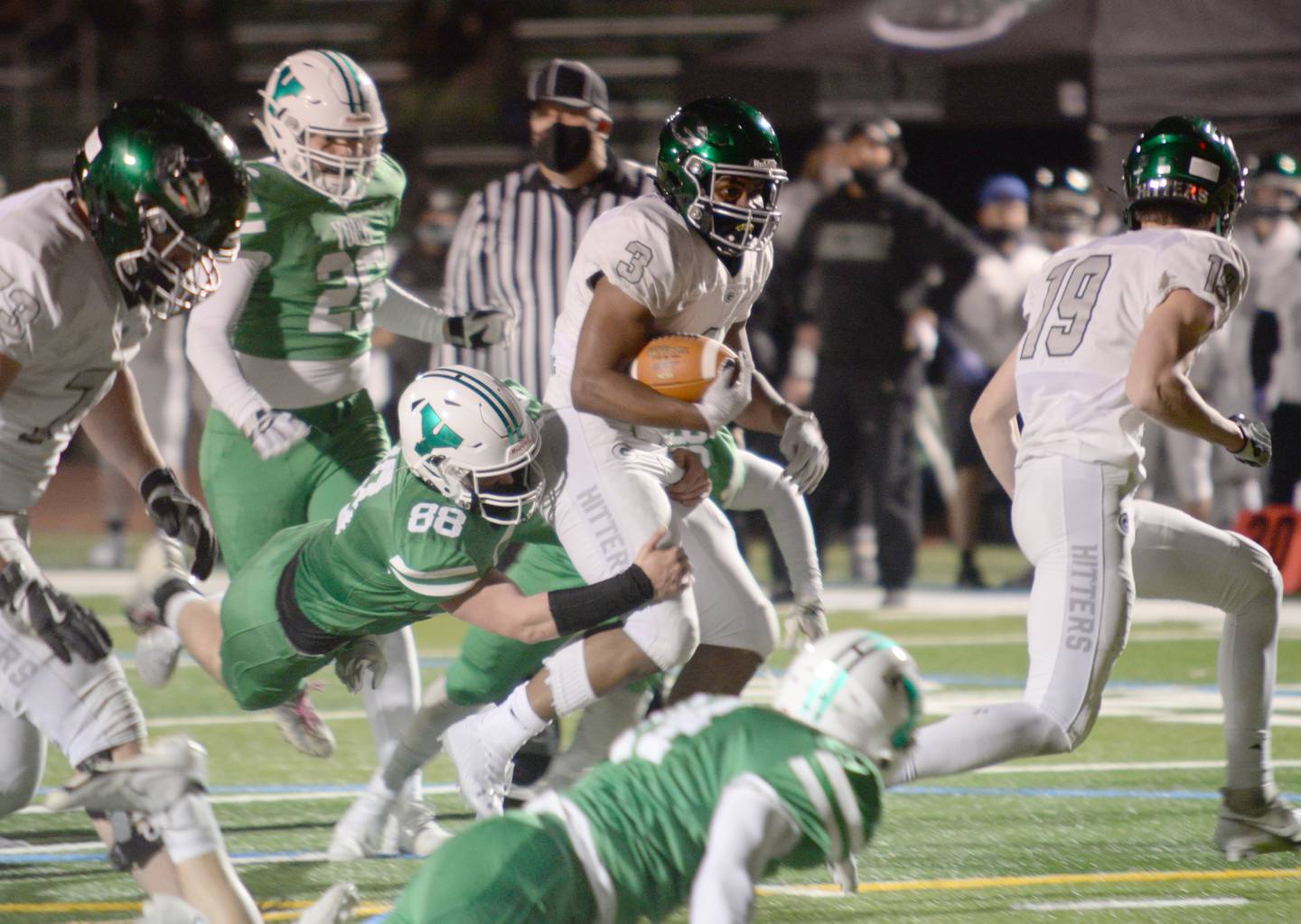 West Suburban Conference
Willowbrook (3-0) at York (1-2)
When: 7 p.m. Friday
Last matchup: Willowbrook 35, York 21 (2019)
About the Warriors: Josh Brown is having himself quite a spring season. Willowbrook's junior, in his first season as the team's lead back, added a third huge game last Thursday against Hinsdale South, and is up to 897 yards and 12 TDs through three games. Jaylon White is closing in on 400 yards rushing himself. Willowbrook has maintained its dominance in the West Suburban Gold this year, so this crossover game could very well be its toughest test.
About the Dukes: Quite a ringer of a three weeks for the Dukes, from Glenbard West to Hinsdale Central to now Willowbrook. York needs to gets its offense back on track. The Dukes have been shut out the last two weeks. That probably starts with establishing Patrick Kastner on the ground.
FND Pick: Willowbrook
Oak Park-River Forest (2-1) at Downers Grove North (1-0)
When: 7 p.m. Friday
Last matchup: Downers Grove North 14, Oak Park-River Forest 7 (2019)
About the Huskies: The Huskies have recovered nicely from a season-opening loss to Hinsdale Central, beating Lyons 18-15 and Proviso West 53-0 the last two weeks. Quarterback Jack Landis, who threw for two TDs against Lyons, leads Oak Park-River Forest's offense.
About the Trojans: The Trojans finally return to the field after missing their last two games while in quarantine, so obviously rust is a concern. Downers Grove North's only game, it beat Proviso East 55-0. Seniors Drew Bielawski and Brendan Truett are two-way starters who lead the Trojans.
FND Pick: Downers Grove North.
Downers Grove South (1-1, 1-1) at Morton (0-1)
When: 7 p.m. Friday
Last matchup: Downers Grove South 40, Morton 6 (2019)
About Downers Grove South: Eli Reed and Ryan Dawson have quickly made a connection on the Mustangs' offense. Reed, one of the area's better receivers, already has 11 catches for 269 yards in two games. He caught TDs of 64 and 83 yards last week against Addison Trail from Dawson, a sophomore. Junior Christopher Gasmen had nine solo tackles and eight assists last week in leading Downers Grove South's defense.
About Morton: The Mustangs had an unenviable season opener, scheduling non-conference opponent Naperville Central on the fly after Glenbard West had to cancel, but it was nonetheless a welcome for Morton to finally get on the field. Working the kinks out, Morton hopes for a better result than the 41-0 loss to the Redhawks.
FND Pick: Downers Grove South.
Hinsdale Central (3-0, 2-0) at Proviso West (0-1, 0-1)
When: 7 p.m. Friday
Last matchup: Hinsdale Central 49, Proviso West 6 (2019)
About the Red Devils: Hinsdale Central has dominated three opponents to the tune of a combined margin of 102-14, and one would expect that to continue Friday against Proviso West. The Red Devils' defense set the tone in a 19-0 win at York, Sean Allison leading the way with eight tackles, two pass breakups and an interception and Mikey Franko six tackles and two pass breakups. Charlie Sessa, with eight catches for 225 yards and three TDs, is a big-play threat for Michael Brescia.
About the Panthers: Good news – Proviso West returned to the field last week after its first two games were canceled. Bad news – the result was a 53-0 loss to Oak Park-River Forest. Things don't look to get any easier this week. Speedy running back Ernest Broom is a man to watch.
FND Pick: Hinsdale Central.
Lyons (1-1, 0-1) at Glenbard West (2-0, 1-0)
When: 1:30 p.m. Saturday
Last matchup: Glenbard West 42, Lyons 0 (2019)
About the Lions: Lyons first-year coach Jon Beutjer got his first win in a big way last Thursday, a 38-0 win over Leyden. It goes without saying that a trip to Glenbard West provides a significant step up in competition. Lyons will look to junior quarterback Joey Antonietti to make plays against a tough defense.
About the Hilltoppers: Glenbard West returns to the field after missing Week 3 while on pause. Shaking off the rust, it helps to have a backfield duo like Jalen Moore (30 carries, 327 yards, TD in two games) and Samson Zander (89 yards, three TDs) around. A Week 5 game at Hinsdale Central next Friday looms.
FND Pick: Glenbard West
Hinsdale South (1-2) at Wheaton Academy (2-1)
When: 7:15 p.m. Friday
Last matchup: First known meeting.
About the Hornets: Hinsdale South and Wheaton Academy came together for a game, with their respective Week 4 opponents – Proviso East and IC Catholic Prep – on pause. The Hornets look to get back on track after a 42-7 loss last week to West Suburban Gold power Willowbrook. Hinsdale South did force three turnovers in the game and got a touchdown run from Khamani Williams.
About the Warriors: Wheaton Academy returns to the field after Westmont forfeited their Week 3 game. Junior quarterback David Dorn has thrown for 278 yards in two games, Andrew Laplant (nine catches, 178 yards) his favorite targe.
FND Pick: Hinsdale South.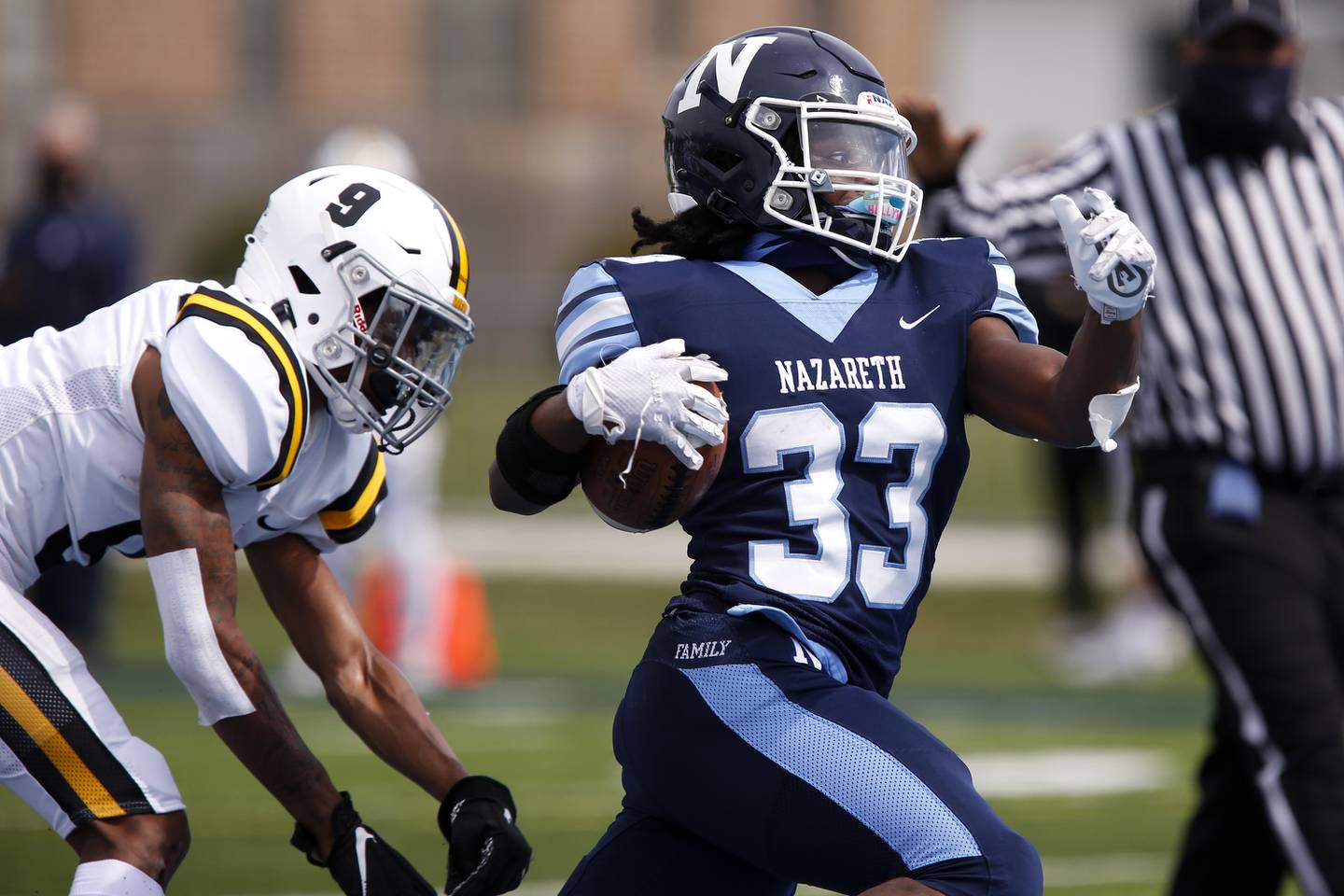 CCL/ESCC
Fenwick (0-2) at St. Patrick (1-1)
When: 7:30 p.m. Friday, at Triton
Last matchup: Fenwick 17, St. Patrick 9 (2019)
About the Friars: The Friars come in off a tough 20-19 loss to Marmion, a game in which they let a two-touchdown fourth-quarter lead get away. Worse, they lost quarterback Kaden Cobb on a scramble. Cobb threw a TD pass to Eian Pugh and Isaac Novak scored two TDs in the loss.
About the Shamrocks: The Shamrocks' loss came 24-21 to Carmel. St. Francis' junior class went 8-1 as sophomores. Junior defensive end Jayden Griffin holds an offer from Eastern Illinois and junior Jermaine Young is a dual-threat quarterback.
FND Pick: Fenwick.
Marist (2-1) at Nazareth (2-0)
When: Noon Saturday
Last matchup: Nazareth 39, Marist 29 (2019)
About the RedHawks: Marist comes in off a hard-fought 24-21 loss to Mount Carmel. The RedHawks' offensive line is anchored by Pat Coogan, a 6-foot-5, 290-pound senior Notre Dame recruit. Junior quarterback Dontrell Jackson is a talented dual threat. The RedHawks hitch their wagons with senior Jamari Grant, who scored the game-winning TD Week 2 against Brother Rice and ran for 79 yards on 25 carries against Mount Carmel.
About the Roadrunners: Nazareth hasn't really been tested at all in its first two games, blowouts of St. Laurence and DeLaSalle, so it remains to be seen how the Roadrunners will respond in the heat of a close game. Nazareth coach Tim Racki picked up his 200th career win last week. Junior Quentrell Harris has proven himself to be quite a playmaker in his first two games at Nazareth. The Lyons transfer has seven catches for 262 yards and three TDs and an interception return for a TD. Marist and Nazareth have developed a nice little rivalry in recent years, the Roadrunners currently owning the upper hand.
FND Pick: Marist
Metro Suburban Conference
St. Francis (3-0) at Riverside-Brookfield (1-2)
When: 7:15 p.m. Friday
Last matchup: St. Francis 59, Riverside-Brookfield 13 (2019)
About the Spartans: St. Francis has been as dominant as any team over the spring season's first three weeks, making one wonder how far the Spartans could have gone in a Class 4A bracket had there been a playoffs. Senior quarterback Tommy Rittenhouse, with 554 passing yards and 168 rushing yards, is as good a dual threat as there is. Jackson Gerard and Elijah Lee are among a host of the weapons at Rittenhouse's disposal, two of five receivers with at least five catches.
About the Bulldogs: The Bulldogs got in the win column last week with a 60-0 blowout of Ridgewood, but of course St. Francis represents a huge step up in class. Luke Swiatek is a player to watch, Riverside-Brookfield's leading tackler and the second-leading receiver for quarterback Owen Murphy.
FND Pick: St. Francis.
Westmont (0-3) at Ridgewood (0-2)
When: 7 p.m. Friday
Last matchup: Westmont 21, Ridgewood 0 (2019)
About the Sentinels: Westmont had to forfeit its Week 3 game with Wheaton Academy as it did not have enough players after several injuries against Aurora Christian the week before. The Sentinels were hoping to play this week.
About the Rebels: It's been a rough go of it for Ridgewood, outscored 108-0 the last two weeks by Chicago Christian and Riverside-Brookfield.
FND Pick: Westmont
Upstate Eight Conference
Glenbard East (1-2) at East Aurora (0-3)
When: 6 p.m. Friday
Last matchup: Glenbard East 47, East Aurora 32 (2019)
About the Rams: Glenbard East comes in off back-to-back losses, the latest a surprising 36-13 loss at the hands of Streamwood. Turnovers have hurt the Rams with 11 interceptions alone. One would assume that they can get well this week at struggling East Aurora. Benny Miller enjoyed a solid game against Streamwood with 81 yards rushing and a touchdown.
About the Tomcats: It's been a tough go of it for the Tomcats, outscored 158-12 in three losses this season. East Aurora did score its first two touchdowns last week in a 49-12 loss to Fenton.
FND Pick: Glenbard East.
Glenbard South (1-2) at Fenton (1-2)
When: 1 p.m. Saturday
Last matchup: Glenbard South 44, Fenton 20 (2019)
About the Raiders: The Raiders hung in there against South Elgin last week, a 31-20 loss. This Saturday presents an ideal opportunity to get back in the win column.
About the Bison: Fenton comes in off a 49-12 win over East Aurora, and now seek to match its win total from 2019.
FND Pick: Glenbard South
South Suburban Conference
Bremen (1-2) at Lemont (2-1)
When: 7 p.m. Friday
Last matchup: Lemont 45, Bremen 14 (2019)
About the Braves: Bremen has been in a number of dogfights to start its season, but it will be hard pressed to keep that trend going in this week's matchup. The Braves haven't faced any of the league's top teams yet but now will have to do so in back-to-back weeks as their game against Lemont is followed with conference front-runner Hillcrest in Week 5.
About the Indians: Lemont was expected to have a stellar defense. For the most part, the team has delivered on that front, but probably a little more surprising is the Indians' strong offensive play. Lemont is averaging about 33 points a game as the Indians have outperformed expectations to this point.
Pick: Lemont
– Steve Soucie