DuKane Conference
Wheaton Warrenville South (2-0, 2-0) at Wheaton North (2-0, 2-0)
When: 1 p.m. Saturday
Last matchup: Wheaton Warrenville South 17, Wheaton North 6 (2019)
About the Tigers: WW South shook off a scoreless halftime game with Glenbard North last Friday, scoring 20 points in the second half of a 20-12 win. Eddie Robinson has enjoyed back-to-back strong games to start the season, with two-week totals of 222 yards on 33 carries with three TDs. Parker Brown threw for two TDs against Glenbard North, one to Kaleb Clousing, and one to Robinson. The Tigers have won the last two meetings with the Falcons since they joined the DuKane Conference.
About the Falcons: Wheaton North, coming off back-to-back 4-5 seasons, has opened eyes in outscoring its first two opponents by an 87-7 margin. A game with the crosstown Tigers figures to provide an even better barometer. Brayton Maske ran for 126 yards and two touchdowns and quarterback Mark Forcucci three two touchdowns and ran for a third last week against Lake Park. The Falcons' offense has impressed, scoring more points in both games than in any other games since the 2016 season.
FND Pick: Wheaton Warrenville South
West Suburban Conference
Addison Trail (0-2, 0-1) at Downers Grove South (0-1, 0-1)
When: 6 p.m. Thursday
Last matchup: Downers Grove South 42, Addison Trail 0 (2019)
About the Blazers: First two weeks don't get much tougher than Addison Trail's, outscored 104-13 by Glenbard West and Willowbrook, the class of the Silver and Gold divisions, respectively. This week's assignment is a little more reasonable for the Blazers and first-year head coach Chris Bazant. Addison Trail senior Chris Reed was stellar on both sides of the ball against Willowbrook with 125 yards rushing and two TDs, and several tackles and an interception on defense.
About the Mustangs: Downers Grove South dropped its first game of the season 21-12 at Hinsdale South after its Week 1 game was canceled because of a COVID-19 quarantine. Junior Eli Reed, playing multiple positions, caught five passes for 101 yards and a two-point conversion, returned punts and even threw a pass. Nathan Gustafson and Ethan Monaco leads the Mustangs' defense.
FND Pick: Downers Grove South
Hinsdale South (1-1, 1-0) at Willowbrook (2-0, 2-0)
When: 6 p.m. Thursday
Last matchup: Willowbrook 35, Hinsdale South 0 (2019)
About the Hornets: Donnie Lowdermilk threw three touchdown passes, two to Jaylon Smith and one to Luke Terrell, in Hinsdale South's 21-12 win over Downers Grove South last Friday. Hinsdale South last beat Willowbrook in 2016, although the Hornets have been as competitive as any team in the Gold during the Warriors' run of dominance in the division the last few years.
About the Warriors: Josh Brown's first two games is the stuff of video games. The Willowbrook junior has rushed for a combined 490 yards and eight TDs in two games, and is also a key contributor on a Warriors' defense that has allowed just two scores. Junior Jaylon White got in on the fun last week with 143 yards and three TDs as Willowbrook totaled 401 rushing yards. Hinsdale South figures to provide a tougher test.
FND Pick: Willowbrook
Lyons (0-1) at Leyden (0-2)
When: 7 p.m. Thursday
Last matchup: Lyons 34, Leyden 7 (2019)
About the Lions: Lyons, finally returning to action after a quarantine, perhaps showed some rust in its season opener last Saturday, spotting Oak Park-River Forest an 18-point lead but eventually rallying in an 18-15 loss. Junior Joey Antonietti, in his second season as starting quarterback, provides the Lions a good base to build around for this year and next. He threw for two TDs and ran for 101 yards against OPRF. Denison baseball recruit Tommy Asleson is his favorite target with five catches for 89 yards and two TDs. Quick turnaround in a very short week, but this looks like a good opportunity for head coach Jon Beutjer's first win.
About the Eagles: Talk about a rough schedule out of the gate. Leyden had Gold powerhouse Willowbrook in Week 1, then Hinsdale Central last Friday. The Eagles struggled to stop the run the first week and the pass last week.
FND Pick: Lyons.
York (1-1, 0-1) at Hinsdale Central (2-0, 1-0)
When: 1 p.m. Saturday
Last matchup: Hinsdale Central 28, York 21 (2019)
About the Dukes: York comes off a 21-0 loss to Glenbard West, a game in which the Dukes' defense acquitted fairly well despite giving up 320 yards rushing. York forced two turnovers, Matt Kavanaugh forcing a fumble and sophomore linebacker David Loch continuing an impressive start to the season with an interception. Offensively, Patrick Kastner has gone over 100 yards on the ground in both games. This game provides the Dukes another opportunity to see how much they've closed the gap with the upper echelon of the West Suburban Silver.
About the Red Devils: Hinsdale Central has been dominant in beating Oak Park-River Forest and Leyden by a combined 83-14 margin, so this could be the Red Devils' first true test. Michael Brescia continues to shine as one of the area's better quarterbacks as he threw for two touchdowns and ran for two more against Leyden, and Charlie Sessa and Ryan Orput each caught TD passes for the second straight game.
FND Pick: Hinsdale Central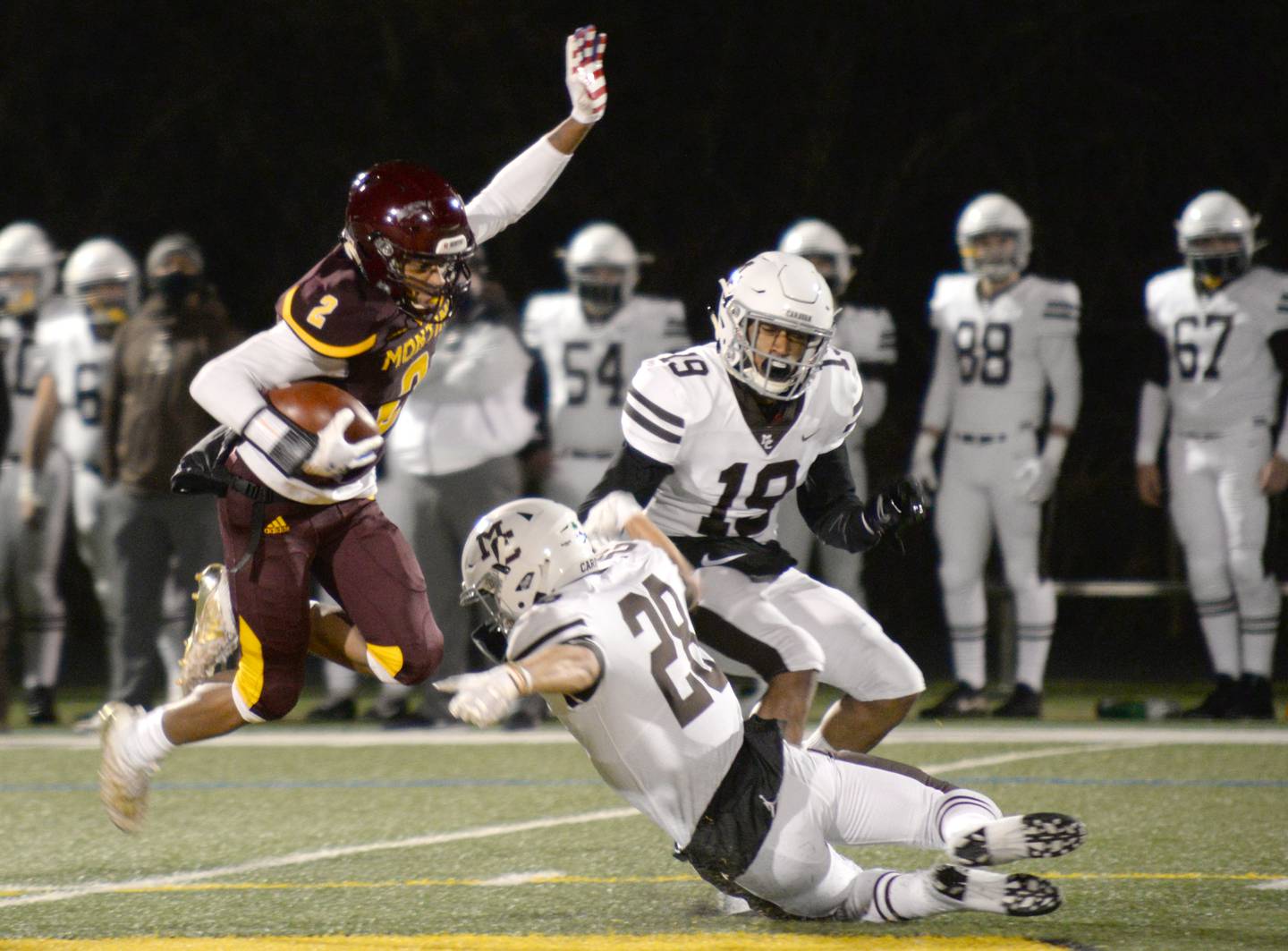 CCL/ESCC
Notre Dame (0-2, 0-1) at Montini (0-2, 0-1)
When: 7:30 p.m. Thursday
Last matchup: Notre Dame 28, Montini 7 (2019)
About the Dons: Notre Dame, which has won at least seven games in four of the last five seasons, is off to an unusual 0-2 start – but a loss to Marist and 7-0 defeat to Providence makes that mark a little deceiving. Quarterback Anthony Sayles, a two-sport star, is the man to watch. Tulane recruit Jonathan Kahn anchors an offensive line that also features 6-foot-6, 285-pound junior Tom Shipman.
About the Broncos: Montini is off to its first 0-2 start since 2010, but perspective – the two losses are to Mount Carmel and St. Rita, two of the state's best teams. The defense has to be of greatest concern, after giving up 51 points to St. Rita. Sophomore running back Josh Robinson continues to be one of Montini's bright spots. Tre Jones and Brett Pickering both threw long TD passes to Mario Florio and Jalen McBride, against St. Rita.
FND Pick: Notre Dame.
Nazareth (1-0, 1-0) at DeLaSalle (1-0)
When: 6 p.m. Thursday
Last matchup: Nazareth 42, DeLaSalle 7 (2019)
About the Roadrunners: Nazareth got off to a flying start last Saturday against St. Laurence, after its Week 1 game with Fenwick was canceled. Five different players scored, with junior Tyler Morris catching five passes for 106 yards and a 44-yard TD from Aidan Pieper. Pieper, a transfer from St. Charles North and one of three quarterbacks Nazareth is rotating, was impressive in his Roadrunners' debut, completing his first seven passes. Quentrell Harris, who had an 80-yard interception return for a TD, and Kaleb Millers are others to watch in a Nazareth team loaded with talented underclassmen at the skill positions.
About the Meteors: De La Salle had its Week 2 game canceled because of COVID-19 issues at Benet's end, after the Meteors opened their season with a 33-14 win over DePaul Prep. Outside linebacker/defensive end Aidan Ralph, one of six returning starters on defense, is committed to Iowa State. Defensive back Jason Moore, who also plays running back, is a two-way starter committed to Eastern Illinois. The Meteors also returned three starters on the offensive line.
FND Pick: Nazareth
Fenwick (0-1) at Marmion (0-1)
When: 12:30 p.m. Saturday
Last matchup: Fenwick 31, Marmion 26 (2019)
About the Friars: Fenwick received a rather rude introduction to the 2021 spring season. After their Week 1 game with Nazareth was canceled because of COVID-19 protocols, the Friars were beaten by Joliet Catholic 42-7 this past Sunday. Junior Kaden Cobb, with Vanderbilt, Missouri and Boston College among 14 offers, is one of the area's most talented quarterbacks.
About the Cadets: Marmion fared reasonably well in its first game of the season after returning from COVID-19 quarantine, leading in the second half of an eventual 22-17 loss at Class 8A power Naperville Central on Sunday morning. Marmion quarterback Padraig Fitzgerald, an Illinois Wesleyan recruit, was 17-of-28 passing for 167 yards and a touchdown and junior wide receiver Dane Pardridge had eight catches for 88 yards.
FND Pick: Marmion
Metro Suburban Conference
Aurora Christian (1-1) at St. Francis (2-0)
When: 1 p.m. Saturday
Last matchup: St. Francis 50, Aurora Christian 7 (2019)
About the Eagles: Aurora Christian bounced back from a three-point season-opening loss to St. Edward to beat Westmont 41-6 last week, a game in which the Eagles led 35-0 at the half. Junior Trey Beebe is a player to watch. Tyler Brueckner, committed to NIU as a preferred walk-on at wide receiver, is at quarterback with Ethan Hampton graduating early and already at NIU.
About the Spartans: Few teams have had as impressive a start to their season as the Spartans, who have outscored two opponents 72-14 and rolled up a 37-0 halftime lead last week against Wheaton Academy. St. Francis' defense, which shut out IC Catholic Prep in Week 1, got pick-sixes from Tyler Duzansky and Elijah Lee and recorded four sacks against Wheaton Academy. Tommy Rittenhouse has topped 200 passing yards in both games this season in piloting a balanced attack. This is St. Francis' home opener.
FND Pick: St. Francis.
IC Catholic Prep (1-1) at St. Edward (2-0)
When: 1 p.m. Saturday
Last matchup: IC Catholic Prep 41, St. Edward 0 (2019)
About the Knights: IC Catholic bounced back from its season-opening loss to St. Francis to beat St. Ignatius 19-6 last week. Ryan Vezza returned a fumble 50 yards for a touchdown as part of the defensive effort. The Knights, as always, will look to get Kyle Franklin established on the ground.
About the Green Wave: St. Edward is 2-0 for the first time since 2016. IC Catholic is a big step up in competition and should provide a good barometer for how good the Gree Wave is. The Knights have won the last five meetings in the series by an average margin of 40 points since St. Edward's last win, in 2014.
FND Pick: IC Catholic Prep.
Riverside-Brookfield (0-2, 0-1) at Ridgewood (0-1, 0-1)
When: Noon Saturday
Last matchup: Riverside-Brookfield 43, Ridgewood 0 (2019).
About the Bulldogs: It's been a tough first two weeks on the road for Riverside-Brookfield, an opening loss to Hillcrest followed by a 34-12 defeat at Bishop McNamara last week. The Bulldogs managed just 194 yards of offense while Bishop McNamara freshman Tony Phillips ran for 214 yards and three TDs. A game with Ridgewood could be just what the doctor ordered. The Bulldogs have dominated the series the last four years, with three wins by at least four touchdowns.
About the Rebels: Ridgewood struggled defensively in a 3-6 2019 season, giving up just a tick under 34 points per game. A 48-0 loss to Chicago Christian last week, after the Rebels' opener was canceled, is not a particularly good sign.
FND Pick: Riverside-Brookfield.
Upstate Eight Conference
Streamwood (1-1, 1-1) at Glenbard East (1-1, 1-1)
When: 7:30 p.m. Thursday
Last matchup: Glenbard East 28, Streamwood 0 (2019)
About the Rams: Glenbard East comes off a 14-7 loss to Elgin, a game in which the Rams had their share of struggles offensively. The Rams had five red zone opportunities come up empty, and also turned the ball over three times although they also forced three turnovers. Daniel Schager, who has proven to be a big-play man for Glenbard East the first two weeks, scored the Rams' only TD on a 35-yard pass from Connor Cerkas. This could be a get-well week, as the Rams have outscored Streamwood 91-2 the last two seasons.
About the Sabres: Streamwood comes in off a 32-14 loss to Bartlett, a game in which the Sabres committed three turnovers. Isaac Martinez ran for 87 yards and a 30-yard TD for the Sabres in the game.
FND Pick: Glenbard East.
South Elgin (2-0, 2-0) at Glenbard South (1-1, 1-1)
When: 6 p.m. Thursday
Last matchup: South Elgin 63, Glenbard South 0 (2019).
About the Storm: The Storm offense, potent last season in scoring 490 points over 11 games, appears to have picked up right where it left off with 101 points over its first two games, wins over Fenton and East Aurora. Last year's result notwithstanding, Glenbard South would seem to present a stiffer test. Senior running back Davion Cherwin is off to a huge start to the season. He ran for 279 yards and three TDs on just 10 carries against Fenton, and scored three more TDs in the win over East Aurora.
About the Raiders: After a Week 1 loss to Bartlett, the Raiders got back on track last week, beating West Chicago 37-7. South Elgin clearly presents a step back up in class. Glenbard South has allowed 118 total points in two losses to the Storm the last two years, so the improvement clearly needs to start on the defensive end.
FND Pick: South Elgin.
South Suburban Conference
T.F. North (1-1) at Lemont (1-1)
When: 7 p.m. Friday
Last matchup: Lemont 57, T.F. North 22 (2019)
About the Meteors: T.F. North has split a pair of games this season, both competitive contests. But keeping that trend going will require a step up from the Meteors, particularly on offense, as T.F. North has yet to score more than 20 points in either of their games.
About the Indians: Lemont traded punch for punch with Hillcrest before succumbing in the end during Week 2, and although Hillcrest did manage to post some points in that victory, Lemont still will be anchored around the strong play of a talented defense. Odds are it will return to form this week against an opponent with a little less firepower than Hillcrest possesses.
FND pick: Lemont