DOWNERS GROVE – As one of the last players to leave Carstens Field on Nov. 18, Downers Grove North's Jimmy Janicki paused for a brief second in the tunnel leading to the locker room.
The senior defensive end/linebacker glanced to his right, quickly noticing a flaw on the wall. The letter "p" was coming unglued from the wall, which led to the word "Champions" in bright purple missing a key letter for every Trojans player to see.
[ Photo store: Downers Grove North vs. Normal Community ]
Janicki tried to push the letter back on the wall, hoping it would stick – to no avail.
Earlier in the day, he made sure Downers Grove North walked off the field as champions.
Janicki returned an interception for a touchdown, quarterback Owen Lansu tossed three touchdown passes and Noah Battle added two scores to lead Downers Grove North to a resounding 42-0 rout over Normal Community in a Class 7A state semifinal in Downers Grove.
The Trojans (11-2) dominated the previously undefeated and top-seeded Ironmen (12-1) in all three phases of the game and put together a stout defensive effort. The Trojans intercepted two passes and allowed only 68 yards of total offense.
Downers Grove North, which won a Class 8A state title in 2004, advanced to play state powerhouse Mount Carmel at 4 p.m. Saturday in the 7A state championship game at Illinois State University's Hancock Stadium.
"Our defense always sets the tone," Janicki said. "Our offense is great, too. But the defense was just fast and physical. We played hard and physical and played our best."
Downers Grove North coach Joe Horeni, who was the starting center on Downers Grove South's 2001 Class 8A state championship team, cherished the shutout victory. After players from both teams shook hands, Horeni, wearing his customary shorts, was doused with Gatorade by his players.
"I love this town," Horeni said. "It's an unbelievable place. I'm very proud of our kids and coaches for all their hard work. Our kids did a fantastic job and I'm looking forward to [this] week. We were very balanced offensively and played great on special teams. To get a shutout in the semifinals is unbelievable."
Battle, a hard-nosed runner and a physical hitter on defense, fueled the running game with 16 carries for 81 yards, including a 5-yard TD run to give the Trojans a 21-0 lead midway through the second quarter. Battle broke open the game with a thrilling 87-yard kickoff return for a touchdown to open the third quarter.
"I saw the alley and just went," Battle said of his kickoff return TD. "We had been planning for that all week. We knew it would be open for us. That was something we were ready for. We had a great week of preparation. We all were locked in. This was our last game at home, so we had to make it count. Our defense is what really puts us over the edge. We were physical and ready to hit."
The Trojans' defense set the tone, limiting the high-octane Ironmen offense to punts all game. Janicki, who is wearing a cast on his left arm, started the rout with a 27-yard interception return for a touchdown early in the second quarter.
"That was awesome," Janicki said of his pick-six. "I think they were attempting a screen, but I just read the quarterback and it scared me first because [the ball] hit off my cast but I got it."
After their first drive, the Ironmen were reduced to an endless parade of three-and-outs on offense. Normal coach Jason Drengwitz heaped praise on the Trojans for playing a near flawless game in all three segments. Lansu shredded the Ironmen defense for 199 yards passing and tossed touchdowns to Oliver Thulin, Charlie Cruse and Owen Thulin.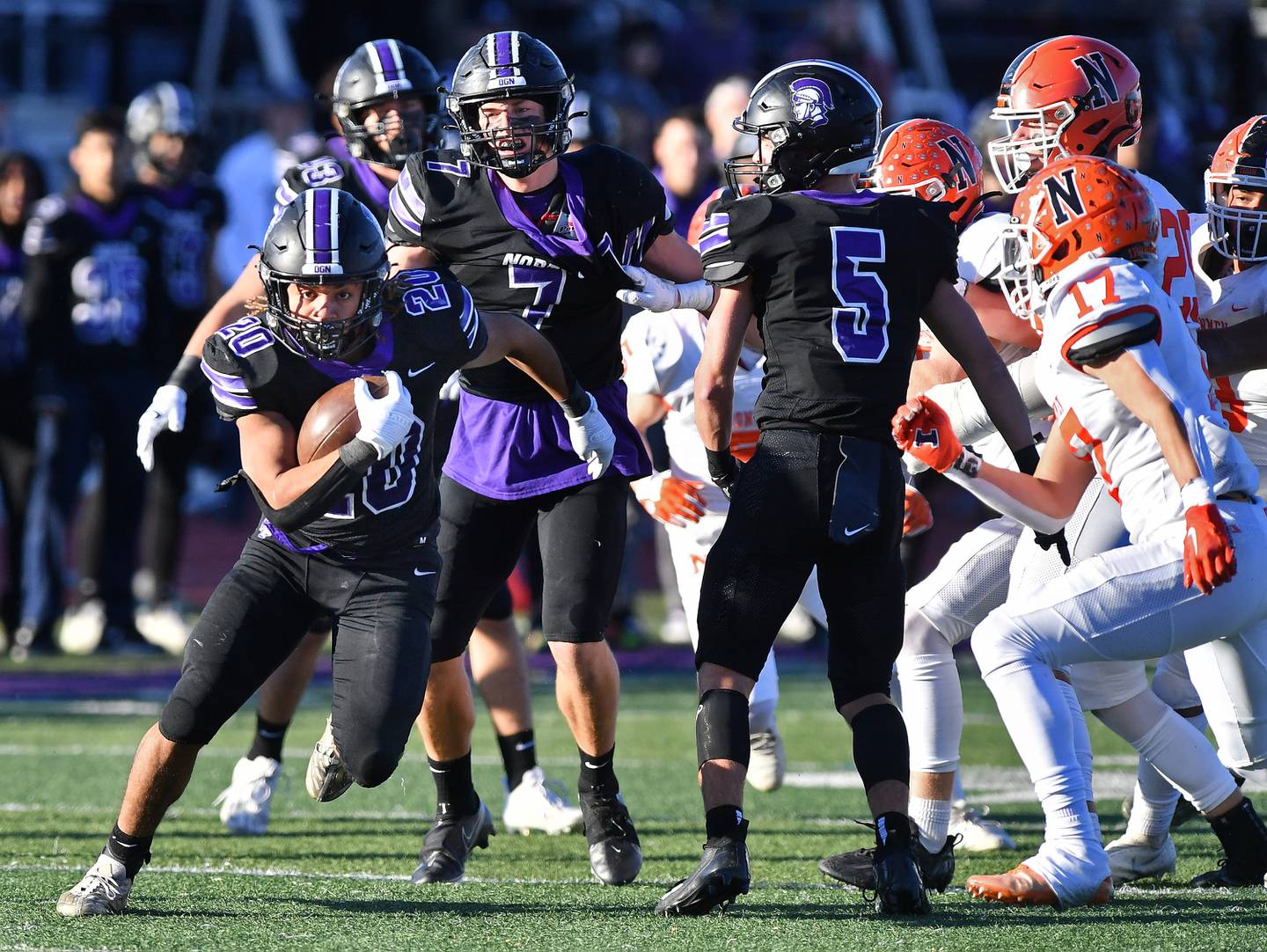 "They were an outstanding team in all three phases and were well-coached," Drengwitz said. "We knew coming into the game how good they were defensively. They were big and physical and ran to the football well. They put pressure on our quarterback. They played great defense against us. Their quarterback is an outstanding player. He lived up to his billing. We made some mistakes in coverage that allowed him to hit some guys for touchdowns. He's a special player who will only get better."
Lansu, a sophomore, showcased uncanny poise in the pocket, eluding tacklers to extend plays that led to several first downs and touchdowns. He tossed a bullet pass in the middle of the field to Oliver Thulin, who raced past the secondary for a 57-yard TD for a 7-0 lead in the first quarter.
Lansu spread the ball around and showcased deft footwork – in and out of the pocket – to wear out the Ironmen defense.
"I feel everything that could've gone well for us did today," Lansu said. "The offensive line blocked great for us today. The receivers got wide open. It might have been our best game of the year for the offense. I feel as we've progressed through the year, we're gotten better on offense. We're starting six sophomores on offense, so it's taken a little bit of time for us to open our offense up. Noah is an all-state running back and a great player, so when we're able to pass the ball, it's really tough to stop our offense."