LOMBARD – Byron, one of the highest-scoring teams in Illinois high school football history, was up against it at Montini.
Caden Considine got the Tigers out of a pickle.
Intercepting a fourth-down pass at Byron's 4-yard line, the all-state two-way sophomore's 46-yard return set up the winning drive.
Considine then ran on eight of nine snaps after the interception. His 1-yard touchdown run behind all-state guard Jared Claunch with 3:29 to play and Brayden Knoll's two-point conversion run gave Byron a 26-20 victory in the Class 3A state semifinal Nov. 18 at John L. Duffy Memorial Stadium in Lombard.
"We knew we had to get a big stop. They'd been running the ball all the way down the field. I knew they were going to try and surprise us. They did a little seam route. I was right there, picked it off," said Considine, who ran for 244 yards.
Knoll had 141 yards rushing and three touchdowns.
No. 1-seeded Byron, the 1999 and 2021 Class 3A state champion, reached its fourth title game in five seasons. The Tigers (13-0) will play No. 4 Mt. Carmel in the Class 3A final at 4 p.m. Friday at Hancock Stadium in Normal.
Leading 20-18 with 7:29 left to play, No. 6 Montini (9-4) initially set up for a 26-yard field-goal attempt. A delay of game penalty backed up the Broncos.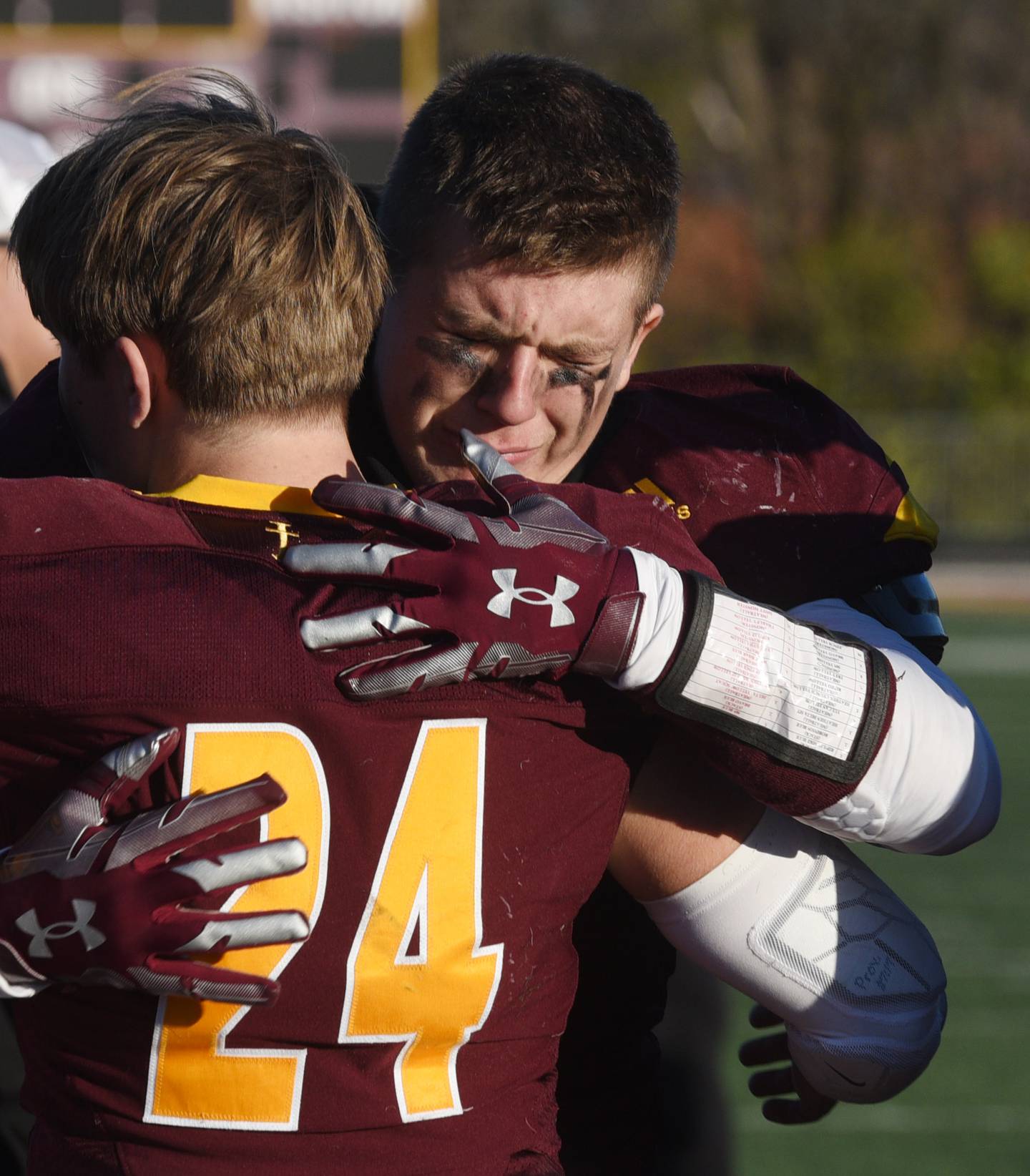 After a timeout, the offense came back on the field.
"To be honest, I don't know what the field goal does there," said Montini coach Mike Bukovsky, who was hoping to draw Byron offside or call timeout before the penalty scuttled the plan. "If we can make a play on the edge and shake a guy free, then maybe that's what we want to do."
After Considine's 25th touchdown run of the season, which was Byron's IHSA record 99th rushing touchdown this season, Montini gained a first down but turned the ball over on downs with 1:09 left.
Byron's 754 points rank behind only Peoria's 805 in 2016. Montini held Byron below its 60.7-point average, best all-time in Illinois.
"I thought we did a really good job," said Bukovsky, who had sought Montini's 10th downstate appearance and possibly a seventh state title. "We needed to take control with another score and offensively we didn't execute well enough and that really is the story of the game."
"We knew what we were coming in against," said Montini all-state running back Alex Marre, who carried 25 times for 124 yards and two touchdowns.
Montini capitalized on Nick Irion's fumble recovery to take a 7-0 lead less than two minutes into the game on Marre's 20-yard touchdown run and Cole Stumbaugh's kick.
Byron scored three straight touchdowns, all by Knoll on runs of 24, 23 and 15 yards, to lead 18-7 at 5:21 of the second quarter.
While Montini dealt with Considine between the tackles, Knoll plied the perimeter.
"Why wouldn't you key on Caden, he's been dominating all year," Knoll said.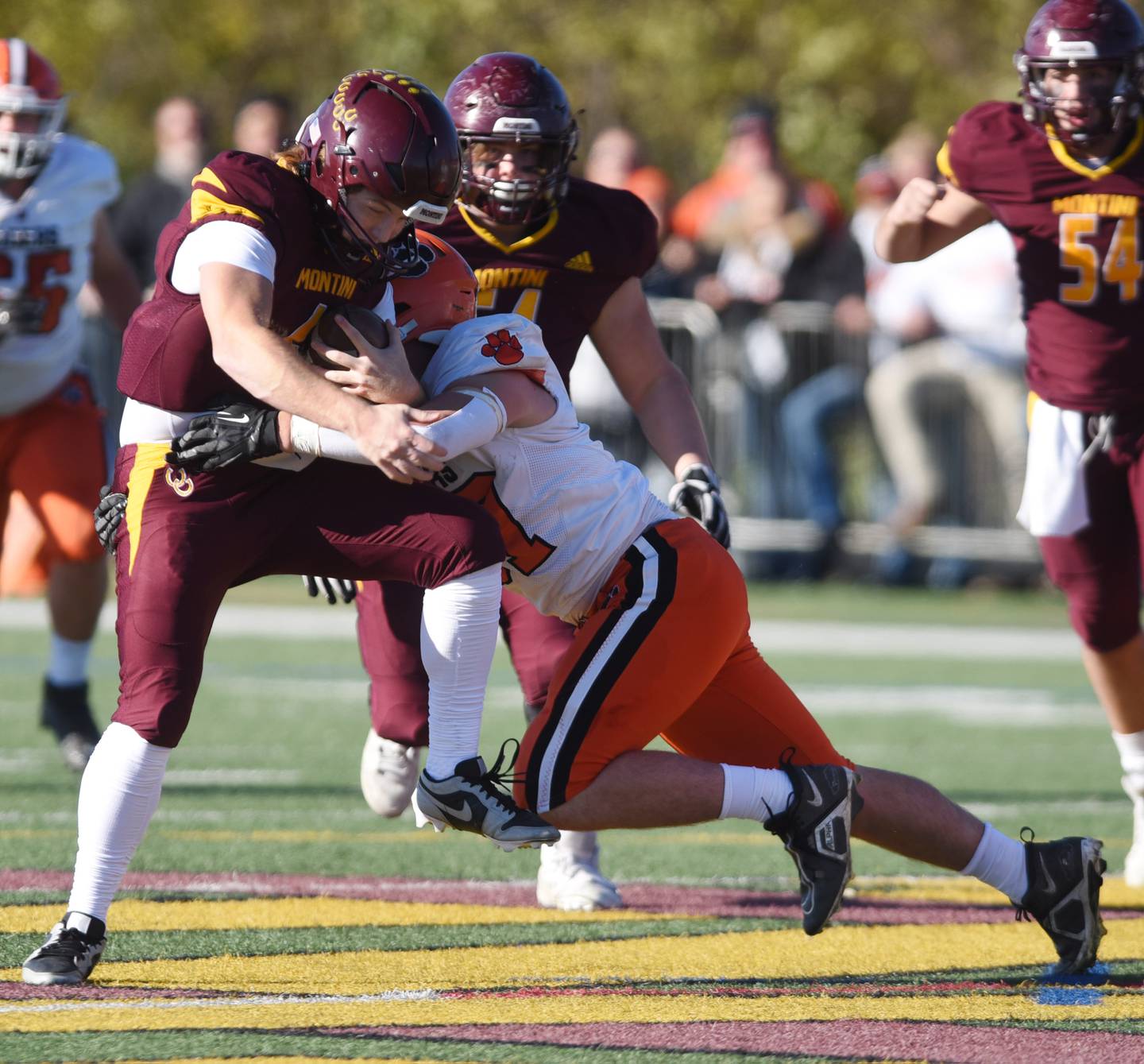 Marre used his 38-inch vertical leap to go up and over on a 1-yard touchdown run to pull Montini to within 18-13 at halftime.
The Broncos took a 20-18 lead two plays into the third quarter on a 46-yard run by another all-state selection, George Asay, who ran for 65 yards and caught four passes for 72 yards.
Byron, with 113 touchdowns, now targets Peoria's state record of 116 – and a state title.
"I laugh because when I played as a senior, Coach [Everett] Stine, he always said, 'Whatever I called worked.' That's kind of how I feel with this group," Tigers coach Jeff Boyer said.
https://football.dailyherald.com/sports/20231118/all-stater-considine-comes-to-the-fore-against-montini/