MONMOUTH – At long last, LaMoille and Ohio high schools will have state champion athletes walking its halls.
About one-third of the roster of this year's Illinois 8-Man Football Association State champion Amboy Clippers earned the special distinction of being the first in their schools to achieve championship gold.
That chunk of the roster represents the students from LaMoille and Ohio on the Clippers, who Friday won its second state football championship in program history – and its first of the 8-man variety – with a powerful 74-22 win over the Ridgewood co-op of Cambridge and AlWood.
And what a win it was: Regardless of the 8- or 11-man game, the 74 points set a new high for an Illinois high school state title game, besting the 70 put up by Montini in the 2011 Class 5A title game. The 52-point margin of victory also set a new high, two more than East St. Louis' 50-point gap set in last year's 6A title game.
There's no doubt they are positive memories that will linger, not just in the kids' minds, but everyone else from or around Amboy, LaMoille or Ohio who was at Monmouth College's April Zorn Stadium to witness it. Perhaps it eased the heartbreak after losing in the championship game last season to West Central.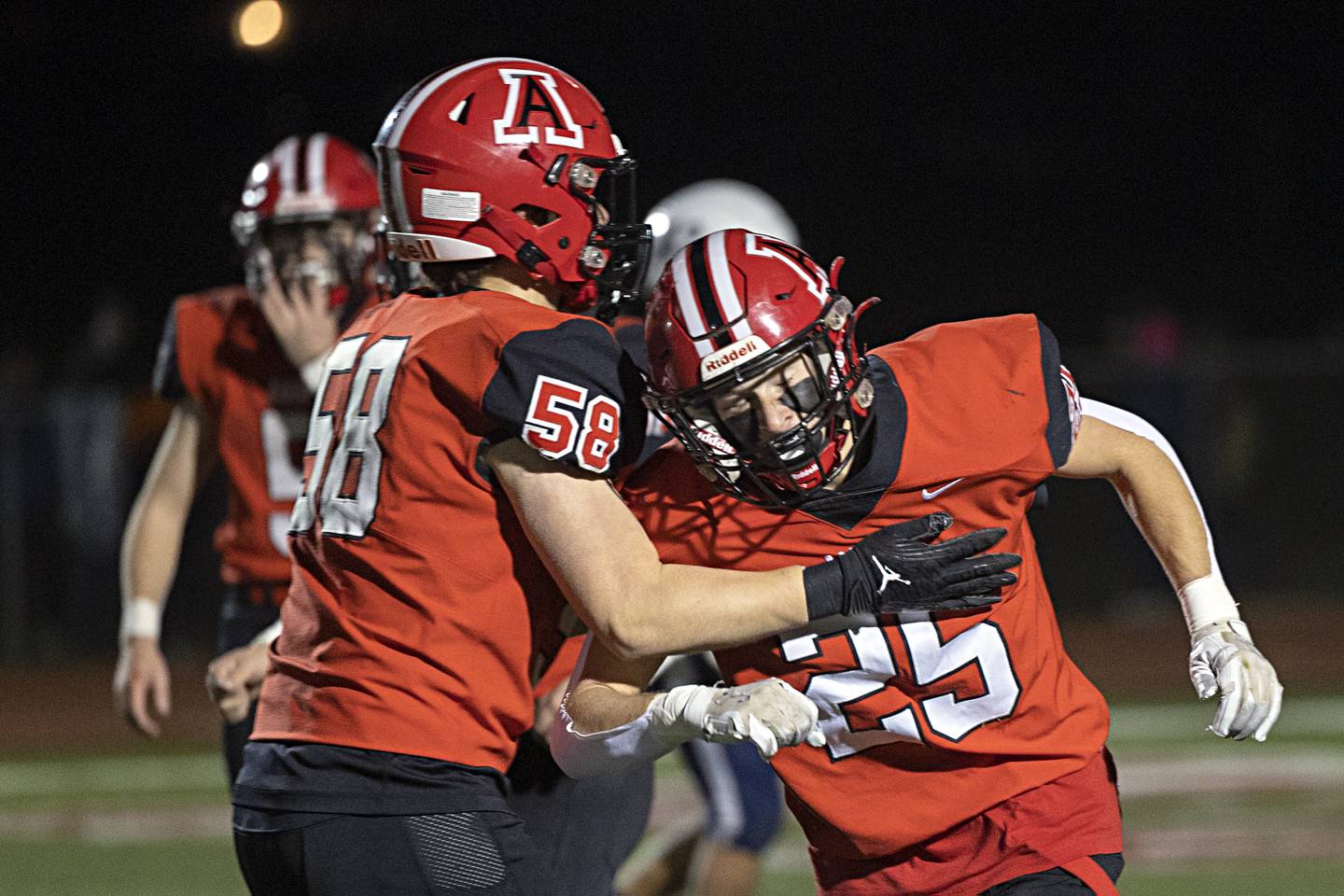 Troy Anderson and Vincent Zembrzuski are the Ohio Bulldogs on the Clippers' roster, but they didn't get to wear the purple and gold of their small school during the football season. Seven LaMoille Lions were on the Amboy roster – Cody Winn, Ed Fry, Ian and Tate Sundberg, Brayden Klein, Gio Gatza and Evan Flanagan – did wear their school colors of red and – some – white, but no "LaMoille" adorned their jerseys.
The nine kids might not roam the halls of Amboy High School, or will get to see each school day the state championship trophy they helped win, but they played key roles and filled up the stat books over the course of a successful season.
In fact, one-third of the Clippers' No. 2 North All-Division team were LaMoille and Ohio players: Anderson (defensive back) and Ian Sundberg (offensive guard) made first team, while Winn (defensive back) made second team.
Winn finished the season with around 40 tackles and four interceptions. Klein also tallied around 60 tackles, 10 of them for loss, and also nabbed four picks. They've seen support throughout town: Red, black and silver ribbons affixed on phone poles along Main Street, banners in front of the school and at the busy intersection of Routes 34 and 92.
"We have a lot of supporters there," Klein said. "They help out a lot."
Fry had the distinction of clenching the football first in Friday's game, having received the opening kickoff. What came after that felt like a blur: a big run, touchdown, fumble recovery on the next kickoff, and another touchdown for a quick 14-0 lead less than 2 minutes into the game.
"It's a smaller town with a lot of spirit," Fry said. "It's awesome all around and everybody's so supportive. We've been fighting for this for two years now, and it just means so much to us, to finally complete this task."
Anderson finished with around 60 tackles (solo and assists) and eight interceptions on defense, as well as three touchdown receptions on offense.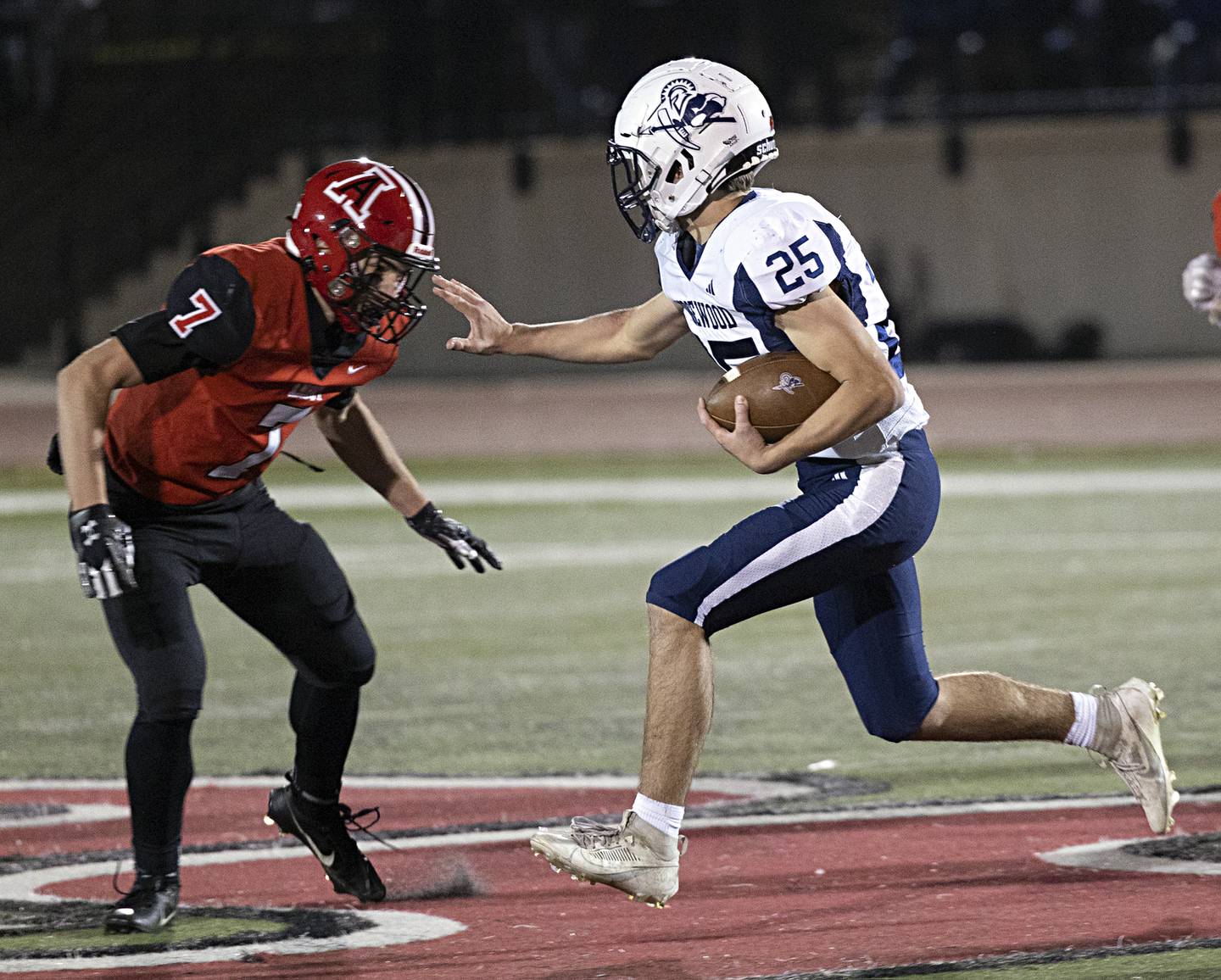 A few "Clipper Pride" yard signs have popped up on Ohio lawns and some downtown businesses, and Anderson's happy to see his town take notice of his team's accomplishments.
"Everybody's pretty excited," Anderson said. "Our sports situation is [unique] in that we've co-oped with different schools, but it's always fun to be able to have success. It really brings everybody together, and everybody really gets excited. It's really nice to see, especially with the decorations around town and everyone getting excited."
Clippers coach Scott Payne is happy to see contributions from all the schools.
"It's a great thing," Payne said. "All three communities have really come together well. To see kids from each community contribute so much to this football team, it's a great thing to see. It's a close group of kids, even though Amboy, LaMoille and Ohio are about 10 miles apart from each other. It's great when you can get kids from other towns that come here and contribute the way the LaMoille and Ohio kids have done.
"For sure, we wouldn't be where we're at without them."
The firepower just kept coming after getting out to a two-score lead. It was 38-0 Clippers at the end of the first quarter, and 68-6 at halftime – a far cry from what the Clippers experienced on the same turf a year ago.
"To come off of last year and losing in this exact same game, it feels a whole lot better now to be a state champion," Zembrzuski said. "We came out and showed them who we are as a team. That's who we are. That's Amboy football right there."
Make that Amboy-LaMoille-Ohio.
"We had a ton of people here from Ohio," Zembrzuski said. "All three towns showed up. We love to have the support here, and it was great."
The wide-open scoring margin brought in the reserves midway through the third quarter. Flanagan, a freshman lineman, was one of them. Friday was his first state championship experience.
"It was fun, it was exciting and we just had to stick to the game plan and focus," Flanagan said. "This win means a lot to us, there's three communities to us, and it's just one big community. We come together and destroy the competition."
LaMoille and Ohio combined have less than 100 students, and it appears the number won't reach triple digits any time soon with declining high school enrollments throughout rural Illinois.
The trio of schools came together in 2017 when Ohio joined after co-oping with Princeton for a few years. LaMoille joined with Amboy in 2003 after the dissolution of the LaMoille-DePue-Ohio co-op the previous year. Independently, Ohio last fielded a football team in 1980 and LaMoille in 1988; the Lions joined up with Walnut until the Bureau Valley consolidation in 1995.
When last year's Clippers finished as runners-up, it represented the best playoff sports finish for the LaMoille contingent, besting a trio of third-place state finishers in track and field; and it tied for the best playoff placing in Ohio with the 1986 boys basketball team.
Now there are champion athletes roaming the high school halls in LaMoille and Ohio; along a state champion assistant coach, Kenny Shrimplin, at LaMoille. However, the state championship trophy will reside in Amboy, not too far from the Clippers' 1984 Class 2A state championship.
The 13-week season of the 8-man circuit presents an advantage for its teams compared to the 11-man game: The first week of the boys basketball season doesn't overlap with state championship week. The 16 remaining teams in 11-man play Thanksgiving weekend at Illinois State University, and those out of that group who also play hoops have to keep their sneakers off.
LaMoille-Ohio, who have co-oped in hoops for about 15 years, is scheduled to kick off its basketball season Monday at the AFC Thanksgiving Tournament versus West Carroll; then they're back in Ashton on Tuesday against the host Raiders.
"This is amazing for us because this is our very first state championship that we're bring back to our town," Sundberg said. "It feels amazing. We worked our butts off from June all the way to now. I love all these guys."
"This is our first state championship ever, and the town's really excited," Winn said. "We've been talking about it all week and the school spirit has been so great. This is going to mean a lot to us."