WILMINGTON — Wilmington put itself in excellent position with a stellar first half during Saturday's Class 2A semifinal matchup with Maroa-Forsyth.
By creating four Trojan turnovers, Wilmington carried a three-touchdown lead into the second half and had the ball to start the third quarter determined to quickly squelch any thought of a rally by their opponents.
Wilmington then put together a very Wilmington-like drive that lasted nearly 11 minutes and was capped by 4-yard touchdown by Kyle Farrell, one of three touchdowns he'd score in the game, and effectively extinguished any of the potential energy and time that Maroa-Forsyth would have to mount any sort of a rally as Wilmington breezed to a 42-7 victory.
Wilmington (13-1) will face Athens (12-2) in the Class 2A state championship game at Illinois State University at 1 p.m. Friday. Athens defeated Shelbyville 39-6 in its semifinal matchup. Wilmington will be vying for its second state championship in three seasons after winning in 2021.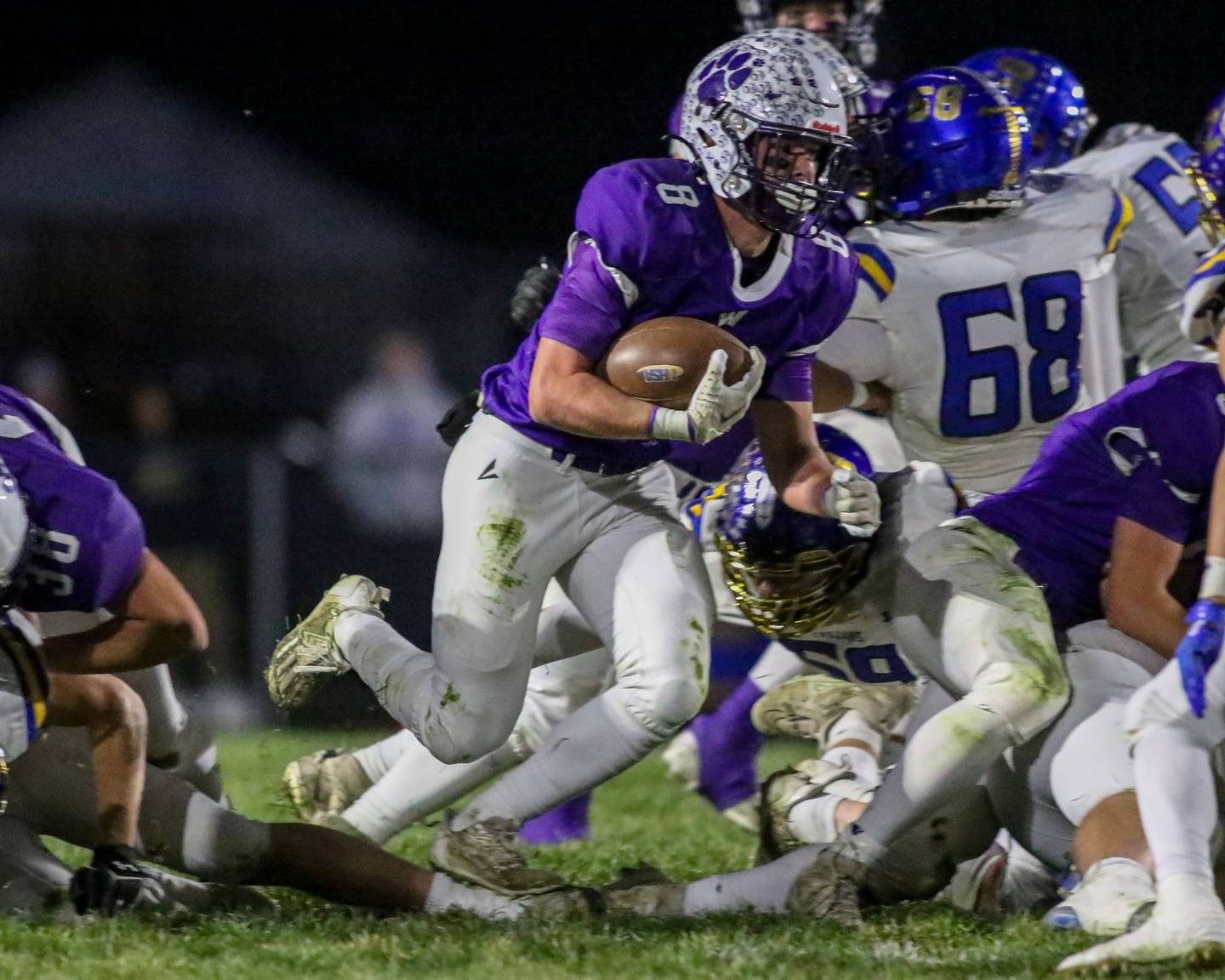 "The third quarter was huge for us to keep the ball like we did and then grind it out like we did," Wilmington coach Jeff Reents said. "And I thought part of it was Maroa made some adjustments, so they were stopping us, obviously big play wise, and our 6- or 7-yard gains turned into 3- and 4-yard gains. We were third and short, fourth and short. And for us, that's what we're looking to do."
The game didn't look like it was going to give Wilmington the opportunity to deflate Maroa-Forsyth's will early on. In fact, it appeared the Trojans might steal momentum right away by converting a fake punt successfully and then converting another fourth down play into an 11-yard touchdown on a pass from Kaiden Maurer to Braxton Mitchell.
Would this be demoralizing for Wilmington? It took only nine seconds to find out.
A squib kick gave Wilmington great field position for its chance to equalize, and on its first play from scrimmage, Ryan Kettman surged into the line then burst out of the herd of players and sped in for a 47-yard touchdown that knotted the score at 7.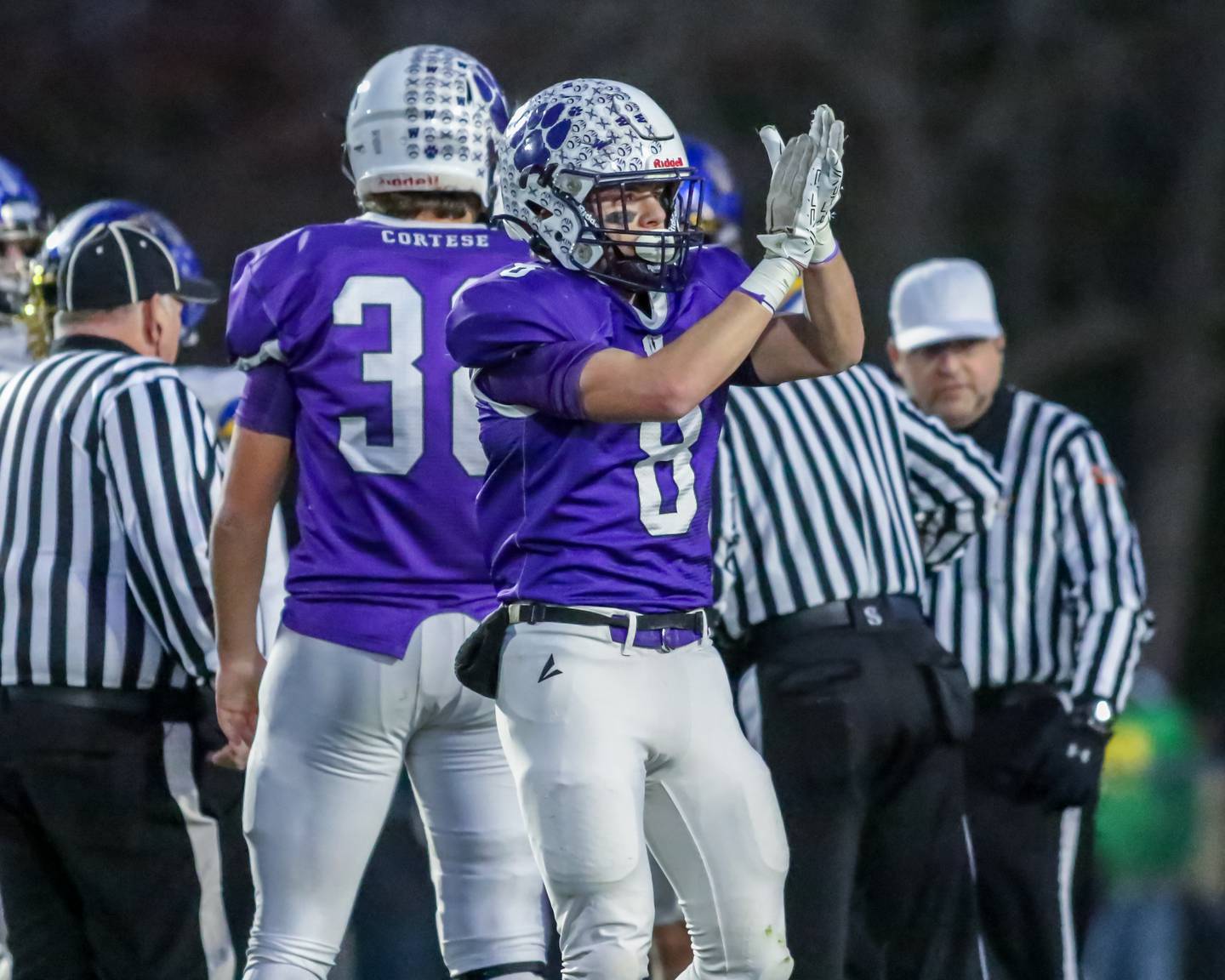 "They ran a fake punt. They got us and they made some plays, and they scored," Farrell said. "But we've been in that spot before. It's happened a couple of times this year where they scored on the first drive. We had to say, 'Hey, we've been here, just keep playing.' And that worked out well for us."
Maroa tried to put together a response to Wilmington's quick score, but the first of a series of turnovers the Trojans committed squelched the drive, and then to add insult to injury, Wilmington needed just two plays to score again with a 56-yard sprint by Farrell that gave the Wildcats the lead, one it wouldn't relinquish.
Wilmington quickly forced a three-and-out on Maroa's next possession, but a lengthy drive was stopped when the Wildcats didn't convert a short yardage situation on fourth down. But it took just one ill-fated Maroa play, a backwards pass that turned into a fumble return inside the 5-yard line for Wilmington, to set the Wildcats up once again. Two plays later, Wilmington was back in the end zone and held a 21-7 lead.
Maroa's next drive last just two plays as Maurer fumbled the exchange from center and a swarming Wilmington defense covered up the loose ball. A few punishing runs plays later, quarterback Cade McCubbin snuck in for the first of his two touchdown runs on the night, and based on how the Wilmington defense was playing, a 28-7 halftime lead looked pretty golden.
Wilmington's mammoth third quarter drive let out what little air was left on the Maroa-Forsyth sideline as Farrell (26 carries, 150 yards) and Kettman (18 carries, 116 yards) alternated the workload and in the process kept the Trojans reeling.
"We knew that they have a really good offense and they can score really fast," Farrell said. "So we said, 'Hey, we have to go down and we just got to drive and keep playing like we have.' It was really, really important to take that much time off the clock because their offense is really good, it can score in seconds."
The win was Wilmington's third consecutive victory over a team that entered the game undefeated team with wins over Tri-Valley, Seneca and Maroa-Forsyth. It's one of the few times in state history a team has had to beat three different undefeated teams prior to reaching the state championship.
"When the bracket first came out, we talked about it," Reents said. "You look at the 2A North and we said, 'How can it get tougher?' But I think it really focused our kids, game by game to make sure that we're doing what we're supposed to. It's been something, but we've still got one to go."