MONMOUTH – For the first time since 1984, the Amboy Clippers are state football champions.
The Amboy-LaMoille-Ohio co-op capped a 13-0 season with a 74-22 win over the Ridgewood Spartans (10-3) in the Illinois 8-Man Football Association state championship game Friday night at April Zorn Memorial Stadium at Monmouth College.
[ Photos: Amboy vs Ridgewood 8-man football championship ]
For the Clippers' seniors, it was a storybook ending to their high school football careers.
"It feels amazing. Something like that hasn't been done in almost 40 years," Amboy senior running back and linebacker Landon Whelchel said. "It's the best feeling in the world."
"[Last year's runner-up finish] motivated us all year," Amboy senior tight end and defensive end Brennan Blaine said. "Since a year ago, this is what we wanted to do, so it feels great. You couldn't write it any better."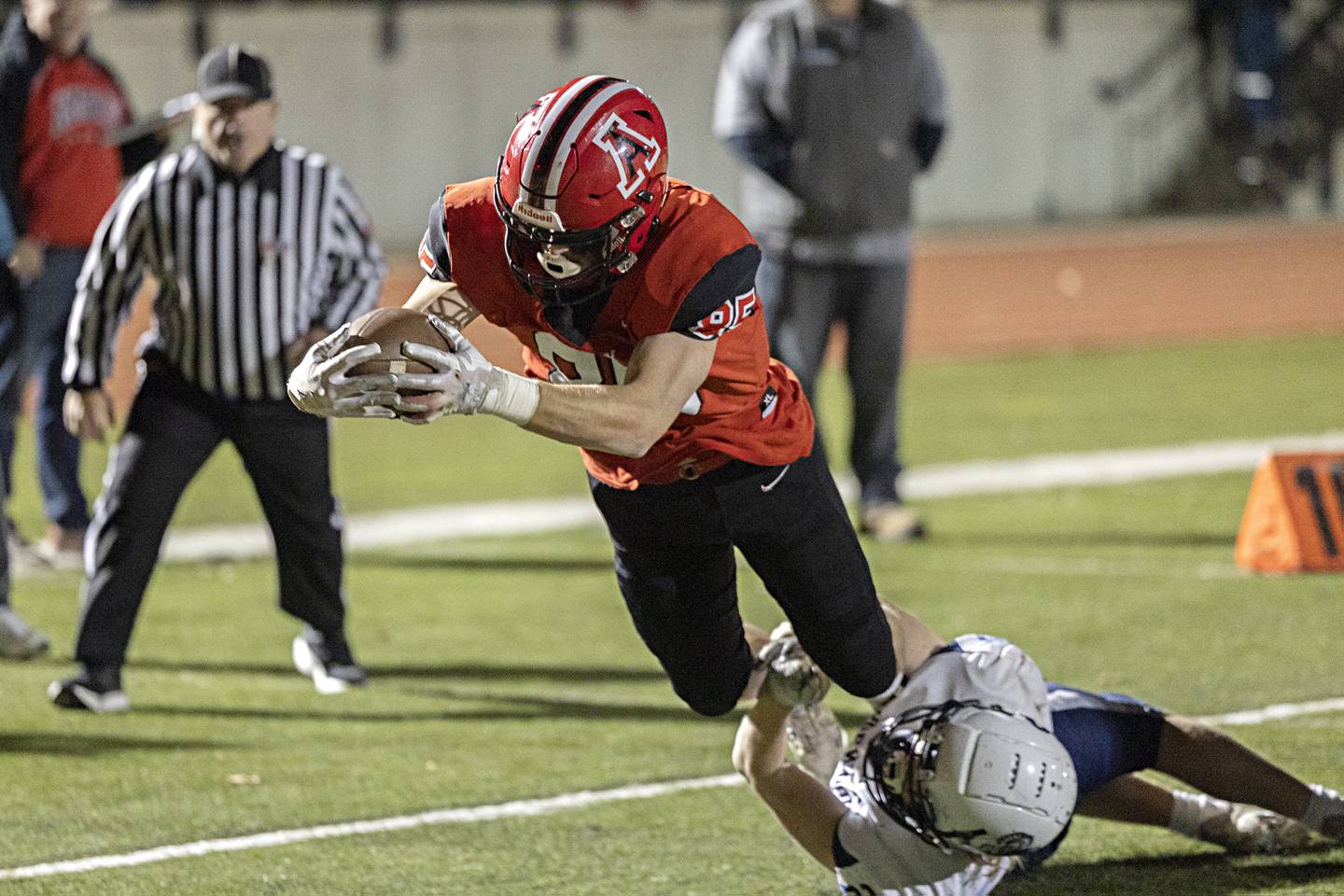 The Clippers, who were eager to avenge last season's state runner-up finish, needed only two plays and 35 seconds to score the first touchdown of the game. Whelchel, an I8FA all-state honorable mention, ripped off a 61-yard run on the first play from scrimmage. On the next play, junior quarterback Eddie Jones rolled right and found Blaine, a first-team all-state selection, at the goal line for a 5-yard touchdown pass.
That was the first of three touchdown connections for the pair.
"All week in practice, we talked about starting off fast," Blaine said. "We started slow before, the first time we played these guys in Week 5, so we wanted to get on them fast, and I believe that's what we did."
Amboy struck again barely a minute later after recovering a fumble at the Ridgewood 29 on the ensuing kickoff. The three-play scoring drive, which stretched the lead to 14-0 with 10:13 left in the first quarter, was capped by a 24-yard touchdown run up the middle by junior fullback Quinn Leffelman – another of Amboy's three first-team all-state selections.
"The power trap was really working, the line was doing an amazing job of getting on their blocks and holding them, and doing that just helped the run, which helped the play-action pass and everything worked," Whelchel said. "The [offensive line] did amazing. I think this was one of their most dominant games of the year.
"They're just the best line in the state, I think."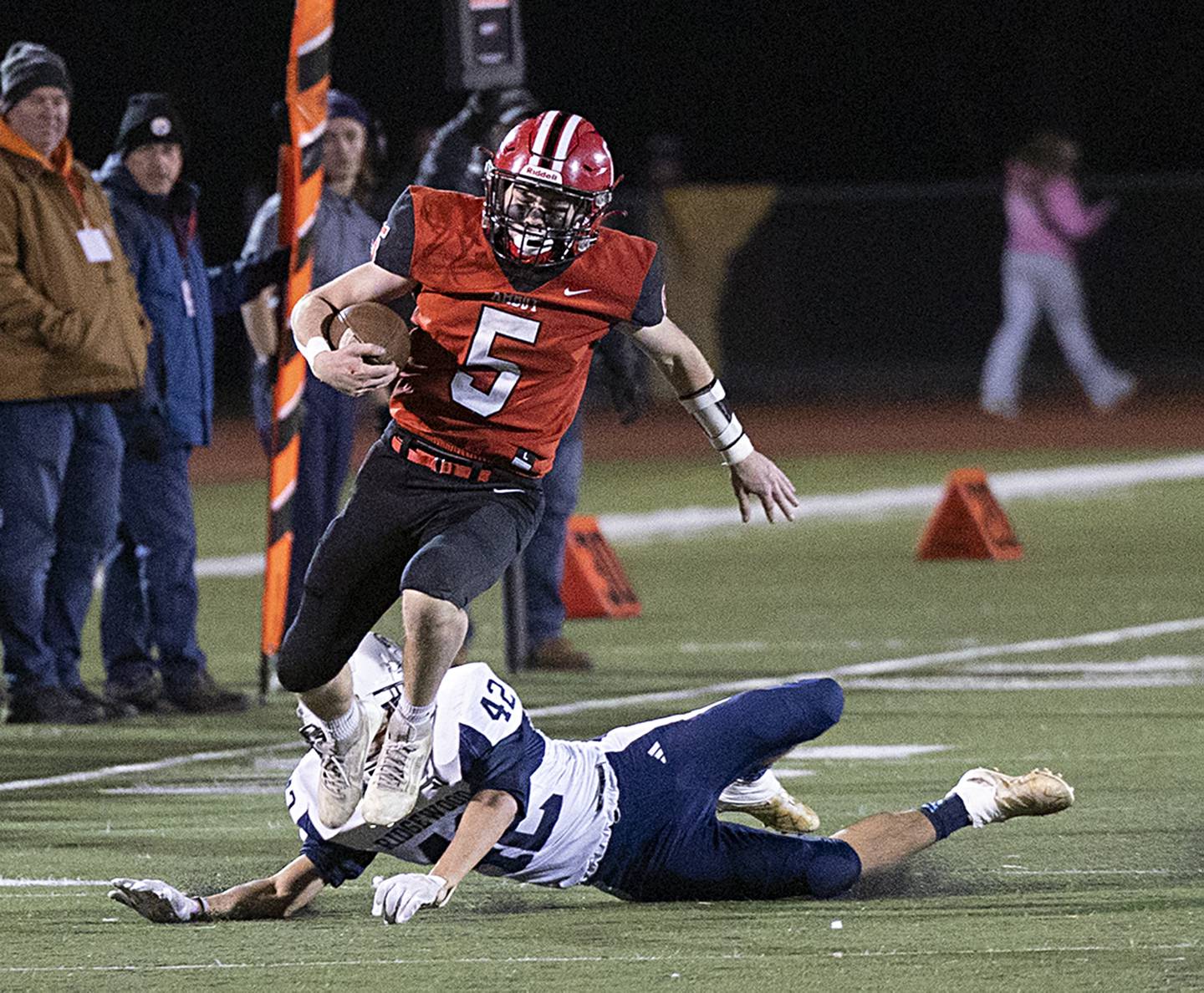 Senior defensive lineman Landon Montavon, Amboy's other first-team all-state selection, recovered a fumble on the first play of the Spartans' next possession, setting up a one-play scoring drive. Jones found Blaine in the left flat for a 40-yard touchdown pass, pushing the lead to 22-0 with 8:45 to play in the first quarter.
About two minutes later, after senior defensive lineman Austin Heath blocked a punt and Amboy recovered at the Ridgewood 29, the Clippers scored in one play again. Jones went deep to Blaine for a 29-yard touchdown pass to stretch the lead to 30-0 midway through the first.
Whelchel rushed for a 60-yard touchdown, a 63-yard touchdown and a 35-yard touchdown in the first half as he racked up 239 yards on eight carries.
Blaine added a 12-yard touchdown run midway through the second quarter, and Amboy junior linebacker Brayden Klein had a 27-yard pick six to push the lead to 60-0 with 6:28 to play in the first half.
Jones went 3-for-4 passing for 97 yards and three touchdowns – all to Blaine on his first three pass attempts of the first half. Blaine caught three passes for 74 yards and three touchdowns and rushed for a 12-yard touchdown before halftime as the Clippers took a 68-6 lead.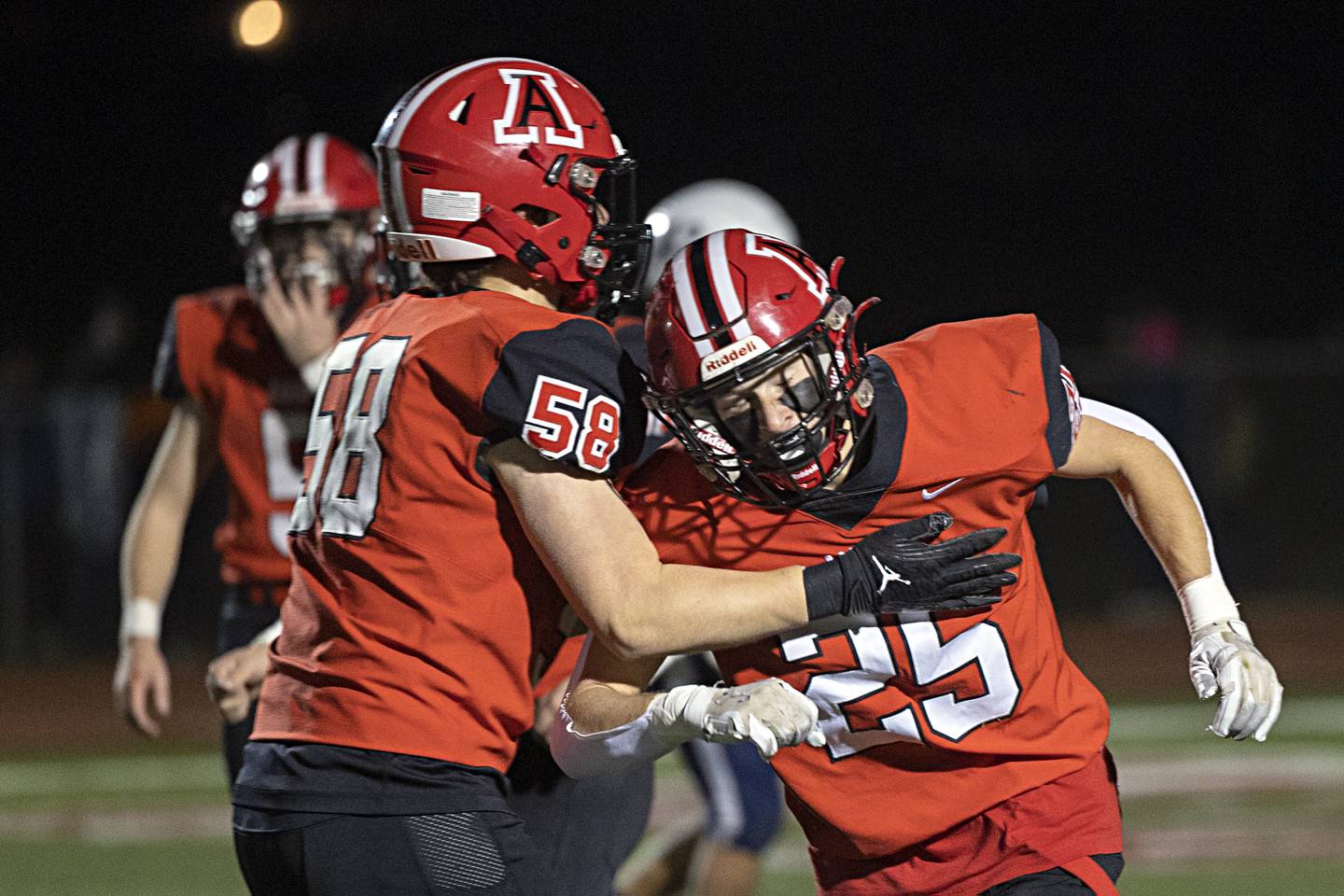 "We set the tone right away. We got our A game on and just didn't stop from there. We were just full throttle the whole time," Jones said. "Everything was working out. We were hitting our keys, our o-line was killing everybody, and we were just having a great game. It was one of our best games that we played."
Junior running back Josh McKendry rushed for a 19-yard touchdown with 4:24 remaining in the third quarter to cap the scoring for Amboy.
Ridgewood senior quarterback Ryle Catour passed for 47 yards and two touchdowns and rushed for 84 yards, senior running back Preston Moriarity caught three passes for 27 yards and two touchdowns, and sophomore running back Wes Sandberg added a 2-yard touchdown run for the Spartans.
Whelchel finished with 259 yards and three touchdowns on 10 carries, and Leffelman rushed for 50 yards and one touchdown on five carries.
"It means a lot. It means a lot to these seniors. It means a lot to this program, and to all three communities: Amboy, LaMoille and Ohio," Amboy coach Scott Payne said. "To bring home the state championship, for these guys, I can't even put into words what it means. It's a great thing, 39 years in the waiting, and we're finally getting to bring another one home. It's just an exciting time right now. This is a great group of kids. They worked really hard to achieve this, and they've done a wonderful job this year.
"And I can't be more proud of them than I am right now."